White Sox looking to bear down against KC
AL Central leaders know they need to play better against WS champs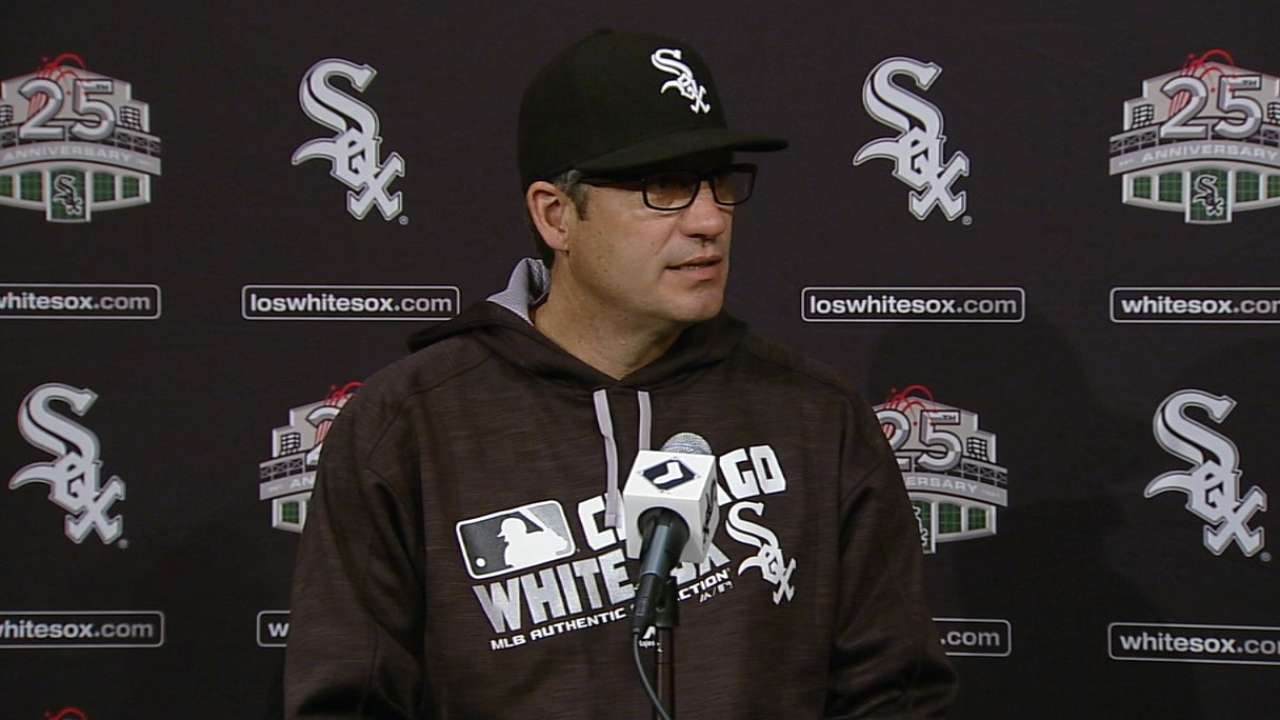 CHICAGO -- Through the first seven weeks of the season, the White Sox have been one of the best teams in baseball.
But after dropping a 4-1 decision to the Royals on Friday night at U.S. Cellular Field and falling to 2-7 over their last nine games, it's clear this team has no intention of solely being known as this campaign's early-season wonder.
"I can't stress it enough: You've got to play a full six months in this league," said White Sox right fielder Adam Eaton, who went 1-for-5 as Chicago slipped to 1-3 on the 10-game homestand. "You can't play a month and think you're going to throw your gloves out there and win.
"There are many teams that do really well in the first month and you don't see them in September. We're not going to be one of those teams. We've got to get better as the season goes on, and it starts tomorrow."
That turnaround needs to start against a Royals squad that has dominated the White Sox for the past four years. Kansas City improved to 22-7 over the last 29 games played at U.S. Cellular Field, while raising its all-time record to 7-1 against starter Jose Quintana.
Quintana breezed through the first five innings, giving up Salvador Perez's single in the second, but facing the minimum 15. The Royals scored three runs on five hits in the sixth and added another in the seventh, producing the first start for Quintana where he allowed more than two earned runs since Sept. 30, 2015.
That start also came against the Royals.
"A couple of base hits, I tried to get the ground balls. I got the ground balls, but bad spots," Quintana said. "I know I have a little trouble with them, but I'll try to work on it and try to be better the next time."
"Q threw a heck of a game: Four runs to those guys, as competitive as he was," Eaton said. "If we get on them early, it may be a different story. He may not even give up four. Definitely, the offense has to step up tomorrow."
The White Sox went 0-for-6 with runners in scoring position and stranded nine. Even the move of Jose Abreu to the lineup's No. 2 spot and Todd Frazier in the three-hole didn't pay dividends, as the top three hitters finished 1-for-12.
Two-out hits are essential in beating a top-notch team such as the Royals, as Eaton pointed out, trying to get a lead before the bullpen takes over. Kansas City entered the night as a .500 team, but the White Sox know the defending World Series champions have better days ahead. They intend to practice that same philosophy.
"If you ask any of those guys or anybody in Kansas City, they'll say they underachieved the first month of the season," Eaton said. "They're a good team."
"You're going to go through stuff like that," White Sox manager Robin Ventura said. "As frustrating as it is, we'll grind through it. We've got some guys that have been around. But yeah, it is a rut."
Scott Merkin has covered the White Sox for MLB.com since 2003. Read his blog, Merk's Works, follow him on Twitter @scottmerkin, on Facebook and listen to his podcast. This story was not subject to the approval of Major League Baseball or its clubs.