Raines likes chances for Hall of Fame election
Former leadoff man on hand for U.S. Cellular Field celebration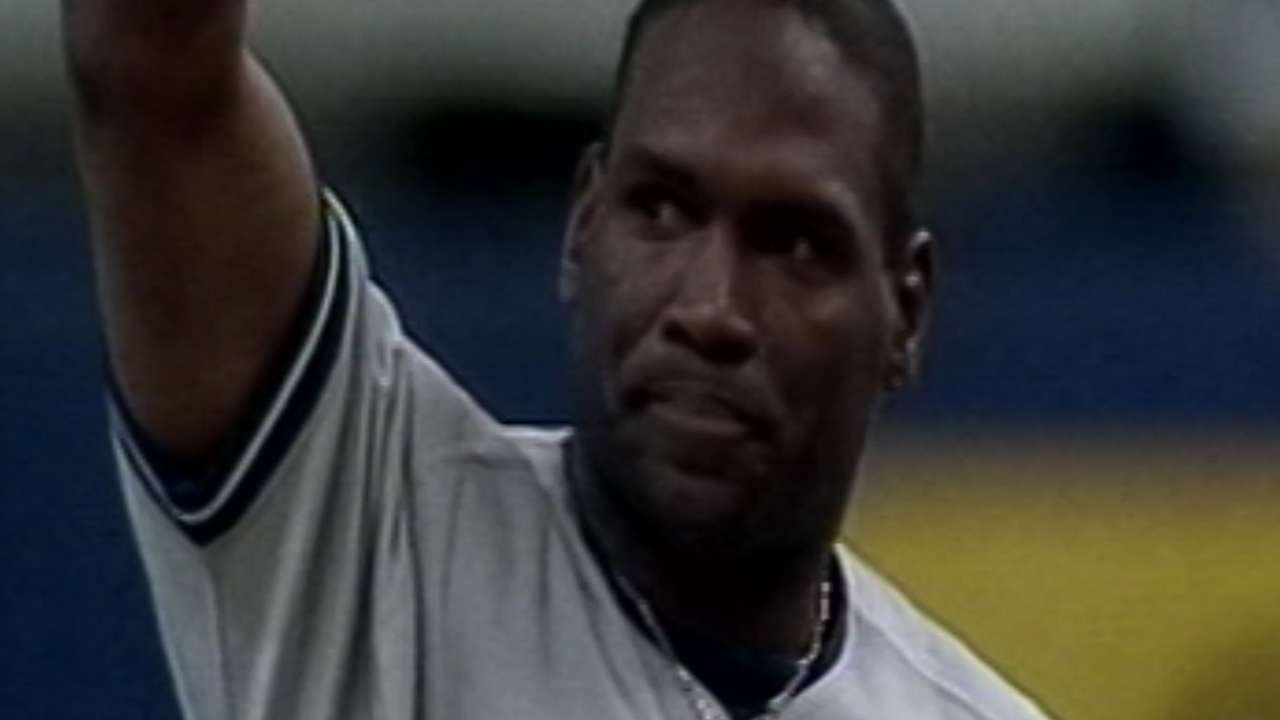 CHICAGO -- Tim Raines enters his 10th and final year on the Baseball Writers' Association of America's Hall of Fame ballot, coming off receiving 69.8 percent -- 75 is needed for election -- of the vote last year. So one of the game's greatest leadoff hitters has some confidence going into his last opportunity.
"This is probably the first year out of the nine years that I've been on the ballot that I really, really feel like I have a chance," Raines told reporters on Friday at U.S. Cellular Field prior to the White Sox series opener with the Royals. "I was 23 votes away last year.
"Up until that point I thought about it, when people ask me about it, the only thing I wanted to see was how many votes I got. But this year, realizing like I said that I was only 23 votes away, I think about it a lot more than I ever have in the past."
Raines returned to Chicago for the 25th anniversary weekend celebration of U.S. Cellular Field. He served as a coach on Ozzie Guillen's staff during the 2005 World Series championship season and for the 2006 season, and played five of his 23 seasons on the South Side (1991-95), including the '93 postseason year.
Raines' .294 career average, .385 on-base percentage, .810 OPS, 808 stolen bases, 1,330 walks against 996 strikeouts and 1,571 runs scored speak volumes of the on-field impact had by Raines, who joined Hall of Famer Rickey Henderson as leadoff hitters who changed the game. If those numbers don't support the candidacy strongly enough, then Raines' friends and former teammates lent a hand on Friday.
"He was a definite impact, similar to what Rickey did with the A's and some other teams. He just immediately gave credibility at the top of the lineup," White Sox manager Robin Ventura said. "When you break down his numbers with some other people, I think he ranks right up there with anybody."
"Huge impact," said Jack McDowell, the 1993 American League Cy Young Award winner with the White Sox. "He was one of the guys that, once we had our core group, you bring a guy like that in and it bumps us up to contention level. He's got the numbers to be in."
There never was a sense of nervousness for Raines when he played. He simply had fun playing the game. His Hall of Fame feelings are the same.
A great career won't be tarnished if Raines doesn't get those necessary votes in his final balloting. All the same, he would like it to happen.
"For those 23 that want to vote for me next year, please. I'll be grateful ... very appreciative," Raines said with a smile. "It would be something I never dreamed of and never really thought about.
"My only thinking [last year] was I wanted to see where it was going to end up. I was very encouraged by being almost 70 percent. The prospects of maybe getting in next year is a lot more comfortable to deal with than if I got less votes.
"I loved every minute of playing the game. It's just a situation now where I have an opportunity to close that chapter of my career. Hopefully it's getting in. If I don't, it's not the end of the world."
Scott Merkin has covered the White Sox for MLB.com since 2003. Read his blog, Merk's Works, follow him on Twitter @scottmerkin, on Facebook and listen to his podcast. This story was not subject to the approval of Major League Baseball or its clubs.