Adjustment has Jaso relaxed at plate
First baseman brings hands closer to chest in effort to 'minimize movement'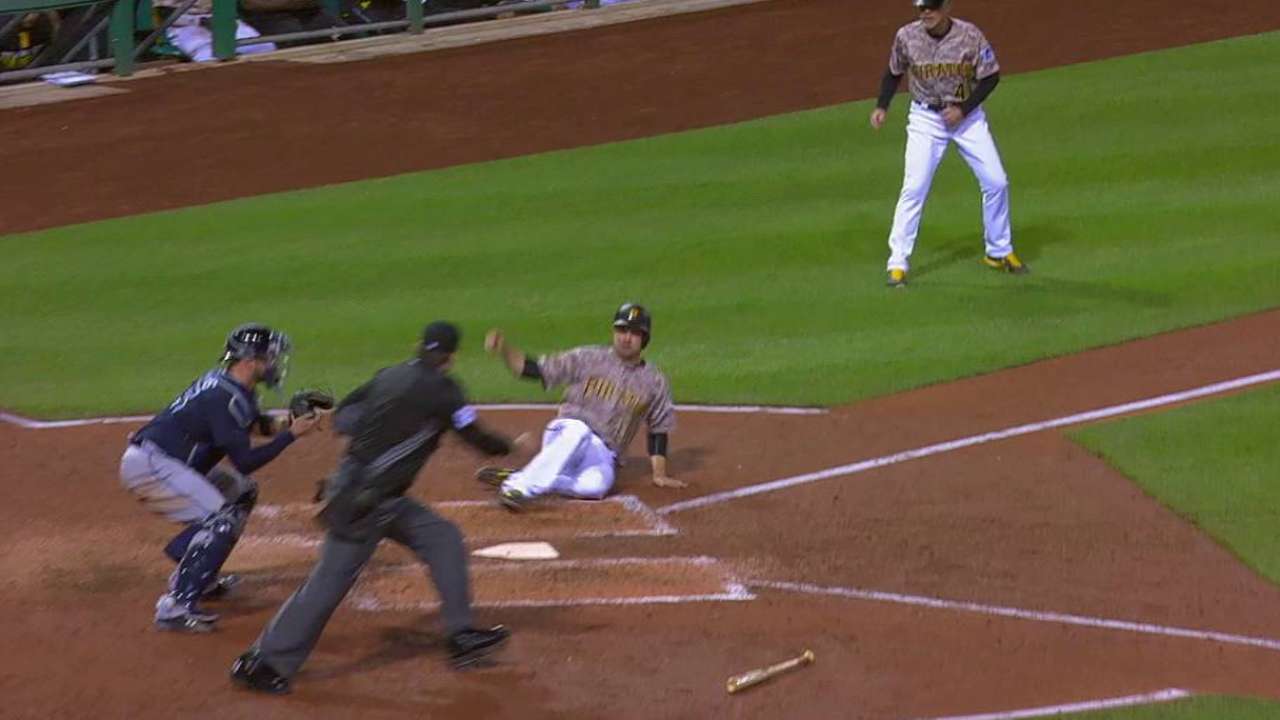 PITTSBURGH -- John Jaso doesn't hide how he's feeling at the plate. When he was off a few weeks ago, he said he wasn't seeing the ball well. Asked how things were going after a three-hit game Thursday night, Jaso was characteristically honest.
"I feel pretty good about it," said Jaso, who went 7-for-14 with a double, triple, two walks and no strikeouts in the Pirates' victorious four-game series vs. the Braves. "Getting those numbers helps mentally. I feel like I've been laying off pitches and when I swing the bat, hitting most balls on the barrel, which is nice."
Jaso began the season on a tear at the plate, hitting .361/.420/.492 in his first 16 games. In the 16 games after that, he hit .190 with six walks and 10 strikeouts.
Now, Pittsburgh's primary leadoff man is back in a comfortable place at the plate, and the results are falling back into place as well. Jaso entered Friday's series opener at PNC Park with a .301/.369/.459 batting line.
"I felt like I wasn't seeing the ball very well for a while there, and obviously that stuff comes and goes," Jaso said Thursday night. "But it's nice to have a series like this."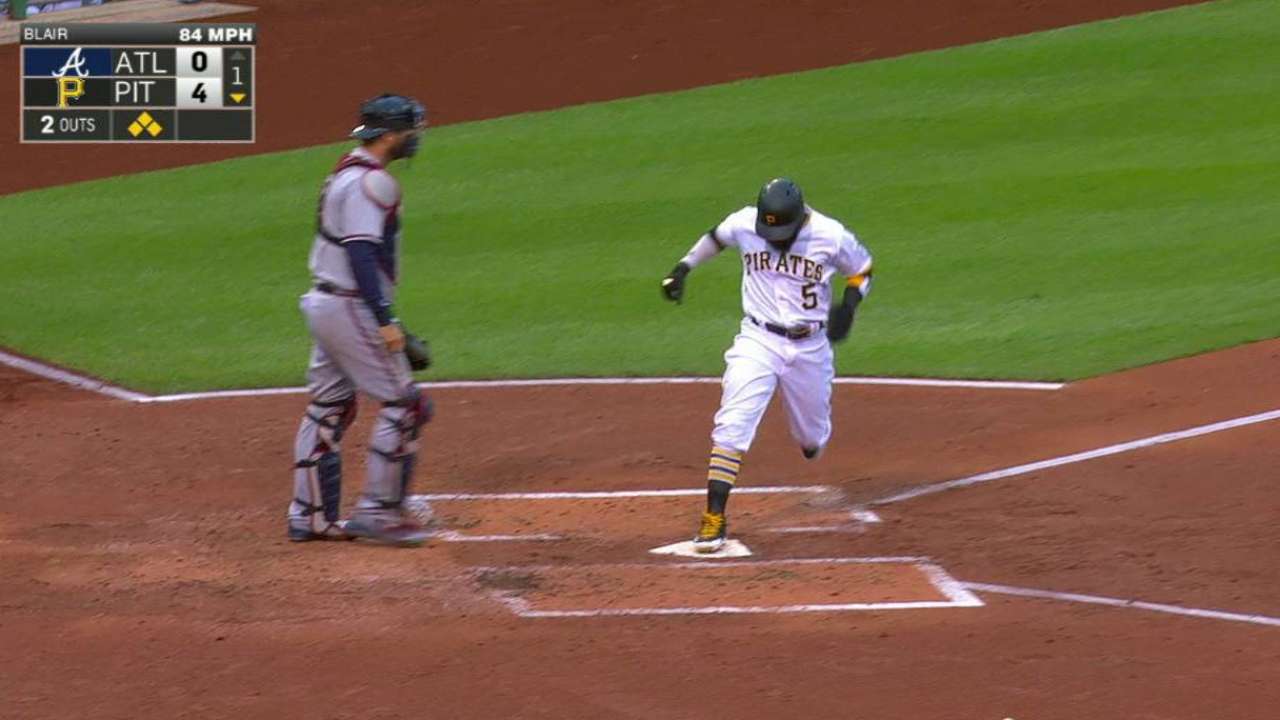 Jaso is constantly working on his swing, making adjustments and readjusting when something feels wrong. Recently, he noticed his hands were too far away from his body when he was preparing to hit. When he loaded his bat to swing, his hands moved too far behind his head.
Jaso said he was "tying myself up" with those mechanics, and it seemed like the ball was jumping at him faster than his selective eyes were used to.
"I've just relaxed up there a little bit and kept the bat here," Jaso said, pulling his hands closer to his chest. "It relaxes your shoulders and everything. Just a little baby load and that's it. Minimizing movements."
Before signing him as a free agent this offseason, the Pirates had long coveted Jaso for his unique skill set -- a patient hitter with an on-base percentage that typically played well above his batting average.
Jaso's walk rate is actually down a bit this season, 9.4 percent compared to his career 12.4 percent mark, but his higher-than-usual average -- he's never batted better than .286 -- has helped prop up his on-base percentage.
The Pirates took what general manager Neal Huntington called a "calculated risk" on Jaso this offseason, betting the career catcher/designated hitter could play first base.
So far, his defense has been better than expected -- and his bat has been as advertised.
"It's been fun to watch him," Pirates manager Clint Hurdle said. "He's doing a really good job at the top, setting the table for us. He has since the start of the season."
Adam Berry has covered the Pirates for MLB.com since 2015. Follow him on Twitter at @adamdberry. This story was not subject to the approval of Major League Baseball or its clubs.