MLB.com Columnist
Mike Petriello
Strikeout king: Rondon has become one of baseball's best
46.2 strikeout rate is third best behind Betances, Miller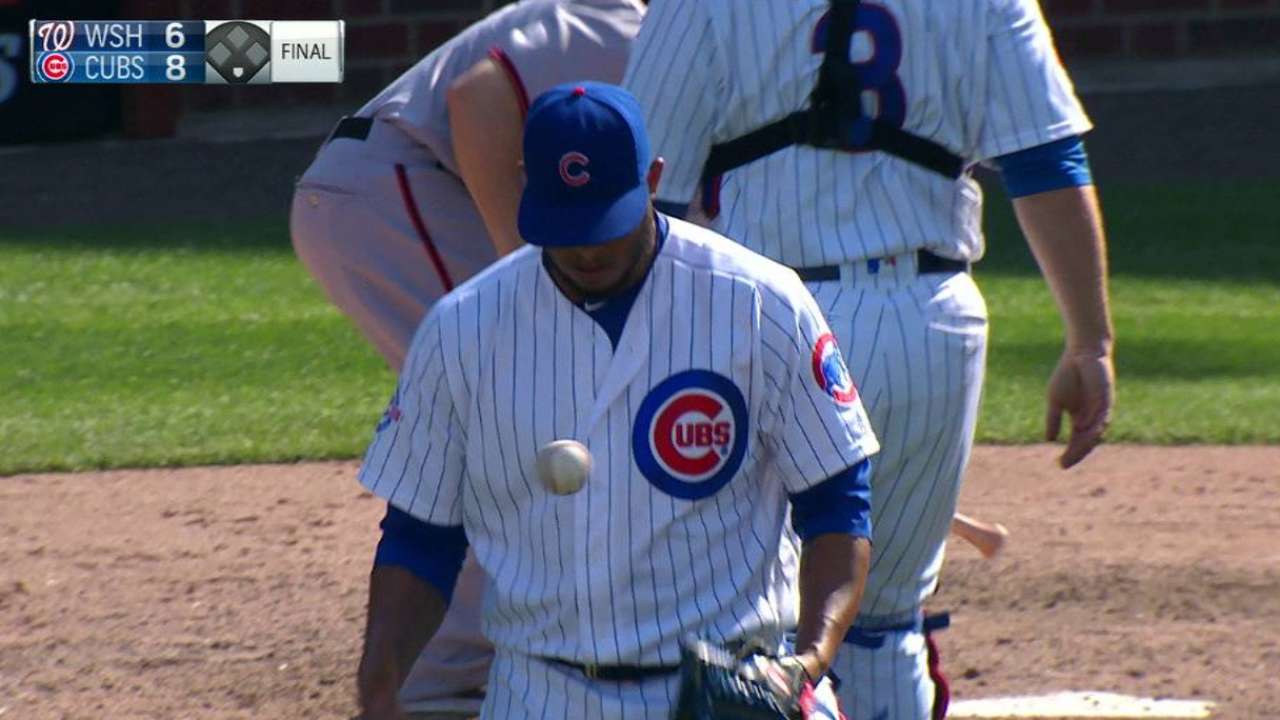 Among all the big names on the cruising Cubs -- Kris Bryant, Jake Arrieta, Jon Lester, Anthony Rizzo, Ben Zobrist, Jason Heyward, even manager Joe Maddon, and so on -- the name that never really gets talked about is the former Rule 5 Draft pick who has quietly been having a dominant season at the back of the bullpen: Hector Rondon, who has allowed two earned runs all year.
You can thank the Cubs for that, really. Due to the fact that Chicago has scored the second-most runs in baseball (5.67/game) and allowed the fewest (2.95/game), the Cubs just don't find themselves in many tight games, and so they have managed just 11 save opportunities. That's tied for the fewest in baseball with the 10-20 Twins, and Rondon's seven saves are just 25th individually, behind 24 other relievers, including Texas' Shawn Tolleson and his 9.20 ERA.
Yet the mostly discredited save statistic -- it's fallen out of favor largely because of how much it relies on opportunity as much as performance -- serves only to obscure just how great Rondon has been. By striking out 24 of the 52 hitters he's faced this year, Rondon's 46.2 percent strikeout rate trails only the elite Yankees duo of Dellin Betances (50 percent) and Andrew Miller (49.2 percent). He's just ahead of Boston's outstanding Craig Kimbrel (42.7 percent). Even Aroldis Chapman, who hasn't pitched enough yet to qualify, has struck out only 36.4 percent this year, and had whiffed "just" 41.7 percent last year.
Rondon has become nearly impossible to hit, is the point, and while he's been very good since he inherited the closer's role from Jose Veras in 2014, this year has been something else. In each of the past two seasons, Rondon has struck out just under 25 percent of hitters he's faced, and that makes 46 percent a huge jump.
But Rondon is not throwing harder, which might be your first guess, not when he's averaging 96.4 mph on his fastball this year, a near-match to last year's 96.5 mph. His spin rate hasn't changed noticeably. Rondon hasn't suddenly come up with a magical new pitch, like we saw last year when Jeurys Familia debuted his nasty splitter. He hasn't gotten lucky, because while his .200 BABIP would be a career-low, that doesn't really apply when we're talking about strikeouts.
So what is different? Two quick reasons why…
1. He's challenging hitters by throwing more strikes...
Of the 174 qualified relievers this year, only five have a meaningfully higher percentage of pitches in the strike zone than Rondon's 57.6 percent. (Among them are Kenley Jansen and Addison Reed, each having wonderful seasons.) That's well up from his previous average of just over 50 percent, and that's a big deal for him.
This also manifests itself in terms of first-pitch strikes, where Rondon's average the past two years of 64 percent has jumped to 71.2 percent, which is in the top seven of those 174 relievers. Despite the fact that he's throwing more, hitters are swinging at less -- just 30.7 percent swings at Rondon's first pitches, down from 35 percent two years ago.
2. ...and they're swinging at fewer overall.
That's not just an issue on first pitches. Last year, hitters went after 49.4 percent of all Rondon pitches. The year before, it was 51.4. This year? Just 41.5 percent. But since he's throwing more strikes, that means he's getting a huge boost in called strikes:
Highest called strikes percentage, minimum 50 plate appearances
1. Aaron Nola / A.J. Ramos -- 39.8 percent
3. Rondon -- 38.8 percent
4. Fernando Abad -- 38.5 percent
So even though Rondon's swinging strike percentage hasn't really changed -- 10.8 percent last year, 10.7 percent this year -- his overall strike percentage has, because hitters aren't aggressive enough and he's taking advantage.
Rondon has also consolidated his pitch mixture; once a four-pitch guy, he's eliminated his cutter and two-seamer to go almost exclusively with the four-seam and slider. But remember what Cubs management said when Rondon was selected from Cleveland in the 2012 Rule 5 draft:
"Coming up through the Cleveland organization, he was one of the top prospects," said Cubs player development director Jason McLeod. "He's always been a prolific strike thrower with great stuff."
McLeod couldn't have been more accurate with that description, while also noting the risk that came with Rondon's history of elbow issues (he threw just 41.2 innings as a Cleveland Minor Leaguer from 2010-12), because "prolific strike thrower" sounds about right this year.
Remember, anyway, that while the strikeouts are new, at this level, the success isn't. Over the past calendar year, Rondon's 1.20 ERA is second only to Shawn Kelley, who has a miniscule 0.81, and is just ahead of the near-legendary Wade Davis (1.29). His 76/12 strikeout-to-walk ratio in 67 1/3 innings is even better than Davis, who had 73/22 in 63 innings. It's not that Rondon is actually better than Davis; it's just that a case can be made that he's performed better over the last year.
So far, Rondon has been piling up more strikeouts than just about anyone, and he's been quietly effective for several years now. The saves total may not show, but Rondon has become one of baseball's more elite back-end weapons. Now, the Cubs just need to let him get into position to show it.
Mike Petriello is an analyst for MLB.com and the host of the Statcast podcast. This story was not subject to the approval of Major League Baseball or its clubs.