MLB.com Columnist
Tracy Ringolsby
Will Trout end up an all-time great?
Angels center fielder has earned right to be in conversation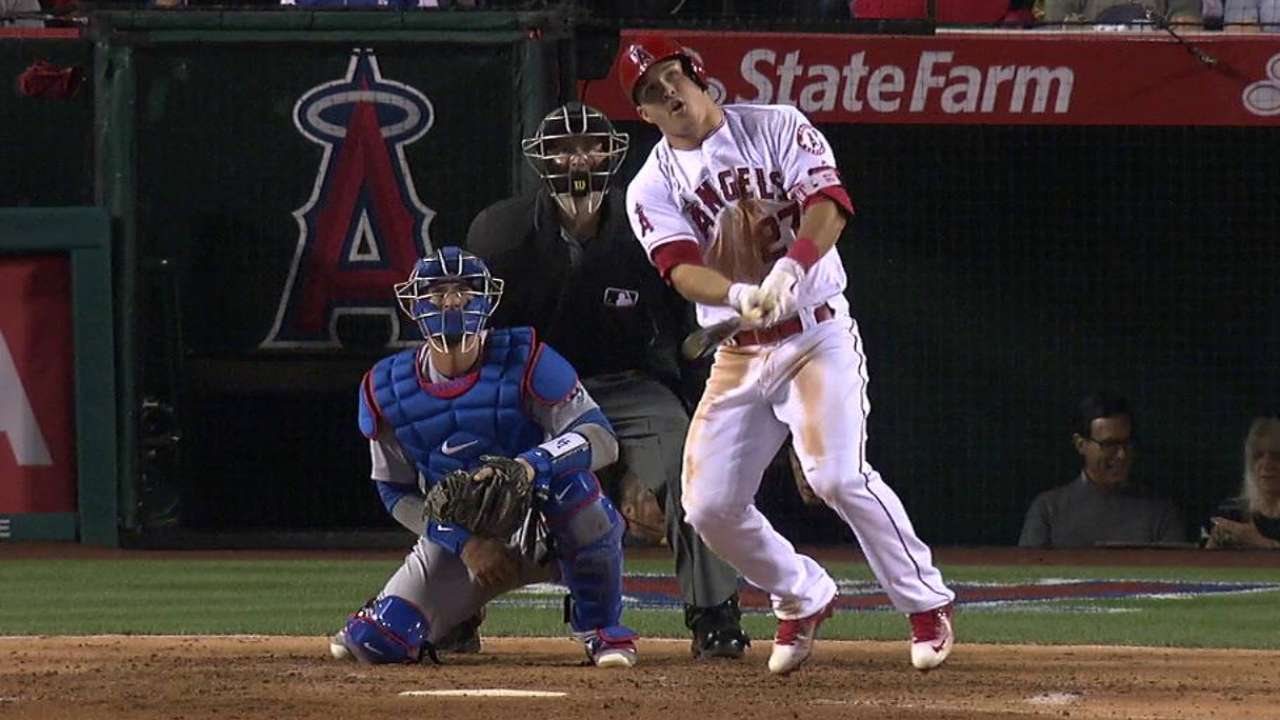 ANAHEIM -- Angels center fielder Mike Trout plays the game of baseball well. More than that, he plays it hard.
There is no half-heartedness for Trout at the plate, on the bases or in the field. It's what gives Trout the edge in the discussion of the best current players in the game, and it's why at the age of 24, he already is bring mentioned in talks about the best all-time.
Greatness, however, requires longevity. Trout is only in his fifth full big league season, so he still has things to prove. But he has certainly put a down payment on his right to at least have his name brought up in discussions.
• Cast your Esurance All-Star ballot for Trout and other #ASGWorthy players
"You have to see Mike play every day," said Angels manager Mike Scioscia. "You look at the numbers at the end of the year, and they are off the chart. But when you see him every day, you see him bust it down the line to stay out of a double play. You see him steal a base. You see him play center field."
Trout is definitely worth the price of admission. Just ask anybody who was among the largest regular-season crowd in the history of the remodeled Angel Stadium -- 45,007 fans -- on Thursday night.
It was Trout doing what he does best in the Angels' 7-4 victory against the Interleague rival Dodgers, allowing them to finish up their series by taking three of four on the heels of last week's three-game sweep of the Mariners in Seattle.
#HaloRecap: @MikeTrout drives in 3 runs as the #Angels take the #FreewaySeries. pic.twitter.com/etzK5G0EsY

— Angels (@Angels) May 20, 2016
Trout has hit .340 with a double, a triple, four home runs, 13 RBIs and 10 runs scored in 12 Interleague games so far this season. He is a career .305 hitter with a career average of .303 against teams with winning records and .308 against teams with losing records.
Fans are smiling in Anaheim again, having put the nightmarish thoughts of losing all six games on the last homestand behind them, thanks to this recent run of success.
And it starts with Trout. He had another of his mammoth home runs in the third inning, his 10th of the season, which tied Thursday's game at 2. But don't overlook what he did in the first, when he delivered a one-out single that scored Kole Calhoun from second base to tie the game at 1. Trout then promptly stole the 117th base of his career, moving him into 10th place on the Angels' all-time list.
"He's a grinder," said Dodgers pitching coach Rick Honeycutt. "He's always pushing to the next level."
Home run #10 #ASGWorthy pic.twitter.com/brRWc98YpW

— Angels (@Angels) May 20, 2016
And what about the fifth inning, when Trout drew a walk and eventually scored from second on a two-out Johnny Giavotella single that gave the Angels a 5-4 lead?
"He never dogs it," said Giavotella. "He comes to the field ready to play every day. Doesn't matter if he is hurt or feeling good. If he is on the field, he is hustling on every play. He is a great team player."
And there was that at-bat in the sixth, with runners on first and third, and one out. Trout hit a bouncer back to the mound, and because he was running hard out of the box, he was able to take advantage of Joe Blanton's initial juggle fielding the ball. So instead of an inning-ending double play, Trout had hustled himself into a fielder's choice and another RBI.
"That's him," said former big league pitcher Mark Langston, now a part of the Angels' radio broadcast team. "Good as he is, he never slows down. He is always pushing himself. He wants to be better."
Trout doesn't turn 25 until Aug. 7, but in four-plus big league seasons, he already has been an All-Star four times and seems almost certain to make it five this July, and he was the All-Star Game MVP each of the last two years. He won the American League MVP Award in 2014, and he finished second in the voting his three other seasons. And he was the 2012 AL Rookie of the Year Award winner.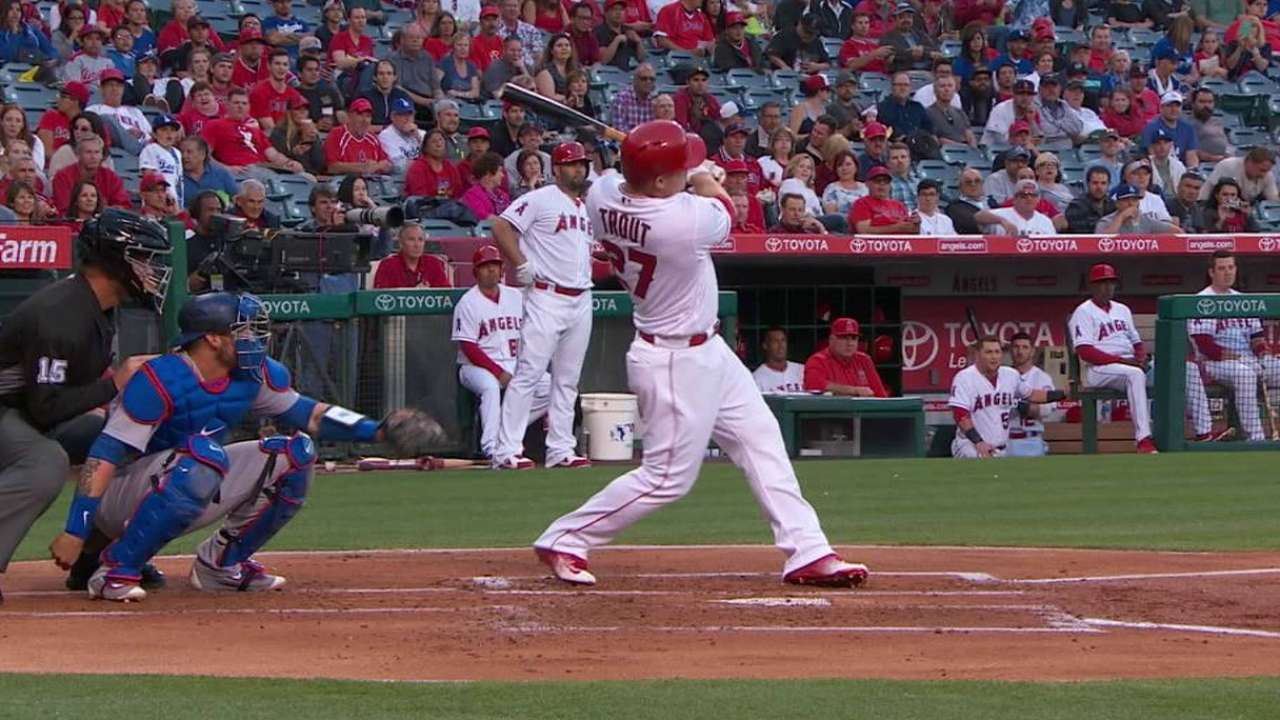 Don't forget, Trout also led the AL in WAR his first four full seasons in the big leagues and finished in the top 10 in average and slugging percentage in the AL each of the four seasons, including leading the league in slugging percentage last year.
"His talent shows up every time he is on the field," said Scioscia. "His bat, arm, in the field, on the basepaths. He does a lot of things to help us win."
Trout does things few others can do -- or will do.
"He is out of the [Derek] Jeter playbook," said Angels general manager Billy Eppler.
Tracy Ringolsby is a columnist for MLB.com. This story was not subject to the approval of Major League Baseball or its clubs.