MLB.com Columnist
Jon Paul Morosi
GM Daniels not afraid to make a big move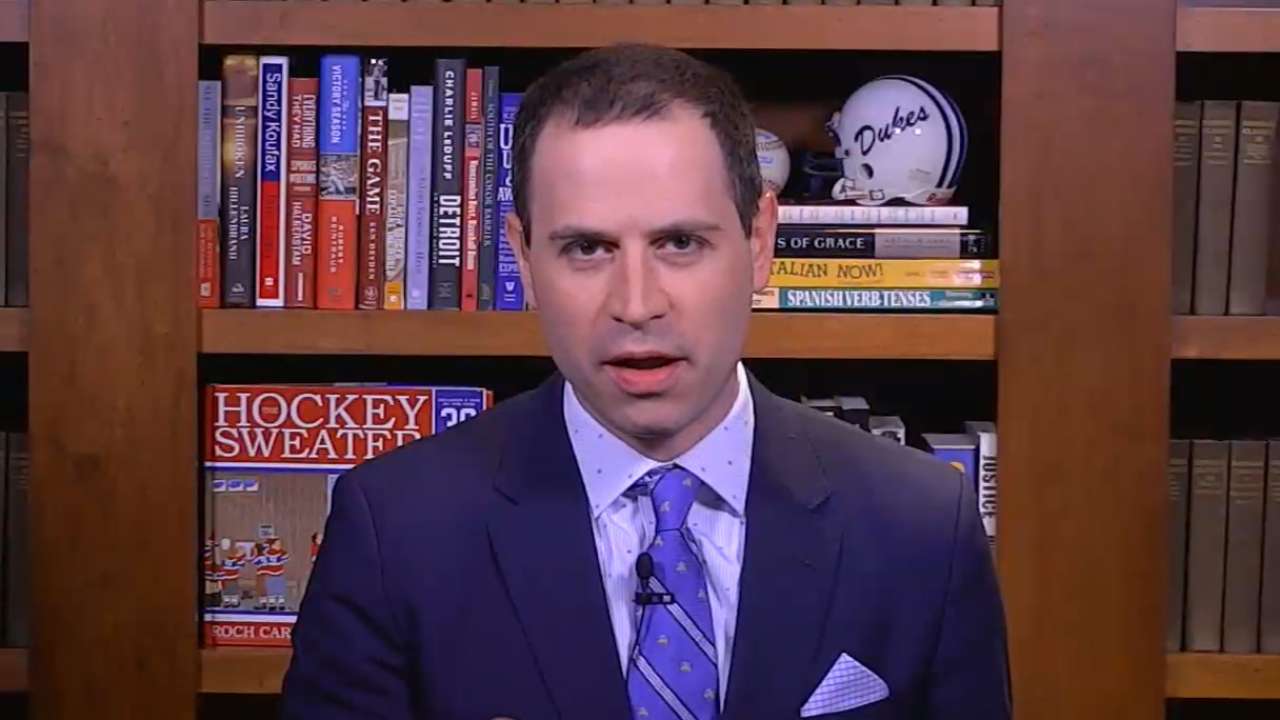 The Texas Rangers haven't had a great week. They dropped three straight games after Sunday's fracas with the Blue Jays. They fell behind the Mariners for first place in the American League West. Shawn Tolleson's struggles in the ninth inning led to Tuesday's walk-off defeat in Oakland -- and the loss of his job as the team's closer.
But here's the good news: Shin-Soo Choo returned from the disabled list Thursday, and Yu Darvish should be back before the month is over. Team officials hope Keone Kela will be a healthy option for the late innings sometime around the All-Star break.
And, perhaps most intriguingly, the Rangers have the prospects to acquire virtually any player on the trade market this July.
Through Jon Daniels' decade as general manager, Texas has been among the most active teams at the non-waiver Trade Deadline. That was the case in 2015, when the addition of Cole Hamels led to a surprising division title and continues to pay dividends now.
One year later, Daniels has the currency to land another key piece -- probably a closer, possibly a starter.
"The greatest compliment we could pay our scouting and player-development people is that we have always been in the position to make a move if we need to," Daniels told MLB.com this week in a telephone interview. "These guys have, in my opinion, performed at the top of the industry as far as producing players. Look at the number of homegrown players we have in the big leagues right now. We're proud of that.
"Some of them I'd like to have back: Odubel [Herrera], Kyle Hendricks, Tanner Roark ... They've all performed better than we anticipated. But that goes back to our people, too. We have a mind-set that we're trying to win, and we know those stories are going to come up. We're not afraid to take a risk and know that we'll probably read about a prospect playing well elsewhere.
"For us, it's good for business that teams know we're willing to trade good players."
While Daniels said the Rangers aren't involved in any "significant" trade talks yet, two things are clear: He has another group of "good players" coveted by fellow general managers, and his roster has well-defined needs, especially on the pitching side.
Texas enters this weekend's series in Houston with a bullpen ERA of 5.61, worst in the AL. Relief pitchers are famously overpriced on the midseason trade market, but the Rangers have the prospect wherewithal to avoid volatile rentals and acquire a controllable closer like Andrew Miller -- that is, if the Yankees become sellers.

Similarly, an underwhelming class of free-agent pitchers this offseason means the summer trade activity is likely to center on younger starters with big price tags. The Rangers probably would be reluctant to part with another Hamels-level package for Miami's Jose Fernandez, but that type of deal is within their means. Tampa Bay's Drew Smyly could be another possibility for Texas if the Rays fall from contention.
Two of the Rangers' potential trade chips have been well-known to the industry for years: middle infielder Jurickson Profar and corner infielder/outfielder Joey Gallo, who is ranked as the team's No. 1 prospect, according to MLBPipeline.com.
Gallo, a slugger who is working to lower his strikeout rate, returned to the active roster at Triple-A Round Rock on Thursday after missing three weeks with a left groin injury. Profar, a consensus top-five prospect in the sport before injuries derailed him, is getting closer to the all-around ability he once possessed. (Profar last appeared in the Majors in 2013.)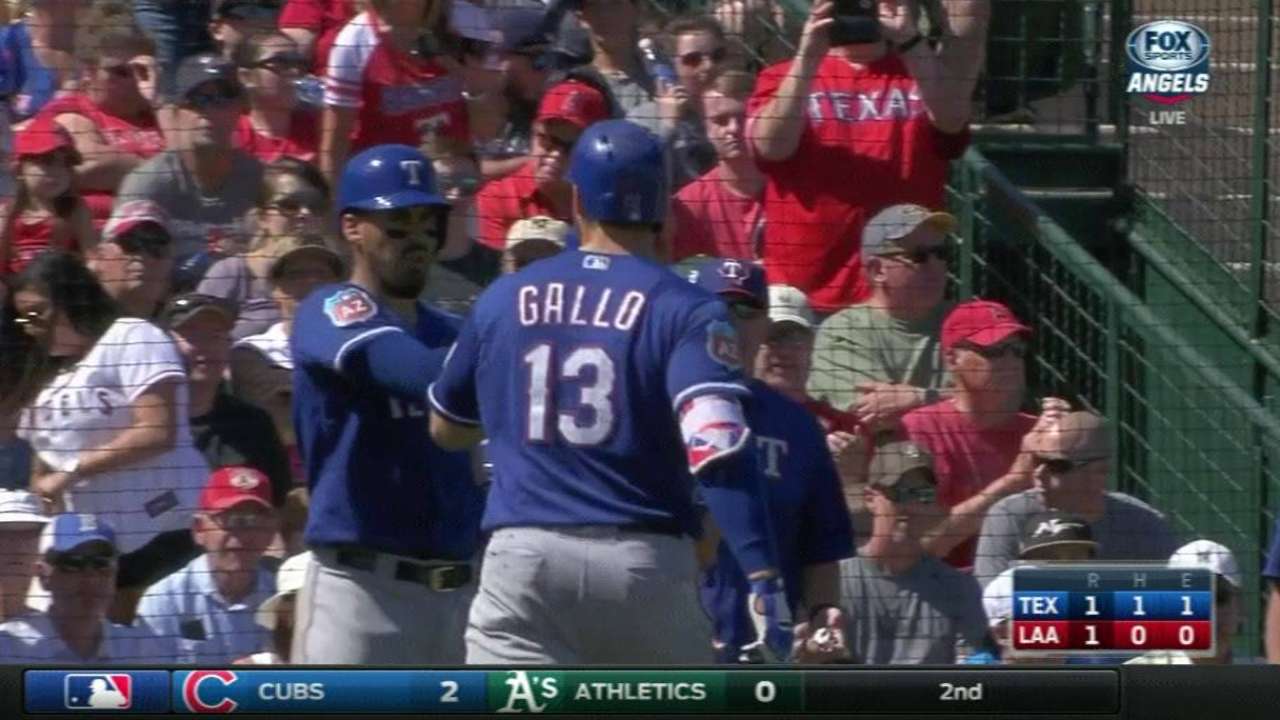 Gallo, 22, and Profar, 23, are noteworthy in that they're blocked at their primary position by players under contract or control for several more seasons: Gallo by Adrian Beltre at third base, Profar by Elvis Andrus at shortstop and Rougned Odor at second. (Profar could be promoted to the big leagues once Odor begins serving his suspension for Sunday's fracas.)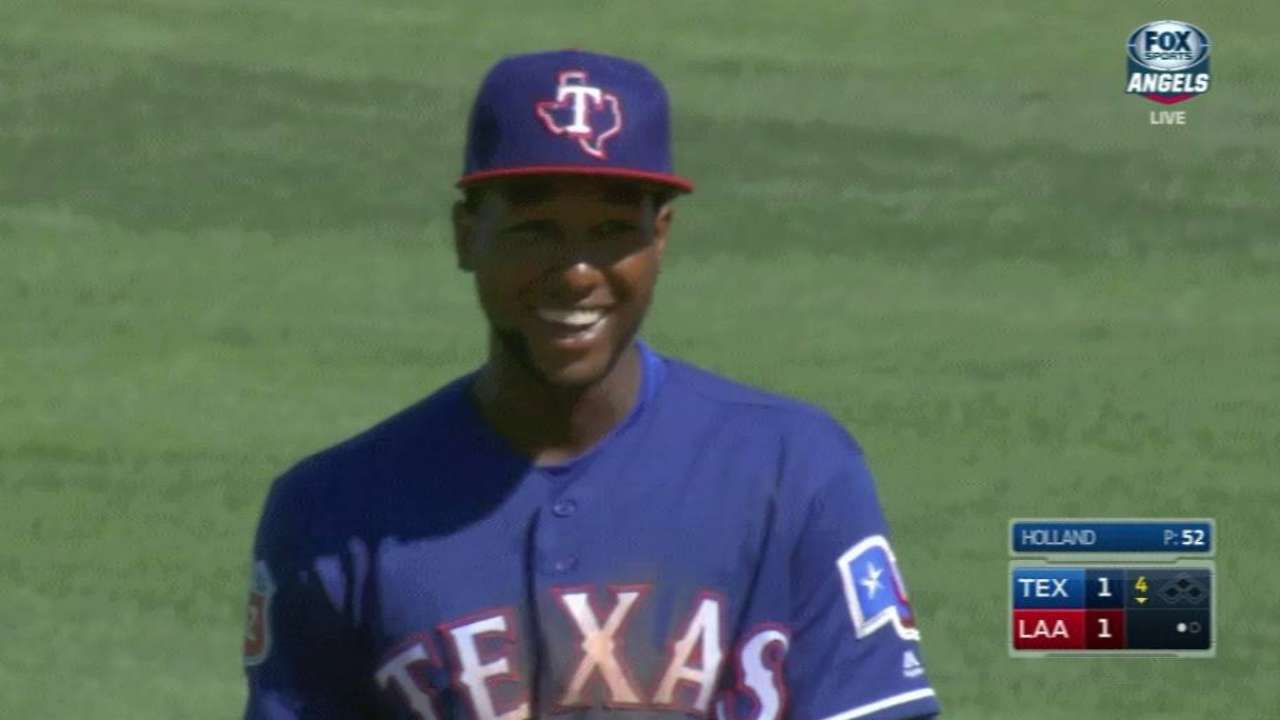 "Joey, with his ability to play all four corners, is in a little bit of a different situation, in that we have Elvis and Odor up the middle and are a little more settled there," Daniels said. "We're settled everywhere for 2016, but as you look forward, we have a couple guys [on the corners] who are going to be free agents, so we have decisions to make. We don't have those same calls for the middle infielders.
"We really like both guys [Gallo and Profar]. We believe they have the ability to be longtime winning guys in the big leagues. We're not in a hurry to do anything. Our hands aren't forced. But it does provide us with options. If there's an injury or something else comes up, we have flexibility."
Daniels didn't say it, but Gallo's most plausible path to the Majors -- at least with Texas -- is at first base, where Mitch Moreland will be a free agent after this season. Beltre is a future Hall of Famer at third, designated hitter Prince Fielder and Choo are on long-term contracts and rookie outfielder Nomar Mazara is a rising star.
The Rangers' Minor League depth extends far beyond Gallo and Profar. Outfielder Lewis Brinson entered the season as the system's No. 2-ranked player, even ahead of Mazara. (Brinson, despite struggling to a .279 on-base percentage at Double-A Frisco, has an outside chance to reach the Majors this season.) Ryan Cordell, Brinson's teammate in Frisco, is probably closer to earning his first callup; Cordell has hit 10 home runs with an OPS of 1.083 through 37 games.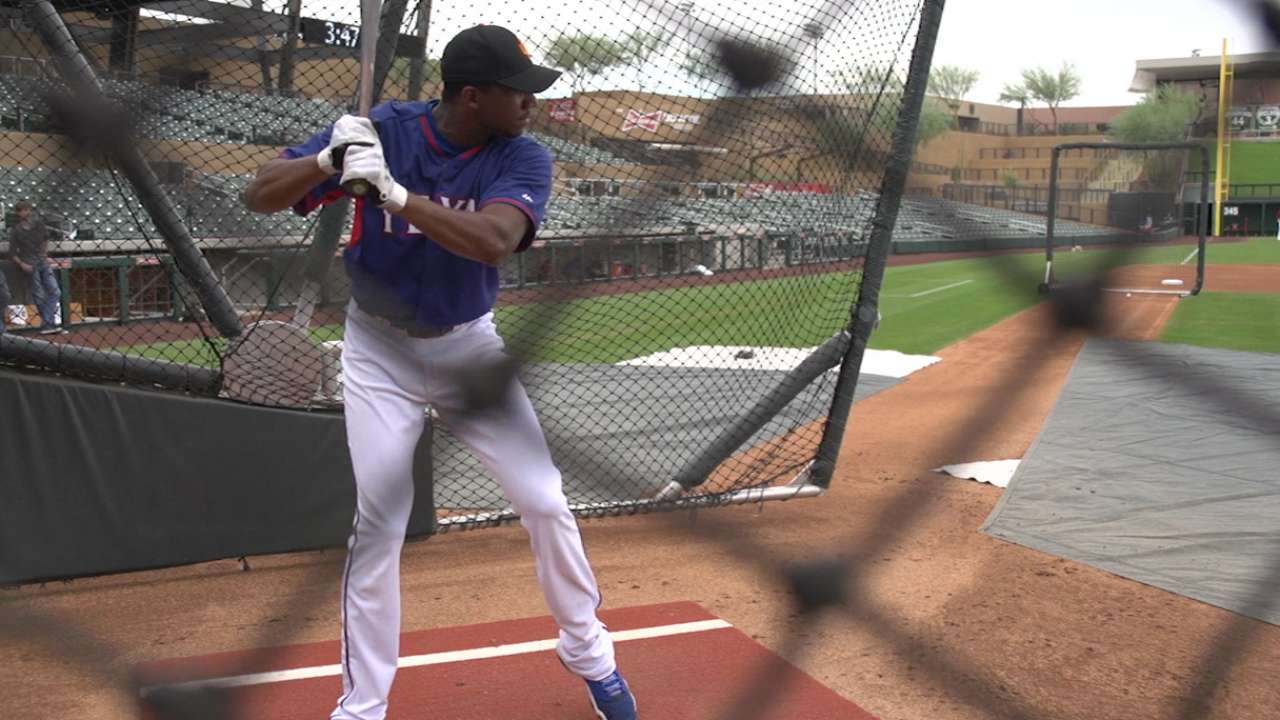 The Rangers have a pair of starting-pitching prospects who excelled in the hitter-friendly Class A Advanced California League: Luis Ortiz, a 20-year-old right-hander from California, and Yohander Mendez, a 21-year-old Venezuelan lefty. Both were recently promoted to Frisco. Ronald Guzman is a rangy, athletic first baseman whose uptick in power this year at Double-A makes it likely that he'll eventually play every day in the big leagues.
Daniels doesn't want to trade any of them. But history says he won't be afraid to do it, especially if he believes his big league team is capable of winning the first World Series in franchise history. And at least in May, that appears to be the case.
Jon Paul Morosi is a columnist for MLB.com. This story was not subject to the approval of Major League Baseball or its clubs.