Pipeline Preview: Urias looks to extend scoreless streak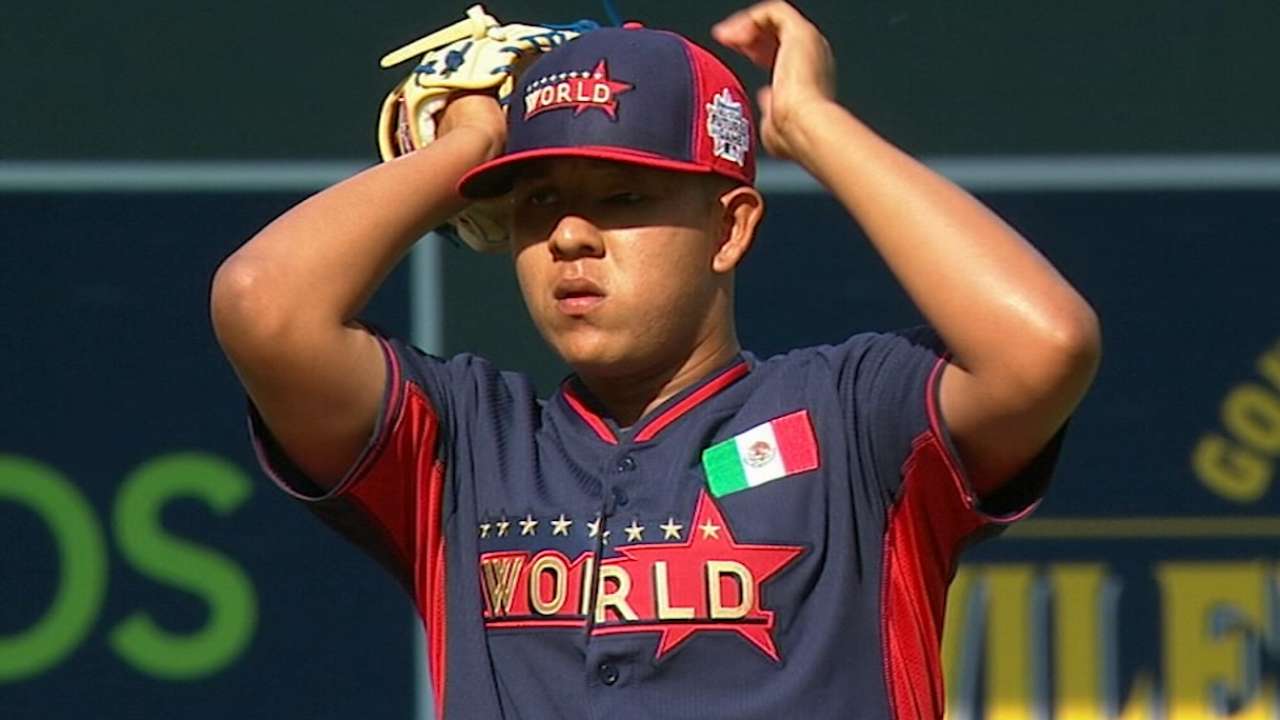 Here's a look at top prospects to watch Friday in Minor League action:
Hitter to watch: Eloy Jimenez (Cubs' No. 10) South Bend vs. Lake County
The 19-year-old outfielder is starting to stockpile hits. Jimenez went 2-for-4 and recorded his second career multi-homer game Thursday, just a day after going 4-for-5. He has a hit in six straight games and is hitting .326 through the first 36 games of the season, his third in the Minor Leagues.
Pitcher to watch: Julio Urias (Dodgers' No. 1) Oklahoma City vs. Salt Lake
Urias is regarded as the No. 2 overall prospect and so far this season, he hasn't given anyone any reason to question his lofty ranking. The 19-year-old left-hander is 3-1 with a 1.25 ERA through his first seven games and hasn't allowed a run in any of his past four outings. In total, Urias' scoreless streak spans 22 innings, a number he will look to improve upon at 8:05 p.m. ET on MiLB.TV.
Duel of the day: Mitch Keller (Pirates' No. 14) vs. Dillon Tate (Rangers' No. 4) West Virginia vs. Hickory 7:05 p.m. ET
Keller may not be as well-known as Tate, but the Pirates' prospect has been pitching as well as anyone this year. Keller has a 1.10 ERA through seven starts and has yet to allow more than two runs in any of his outings. A pair of homers - the only two long balls he's given up this season -- bit Keller in his last start, but the 2014 second-round pick still threw seven strong innings.
Tate, a first-round selection in 2015, has a 3.71 ERA through his first five outings, but those numbers are a bit skewed as he gave up three earned runs in 1/3 of an inning on May 9. When Tate is locked in he has an ability to put hitters away as evidenced by his 22 strikeouts in 17 innings this year.
Friday's Top 100 probables:
No. 1 Lucas Giolito (Nationals' No. 1) Harrisburg vs. Bowie (AA) No. 2 Julio Urias (Dodgers' No. 1) Oklahoma City vs. Salt Lake (AAA) No. 12 Blake Snell (Rays' No. 1) Durham vs. Rochester (AAA) No. 51 Jake Thompson (Phillies' No. 2) Lehigh vs. Toledo (AAA) No. 32 Dillon Tate (Rangers' No. 4) Hickory vs. West Virginia (A)
More top prospect probables:
Lucas Sims (Braves' No. 12) Gwinnett vs. Charlotte (AAA)
Daniel Mengden (Athletics' No. 14) Nashville vs. Sacramento (AAA)
German Marquez (Rockies' No. 12) Hartford vs. New Hampshire (AA)
Adrian Houser (Brewers' No. 17) Biloxi vs. Tennessee (AA)
Duane Underwood (Cubs' No. 4) Tennessee vs. Biloxi (AA)
Chase Johnson (Giants' No. 14) Richmond vs. Erie (AA)
Chris Ellis (Braves' No. 14) Mississippi vs. Mobile (AA)
Chih-Wei Hu (Rays' No. 13) Montgomery vs. Birmingham (AA)
Jordan Guerrero (White Sox No. 6) Birmingham vs. Montgomery (AA)
Pedro Fernandez (Royals' No. 21) Northwest Arkansas vs. Tulsa (AA)
Austin Gomber (Cardinals' No. 17) Palm Beach vs. Clearwater (A-Advanced)
Kodi Medeiros (Brewers' No. 7) Brevard County vs. Jupiter (A-Advanced)
Conner Greene (Blue Jays' No. 2) Dunedin vs. Bradenton (A-Advanced)
Stephen Tarpley (Pirates' No. 19) Bradenton vs. Dunedin (A-Advanced)
Josh Staumont (Royals' No. 18) Wilmington vs. Carolina (A-Advanced)
Luis Lugo (Indians' No. 26) Lynchburg vs. Myrtle Beach (A-Advanced)
Spencer Adams (White Sox No. 3) Winston-Salem vs. Salem (A-Advanced)
Dinelson Lamet (Padres' No. 11) Lake Elsinore vs. Bakersfield (A-Advanced)
Ryan Castellani (Rockies' No. 16) Modesto vs. Inland Empire (A-Advanced)
Jordan Johnson (Giants' No. 15) San Jose vs. Rancho Cucamonga (A-Advanced)
Tanner Rainey (Reds' No. 30) Dayton vs. Bowling Green (A)
Ricardo Sanchez (Braves' No. 19) Rome vs. Augusta (A)
Luis Martinez (White Sox No. 29) Kannapolis vs. Asheville (A)
Marc Brakeman (Red Sox No. 24) Greenville vs. Lexington (A)
Jacob Nix (Padres' No. 8) Fort Wayne vs. West Michigan (A)
Albert Abreu (Astros' No. 11) Quad Cities vs. Cedar Rapids (A)
Nick Wells (Mariners' No. 18) Clinton vs. Burlington (A)
Grayson Long (Angels' No. 13) Burlington vs. Clinton (A)
Ryan Borucki (Blue Jays' No. 12) Lansing vs. Great Lakes (A)
William Boor is a reporter for MLB.com. Follow him on Twitter at @wboor. This story was not subject to the approval of Major League Baseball or its clubs.