Jay returns from shoulder woes for series finale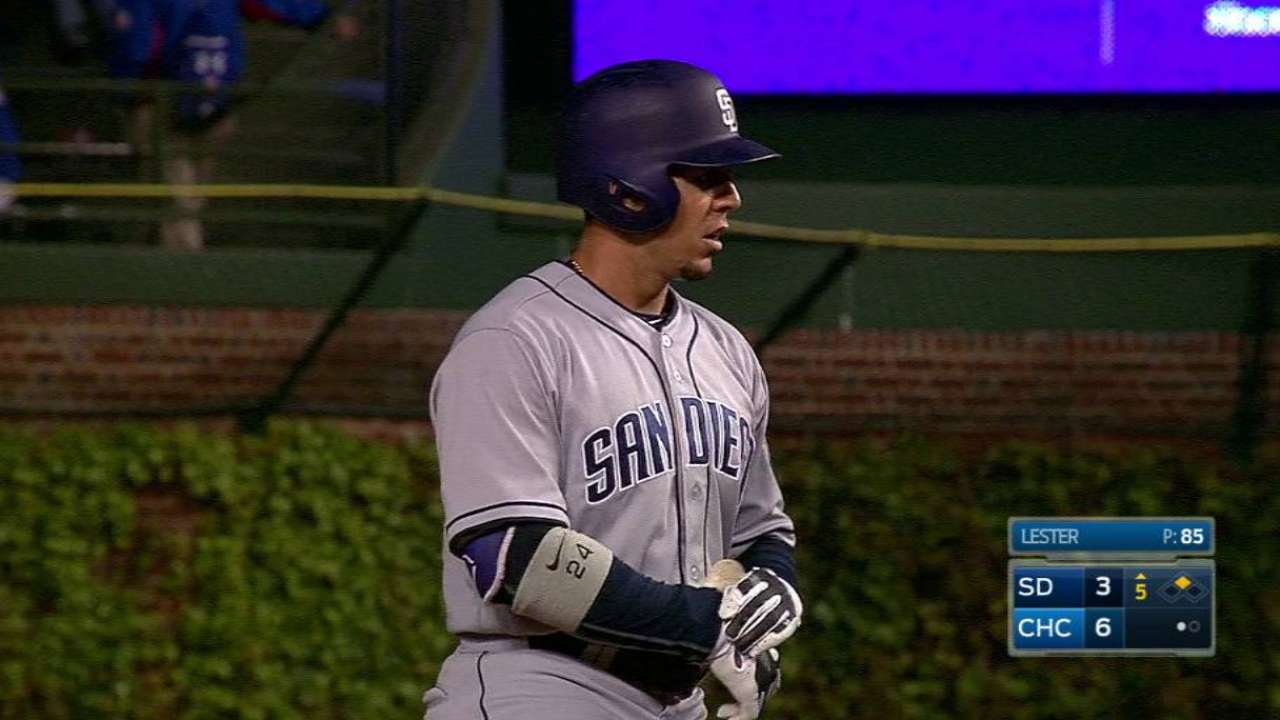 SAN DIEGO -- On Tuesday night, the Padres were contemplating getting tests done on Jon Jay's sore shoulder, and a stint on the disabled list for the center fielder seemed very possible. For a club struggling in the on-base department, the prospect of losing its leadoff man was not pretty.
Then, the next morning, Jay rolled out of bed -- and the soreness had dissipated almost entirely. One day later, he was back in the starting lineup for the first time since Friday in Milwaukee, when he sustained the injury while diving for a fly ball.
"Yesterday was a big day for me," Jay, who went 2-for-4 with a double in the Padres' 3-1 loss, said before Thursday's series finale vs. the Giants. "I took a big step over the hump with that soreness I had, and I'm ready to go."
Said Padres manager Andy Green: "We need him. He's a big part of the team. Having him out there leading us from the leadoff spot -- and out in center field, running the show out there -- he does a really good job of it. We're thrilled to have him back."
Jay's return is more positive injury news for a club that didn't have much of it this season -- until this week. On Wednesday, Alexi Amarista became the first of 10 players to return from the disabled list. That came a day after Wil Myers returned to the starting lineup following brief forearm tightness.
"It's definitely encouraging," Jay said. "They're all key parts of our team, so we're looking forward to getting everybody back out there."
Entering play Thursday, Jay led the padres with a .278 batting average and was second with a .338 OBP. Needless to say, he did not enjoy sitting on the sideline as the Padres lost three straight.
"It's terrible," Jay said. "It's not fun at all. Especially these games that we've been playing, maybe thinking I could make a difference. But I'm just happy to be out there."
Upton moves to No. 2 spot
With Myers scuffling, Green opted to move Melvin Upton Jr. to the No. 2 spot in the batting order. The Jay-Upton combo atop the lineup gives the Padres their two best on-base threats this year as their first two hitters.
Upton entered Thursday having reached at a .357 clip this season, the best on the club. Meanwhile, Myers had seen his OBP slip below .300. But his power bat could prove serviceable at No. 4 or 5 in the lineup, where he'll receive more RBI opportunities. Myers batted fifth Thursday.
In short, this could more of a long-term lineup adjustment than a temporary fix.
"What matters to me is getting on base," Green said of his ideal No. 2 hitter. "Melvin's done that better than anybody else on our team. Right now, with Wil not being as hot -- it's more of a compliment to what Melvin's done up to this point in time."
Padres nix BP
With three night games in a row -- and a slumping offense -- Green opted to cancel on-field batting practice before Thursday's game. It's something he plans to do "periodically" during the season, and said there wasn't much to read into his decision.
"We're just letting guys breathe a little bit," Green said. "Let them come in a little bit later, recharge their batteries and come out swinging during the game."
AJ Cassavell covers the Padres for MLB.com. Follow him on Twitter @ajcassavell. This story was not subject to the approval of Major League Baseball or its clubs.