Inbox: What's the Royals' plan for Cuthbert?
Beat reporter Jeffrey Flanagan answers Kansas City fans' questions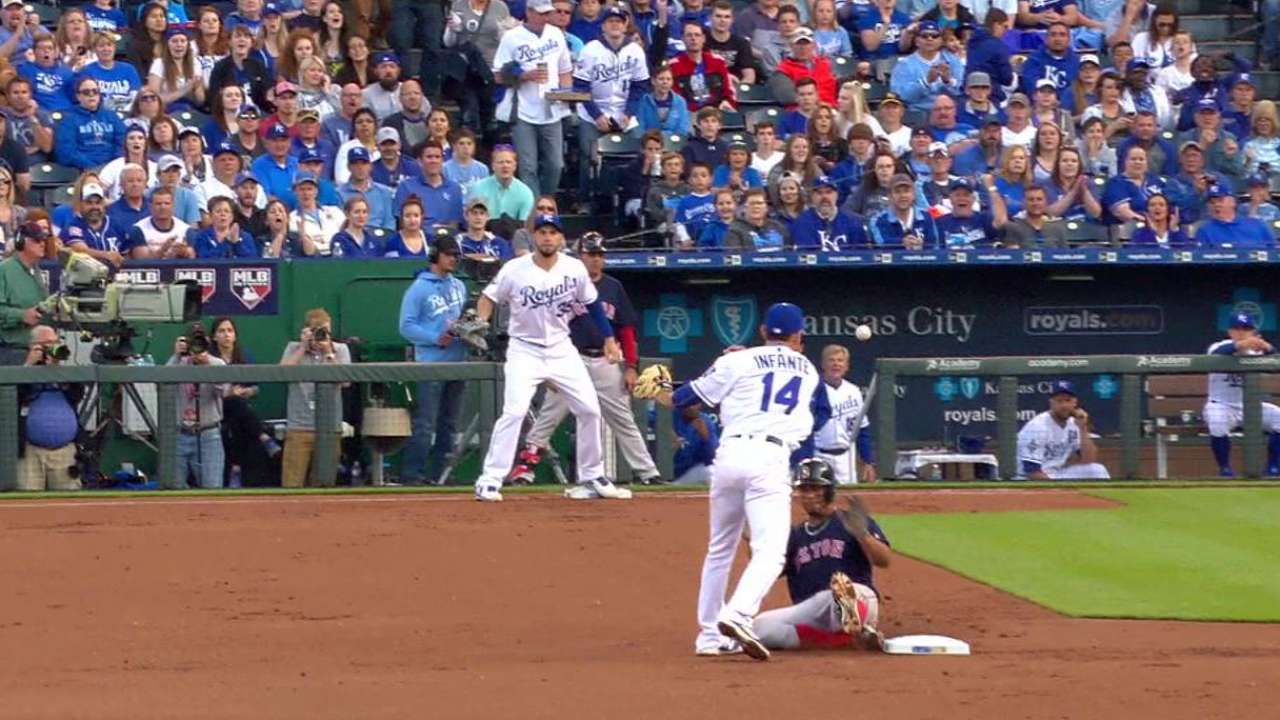 KANSAS CITY -- The Royals have taken two straight series, and there appears to be an uptick in their play.
And now they get to face the first-place White Sox for the first time this season, in a three-game set starting Friday in Chicago.
• Submit a question to the Royals Inbox
With that, let's get right to the questions in this week's Inbox.
@FlannyMLB do you think there is a possibility of Cuthbert going down to triple A to transition to a 2B?

— Jamie Crockett (@JCrockett505) May 18, 2016
Yes, that has been one of the big questions on the minds of Royals fans this week. Cheslor Cuthbert seems like the logical choice to be sent out once Mike Moustakas comes back Saturday. And with Hunter Dozier securing third base at Triple-A Omaha, Cuthbert seems likely to get more time at second base. Cuthbert has played only four professional games at second (plus Spring Training), so he would need a lot of reps down there to make it work at the big league level. Manager Ned Yost believes Cuthbert is athletic enough to do it. There'll be a lot of footwork to learn, though.
@FlannyMLB what's clubhouse reaction to Colon getting sent down?

— Royal P. Dolus (@rpdroyals) May 18, 2016
The roster move was made after the clubhouse closed between games, and after the second game, there were only a handful of Royals milling around. I can tell you that the move probably was a head-scratcher to many on the team. Christian Colon is well-liked in the clubhouse, and he's a team-first guy. The only thing that makes sense about the roster move to bring up Whit Merrifield -- other than his versatility -- is that Kansas City doesn't really have a viable candidate for shortstop Alcides Escobar long-term if he got hurt, because of the Raul Mondesi suspension. Colon could use some reps at shortstop, which he'll get at Omaha.
@FlannyMLB why was Jose Martinez never given a chance after hitting .380 last year?

— Spencer Roberts (@Spence1529) May 18, 2016
Well, the club thought enough of Jose Martinez to put him on the 40-man over the offseason. And Martinez, who won the Pacific Coast League batting title last season at .384, was given a chance to make the 25-man roster this spring. Probably the only knock against him is that he doesn't really profile as a Royals outfielder -- he's not terrific defensively and he doesn't have much speed. Martinez also doesn't have a lot of thump. But he can hit for average, and I think they're hoping most teams' 40-man rosters are full and he can clear waivers.
@FlannyMLB Will Duffy have enough time to be stretched out as a starter, or will Young and Medlen's returns make that irrelevant?

— Wesley Lantz (@Godsdrummer94) May 18, 2016
Danny Duffy will have time. Both Chris Young and Kris Medlen just started throwing again this week (actually Medlen is scheduled to throw Friday). And if Duffy excels in his audition for the rotation, Kansas City won't hesitate to keep him there. The Royals want production. And either Young and Medlen could transition to the bullpen. That's the flexibility they have.
@FlannyMLB if Beltran makes it into the hall think he'll wear the KC hat?

— Dalton Nehring (@ImBigInJapan_) May 18, 2016
That would be a fun bar-room debate. I haven't stayed in touch with Carlos Beltran over the years (my bad), so I don't have any inside scoop. But he's closely tied to the Royals and Mets in his career. This being Beltran's first love may be the deciding factor.
Jeffrey Flanagan has covered the Royals since 1991, and for MLB.com since 2015. Follow him on Twitter @FlannyMLB. This story was not subject to the approval of Major League Baseball or its clubs.