Madd science: Cubs win in wild fashion
Glove exchanges, Wood's RBI walk highlight eventful extras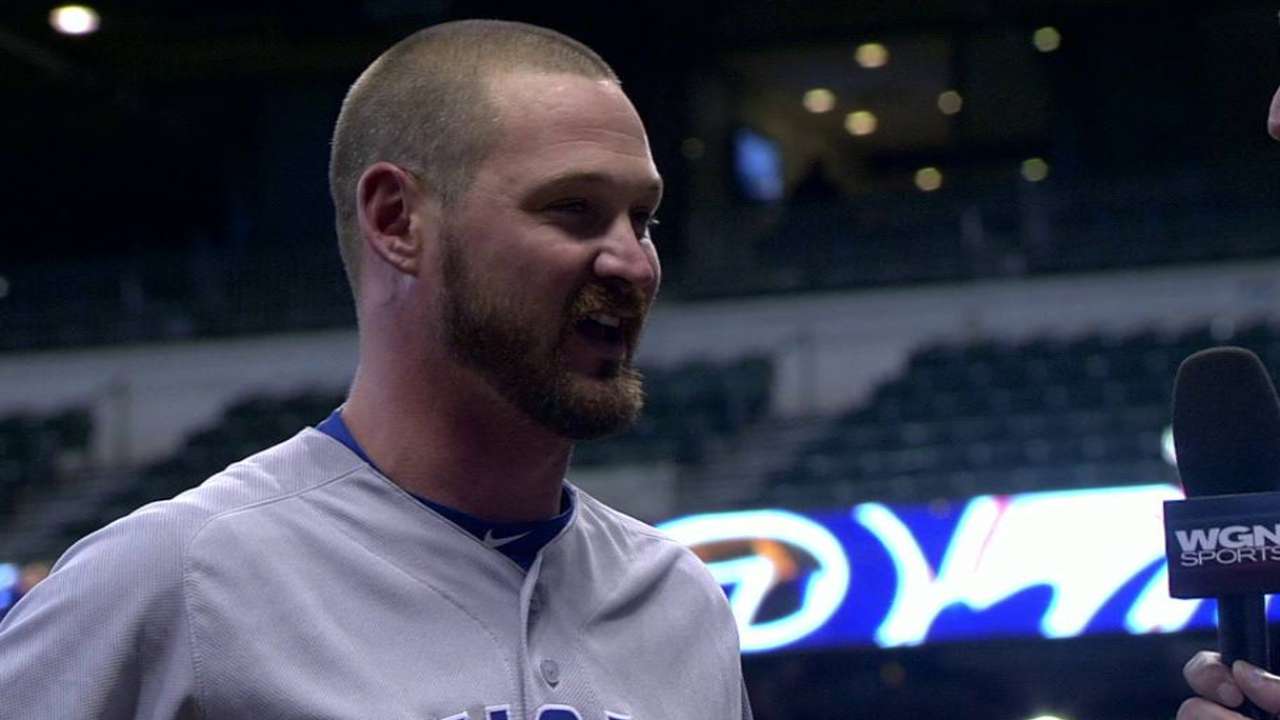 MILWAUKEE -- For the Cubs' Kris Bryant and Javier Baez, it felt like a Little League game in the 12th inning as two exchanged gloves and places in the infield.
"Using each other's gloves, throwing gloves back and forth -- we should've thrown a glove down for the base," Bryant said. "It was exactly like Little League. We got out of that inning and it was huge, just icing on the cake."
In case you dozed off -- and how could you? -- the Cubs did some magic tricks against the Brewers en route to a 2-1, 13-inning victory in a game that ended early Thursday.
With the game tied at 1 in the 12th, the Brewers loaded the bases with nobody out, prompting a flurry of defensive maneuvers. Bryant came in from left field to third base for a five-man infield against pinch-hitter Hernan Perez, who pitcher Travis Wood got to fly out to Dexter Fowler in shallow center. Chris Carter, who was at third, didn't advance.
"I knew it would be shallow, and I didn't know if they'd send [Carter] or not," Wood said. "They elected to keep him there and it worked out for us."
Baez, who had entered in the ninth as a pinch-runner and then took over at first, then switched gloves and places with Bryant against Aaron Hill, who popped up to shortstop Addison Russell. Bryant dashed to the dugout and grabbed his outfield glove to return to left and Baez went back to first against Martin Maldonado, who Wood got to pop up to Baez.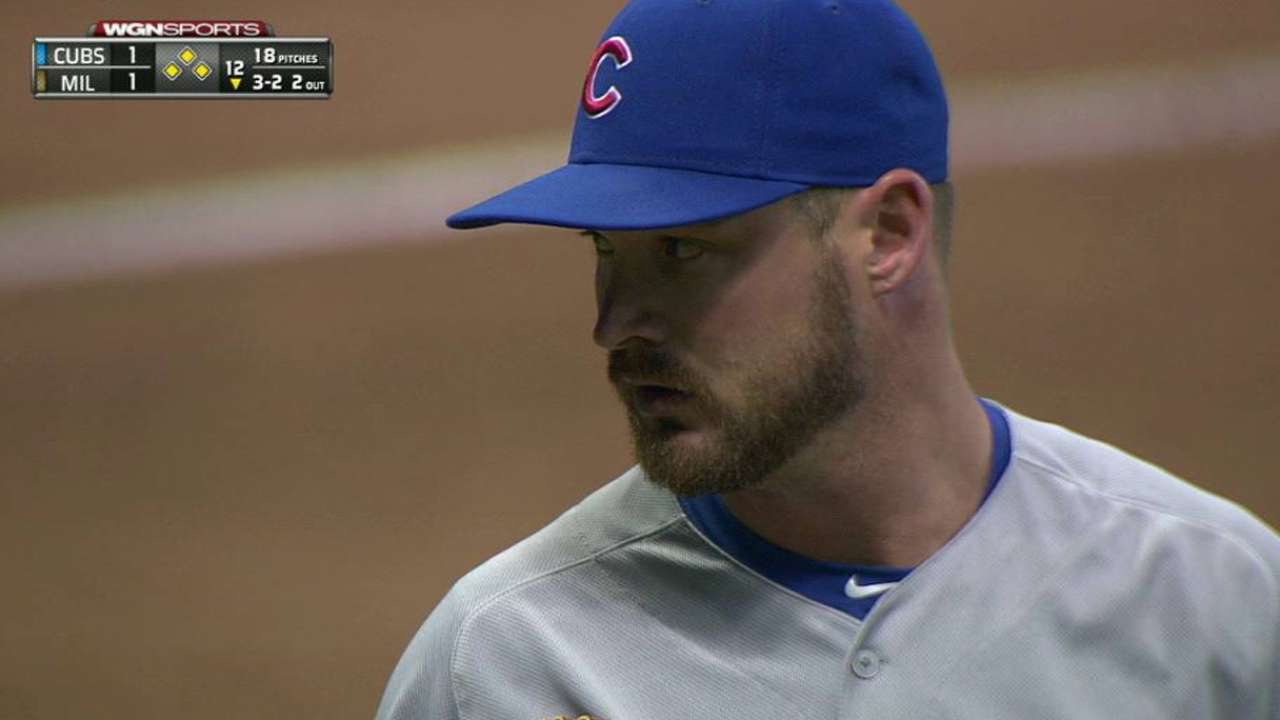 The Cubs worked on all the switching in Spring Training.
"All I can do about it is laugh and play it," Baez said of all the running around. "It felt like when you play Little League and keep moving around. You just try to have fun and win games."
Bryant had to borrow Baez's first baseman's glove because his isn't broken in yet, and jokingly called it the "community first baseman's glove."
"It would've been cool if I had gotten the ball at each position," Bryant said. "I enjoyed it. I'll remember this game for a very long time."
It was a long game, lasting five hours, and the Cubs and Brewers finish the series Thursday with a day game.
"I had all the confidence in the world," Bryant said. "I knew we'd get out of that."
When they did, the Cubs players celebrated in the dugout in what manager Joe Maddon said was "New Year's Eve-like."
Wood then delivered the game-winning RBI, although he didn't have to get a hit. In the 13th, the Cubs loaded the bases with two outs and Wood drew a walk to force in the winning run.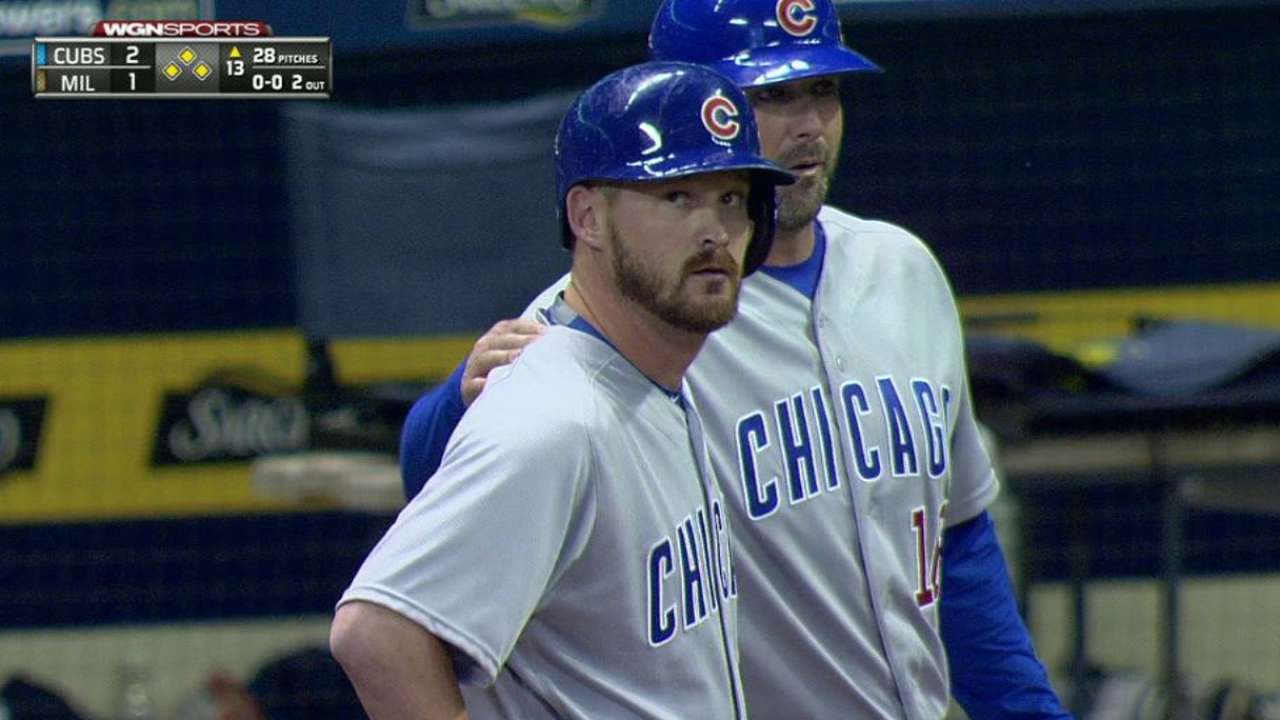 "He's always said that he wants to hit a walk-off homer," Bryant said. "I guess that was close to it. Especially to work an at-bat like that, and sitting on the bench that long, and coming off a long inning. He's a fun one to watch and a big part of our success."
Maddon joked that he told Wood if he escaped the 12th inning, he was going to get an at-bat. And the lefty did, even if it wasn't the walk-off.
"It needs to be at home because this is not technically a walk-off," Wood said. "I took a pretty good swing, I thought, on the first [pitch], and I didn't get another one to hit, and it was enough to win the game."
Carrie Muskat has covered the Cubs since 1987, and for MLB.com since 2001. She writes a blog, Muskat Ramblings. You can follow her on Twitter @CarrieMuskat and listen to her podcast. This story was not subject to the approval of Major League Baseball or its clubs.