Pipeline preview: Adames looking to catch fire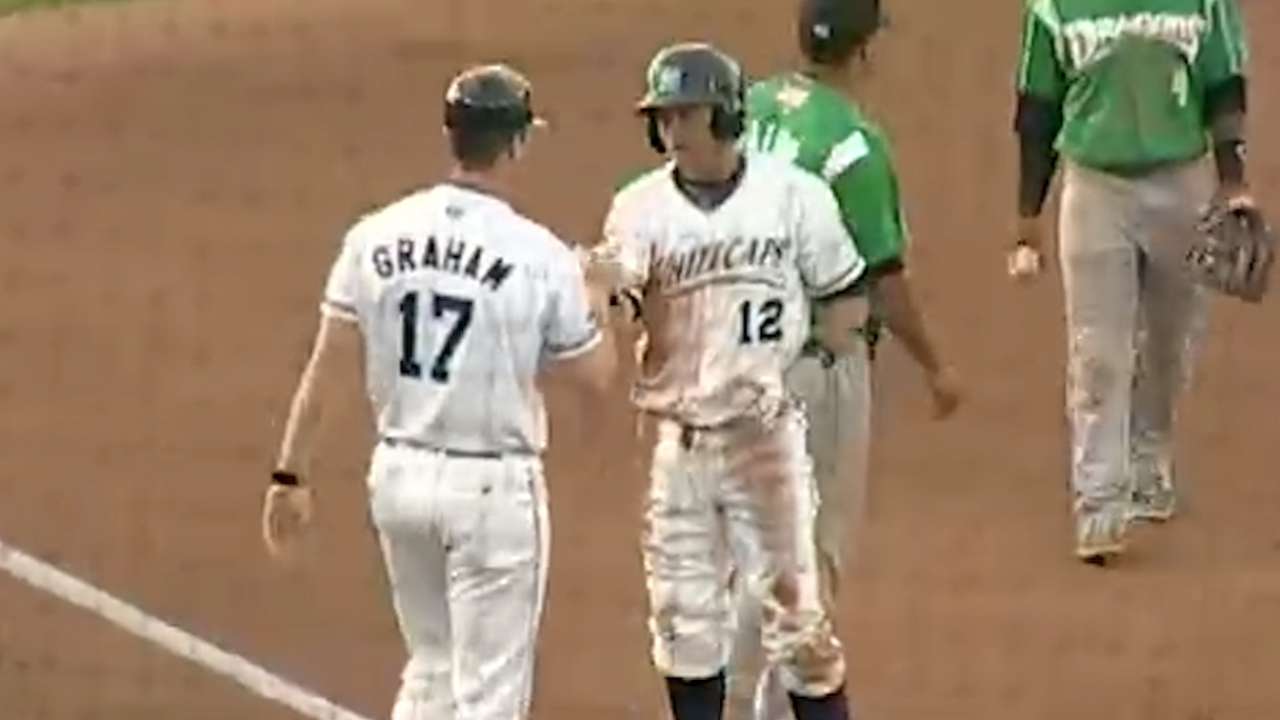 Here's a look at top prospects to watch Thursday in Minor League action:
Hitter to watch: Willy Adames (Rays' No. 3) Montgomery vs. Birmingham
Perhaps this is the week Adames catches fire. The No. 77 overall prospect isn't slumping, hitting .258 through 36 games, however, he isn't exactly hitting the cover off the ball either. But, things may be trending up for Rays' prospect. Adames went 2-for-5 with a pair of homers Wednesday in what was his first career multi-homer game and his first multi-hit game since May 7. There's no way of knowing whether Wednesday's game was a mere blip on the radar or a sign of things to come, but our answer may come when the Montgomery Biscuits take on the Birmingham Barons at 8:05 p.m. ET on MiLB.TV.
Pitcher to watch: Jameson Taillon (Pirates' No. 4) Indianapolis vs. Columbus
Taillon set a season-high when he struck out 11 in his last outing, but he also gave up three runs in six innings. The 24-year old right-hander has given up three earned runs in each of his last two starts, but his ERA still sits at just 2.08 - a testament to just how dominant he was to start the year. Taillon gave up one run or fewer in four of his first five starts and will look to get back to that at 11:05 a.m. ET on MiLB.TV.
Duel of the day: Anderson Espinoza (Red Sox No. 4) vs. Nolan Watson (Royals' No. 5) Greenville vs. Lexington 7:05 p.m. ET
Neither Espinoza nor Watson is likely to be thrilled with the way their seasons have begun, but there's a reason both pitchers are regarded among the top five prospects in their organizations.
Espinoza pitched just 1 2/3 innings his last time out and had a hard time finding the zone. He walked three and threw 27 of his 57 pitches for strikes. The Red Sox prospect has proven he can be dominant. On May 5, he walked one and struck out 11 while allowing just one run in five innings. The key for him now is to become that pitcher on a consistent basis.
Although he's struggled so far, there's a reason the Royals selected Watson in the first round last year. The right-hander has an impressive repertoire and is looking for that one start where he puts it all together. Through seven starts this season, Watson is 0-4 with a 10.52 ERA.
Thursday's Top 100 probables
No. 35 Anderson Espinoza (Red Sox No. 4) Greenville vs. Lexington (A)
No. 50 Jameson Taillon (Pirates' No. 4) Indianapolis vs. Columbus (AAA)
No. 58 Grant Holmes (Dodgers' No. 3) Rancho Cucamonga vs. Lake Elsinore (A-Advanced)
No. 76 Jack Flaherty (Cardinals' No. 2) Palm Beach vs. (A-Advanced)
More top prospect probables
Ryan Merritt (Indians' No. 27) Columbus vs. Indianapolis (AAA)
A.J. Cole (Nationals' No. 7) Syracuse vs. Norfolk (AAA)
Joe Musgrove (Astros' No. 8) Fresno vs. Memphis (AAA)
Nate Smith (Angels' No. 3) Salt Lake vs. Oklahoma City (AAA)
Miguel Almonte (Royals' No. 4) Omaha vs. Reno (AAA)
Ryan Williams (Cubs' No. 19) Iowa vs. Tacoma (AAA)
Jason Garcia (Orioles' No. 10) Bowie vs. Reading (AA)
Connor Sadzeck (Rangers' No. 27) Frisco vs. Midland (AA)
Tyler Eppler (Pirates' No. 28) Altoona vs. Binghampton (AA)
Brandon Woodruff (Brewers' No. 30) Biloxi vs. Tennesee (AA)
Sal Romano (Reds' No. 15) Pensacola vs. Jacksonville (AA)
Andrew Thurman (Braves' No. 13) Mississippi vs. Mobile (AA)
Tyler Danish (White Sox No. 11) Birmingham vs. Montgomery (AA)
Andrew Morales (Cardinals' No. 30) Springfield vs. Tulsa (AA)
Zack Erwin (Athletics' No. 23) Stockton vs. San Jose (A-Advanced)
Elniery Garcia (Phillies' No. 22) Clearwater vs. St. Lucie (A-Advanced)
Felix Jorge (Twins' No. 25) Fort Myers vs. Dunedin (A-Advanced)
Travis Lakins (Red Sox No. 11) Salem vs. Lynchburg (A-Advanced)
Luis Lugo (Indians' No. 26) Lynchburg vs. Salem (A-Advanced)
Jeff Brigham (Marlins' No. 28) Jupiter vs. Tampa (A-Advanced)
Chance Adams (Yankees' No. 21) Tampa vs. Jupiter (A-Advanced)
Wes Parsons (Braves' No. 29) Carolina vs. Potomac (A-Advanced)
Jordan Stephens (White Sox No. 13) Winston-Salem vs. Myrtle Beach (A-Advanced)
Andrew Moore (Mariners' No. 10) Bakersfield vs. High Desert (A-Advanced)
Jake Jewell (Angels' No. 8) Inland Empire vs. Lancaster (A-Advanced)
Josh Taylor (D-backs' No. 27) Visalia vs. Modesto (A-Advanced)
Jaime Barria (Angels' No. 14) Burlington vs. Wisconsin (A)
Brian Gonzalez (Orioles' No. 24) Delmarva vs. Lakewood (A)
Max Fried (Braves' No. 10 Rome vs. Augusta (A)
Dario Agrazal (Pirates' No. 30) West Virginia vs. Hickory (A)
Peter Lambert (Rockies' No. 13) Asheville vs. Kannapolis (A)
Angel Perdomo (Blue Jays' No. 23) Lansing vs. Fort Wayne (A)
Enyel De Los Santon (Padres' No. 12) Fort Wayne vs. Lansing (A)
Nolan Watson (Royals' No. 5) Lexington vs. Greenville (A)
Junior Fernandez (Cardinals' No. 15) Peoria vs. Kane County (A)
William Boor is a reporter for MLB.com. Follow him on Twitter at @wboor. This story was not subject to the approval of Major League Baseball or its clubs.