No more FOMO for LoMo after first RBIs
Morrison posts first multi-hit game since 2015 in win over Blue Jays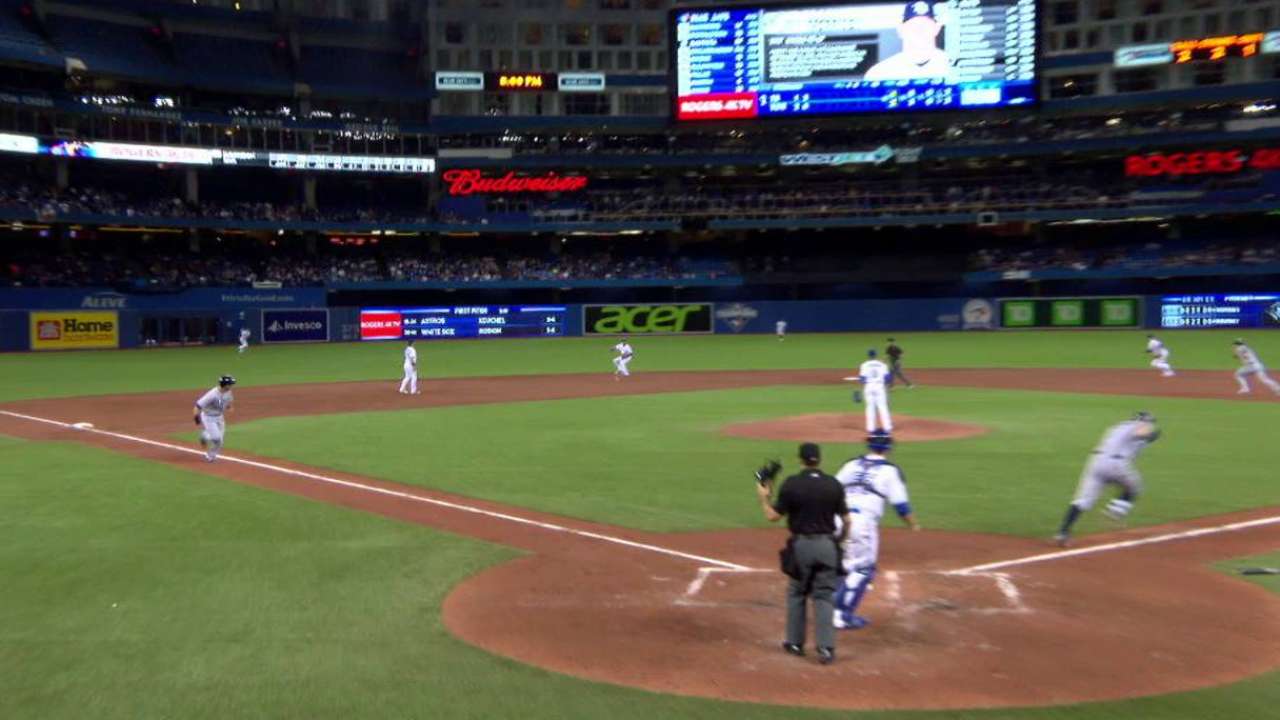 TORONTO -- Logan Morrison has had a season to forget. So a little sunshine of late has felt pretty soothing to the veteran slugger, who has managed to remain upbeat throughout his early-season struggles.
"It's baseball," Morrison said. "It definitely was tough, but it's a team game and you want to be there for the guys. You want to be the same person whether you're struggling or on fire.
"I think that's one of the lessons that I learned from the guys when I was a rookie. It doesn't matter what you're doing. Nobody should know if you're hitting .500 or .100. It's just kind of the way I go about it. It's just the way I was taught."
• Rays keep raking in win over Blue Jays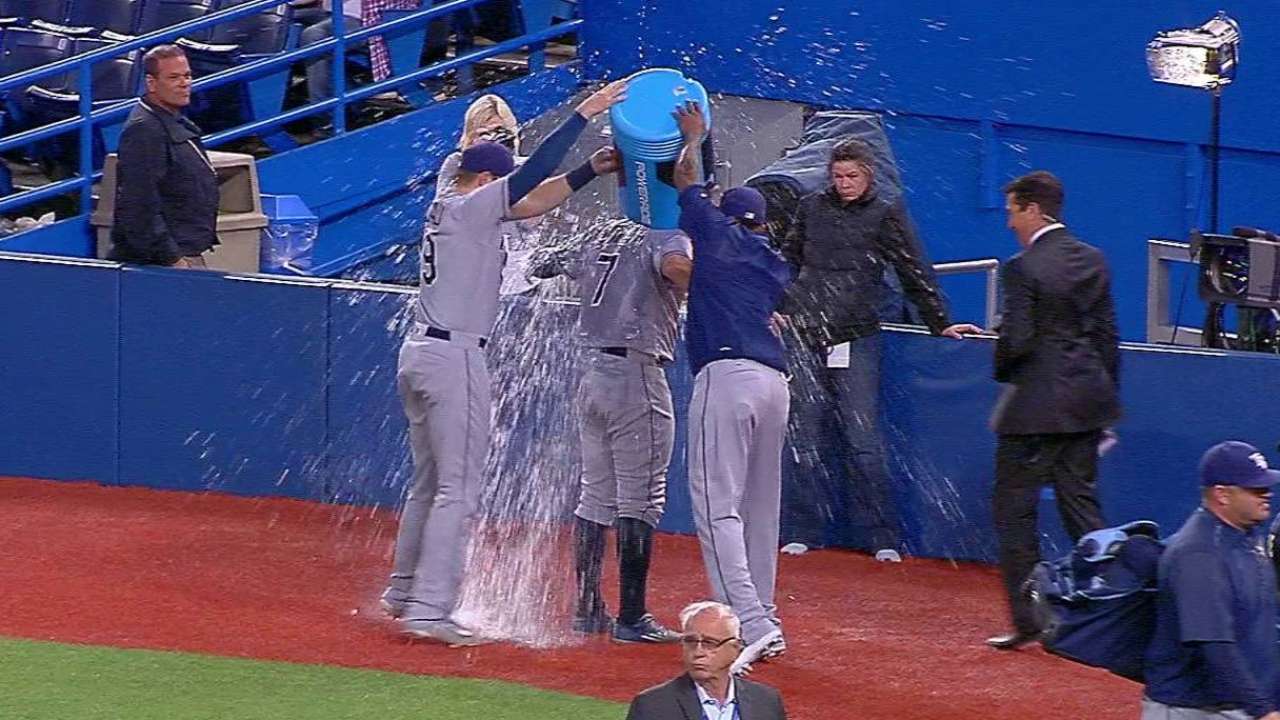 Morrison got off to a slow start and went downhill from there. All along, the Rays stuck with him, despite criticism from some fans over the choice to go with Morrison instead of James Loney.
It might not have been pretty in Tuesday's 12-2 win over the Blue Jays, but Morrison drove in his first run of the season with a fielder's choice in the third.
Morrison celebrated his RBI by driving home another with a fifth-inning single. On the night he went 2-for-5, raising his average for the season from .129 to .144. The multiple-hit game was his first since Sept. 25, 2015, a span of 39 games.
"Yeah, RBI machine, getting my first two in the middle of May," Morrison said. "I feel like it's not what you've done, it's what you're going to do. ... Glad I was able to contribute tonight."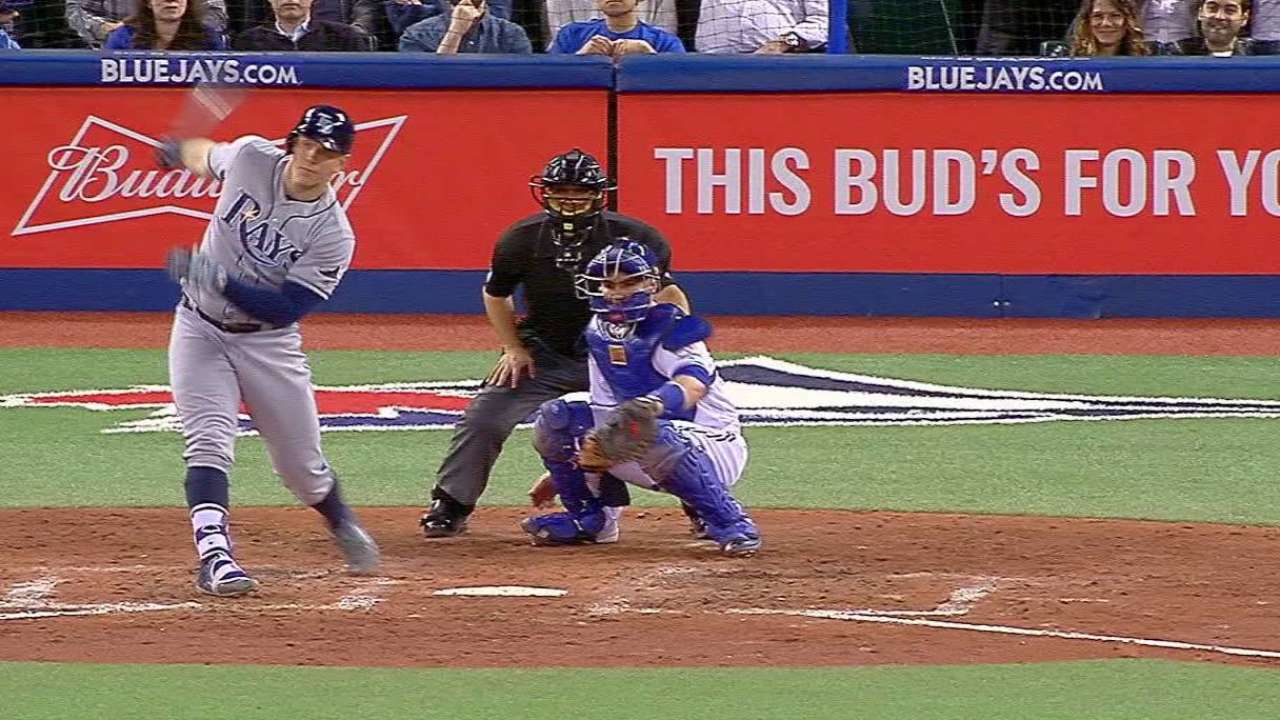 Other signs of life have been seen in May. Morrison has a .378 on-base percentage for the current month after compiling a .156 OBP in April.
"I just think it's the process of getting a good pitch to hit and putting a good swing on it," Morrison said. "Earlier I was swinging at stuff I shouldn't swing at. Starting to come around as far as not swinging at pitches outside the zone. Getting some more walks, things like that. And then finding the barrel."
Rays manager Kevin Cash has remained in Morrison's corner and sounded happy about Tuesday night's results.
"That was awesome. Logan, we all know, you guys see him every day, he's been grinding through it," Cash said. "He's been just as pro as you can be handling everything. It's great to see him get on the board, and now we can move past that conversation. ... Like we said yesterday, we can look up at the end of the year and [he'll have] 65 or 70 RBIs."
Bill Chastain has covered the Rays for MLB.com since 2005. This story was not subject to the approval of Major League Baseball or its clubs.