Short starts, taxed bullpen hampering Reds
Starter Simon yields 10 earned runs, reliever Delabar walks five in loss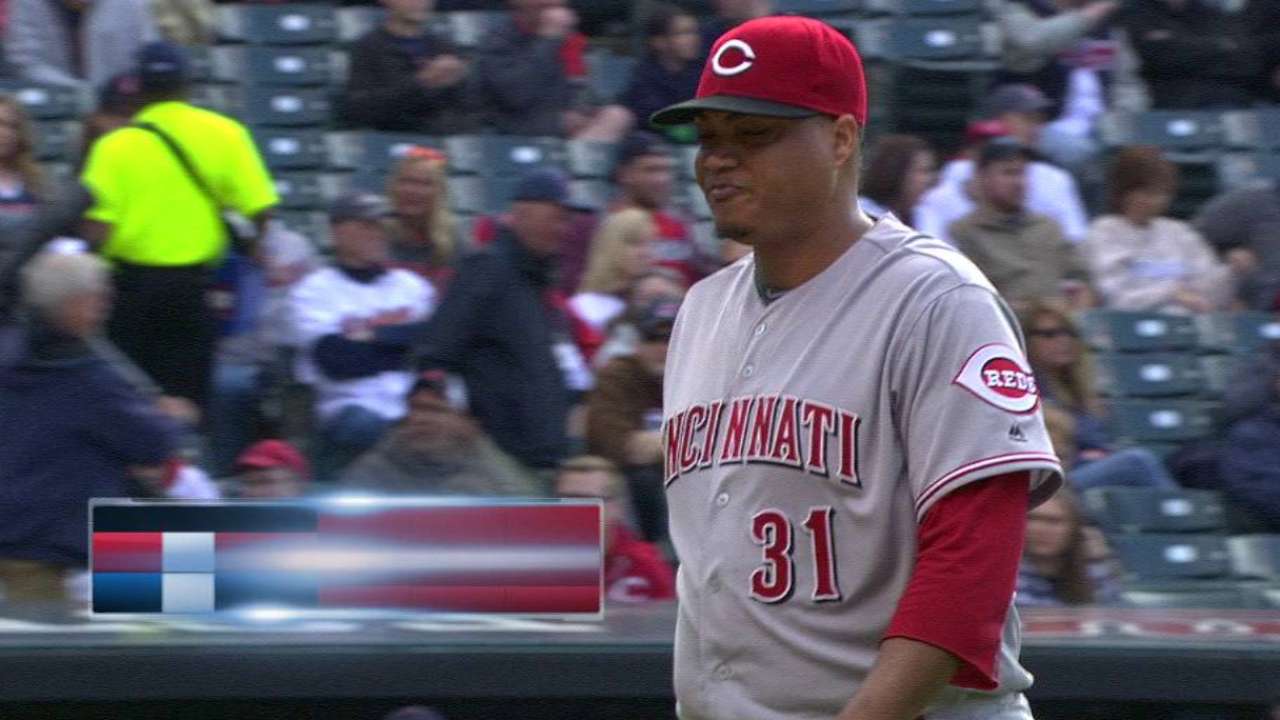 CLEVELAND -- After getting roughed up in back-to-back innings by the Indians on Tuesday, Reds pitcher Alfredo Simon made a slow walk to the dugout upon securing the third out in the third. Once inside, Simon slammed his glove on the bench and spilled a bucket of bubble gum.
The long, frustrating night wasn't quite over yet for Simon, who would work into the fifth inning. But the Reds' fate was certainly sealed at that point before a 13-1 loss to Cleveland.
"We're just in a bad cycle of short starts and an overtaxed bullpen," Reds manager Bryan Price said.
Simon was signed for $2 million on March 17, explicitly to provide innings and deep starts. Off his seven starts, only his previous two were quality outings.
While the bullpen has taken its lumps this season, starting pitchers play a role in setting up relievers for big struggles.
The Reds' rotation, which has been plagued by injuries, has pitched a National League-low 199 1/3 innings. That total isn't much more than the innings compiled by the bullpen -- 141 2/3 -- that is second-most in the Majors.
There hasn't been a seven-inning start for a Reds pitcher since Simon went a season-high 7 2/3 innings vs. the Brewers on May 5. The only other starter to complete seven innings was Robert Stephenson on April 19 vs. the Rockies.
Consequently, Reds relievers lead the Majors in walks, ERA, WHIP and home runs allowed.
"Unfortunately, it's a lot of short starts," Price said. "I'm throwing [Steve] Delabar every other day, an inning-plus. [Blake] Wood goes four out of five, or [JC] Ramirez. [Tony] Cingrani, if he's not in, he's up. It's too much. It's too much. It's too much for a bullpen. It's kind of this cycle of trying to stay competitive and get your starters out if they don't have it, but not kill your bullpen in the process. Or leave a starter out there when he's out there getting beat up so he can save your bullpen."
Simon couldn't keep his sinker down and was tapped for 14 hits while setting a career high with 10 earned runs over 4 1/3 innings. It was an 8-0 deficit when he was pulled, and two more of his runs were walked in by Delabar, who issued five total walks.
"I just tried to go deep in the game," Simon said. "Sometimes, it's hard to do it. I have to keep working and just throw the ball down."
Cleveland collected four runs with five hits in the second inning and four hits in a three-run third. Price paid him a mound visit during the third.
"We really needed him. Obviously, you hate to leave a starter out there that doesn't seem to have it," Price said.
Ironically, Price saw the two-game Interleague series at Cleveland as a chance to reduce the bullpen from eight to seven relievers. Having the designated hitter should've required fewer pitching changes. John Lamb lasted four innings with seven runs in a 15-6 loss Monday. The last time Reds starters gave up seven or more runs in back-to-back games was Aaron Harang and Paul Wilson on Sept. 6-7, 2004.
"To right the ship, we have to get longer starts so we can have a fresh bullpen when they come in the game," Price said
Mark Sheldon has covered the Reds for MLB.com since 2006, and previously covered the Twins from 2001-05. Read his blog, Mark My Word, follow him on Twitter @m_sheldon and Facebook and listen to his podcast. This story was not subject to the approval of Major League Baseball or its clubs.