Davis' walk-off slam stuns Rangers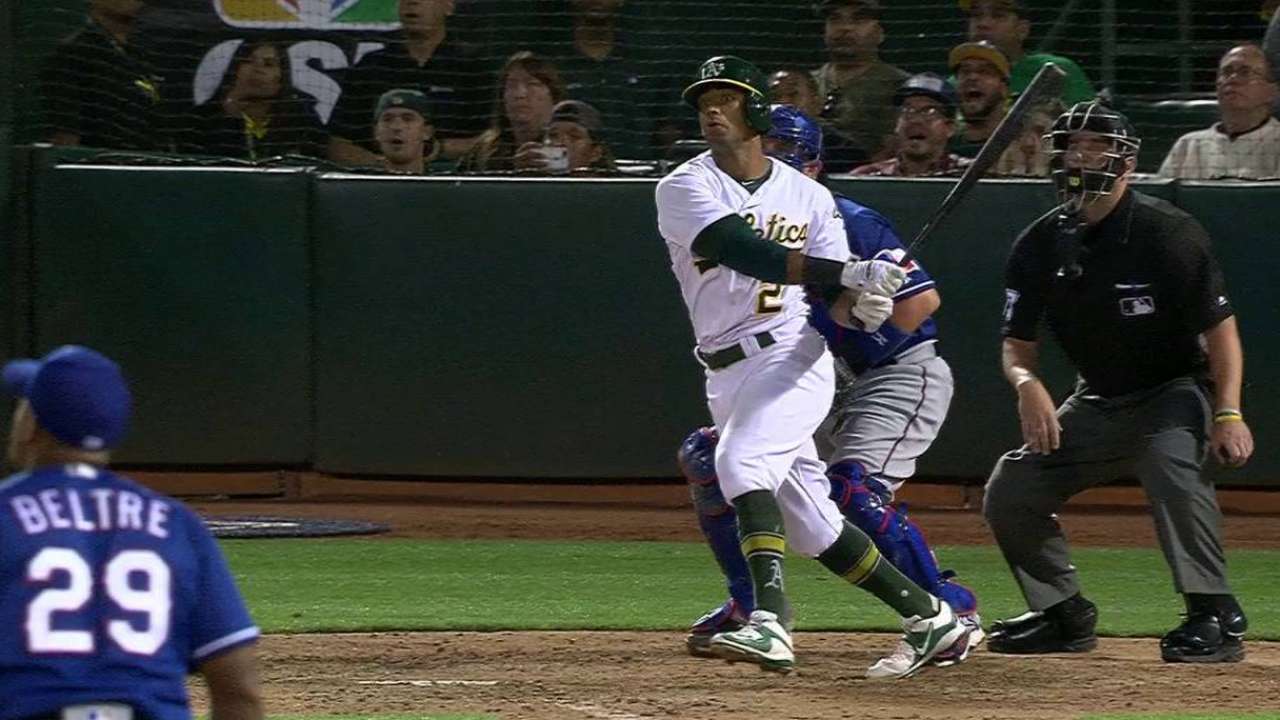 OAKLAND -- Khris Davis hit a grand slam with two outs in the bottom of the ninth inning to give the Athletics a 8-5 victory over the Rangers on Tuesday night. Davis hit three home runs in the game.
The rally came at the expense of Rangers closer Shawn Tolleson, who suffered his fourth blown save of the season after having two all of last season.
Davis became only the second Major Leaguer to hit three homers in a game with the third one being a walk-off grand slam. The first was the Reds' Joey Votto, who did it against the Nationals in May 2012.
"That's a tough way to lose a ballgame after we fought so hard to take the lead," Rangers manager Jeff Banister said.
• Davis caps walk-off grand slam with jump shot that would make Steph Curry jealous
The Rangers had taken a 5-4 lead in the top of the ninth on a two-run home run by Ian Desmond.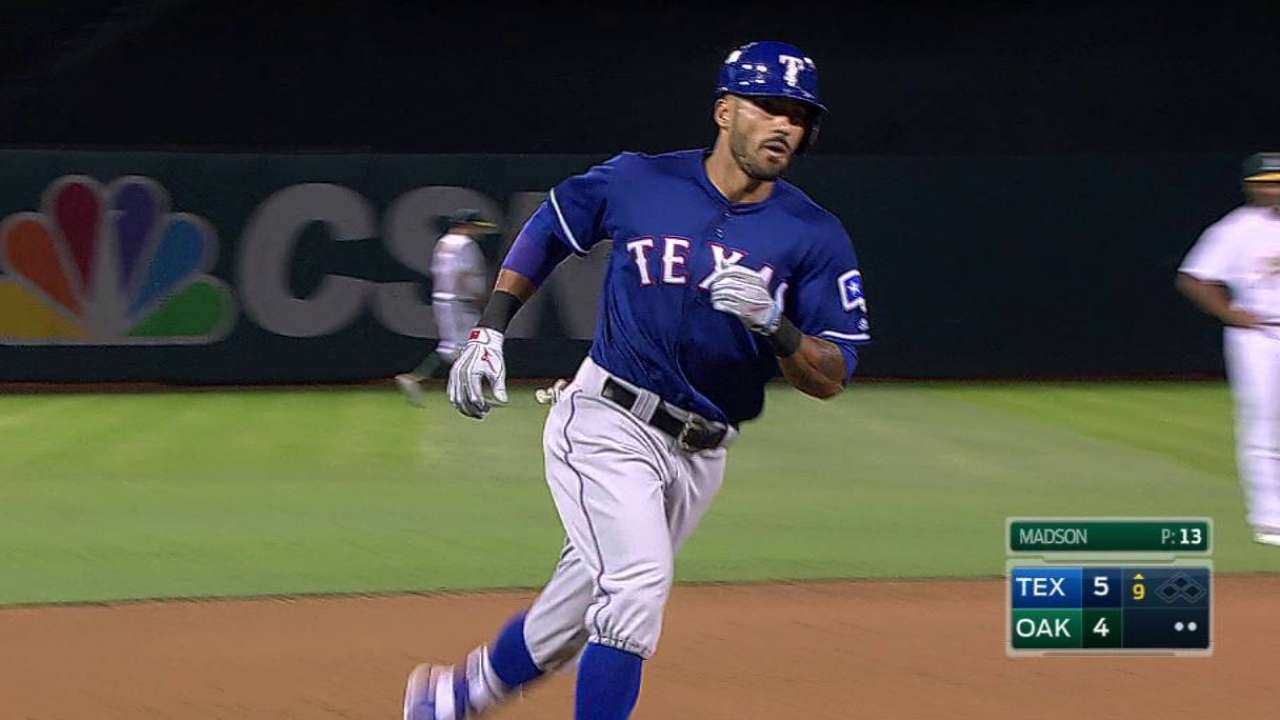 Tolleson took over in the bottom of the inning. Stephen Vogt led off the inning with a little ground ball down the first-base line. Tolleson fielded it and threw to first but the throw hit Vogt. The Rangers thought Vogt was running inside the baseline and should have been called out but the play is not reviewable. Coco Crisp followed with a double down the right-field line, putting runners on second and third. Tolleson then got Billy Burns on a popup to Rougned Odor and the Rangers walked Josh Reddick to load the bases. Tolleson then got Danny Valencia to pop out to shallow right, leaving him one out away from escaping the jam.
But Davis crushed a 2-2 pitch over the left-field wall to win it. More >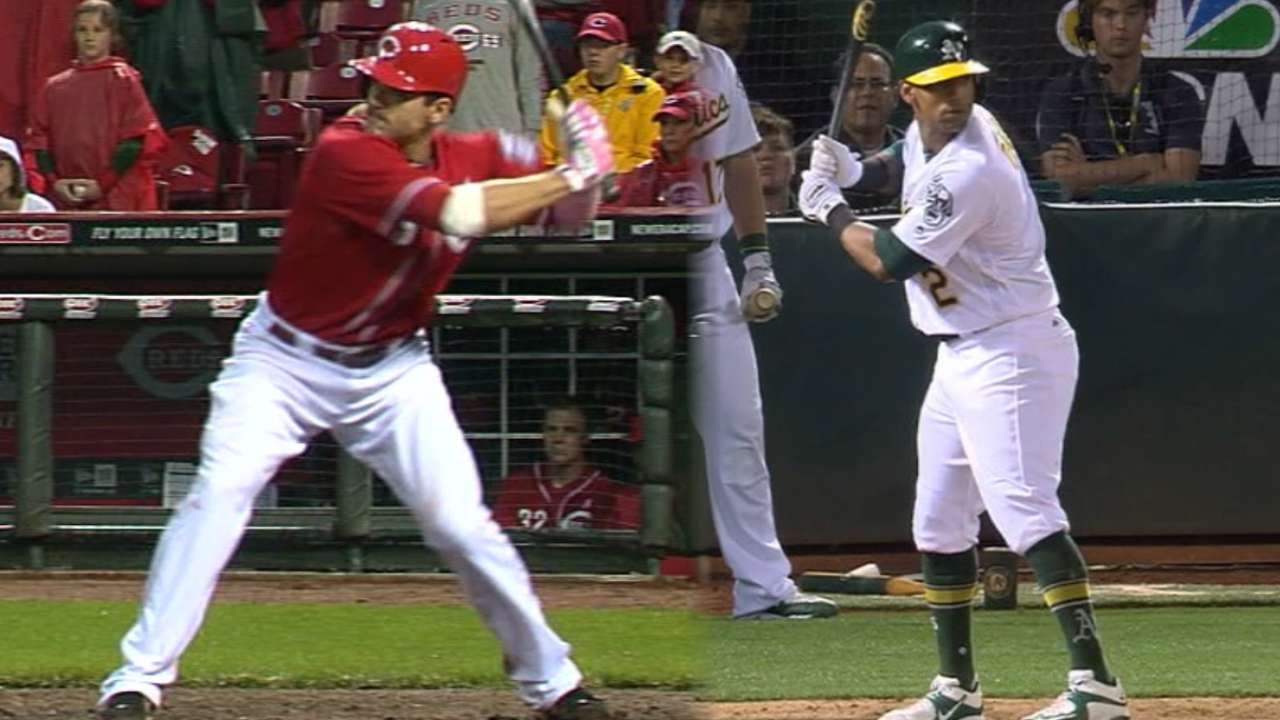 "That was an amazing feeling," Davis said of his first career game with three home runs. "I knew in the back of my head I was going to get the job done going up to the plate. I thought they were going to make me beat them with a fastball in that at-bat."
MOMENTS THAT MATTERED
Passed ball costly: A passed ball led to Oakland's go-ahead run in the seventh. Texas pitcher Cole Hamels struck out Matt McBride to start the inning but catcher Bobby Wilson couldn't handle the 1-2 cut fastball. McBride reached on the play. He was forced at second on Crisp's attempted sacrifice bunt but two-out singles by Reddick and Valencia brought home the run that gave the Athletics a 4-3 lead.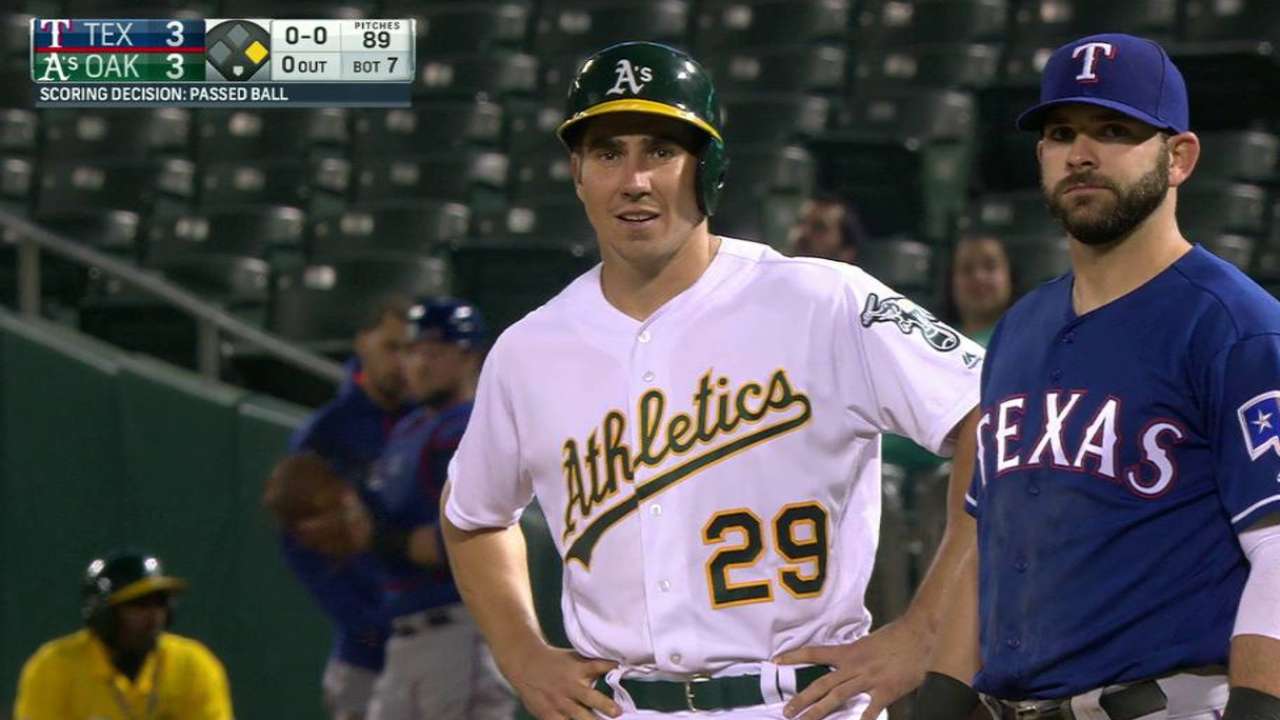 Both clubs go back-to-back: Both teams had early back-to-back home runs. The Athletics went first as Valencia led off the second inning by going deep to left field on a 3-0 fastball from Hamels. Davis hit the next pitch by Hamels -- another fastball -- also over the left -ield fence. In the top of the third, Nomar Mazara and Adrian Beltre also led off the inning with home runs off of Hahn. Both of theirs went to center field.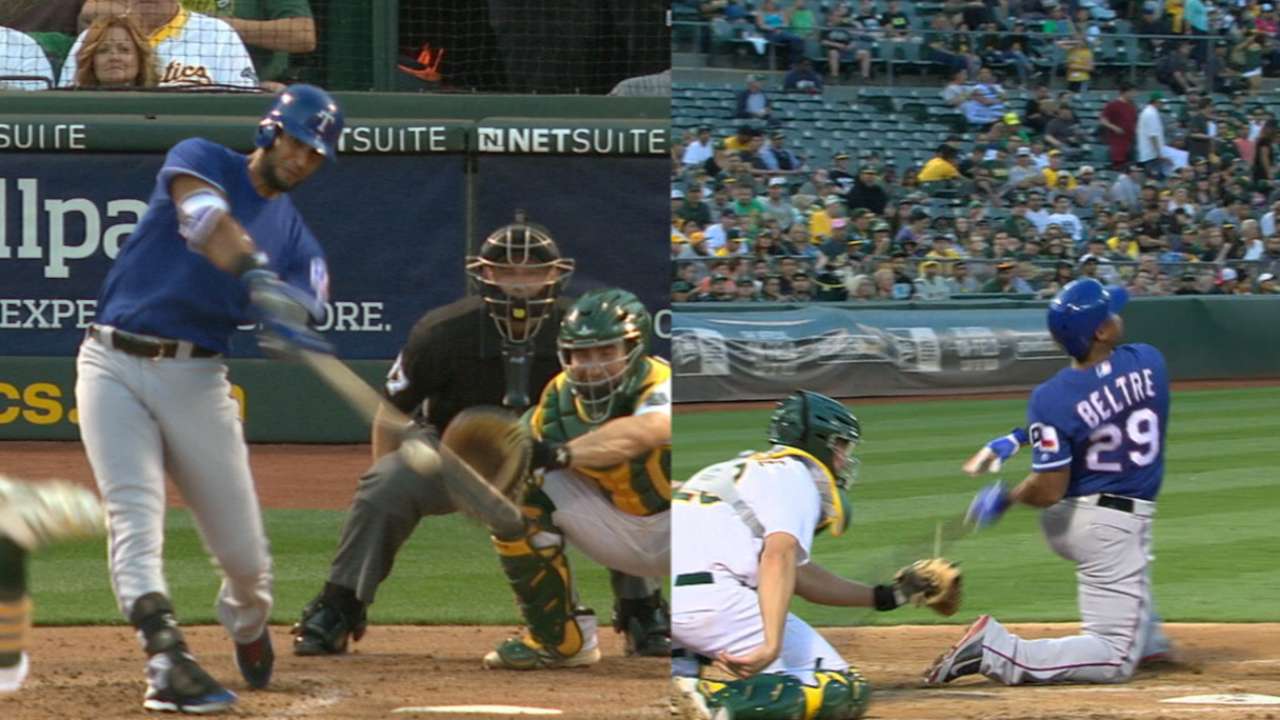 The Mazara and Beltre home runs were preceeded by consecutive bombs by Valencia and Davis, his first of the night.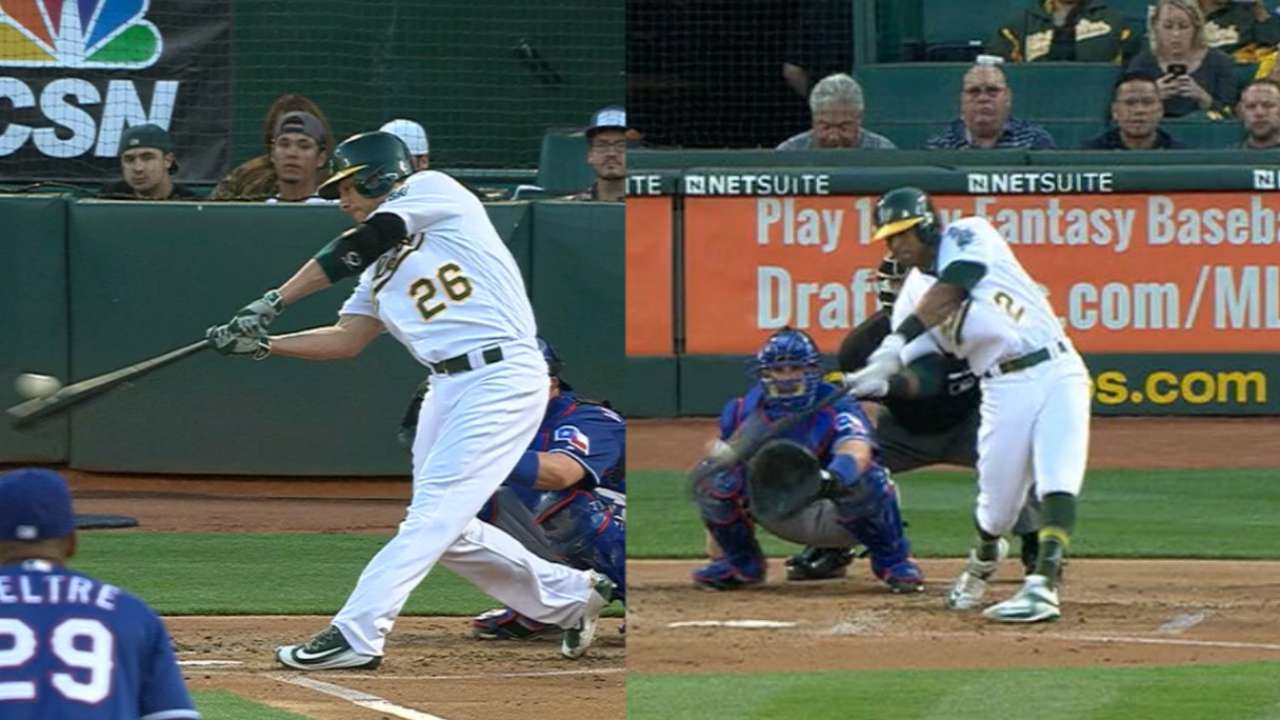 Valencia's big catch: Valencia, Oakland's third baseman, made a stellar sliding, one-handed basket catch on Mazara's popup just in front of the A's dugout after the Rangers got their leadoff hitter in the fifth inning to third base with one out. That kept the score 3-2 until Davs' tying homer in the sixth.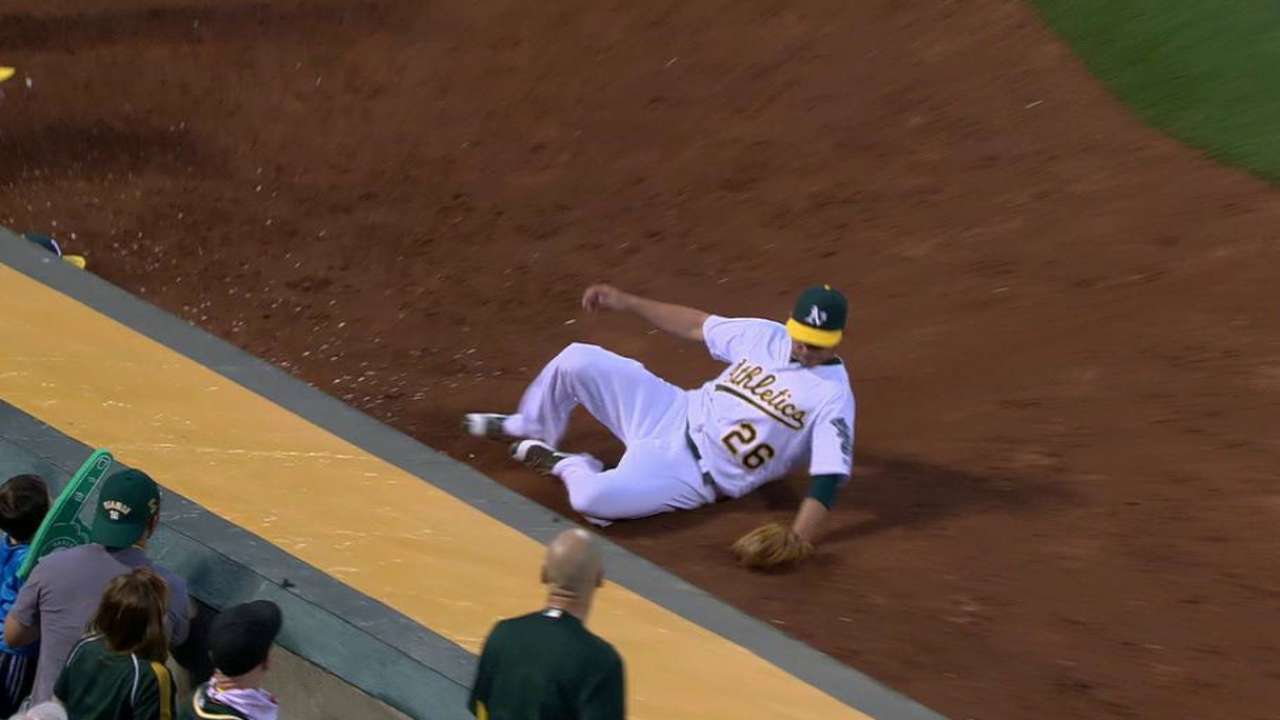 Davis gets fastballs: Davis hit a 2-2 fastball for the game-winning grand slam. It was the sixth straight fastball Tolleson threw to Davis. He had hit his first two home runs off off-speed pitches. "Tolleson trusted his fastball, he just missed location," Banister said. "Center-cut fastball, something you can do in that situation." More >
• Grand slams mean 40% off pizza
Madson blows 1st save of year: A's closer Ryan Madson' had saved 11 consecutive games this season before surrendering a go-ahead two-out, two-run home run to Texas slugger Ian Desmond in the ninth inning. It was the first home run allowed by Madson this season and ended his streak of 11 consecutive saves. Desmond's homer also stopped Madson's stretch of 11 2-3 consecutive scoreless innings that was the longest by an Oakland pitcher this year.
"It was a hanging changeup," said Madson, who got the win when the A's rallied in the bottom of the inning. "That is definitely a deflater."
WHAT'S NEXT
Rangers: Left-hander Martin Perez pitches for the Rangers against the Athletics at 2:35 p.m. Wednesday at the Coliseum. Perez is looking for his first road win since April 23, 2014. He is 0-8 with a 4.82 ERA in his last 13 road starts.
A's: Left-hander Rich Hill takes the mound for Oakland in the afternoon series finale. Hill has won four of his last five starts and has allowed just two home runs over 43 2-3 innings. He has never beat Texas in two career appearances.
Watch every out-of-market regular season game live on MLB.TV.
T.R. Sullivan has covered the Rangers since 1989 and for MLB.com since 2006.

Michael Wagaman is a contributor for MLB.com based in Oakland.

This story was not subject to the approval of Major League Baseball or its clubs.