Before he returns behind plate, Gattis hits winner
Slugger to make first start at catcher since 2014 on Thursday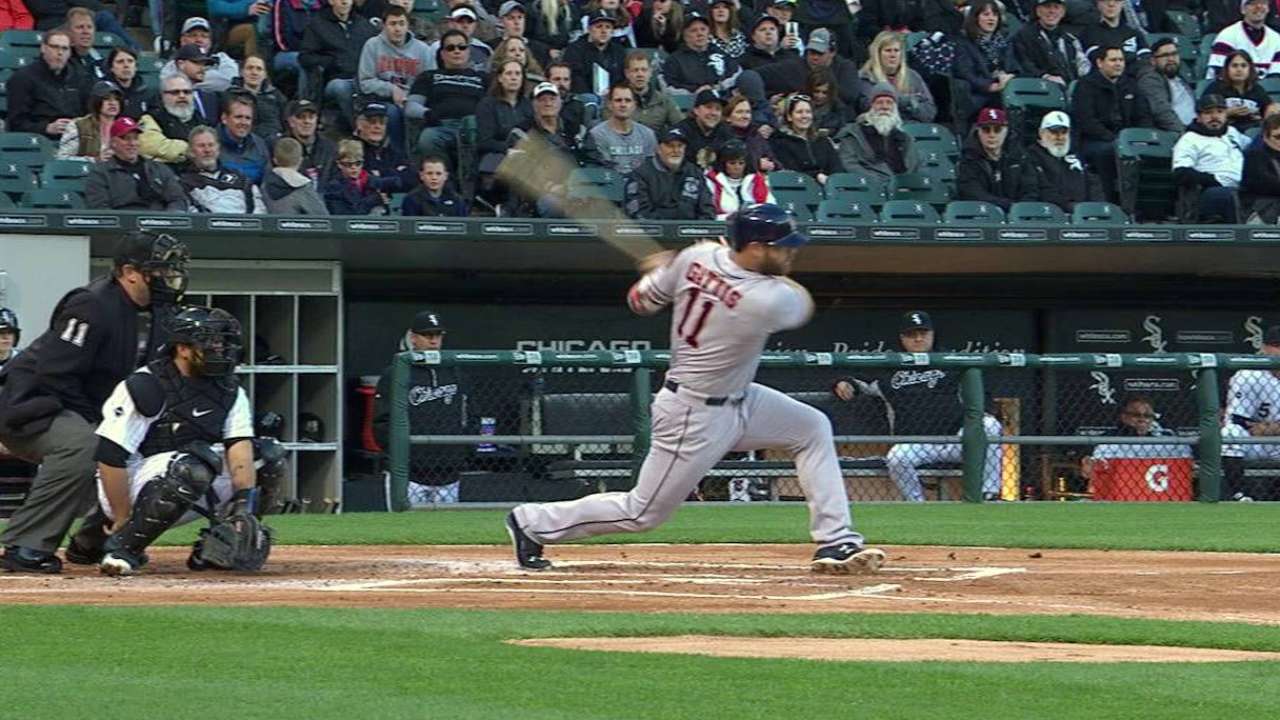 CHICAGO -- Astros slugger Evan Gattis will start at catcher for the first time since 2014 when he gets behind the plate for Thursday's series finale against the White Sox, manager A.J. Hinch said on Tuesday. Gattis joined the club on Tuesday after spending 10 days at Double-A Corpus Christi. He went 2-for-4 with a go-ahead two-run homer in the 11th inning of a 6-5 win over the White Sox.
"I'm glad we called that guy up from Double-A," manager A.J. Hinch joked. "That was a nice callup for the day. We welcomed him back. We certainly missed that type of at-bat. I was really happy he was able to give us the lead."
Gattis, who caught for the Braves in 2013 and '14, was used primarily as a designated hitter by the Astros in his first season in Houston last year. The team wanted him to get back behind the plate in the spring, but he underwent sports hernia surgery on Feb. 9 and missed all of camp.
He joined the Astros shortly after the start of the season and played in 20 games before Houston optioned him to Corpus Christi to get some extensive playing time at catcher. In seven games with the Hooks, he hit .360 with three homers and six RBIs and threw out one of the two runners trying to steal in 32 innings behind the plate.
"It was fun," Gattis said. "I caught the first game down there and got the jitters out and stuff. It was really fun. I enjoyed it. Just glad to be back."
Gattis feels about as ready as he can to catch, but he admits it will continue to be a work in progress.
"I still feel a little rough, but it's going to be a learning process forever, just like hitting and everything," he said. "It's going to be adjustments that never end."
Hinch said that having Gattis serve as the second catcher behind Jason Castro gives him roster flexibility.
"I like the fact it gives us more options, but the difficulty in this game is you really can only take one of Gattis or Castro out of the game for a pinch-runner," Hinch said. "If one of them pinch-hits when they're not playing, you're down to one catcher. It's a risk I'll have to think about virtually every game.
"Neither Castro nor Gattis are great runners. I could see [Tony Kemp] pinch-running for them tonight and you're down to one catcher. Other than that ... it was worth the risk, we thought, with the roster being constructed this way."
Brian McTaggart has covered the Astros since 2004, and for MLB.com since 2009. Follow @brianmctaggart on Twitter and listen to his podcast. This story was not subject to the approval of Major League Baseball or its clubs.