Mets promote prospect Reynolds for MLB debut
Reliever Gilmartin optioned to Triple-A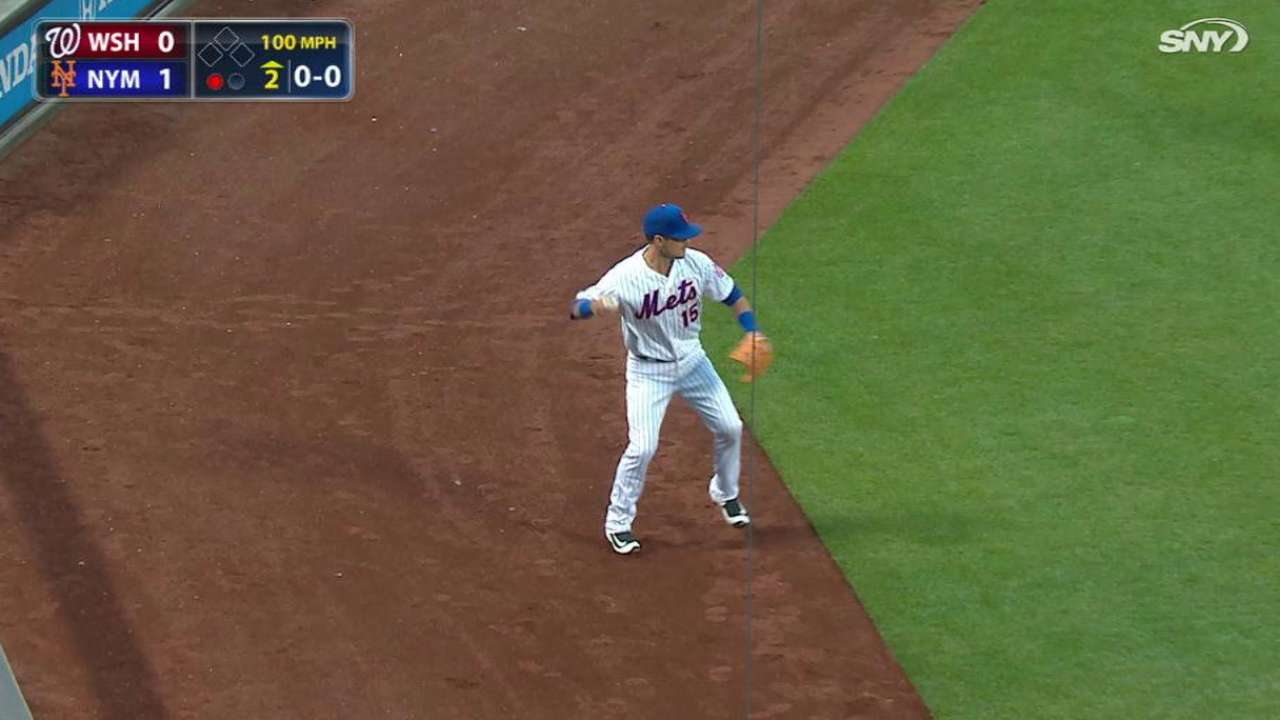 NEW YORK -- The Mets added balance to their bench Tuesday, recalling infielder Matt Reynolds from Triple-A Las Vegas and optioning reliever Sean Gilmartin. The move gave New York five reserve position players after the team had carried an extra pitcher during last weekend's series on the road vs. Colorado.
Reynolds, who is ranked as the club's No. 9 prospect by MLBPipeline.com, made his Major League debut in Tuesday night's 2-0 win over the Nats while starting at third base and batting ninth in place of David Wright, who was a late scratch due to a flare-up of his back issue. Reynolds, 25, was hitting .238 with two homers and 10 RBIs in 138 at bats for Las Vegas, where he played second base, shortstop and third base. He finished 0-for-3 in his debut.
• Back issues keep Wright, Duda out of action
Reynolds replaced Ruben Tejada on last year's National League Division Series and NL Championship Series rosters after Tejada suffered a broken leg, but Reynolds did not appear in any games. The 2012 second-round pick will fill a utility role that has been vacant since Wilmer Flores landed on the disabled list last week with a mild hamstring strain. New York is only comfortable playing its other utility infielder -- Eric Campbell -- at the corner positions.
Gilmartin threw five scoreless relief innings against the Rockies, but he was expendable after the Mets received positive news on Steven Matz's left elbow. Matz, who missed his most recent scheduled start due to elbow discomfort, received an injection earlier in the week and will resume throwing Wednesday. The Mets are hoping he can return to the rotation Friday against Milwaukee.
Joe Trezza is a reporter for MLB.com based in New York. Follow him on Twitter at @joetrezz. This story was not subject to the approval of Major League Baseball or its clubs.