Inbox: Does Servais lean on coaches?
Beat reporter Greg Johns fields questions from readers
How much is Scott Servais leaning on his coaches for in-game strategy since he is a rookie manager?
-- Chris, Bothell, Wash.
I've been impressed with how Servais has handled himself in his first months as manager. And among the many positives has been his willingness to credit those around him -- including bench coach Tim Bogar, pitching coach Mel Stottlemyre Jr. and hitting coach Edgar Martinez -- for being important sounding boards and part of all his decisions. Clearly, he's the one with the final word, but Servais and general manager Jerry Dipoto both seem very inclusive in seeking the opinions of others and having the confidence to acknowledge they're not doing things all on their own.
Third-base coach Manny Acta and Bogar both have managerial experience and are good resources, but Servais quickly implemented his own approach and has handled himself like a veteran from Day 1. It seems like a very cohesive group, including first-base coach Casey Candaele and bullpen coach Mike Hampton, and Servais is the first to acknowledge that it's a team effort.
• Submit a question to the Mariners Inbox
Do you think the Mariners need or will get another bullpen guy? I'm a bit worried about Joel Peralta and Nick Vincent holding up.
-- Matt B., Kenmore, Wash.
Your concerns are valid, as both right-handers have been used a lot more often and in higher-leverage situations than expected, due to injuries to Joaquin Benoit and Tony Zych. But the good news is Benoit is expected to return shortly, possibly as soon as Tuesday in Baltimore, and Zych is starting to throw again and figures to be back next month, if all goes well. It's possible Charlie Furbush could also return around midseason.
Just getting Benoit back will be a big help, as that allows Peralta and Vincent to pitch in their normal roles and will lighten the load on closer Steve Cishek. Servais recently called on Cishek for a couple of multi-inning outings in which he threw some of the highest pitch counts of his career, and it's possible the work load caught up with him last weekend. Benoit eliminates the need to bring Cishek in early and offers an experienced closing option when Cishek requires a break.
With Edwin Diaz's role being changed, when does he join the Mariners bullpen?
-- Beau C., Mullan, Idaho
The 22-year-old has made only two relief appearances for Double-A Jackson so far, so let's slow that train just a little. The Mariners are intrigued to see how their top pitching prospect fares in that role, but they won't rush him. I would think the most optimistic projection would be a September callup -- like Zych last year -- if he performs well enough to progress to Triple-A Tacoma in the next few months.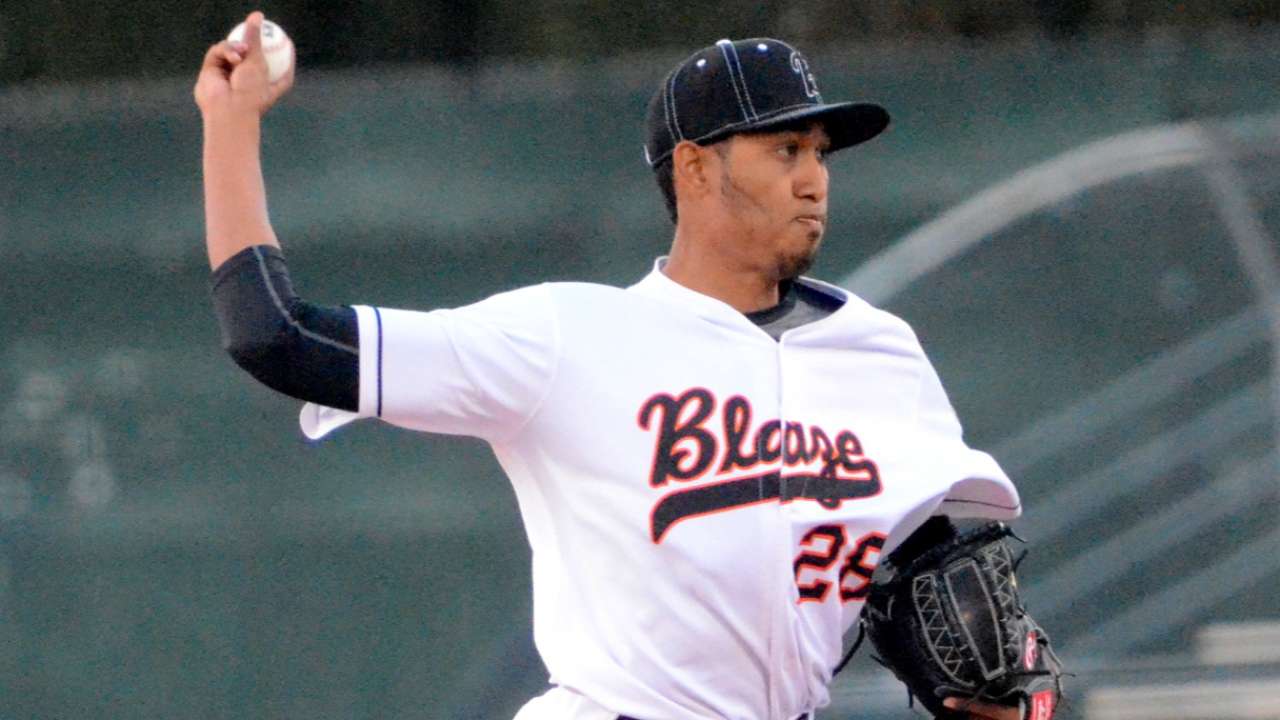 Beyond James Paxton and Diaz, how are the arms looking down on the farm, especially Tacoma?
-- Dane C., Niamey, Niger
Dipoto has been very pleased with the pitching depth in the Minors so far. Adrian Sampson, the right-hander acquired from the Pirates in the J.A. Happ deal last July, has opened eyes in Tacoma (4-2, 3.05 ERA with 37 strikeouts and five walks). Blake Parker, a former Cubs reliever now healthy after some elbow issues, is pitching well in a closing role, and youngsters Casey Coleman and David Rollins are also throwing well in the 'pen.
Two others to watch in Jackson: Right-hander Dylan Unsworth is 3-0 with a 1.08 ERA in seven starts and Emilio Pagan has been outstanding in the closer's role (0.53 ERA with 24 strikeouts in 17 innings). Unsworth is a 23-year-old from South Africa, while Pagan, 24, was a 10th-round Draft pick in 2013 out of Belmont Abbey College in North Carolina.
Do the Mariners reach 90 wins this season?
-- Hesham B., Kirkland, Wash.
Well, they've at least given themselves a chance with their strong start. At 21-16, they'd need to go 69-56 over the remaining 125 games. Two things worth noting. One, there's a whole lot of baseball to be played. Two, their winning percentage at the moment is .568. They'd need to play .552 the rest of the way to get to 90.
Do you think Dipoto is the type of general manager to make a big blockbuster trade during the season or stick with his guys?
-- Austin G., Colfax, Wash.
Dipoto isn't afraid to make moves when he thinks they'll help. We certainly saw it last offseason, when he largely remade the Mariners roster. And he pulled several big Trade Deadline moves with the Angels, acquiring Zack Greinke in 2012 and adding relievers Huston Street and Jason Grilli in '14. The Greinke deal didn't work out well, but the bullpen additions helped the Angels win the American League West that year.
Why is it that the Mariners -- even after having stars like Ken Griffey Jr. -- have not had a single number retired?
-- Caleb L., Los Angeles
The Mariners have very stringent guidelines for retiring a number, limiting that honor to players who have been elected to the National Baseball Hall of Fame and spent at least five years with the Mariners, or who have come close to being elected and spent nearly their entire career with the club. To me, it seems perfectly fitting that Griffey's No. 24 will be the first number retired by the club on Aug. 6, two weeks after his induction into the Hall of Fame.
Greg Johns has covered the Mariners since 1997, and for MLB.com since 2011. Follow him on Twitter @GregJohnsMLB and listen to his podcast. This story was not subject to the approval of Major League Baseball or its clubs.