Pipeline preview: Pirates' Glasnow takes the hill in day game
Here's a look at top prospects to watch on Tuesday in Minor League action:
Hitter to watch: Hunter Renfroe (Padres' No. 3)
For a second consecutive game, Hunter Renfroe went deep, launching a three-run home run for Triple-A El Paso on Monday. Renfroe, the No. 88 overall prospect, went 3-for-5 for his fourth straight multi-hit performance. He's 10-for-22 over his last four games and is hitting .310 on the year with seven homers and 26 RBIs through 35 games. The Chihuahuas face the New Orleans Zephyrs at 1:05 p.m. ET on MiLB.TV.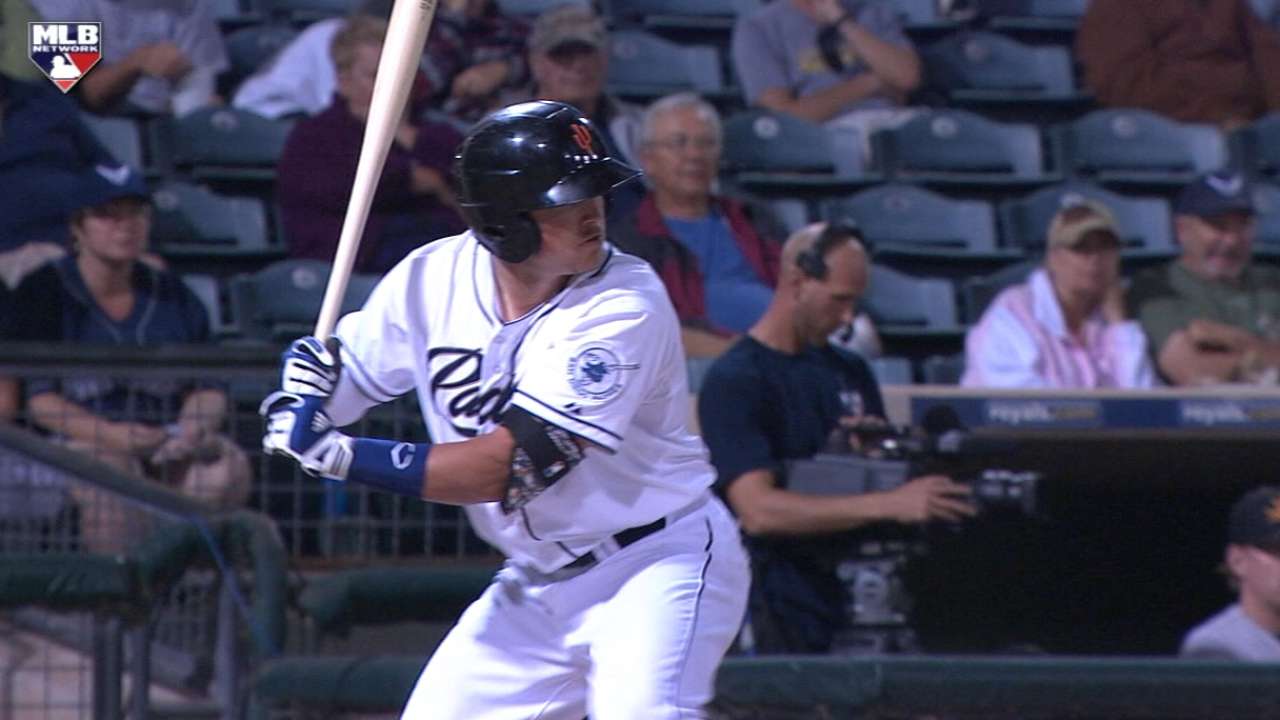 Pitchers to watch: Phil Bickford (Giants' No. 3), Tyler Glasnow (Pirates' No. 1)
After some early season woes, Phil Bickford appears to have turned a corner. The right-hander has allowed four earned runs over his last three starts (18 IP), lowering his ERA from 5.27 to 3.41 since April 20. Bickford, who's in the midst of his first professional season, has struck out 39 batters in 31 2/3 innings for Class A Augusta. The GreenJackets host the Asheville Tourists at 7:05 p.m. ET.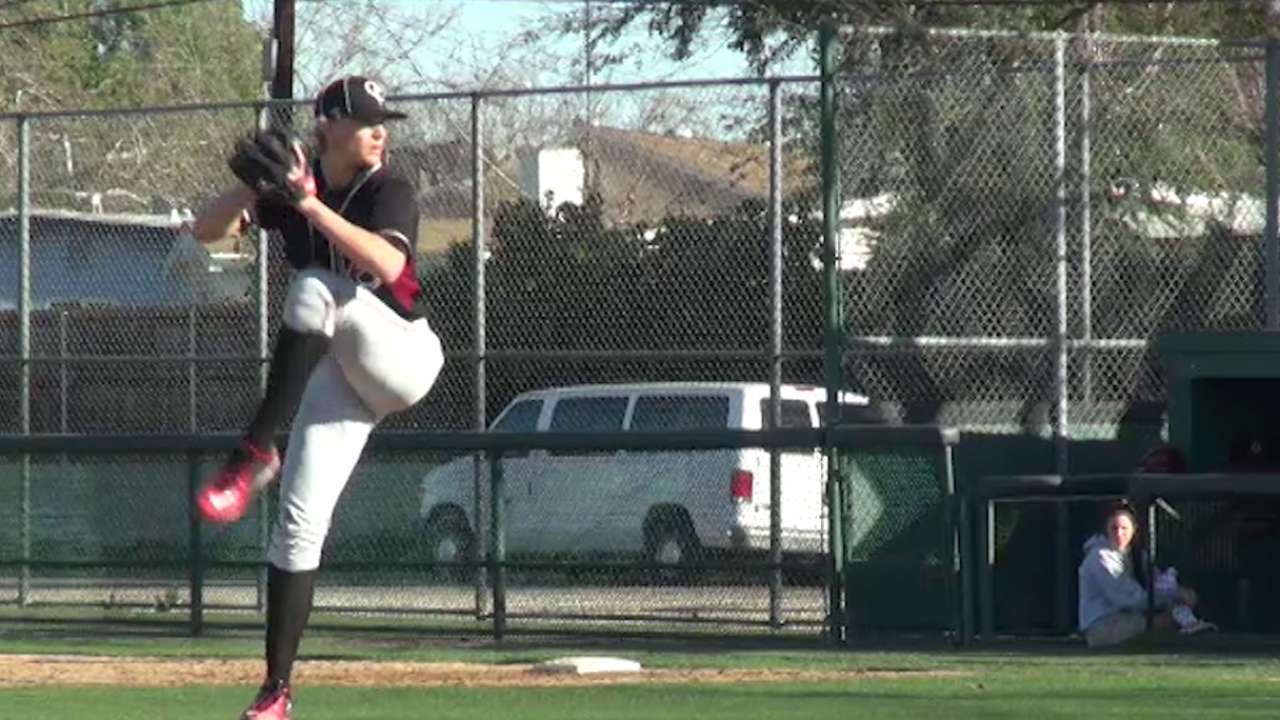 Glasnow, the No. 8 overall prospect in baseball, will look to rebound from a tough outing when his Triple-A Indianapolis squad takes on Columbus on Tuesday. After three consecutive scoreless starts, Glasnow allowed three earned runs on six hits and five walks -- both matching season-highs -- and struck out just one batter. Despite the rough start, the right-hander still owns a 2.13 ERA.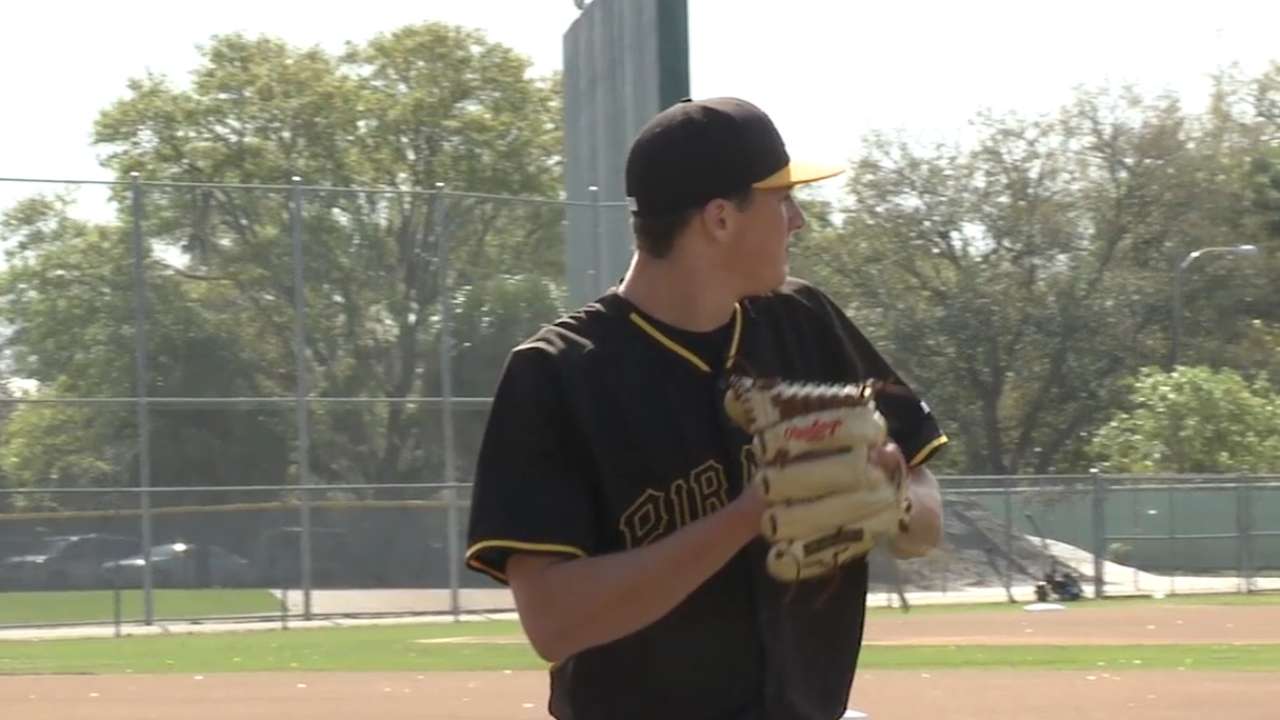 Tuesday's Top 100 Probables
No. 37 Francis Martes (Astros' #3), Corpus Christi at San Antonio (8:05 p.m. ET on MiLB.TV)
No. 56 Tyler Jay (Twins' #3), Fort Myers at Dunedin (11:00 a.m. ET)
No. 61 Kyle Zimmer (Royals' #2) Wilmington vs. Frederick (6:35 p.m. ET)
More top prospect probables
Gabriel Ynoa (Mets' #13) Las Vegas at Oklahoma City (AAA)
Joan Gregorio (Giants' #21) Sacramento at Memphis (AAA)
Joe Gunkel (Orioles' #19) Norfolk at Pawtucket (AAA)
Chris Beck (White Sox #14) Charlotte vs. Rochester (AAA)
Brady Lail (Yankees' #19) Scranton/Wilkes-Barre at Louisville (AAA)
Alec Asher (Phillies' #27) Lehigh Valley vs. Syracuse (AAA)
Dylan Overton (Athletics' #10) Nashville vs. Fresno (AAA)
Kyle McGowin (Angels' #16) Salt Lake at Colorado Springs (AAA)
Adam Plutko (Indians' #15) Akron at Hartford (AA)
Clay Holmes (Pirates' #15) Altoona at Binghamton (AA)
Myles Jaye (Tigers' #24) Erie vs. Harrisburg (AA)
Nick Pivetta (Phillies' #19) vs. Parker Bridwell (Orioles' #17), Reading at Bowie (AA)
Kyle Crick (Giants' #17) vs. Jordan Montgomery (Yankees' #20), Richmond at Trenton (AA)
Ryne Stanek (Rays' #18) Montgomery at Jacksonville (AA)
Rob Whalen (Braves' #27) vs. Nick Travieso (Reds' #9), Mississippi at Pensacola (AA)
Chase De Jong (Dodgers' #18) Tulsa at Springfield (AA)
Yoan Lopez (D-Backs' #7) Mobile vs. Jackson (AA)
Alec Mills (Royals' #14) Northwest Arkansas vs. Arkansas (AA)
Jairo Labourt (Tigers' #10) Lakeland at Palm Beach (A Adv)
Mitch Brown (Indians' #30) Lynchburg vs. Salem (A Adv)
Yeudy Garcia (Pirates' #18) vs. Bubba Derby (Brewers' #20), Bradenton at Brevard Country (A Adv)
Ian Clarkin (Yankees' #10) vs. Michael Mader (Marlins' #25), Tampa vs. Jupiter (A Adv)
Thad Lowry (White Sox #21) Winston-Salem at Myrtle Beach (A Adv)
Josh Sborz (Dodgers' #24) Rancho Cucamonga at Lake Elsinore (A Adv)
Wei-Chieh Huang (D-Backs' #5) Visalia at Modesto (A Adv)
Sandy Baez (Tigers' #20) West Michigan vs. Bowling Green (A)
David Hill (Rockies' #29) vs. Phil Bickford (Giants' #3), Ashville at Augusta (A)
Cody Poteet (Marlins' #19) Greensboro at Kannapolis (A)
Pedro Payano (Rangers' #29) vs. Foster Griffin (Royals' #9) Hickory at Lexington (A)
Jon Harris (Blue Jays' #4) Lansing at Fort Wayne (A)
Mike Soroka (Braves' #13) Rome at Columbia (A)
Carson Sands (Cubs' #23) South Bend at Great Lakes (A)
Sandy Alcantara (Cardinals' #19) Peoria at Kane County (A)
Chad Thornburg is a reporter for MLB.com. This story was not subject to the approval of Major League Baseball or its clubs.