MLB.com Columnist
Mike Petriello
Thor, Scherzer square off with game's best fastballs
Highest velocity, highest-spin heaters on display in New York on Tuesday night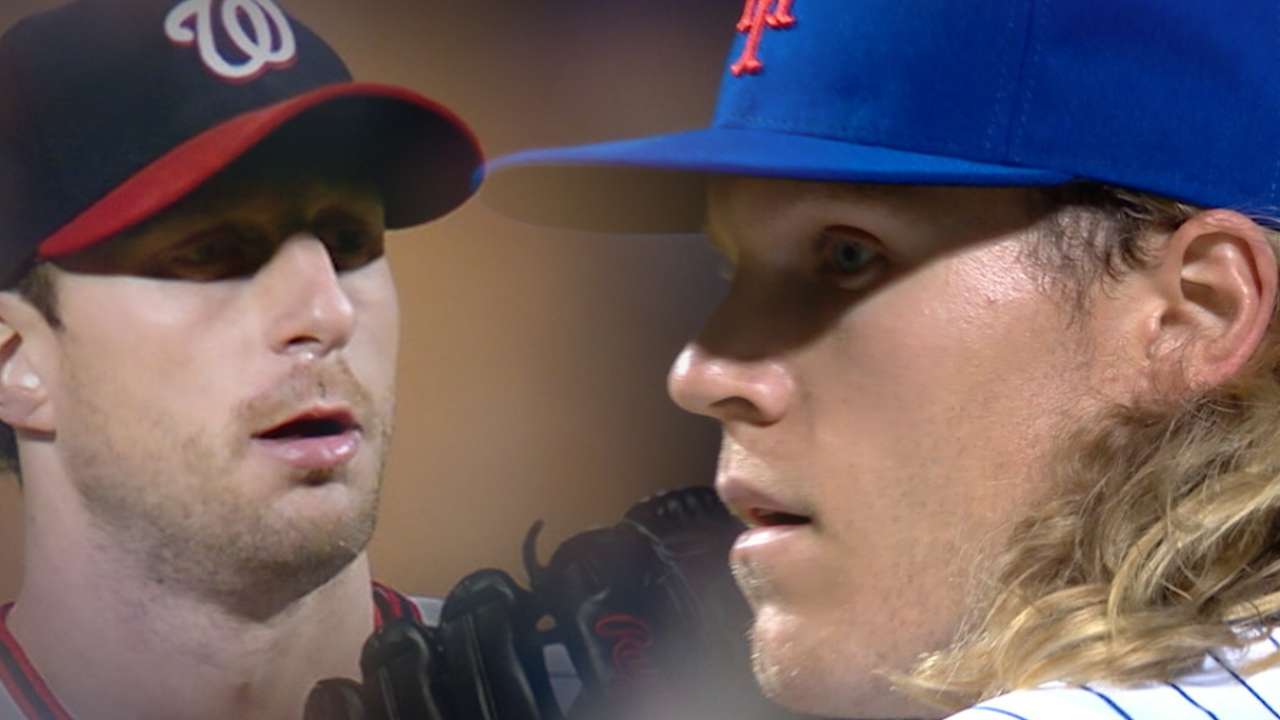 The Mets and Nationals are the two most recent winners of the National League East, and in MLB.com's preseason poll of writers, they combined to collect 100 percent of the votes to win it again in 2016. So as the first-place Nationals head to Queens for the first head-to-head matchup between the two clubs this year, all eyes are on what's become one of the sport's most highly regarded rivalries. (All due respect, Phillies. Keep up the good work.)
That alone would make for an interesting evening no matter what, but through luck, design, or both, each team is going to kick off this series with 2016's best fastball on the mound. That's not a typo or a mistake, even though it sounds impossible, by definition. Noah Syndergaard has baseball's most elite heater. So does Max Scherzer. You get to see them both on the same mound on Tuesday night. Baseball is great.
NOAH SYNDERGAARD
There's no secret as far as what fuels Syndergaard's success: Pure, undistilled velocity. So far this season, 233 pitchers have thrown at least 100 four-seam fastballs. (Sorry, Aroldis Chapman. You'll get there soon.) Syndergaard's average fastballs tops everyone's:
Top average four-seam fastball velocity, 2016 (minimum 100 pitches)
1. Syndergaard -- 97.9 mph
2. Craig Kimbrel -- 97.8 mph
3. Nathan Eovaldi -- 97.6 mph
4. Arquimedes Caminero -- 97.5 mph
5. Dellin Betances -- 97.4 mph
That's impressive, obviously. But it hardly stops there. Syndergaard also has thrown the two hardest non-Chapman pitches of the season, hitting 101.4 mph and 101.2 mph against the Phillies on April 18 -- and he leads starting pitchers by hitting 98 mph or higher on 18.1 percent of any of his fastballs.
Yet as elite as his fastball is -- and it is -- its main purpose is to make his secondary pitches look even deadlier. Syndergaard's 9.8 swinging-strike percentage on the fastball is only his fourth highest, behind (in order) his slider, change and curve.
MAX SCHERZER
Scherzer will make his first appearance since tying a Major League record with 20 strikeouts last Wednesday, and he will also bring baseball's top-ranked fastball, just in a different way. Let's go back to those 233 pitchers with 100 four-seam fastballs and sort them not by velocity, but by Statcast™ spin.
Top average four-seam spin rate, 2016 (minimum 100 pitches)
1. Scherzer -- 2,545 rpm
2. Justin Verlander -- 2,532 rpm
3. Rick Porcello -- 2,497 rpm
4. Cody Allen -- 2,496 rpm
5. Drew Pomeranz -- 2,484 rpm
Scherzer averages 94.8 mph on his fastball and can dial it up to 98 when he really needs it, so he's not exactly slow-playing it himself. But we've learned a lot about how important high spin can be to generating swinging strikes -- the high backspin allows the pitch to defy gravity for slightly longer, which often has the effect of hitters swinging under it. Scherzer's high spin, combined with his high velocity, allows him to generate plenty of swinging strikes.
Scherzer is playing that game to perfection. Last year, he led all pitchers (minimum 1,000 four-seamers thrown) in swinging strike rate at 12.9 percent. This year, despite some early home run trouble, Scherzer's fastball swinging strike rate is second among starters:
Best swinging-strike rate, 2016 (minimum 300 pitches)
1. Vince Velasquez -- 13 percent
2. Scherzer -- 11.7 percent
3. Rich Hill -- 11.6 percent
4. Drew Smyly -- 11.5 percent
5. J.A. Happ -- 10.7 percent
High velocity on a fastball, as Syndergaard has, is great. High spin on a fastball, as Scherzer has, is great. On Tuesday night, they'll share the same mound, on a field that will also have Bryce Harper and Yoenis Cespedes and the .400-hitting Daniel Murphy making his return to New York. It's only mid-May, and this already looks like the most interesting game of the year.
Mike Petriello is an analyst for MLB.com and the host of the Statcast podcast. This story was not subject to the approval of Major League Baseball or its clubs.