Seattle ready to sweep weekend under the rug
Mariners drop to second place in AL West, but aren't concerned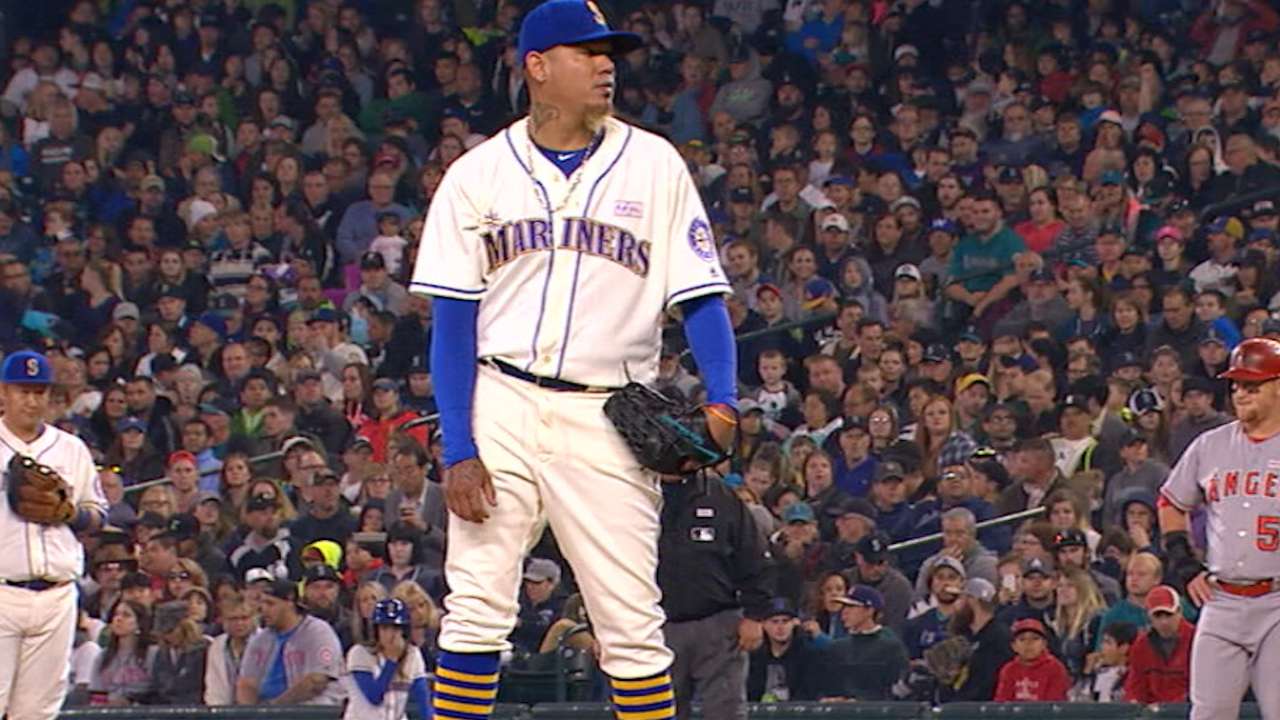 SEATTLE -- Heading into the weekend series between the Mariners and Angels at Safeco Field, logic would say that Seattle, riding high in first place in the American League West, needed to sweep the struggling visitors to legitimize its standing as a serious postseason contender.
There was a sweep, of course, but it was the Angels pulling out the brooms. Sometimes baseball has no logic, and Sunday's 3-0 loss to the Angels before a crowd of 40,852, spurred on by eight innings of two-hit work by left-hander Hector Santiago, left Seattle back in second place in the division, a half-game behind the Rangers.
Now the Mariners face a flight to the East Coast on Monday's travel day, but while they could spend the hours staring out at the clouds and wondering how all three winnable games became losses, they said after Sunday's quiet matinee that they will simply be in recharge mode.
They seemed to agree that any voyage to October is going to have periods of turbulence, and weathering the adversity is just as vital as enjoying the peaks.
"When things are going well, it's fun to ride the wave," manager Scott Servais said. "But it is a long season. You're going to have bumps in the road. I thought the Angels came in here, they played us very well, we were right in every game, and we just didn't get it done. And that's going to happen.
"As high as we were early in the week, to have it flip on us during the weekend is frustrating, but we've played well on the road. We'll go out on a big trip ahead of us here to Baltimore and Cincinnati and we'll get right back on board."
That was the prevailing attitude in the clubhouse for a veteran team that plans to be in the thick of the race for the rest of the season. And there were reasons to remain positive, despite the results of the last three games.
One big reason was Felix Hernandez. Sunday's starter went 7 1/3 innings and gave up three runs on seven hits while striking out nine. He recorded eight straight outs via strikeout beginning with the first out in the third inning. He has a season ERA of 2.47.
"I had everything today -- good fastball, good command, good changeup," Hernandez said. "I was throwing a lot of strikes. I was in command. Good movement on the sinker. I had everything.
"It was the best game I've thrown all year, and I've just got to continue doing that."
Hernandez, one of the true veterans on the team, said he's not concerned at all about the team after these three losses. They do have time to regroup with the day off, and they might need that time given that two players were banged up a bit on Sunday.
Leadoff man Norichika Aoki took a Santiago pitch to the elbow pad early in the game, and in the ninth inning, catcher Chris Iannetta was hit on the left wrist behind the plate when Gregorio Petit's bat hit his glove hand after a swing.
Neither player seemed deterred by their slight physical maladies, nor the sudden slump the Mariners sustained over the weekend.
"You play every day as an independent event," Iannetta said. "If you have some momentum, you try to carry it, and if you lose, you come here the next day to take care of business.
"We played hard. We fought and were in every game. We just fell short a little bit. So we'll take tomorrow to travel and rest up, and we'll go back and get 'em."
Doug Miller is a reporter for MLB.com. Follow him on Twitter @DougMillerMLB. This story was not subject to the approval of Major League Baseball or its clubs.