Back in 2-hole, Suarez busts out in big way
Third baseman snaps 2-for-22 slump with 3 hits, HR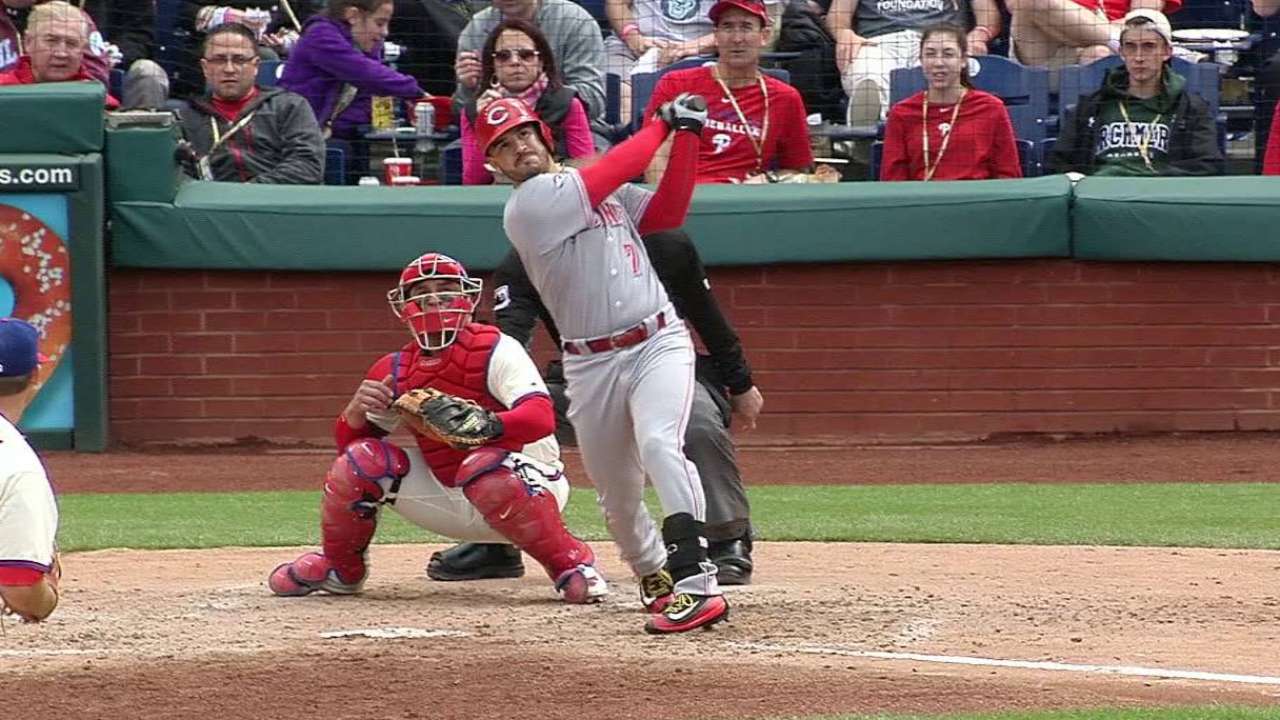 PHILADELPHIA -- Reds third baseman Eugenio Suarez knew he made good contact on a full-count changeup from Phillies lefty Adam Morgan. But he wasn't sure if it was that good.
The ball kept carrying and carrying on a blustery afternoon with a stiff wind. It eventually cleared the center-field fence for a three-run home run in a five-run fourth inning that proved key in a 9-4 Reds win.
"When I hit the ball, I felt strong like the ball jumped off of my bat," explained Suarez, who leads the club with seven homers. "But I didn't think the ball would fly like that. I don't know if the wind helped me a little bit. I just hit the changeup. When you hit a breaking ball like that, a lot of times it goes out with a good swing."
• Cast your Esurance All-Star ballot for Suarez and other #ASGWorthy Reds
There was a spot of relief on Suarez's face after his 3-for-6 game that also included singles in the first and third innings. He entered the day in a 2-for-22 slump and recently snapped an 0-for-15 clip.
"Today, I found my right spot. I feel great at the plate," Suarez said. "I saw the ball really good, breaking ball, changeup, whatever. I tried to work on my leg kick. Right now, it's not too high. That's why I feel like I'm staying more with the ball and seeing the ball good. I tried to hit middle-opposite field. That's why I had a big day. I put in the practice."
Suarez's first hit was to right-center field. His second was on the ground to the left side.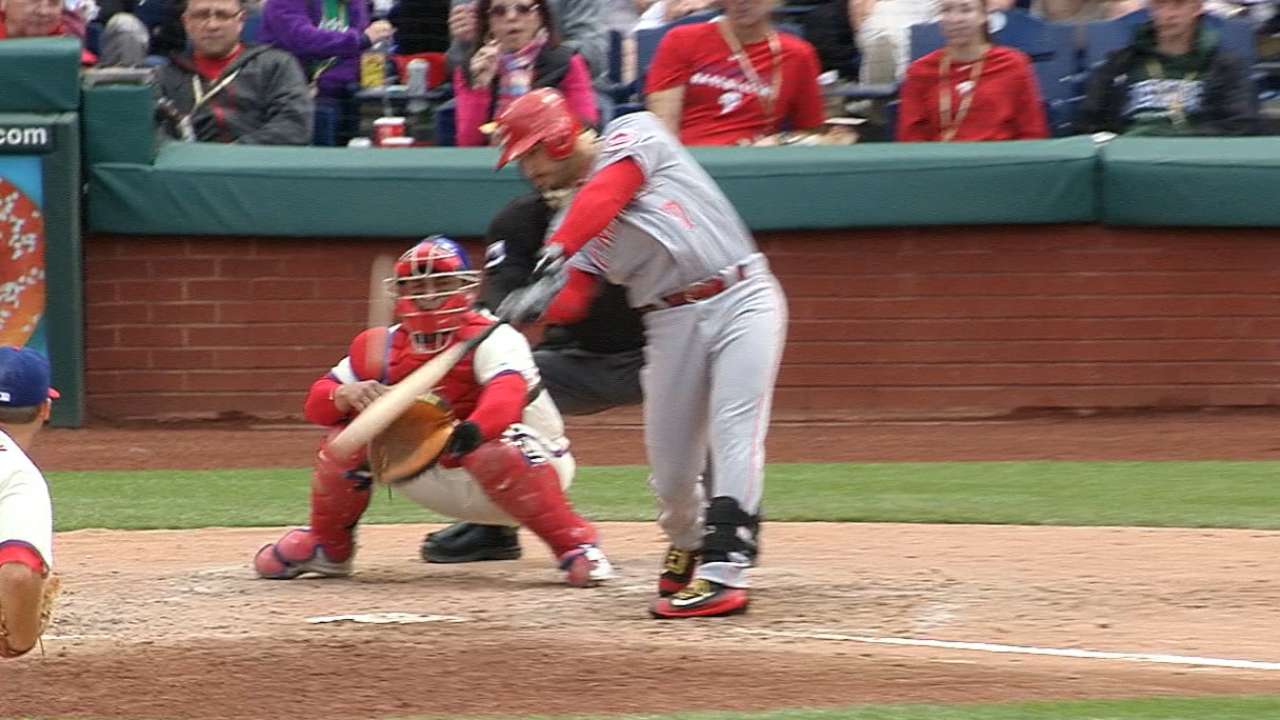 Manager Bryan Price installed Suarez back into the lineup's second spot for the game. It's where he batted .282 with an .808 OPS and five homers entering the day. After his hot start to the season, Price put Suarez sixth a lot to give him more RBI opportunities. It will be a fluid situation, going forward, where he bats.
"A lot of it depends on who else is in the lineup," Price said. "I just felt with Geno and a left-handed starter, he's hitting lefties at a .325 clip coming into today, I felt like hitting him second might guarantee him one extra at-bat against a left-hander. That really made that decision a little bit easier for me.
"It was nice to see him with the two base hits, the three-run homer and a hard line out to right field, it made it look like he's coming back together and getting things together."
Suarez, who is batting .207 with one homer and .695 OPS in the sixth spot, felt batting second made a difference.
"You see more fastballs and especially when the game starts, they try to throw more fastballs to me," he said. "I feel great because I hit a good fastball. I feel comfortable. Right now I feel good - better than yesterday and the day before."
Mark Sheldon has covered the Reds for MLB.com since 2006, and previously covered the Twins from 2001-05. Read his blog, Mark My Word, follow him on Twitter @m_sheldon and Facebook and listen to his podcast. This story was not subject to the approval of Major League Baseball or its clubs.