Padres pleased with Vargas' improvement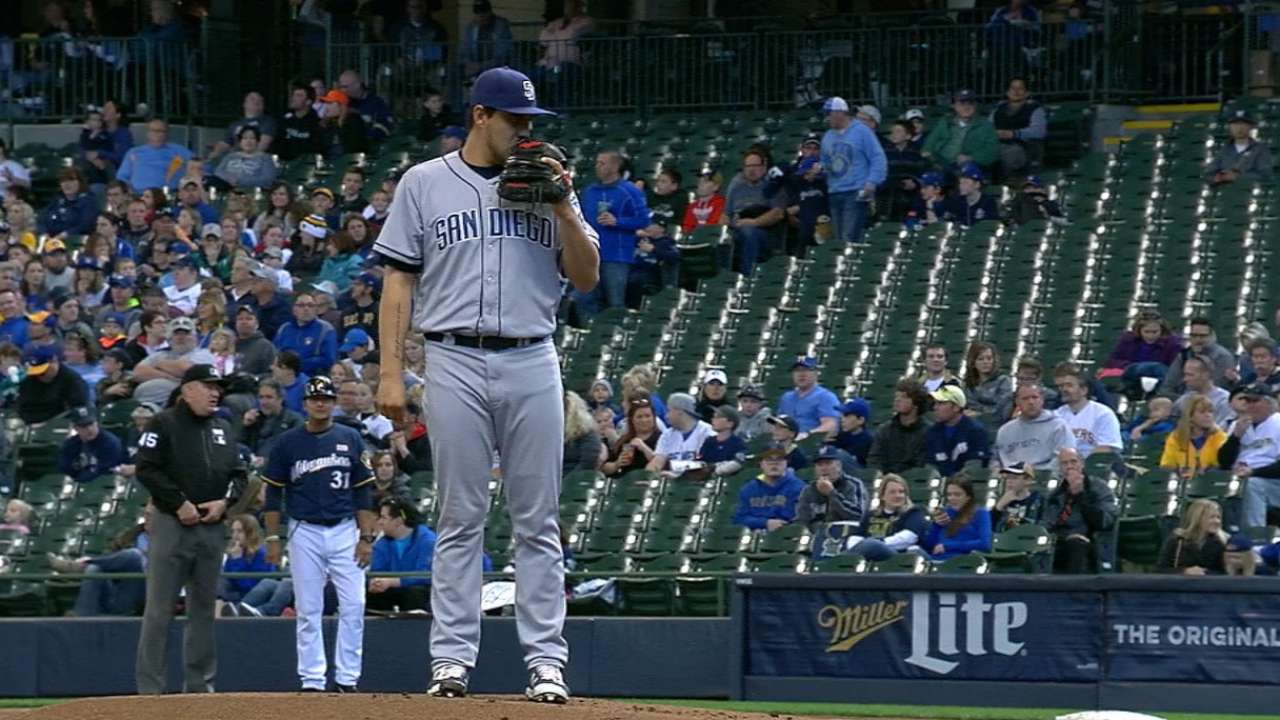 MILWAUKEE -- The early returns on Cesar Vargas' transition back to starting, something he hasn't done since 2013, have been mostly positive.
But Sunday the right-hander faced the test of bouncing back from a poor start for the first time in the Major Leagues.
Vargas recovered from his rough outing Tuesday in Chicago by holding the Brewers to two runs and recording seven strikeouts without a walk over five innings in San Diego's 3-2 loss.
"I think you don't really know what the measure of someone is until they encounter a little bit of adversity," Padres manager Andy Green said. "Everybody can come up and get some momentum and a few good outings and then you are like, 'This guy is going to be good.' Until they get hit around and have a short outing and things go less than ideal you don't find out what is inside somebody, so it was really good to see what was in him today."
After allowing just two earned runs over his first three Major League starts, Vargas gave up six runs on 10 hits to the Cubs at Wrigley Field.
Vargas felt he was being too fine in that start, which caused him to bring an aggressive mindset into Sunday's start.
"I was really trying to get ahead in the count and focus on first-pitch strikes," Vargas said through a translator. "I made a couple of mistakes, but that's part of it. I'll definitely learn from those."
Those mistakes -- two solo home runs -- traveled a combined 865 feet.
Chris Carter gave the Brewers a 1-0 lead with a 443-foot blast in the third, while Jonathan Lucroy hit a 422-foot shot off Vargas in the fifth.
"They were just mistakes," Vargas said. "They were pitches that caught the heart of the plate. They should have been on the corners, they should have been on the edges, but they were right there. They were mistakes."
Vargas limited the damage to just those two runs by working out of trouble multiple times. He stranded a pair in the first inning by striking out Carter and Kirk Nieuwenhuis and worked out of a bases-loaded jam in the second with a fielder's choice and a slow tapper back to the mound.
"More than anything, I went pitch-by-pitch," Vargas said. "That was it. I was just trying to be aggressive and hit spots."
While he didn't walk a batter, Vargas' pitch count rose quickly due to the eight hits against him. The 24-year-old was at a career-high 96 pitches through five innings when Green decided to pinch-hit for him to start the sixth.
"We've been cognizant of how hard we've run him considering the fact he hasn't started in a very long time," Green said. "Sending him back out with 95 pitches with the hope he's going to give you another inning is probably not our best play right there."
Andrew Gruman is a contributor for MLB.com based in Milwaukee. This story was not subject to the approval of Major League Baseball or its clubs.