Valencia's bat coming alive after DL stint
A's third baseman hits 5 homers after missing 2 weeks with hamstring injury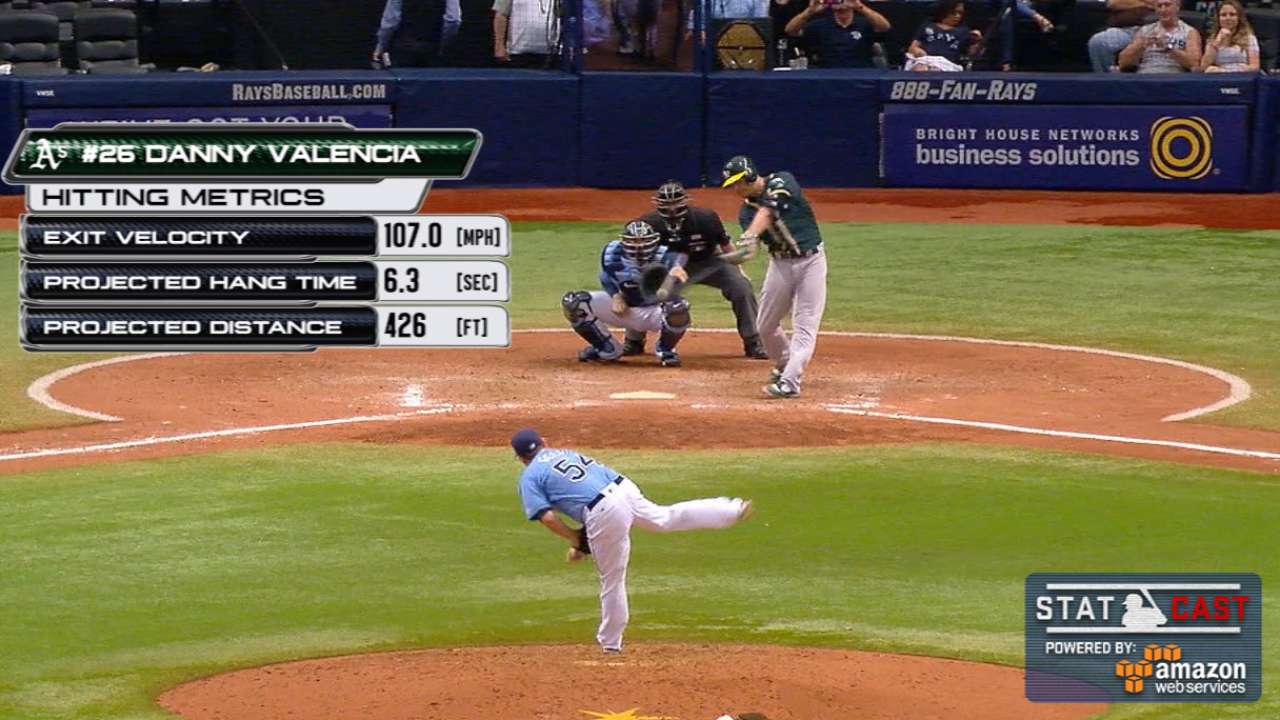 ST. PETERSBURG -- In a performance that resembled a rousing round of batting practice, Danny Valencia repeatedly destroyed baseballs inside Tropicana Field when it mattered Sunday afternoon, counting off three home runs, including a game-winning shot.
Valencia's go-ahead, two-run homer in the ninth inning of Oakland's thrilling 7-6 victory over the Rays capped a five-homer series in which the A's third baseman totaled seven RBIs, making for a nice ending to an otherwise dismal road trip for the A's, who finished it 3-6.
All this, after he missed 17 of the club's previous 20 games with a left hamstring injury he reinjured in Boston on Monday, before returning to the lineup Friday for the start of a monstrous series played out in front of several friends and family members, including his Miami-based parents.
• Cast your Esurance All-Star ballot for Valencia and other #ASGWorthy players
"It's just nice to be here in front of friends and family and perform well," Valencia said. "Obviously coming off an injury, you want to just get back in the flow of things, and luckily enough, I was really able to find my timing here, and hopefully I can build off this going forward."
The infielder, who is riding a 10-game hitting streak in which he's 15-for-37 (.405), is the 28th player in club history to enjoy a three-homer game, but just the third to compile five home runs in a three- or four-game series, joining Mark McGwire, who accomplished the feat three times, and Gus Zernial.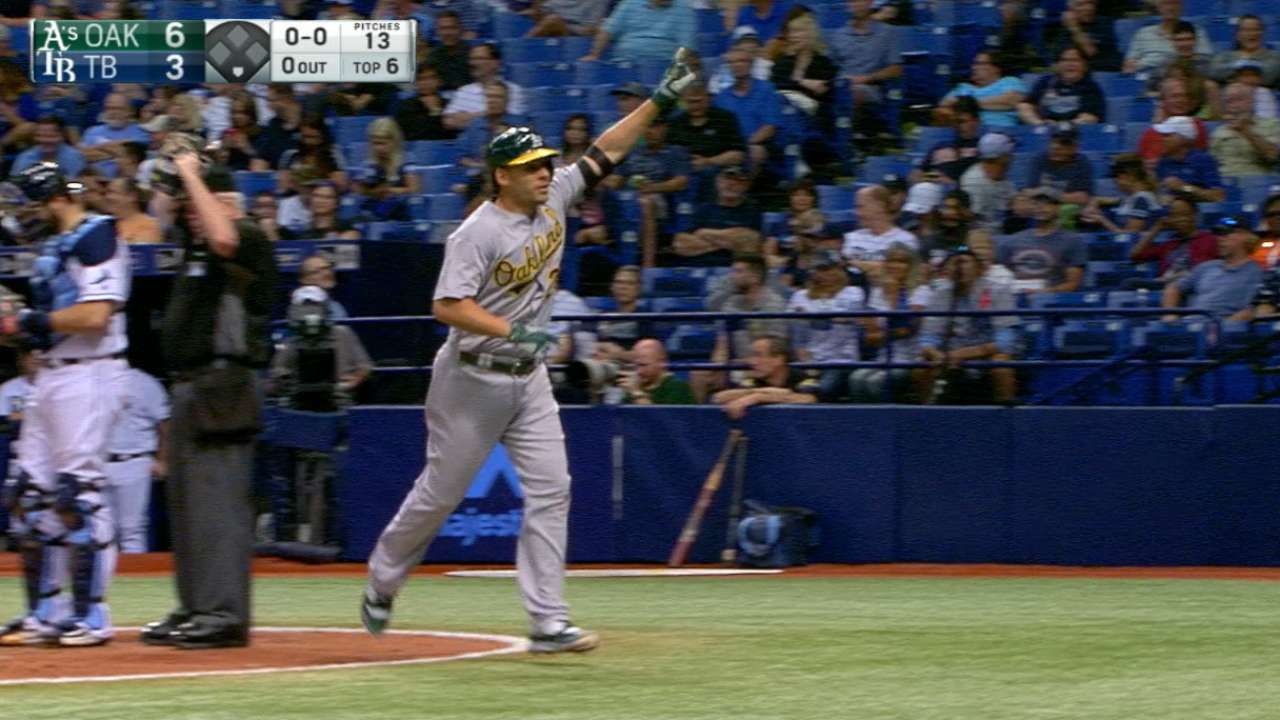 Speaking of the way he felt at the plate during the series, Valencia responded, "Some type of way. Some good type of way."
"Quite a day. Really, quite a series," A's manager Bob Melvin said. "Comes off the DL and makes an impact in both games we win, certainly a huge impact today. Nice to have him back."
When Valencia stepped to the plate in the ninth inning against reliever Steve Geltz, following a two-out double from Billy Burns off Xavier Cedeno, "the feeling in our dugout was, 'he's gonna hit another one,'" catcher Stephen Vogt said. "It wasn't, 'I hope he hits another one,' it was, 'he's hitting another one right now.'
"He's the kind of guy that brings that to the table. I know he's been itching to get back, and obviously with the setback he had in Boston, we were kinda scared, and fortunately he came back with a bang. He's our middle-of-the-order guy."
"We needed someone to pick us up, and he's the guy that did," starter Sonny Gray said. "It was really good for us."
Valencia's five home runs in the series traveled a combined 2,098 feet, per Statcast™, for an average of 419.6 feet per homer.
Before Friday, he didn't even have one on his 2016 record.
"Obviously we've been struggling a little bit," Valencia said. "This road trip probably didn't go like we planned, but to win a series here, it's always been a tough place to play, and get on the plane back, it'll be a happy flight. Hopefully we can build off this and have a good homestand."
Jane Lee has covered the A's for MLB.com since 2010. This story was not subject to the approval of Major League Baseball or its clubs.