Raking Guyer 'just keeping things simple'
Right fielder nearly doubles season RBI total by plating 5 in loss to A's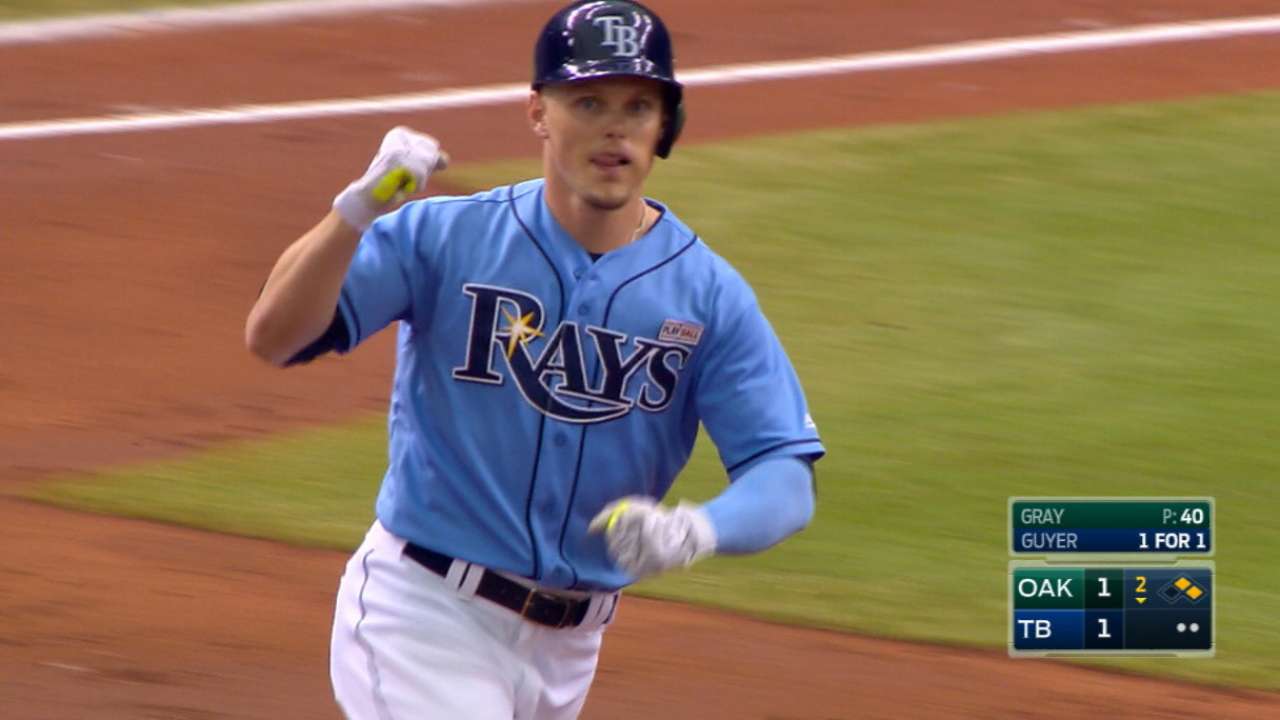 ST. PETERSBURG -- Out of room, A's left fielder Khris Davis watched the ball sail over his head. Brandon Guyer ran between first and second base while pumping his right fist after his second home run Sunday, a 369-foot three-run laser, acted as a stiff blow in the second inning.
Guyer tormented A's right-hander Sonny Gray, with a leadoff home run to left-center field in the first and a sacrifice fly to right that scored Steve Pearce in the fourth also serving as highlights. For much of the afternoon, it looked like Guyer's 2-for-4 effort at the plate with two home runs and a career-high five RBIs would lift the Rays to a series victory.
However, Danny Valencia capped his three-home run barrage with a go-ahead two-run shot to left-center field in the ninth off reliever Steve Geltz, propelling Oakland to the 7-6 rubber-match win.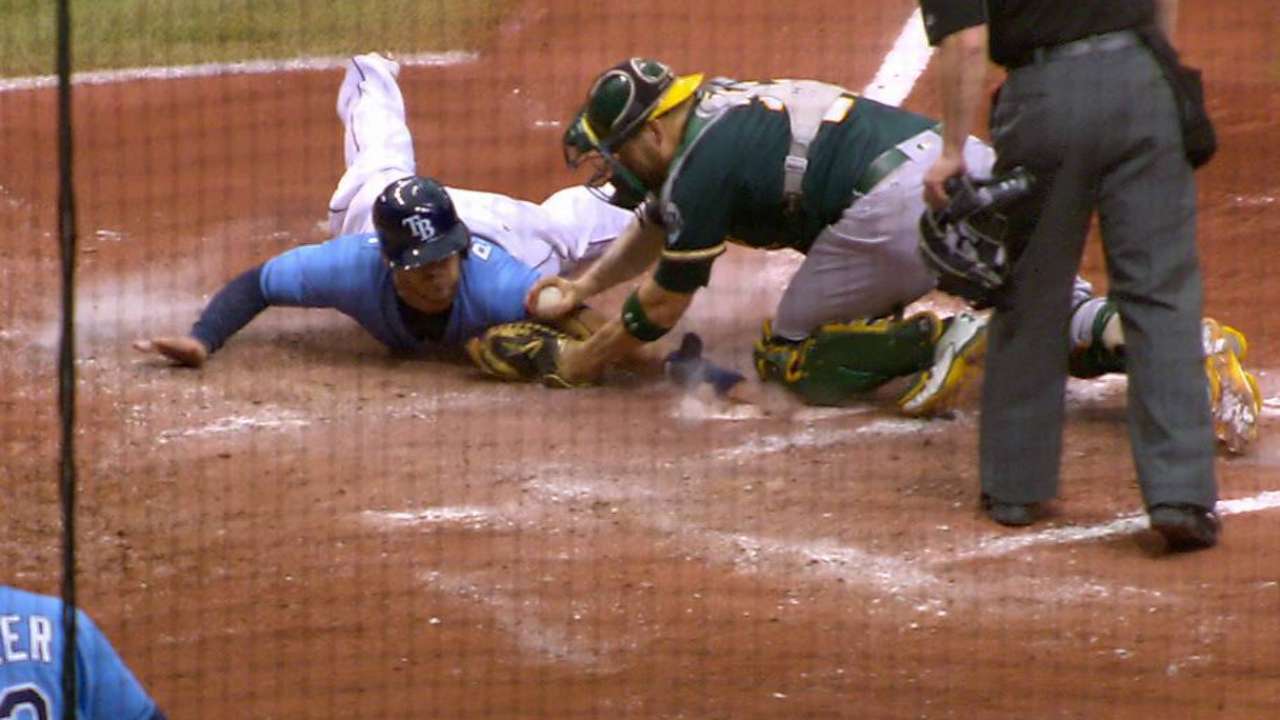 "I was just trying to keep things simple," Guyer said. "Keep doing what I've been doing. … The results are there right now, and keep working hard, that's all I can do."
Guyer entered the afternoon hitting .375 in his past 17 games since April 16, but before Sunday, he had posted just six RBIs in 67 at-bats this season. The series finale marked his second consecutive contest with at least two RBIs after he had a pair in a victory over the A's on Saturday. He's hitting .338 with four home runs and 11 RBIs this season.
"Tremendous," Rays manager Kevin Cash said of Guyer's day. "He's done really well for us. Excited about where Brandon is at."
On Sunday, Guyer flipped the script on his relationship with a baseball. He began the afternoon as the Major League leader in pitches plunking him with 12. The Rays had fun with the reputation, calling him the "human magnet" in their pregame notes.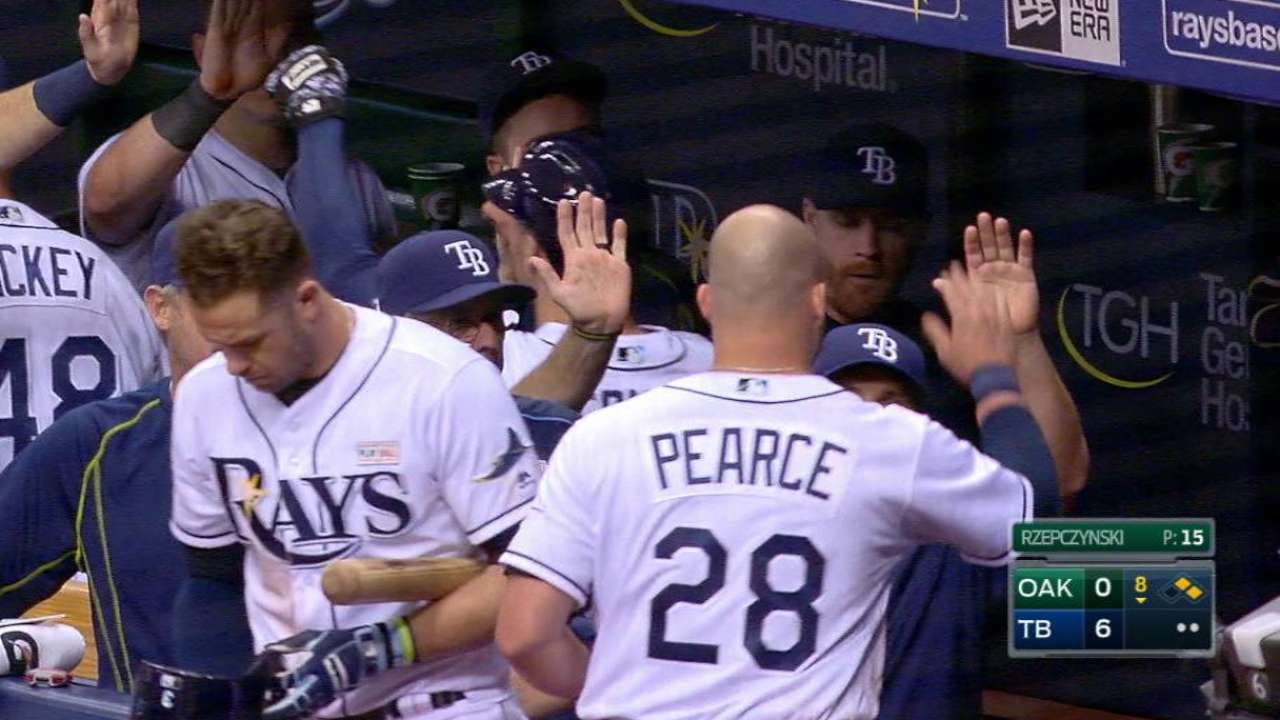 Lately, Guyer has become a magnet in another way by attracting big numbers to his name. His RBI total on Sunday tied Tampa Bay's record for a leadoff hitter, matching John Jaso from June 6, 2010, at Texas. He became the seventh player in team history with more than one home run from the leadoff spot, with Ben Zobrist as the last player to do it on April 13, 2014, at Cincinnati.
"At the end of the day, it's just consistency," Guyer said. "Playing time, seeing pitches from righties and lefties. I was happy with that, but at the end of the day, the loss is rough."
Worth noting
• Closer Brad Boxberger made a rehab start with Class A Advanced Charlotte against Jupiter on Sunday afternoon. He pitched one inning, allowing no runs, one hit and one walk with one strikeout. He threw 24 pitches, 14 for strikes.
• Former Rays/A's reliever Grant Balfour, who retired on April 29, threw out the first pitch Sunday wearing a No. 50 Tampa Bay jersey. He spent 12 years in the Major Leagues, with three seasons with the A's (2011-13) and parts of six with the Rays (2007-10, 2014-15). He was named an All-Star with Oakland in 2013.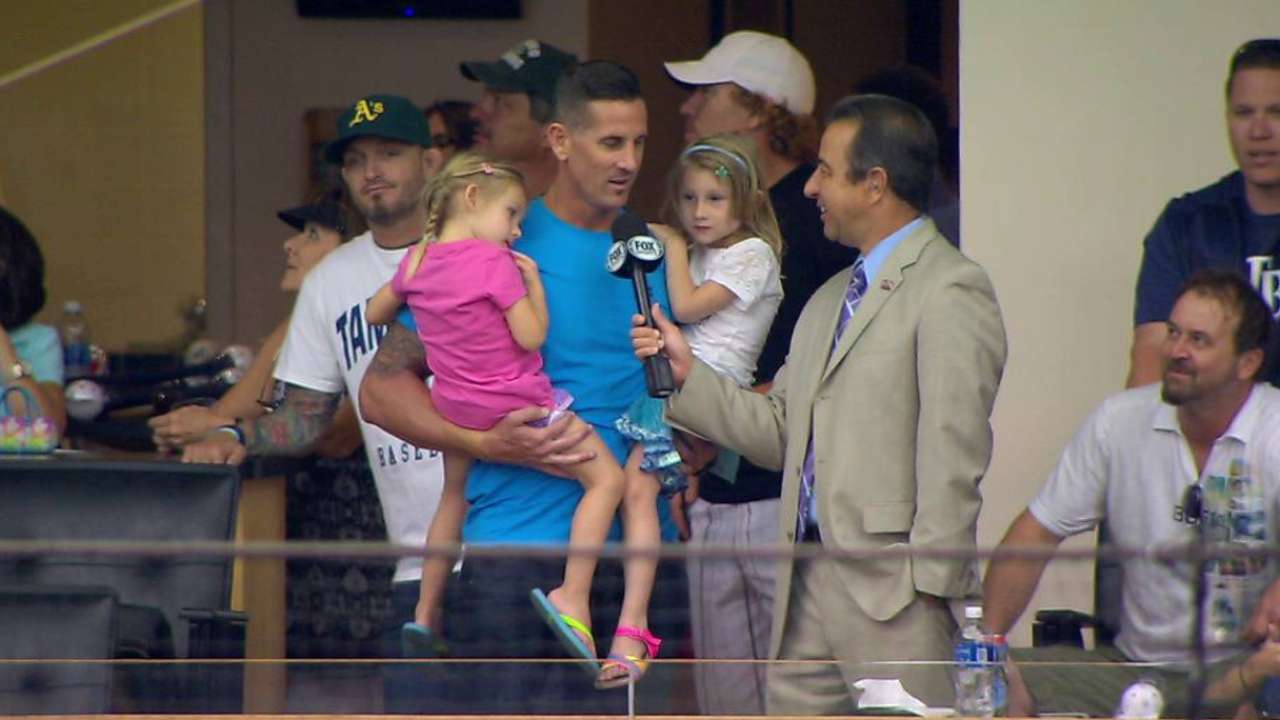 "There are a lot of great memories here," Balfour said. "I can probably still hear myself out there yelling. ... Definitely some great times, great memories here from both organizations, from the Rays and Oakland."
Andrew Astleford is a contributor to MLB.com based in St. Petersburg. This story was not subject to the approval of Major League Baseball or its clubs.