Twins hope they've found road to road success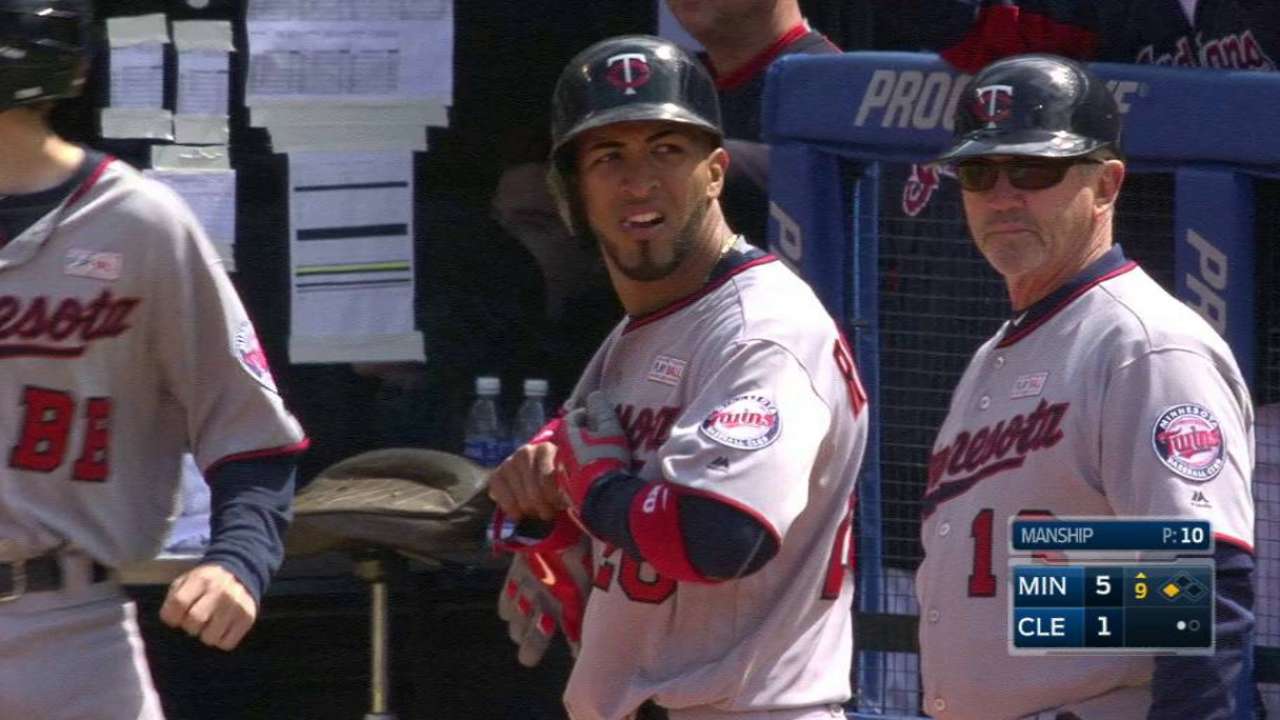 CLEVELAND -- The Twins entered Saturday with just two road wins on the season and had yet to win a road series in six tries.
But with their win on Saturday, coupled with their 5-1 victory over the Indians on Sunday, the Twins doubled their road win total and picked up their first road series victory of the season.
Tyler Duffey tossed seven scoreless innings to lead the way, Jorge Polanco hit his first Major League homer and Minnesota improved to 4-2 against Cleveland -- although it is 6-24 against everybody else.
"It was nice to come back after a much-needed win yesterday and put together a good game," manager Paul Molitor said. "You can usually dictate your chance of winning based on how your starting pitcher does, and Tyler put up seven zeros. That was a big difference in the game."
Duffey, who was the club's best starter down the stretch last season as a rookie, has again been impressive, having improved to 1-2 with a 1.85 ERA in four starts. He scattered six hits and a walk while striking out six.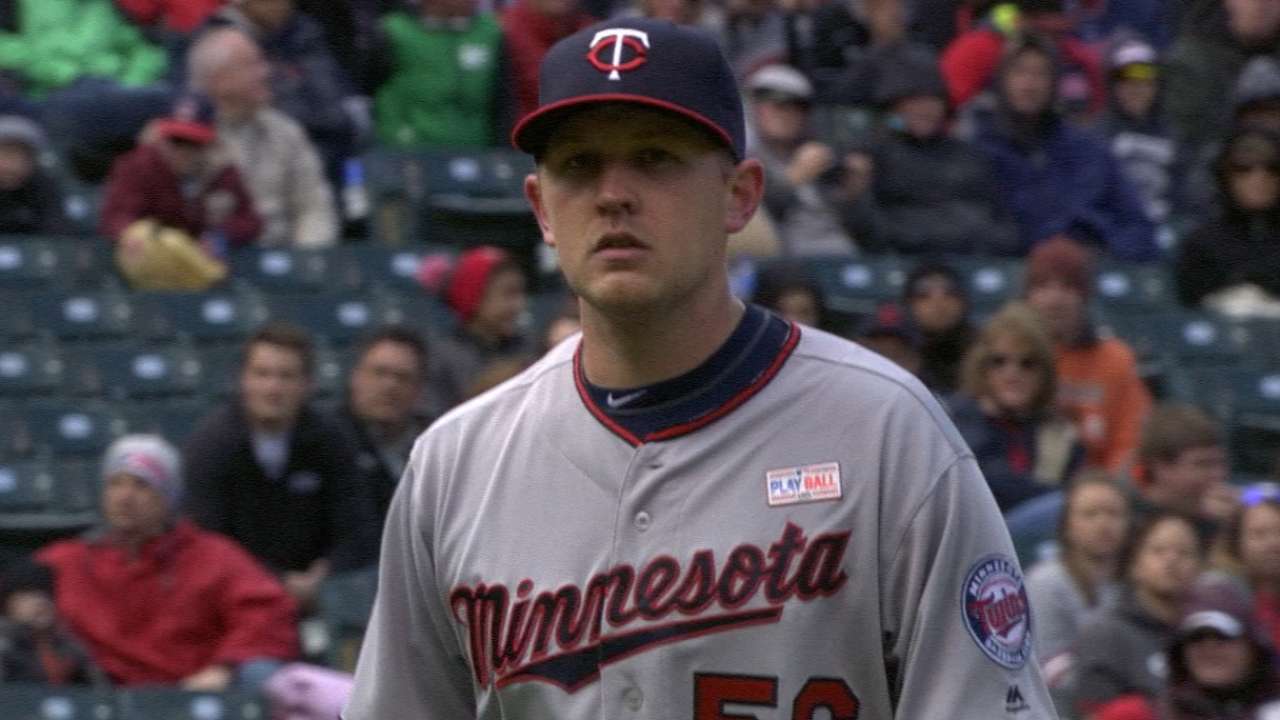 Duffey noted that Saturday's win, which snapped an eight-game losing streak, helped the Twins feel a little bit more relaxed heading into Sunday's game.
"It was really nice," Duffey said. "We needed it. We got one yesterday, and it gave us a little breathing room. Today we came out ready to roll and got another one. It'll be a happy flight to Detroit."
The Twins also saw a player hit his first Major League homer for a second straight day, as Polanco hit a solo shot off Trevor Bauer in the seventh a day after Juan Centeno hit his first big league homer against Corey Kluber on Saturday.
Molitor held a special postgame meeting to congratulate Polanco, which was a nice change of pace from the postgame atmosphere during the losing streak.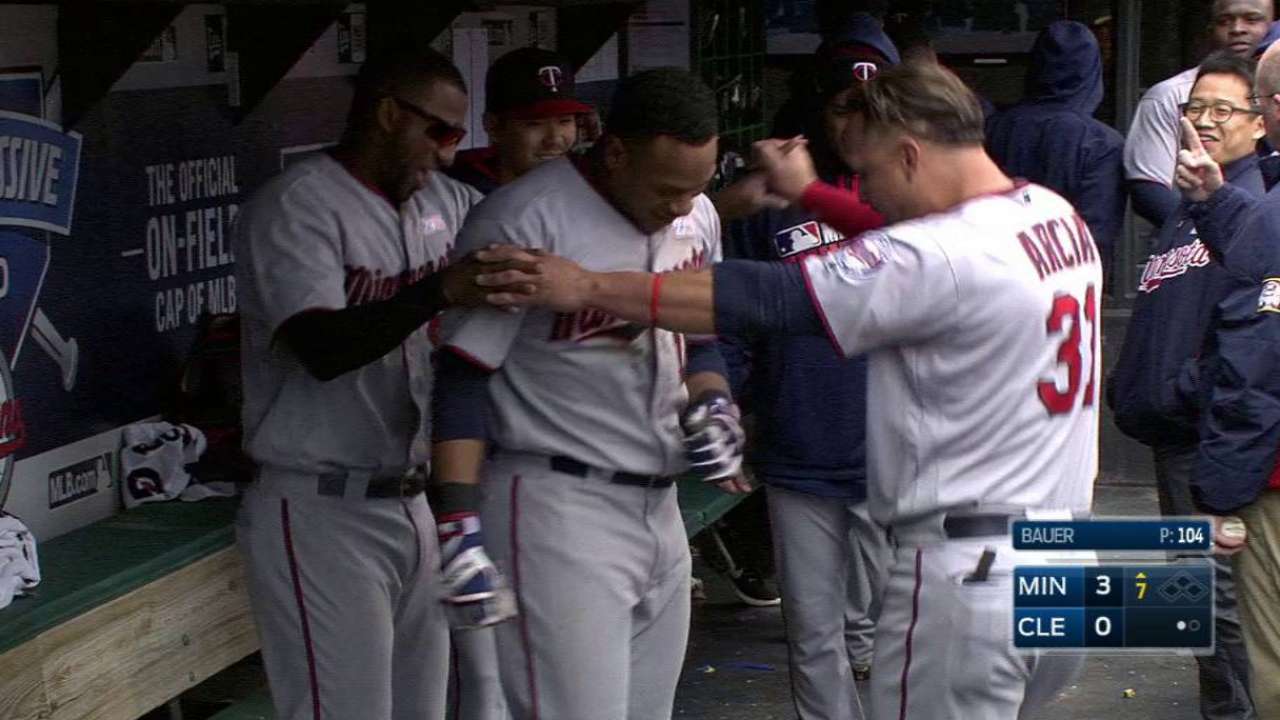 "It's nice to have those kinds of moments in the clubhouse when you're honoring significant milestones in young player's careers," Molitor said. "Polanco had a really good day."
Sunday's game had a similar formula to Saturday's as well, as the Twins used solid starting pitching before adding insurance runs late. The Twins scored two runs in the ninth in both games, with Eddie Rosario providing a two-run double off Tyler Naquin's glove in center to give Minnesota a cushion in the finale.
"To increase the margin there, I just think that helps everyone relax," Molitor said. "We got a little bit of a break. Rosie hit it good, but it held up in the wind but fell in for a couple of runs."
The Twins now head to Detroit to face the scuffling Tigers and are hoping their two wins in Cleveland can help them get back on track.
"It was a nice series win for us," Molitor said. "Hopefully, we can take a little bit of this into Detroit and keep playing good baseball and try to have a good road trip."
Rhett Bollinger has covered the Twins for MLB.com since 2011. Read his blog, Bollinger Beat, follow him on Twitter @RhettBollinger and listen to his podcast. This story was not subject to the approval of Major League Baseball or its clubs.