Rangers looking into Tolleson's struggles
Banister remains confident in closer after third blown save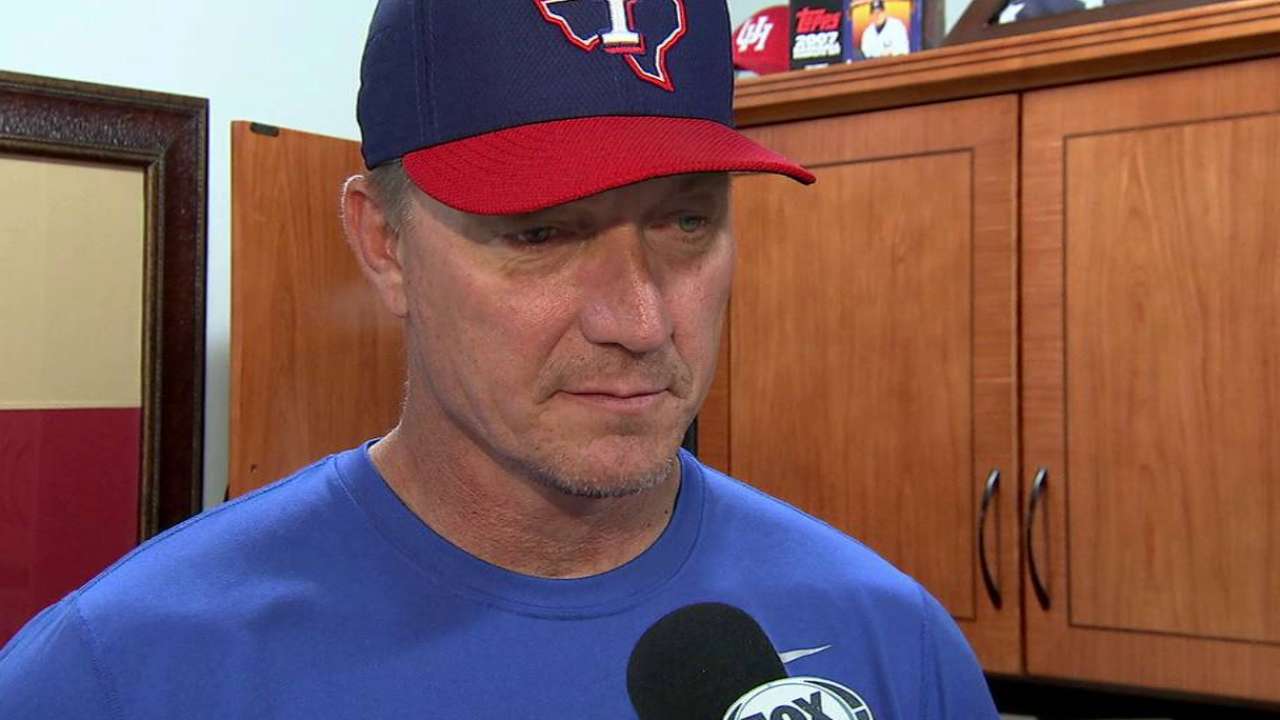 ARLINGTON -- The morning after Shawn Tolleson blew his third save of the season, Rangers manager Jeff Banister defended his closer and said he has no intention of moving Tolleson from his role. But Banister acknowledged something isn't right with the righty who succeeded in 35 of 37 save opportunities last season. The Rangers haven't been able to pinpoint the issue.
Tolleson has 11 saves in 14 opportunities this season, missing out on one Saturday night, when he gave up back-to-back homers to the Blue Jays to erase a three-run lead before the Rangers won in 10 innings. Tolleson's ERA is now 7.07 and opponents are hitting .323 against him.
"Has he had a stretch here where it's been a challenge? Yeah," Banister said. "We're looking into why that challenge is."
Banister noted that Tolleson's fastball velocity and strike percentage are actually better than last season. Banister's first instinct as to why Tolleson has had trouble at times is that his changeup is less effective, but it's harder for the manager to theorize about the specific problem with that pitch now.
Tolleson seems less confident in his changeup, or at least more reluctant to throw it. Last season, 19.1 percent of his pitches were changeups; this season, he's thrown it 13.6 percent of the time. His changeup velocity also averages 1.9 mph faster this year.
"This year, they seem to be hitting his changeup a little better," Banister said. "Well, why is that? Our pitching coaches and we all will look at it and see if there's an adjustment that we can help him make to get him back into that effectiveness."
Last May, the Rangers promoted Tolleson to closer to replace Neftali Feliz, who blew three of nine save opportunities before they released him. Could Tolleson be in danger of facing the same kind of demotion if he continues to struggle?
"There are times where you do unplug players, but I don't compare our situation last year to this year's situation," Banister said. "We had a closer that wasn't effective at all. He had one good outing, in Houston, and that was it. [Now] we've got a closer who's closed out [11] and faltered in three.
"That's why we evaluate every single night. When things become consistently ineffective you have to make a change, but I just don't know that we're completely at that point yet. We evaluate it every single day."
Rangers Beat
• After Prince Fielder went 0-for-8 over the past two games and lowered his season average to .187, Banister was asked whether Fielder, who has played in all 162 games in four of his previous 11 Major League seasons, needs a day off. Perhaps the upcoming series in Oakland, where the Rangers will face three lefties, would be an opportunity.
"I just talked about two days ago that he's made strides, and now we're talking about unplugging him," Banister said. "Guys do benefit from time down, and then there are those who need to work their way out of it. Whether or not it's time for Prince to have a day off, that's more of a physical thing than mental."
• Even with Robinson Chirinos out nearly all season, the offensive performance of the Rangers' catchers has been a huge positive, as the combination of Bryan Holaday, Bobby Wilson, Brett Nicholas and Chirinos have the second-highest slugging percentage (.480) and OPS (.801) of any position on the club, behind second base. The slugging percentage also ranks second in the Majors behind Arizona (.583), and the catchers also sit among the MLB leaders in RBIs (tied for third with 22) and homers (tied for fourth with six).
"Given the history of the guys we've had behind the plate, I'd be surprised and pleased -- obviously, pleasantly surprised," Banister said. "I love the fact that [it's] Bobby Wilson and Holaday, two guys that we had on the board that we like and we like them both. And we're waiting for Chirinos to get back."
Dave Sessions is a contributor to MLB.com based in Arlington. This story was not subject to the approval of Major League Baseball or its clubs.