Phillies' Youth HR Derby part of Play Ball Weekend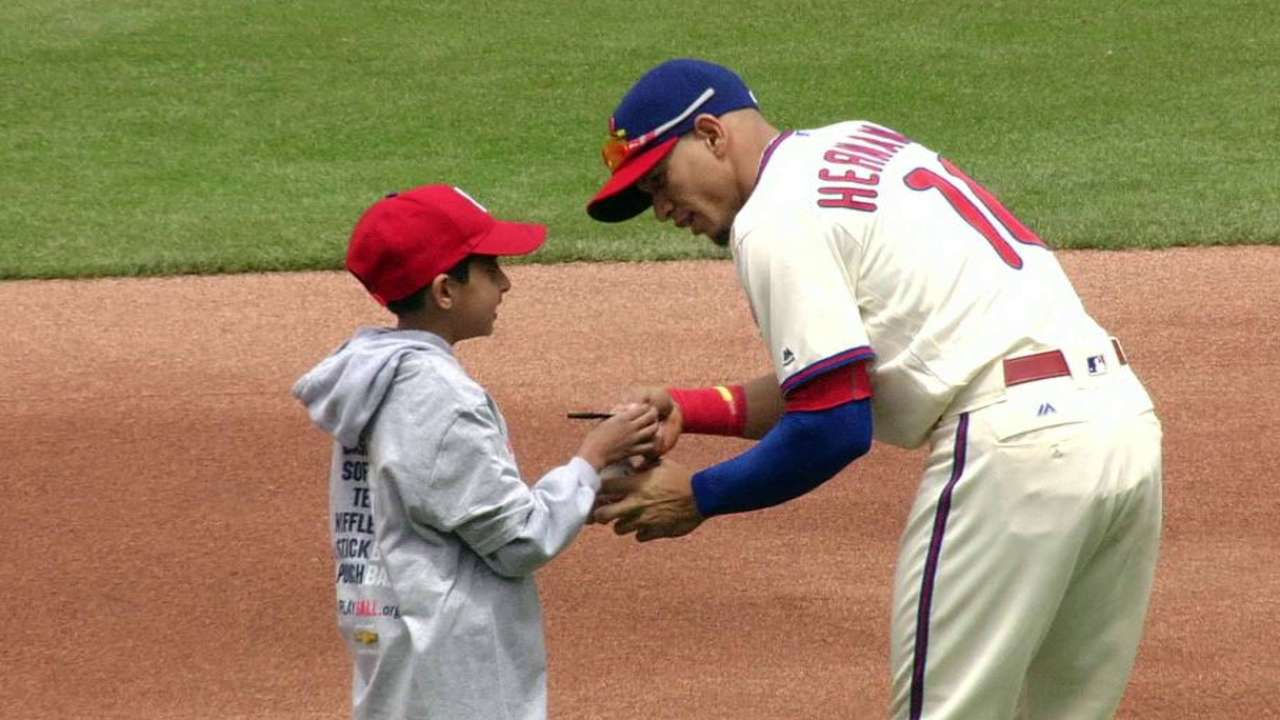 PHILADELPHIA -- In 1971, Philadelphia resident Jack Bradley took an idea to the Phillies: Let's hold a community youth home run derby. It would be open to children 7-12 from all over the Delaware Valley and the finals would take place at Veterans Stadium.
Frank Sullivan, then the director of promotion, and the Phillies loved it. They'd make it an annual tradition.
It has also become a family operation. Jack's son, Paul, has helped out since the inaugural edition -- he was 12 in 1971 -- but he took over as president when he graduated college. This year marks the 46th Home Run Derby, and the 40th Paul has been in charge of.
• Complete Youth Baseball coverage
Over the past four decades, Bradley has pitched to the preteen incarnations of Mike Trout, Jamie Moyer and Mike Scioscia. More than a dozen professional ballplayers have come through the Derby.
"Probably the only one I saw coming was Trout," Bradley said. "As a 12-year-old, he hit the ball over a 290-foot fence."
Trout didn't even make the finals, though. Because of the point system, Trout's 300-foot jacks counted the same as his opponent's 200-foot ones. On 10 swings, one point is awarded for any fair hit, two points for over 125 feet and five points for anything over 175 feet. The reigning American League MVP scored a 34, but it wasn't enough.
"To this day, I think about trying to get in touch with that kid, tell him that's who you beat," Bradley said. "You beat Mike Trout."
While the Bradleys have partnered with the Phillies since the start, this is the first year they've partnered with Major League Baseball. In addition to going to the finals at Citizens Bank Park, one participant will go on to represent Philadelphia at the All-Star Game in San Diego.
Those types of opportunities offered to the kids of Philadelphia are part of what keeps Bradley going after the 46th year. And the operation is only growing.
"There are kids who won home run derbies in the '70s call me now and say they want to have home run derbies in their towns," Bradley said. "Because of the experiences they had as kids."
The Phillies celebrated Play Ball Weekend by hosting one of dozens local competitions. The top three in each age group -- 7/8, 9/10, and 11/12 -- advanced to regional finals, which then decide who gets to compete at Citizens Bank Park in September.
And just like he's done for almost his whole life, Bradley fired up a pitching machine for about 50 kids in total. In the not so distant future, it could be a third generation Bradley in charge. Paul hopes to pass it down to his children when they graduate college, just like his father did for him.
"I've seen a lot of good hitters, but I've seen even better memories in the 46 years," Bradley said. "Let's get into a third generation, go to 75 years."
Evan Webeck is a reporter for MLB.com based in Philadelphia. This story was not subject to the approval of Major League Baseball or its clubs.