Play Ball in the Bronx a thrill for kids
Youth baseball and softball players get to meet A-Rod, others at Yankee Stadium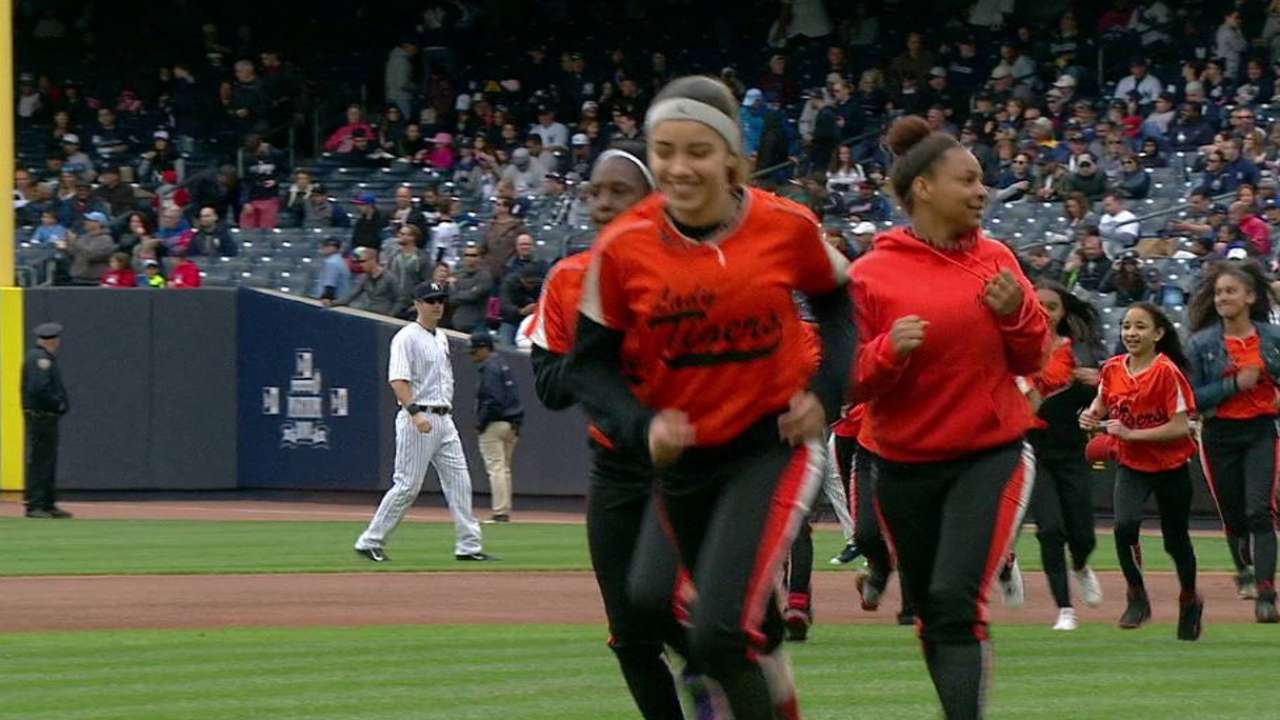 NEW YORK -- On a cold and drizzly Sunday morning in the Bronx, hundreds of kids made their Yankee Stadium debuts.
On hand celebrating Major League Baseball's inaugural Play Ball Weekend, approximately 1,000 youth baseball and softball players between the ages of 6 and 14 entered onto the field and marched around the warning track. As they rounded their way toward the Yankees' dugout, the kids were surprised by Alex Rodriguez, Nathan Eovaldi, Aroldis Chapman and Michael Pineda, there to take photos and exchange smiles and high-fives with the star-struck children.
• Complete Youth Baseball coverage
One child, upon noticing A-Rod, couldn't help but remark how much bigger he is in person. Another just kept screaming, "They're right here! They're right here!" And one father, trying to explain the magnitude of the opportunity to his young son, pointed at A-Rod and said "That's one of the best ballplayers ever."
Rodriguez explained after the session why he feels baseball is such a great sport and why it still resonates with this generation of young children.
"To me, it's a great game for so many reasons," Rodriguez said. "No. 1, it's so safe. And No. 2, it doesn't matter if you're [Dellin] Betances and you're 6-foot-9 or you're [Jose] Altuve who's like 5-foot-5. And that's the beauty of this game. If you're a guy like Altuve, you're sized out of the NBA, probably sized out of the NFL. In this game we welcome everybody."
Happy #PlayBall weekend! pic.twitter.com/cgi2xya1rS

- New York Yankees (@Yankees) May 15, 2016
The kids in the parade-like procession weren't the only thing that made Play Ball Weekend at Yankee Stadium a special one. The softball team from MS 22 middle school in the Bronx joined the Yankees as they took the field prior to the game, and players sported special patches and T-shirts to commemorate the occasion. Two young children from the Bronx also threw out the first pitches to Brian McCann and Austin Romine.
Yankees manager Joe Girardi said that when he was growing up in Chicago, he never got to experience anything quite like this, though he knows how much it would've meant to him if he had.
"I think any little boy or girl would want to walk on a big league field," he said. "I know when I was a little kid I used to go to Wrigley. I never walked on the stadium, but I got awful close to the field being on the brick wall. It was always exciting for me. So I'm sure it's a big day."
Rodriguez said afternoons like this one give kids the renewed belief that they too can be Major League players, assuming they commit to two very specific principles.
"There's two things you can control, and that's the one thing we tell our players here in the Yankees and it's the same message we have for Little Leaguers," he said. "You can control two things: your work ethic and your attitude."
Nick Suss is a reporter for MLB.com based in New York. This story was not subject to the approval of Major League Baseball or its clubs.