Lamb cleared to return from thumb injury
Left-hander set to start Monday against Indians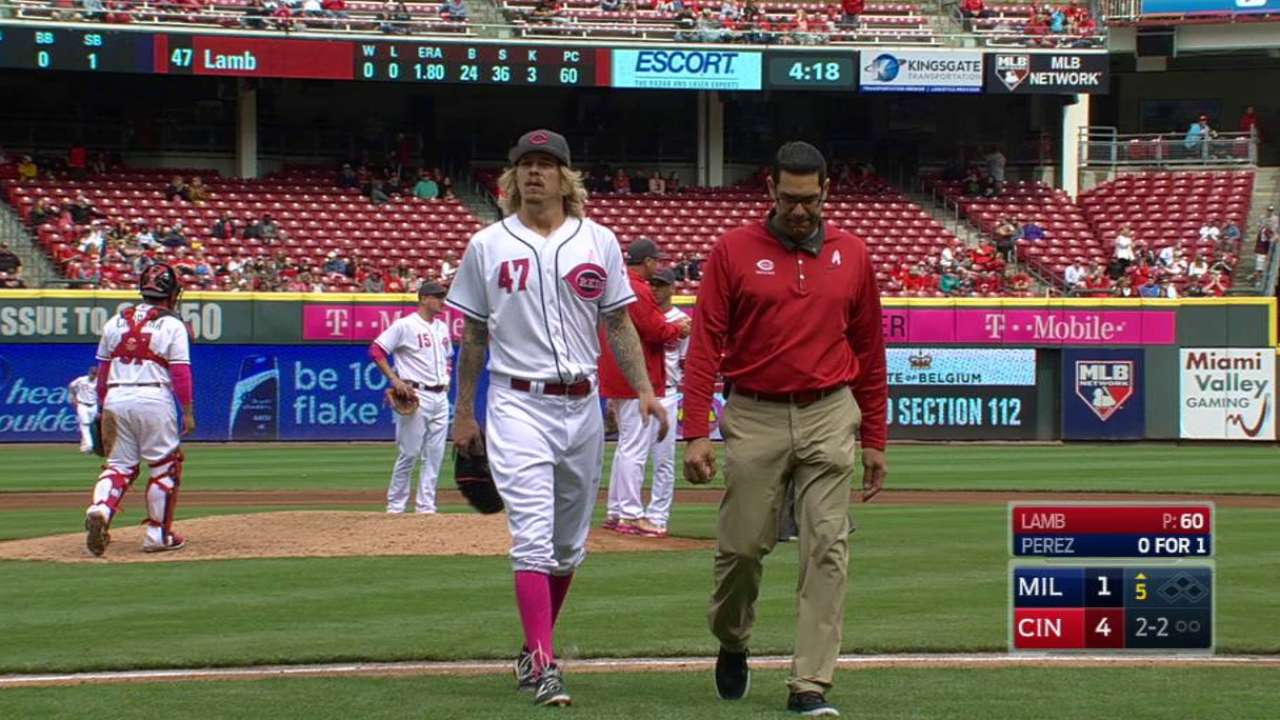 PHILADELPHIA -- The Reds have given a thumb's up to pitcher John Lamb's left thumb and he will be ready to start on Monday against the Indians.
Last Sunday, Lamb was limited to four innings against the Brewers because of a left thumb strain when he was jammed inside while hitting. His next turn in the rotation was pushed back, a situation made easier by a rainout and a scheduled off-day last week.
"It's in the rearview if you ask me," Lamb said on Sunday. "I'm not excited to swing the bat, necessarily, but it comes with the territory I think. I'll get back in the swing, hoping that things calm down and stay calmed down."
Going forward, Lamb planned to wear a thumb guard on his left hand when hitting.
Following his last start and the injury, Lamb's thumb was immobilized in a soft cast until the swelling went down. He resumed playing catch on Wednesday and threw a bullpen session on Friday.
The one pitch Lamb was concerned about throwing, the curveball, presented no issue during his work in the bullpen.
"The last two days, it's really started to feel back to normal or close to it," Lamb said of his thumb. "Today, I told the training staff that depending on how it goes out there throwing, right now I don't have any symptoms. I'm certainly excited about that moving forward."
Somsen glad to have made debut
Reds reliever Layne Somsen got to make his Major League debut with a scoreless eighth inning in Saturday's 4-3 loss to the Phillies. Somsen got two outs on his first two pitches and gave up a two-out single before getting out of the inning.
Somsen had warmed up in the seventh inning and said he didn't feel nervous once he was called into the game.
"JC [Ramirez] ended up going in [the seventh], but they scored that run and I ended up pitching the eighth," Somsen said on Sunday morning. "I kind of had the jitters out of the way and focused on what I had to do."
Somsen's brother and a good friend from his hometown in South Dakota were in attendance at the game.
"They took a few videos and sent them to my parents. It was cool," Somsen said.
The Reds saved the lineup card and the ball from his first pitch for Somsen to have as a keepsake.
Getting to his debut required patience for Somsen. He was called up for three days from April 25-27 in New York, but did not get to pitch against the Mets. His second callup came on May 9. During the two callups, he had warmed up once at Citi Field and Saturday was the only other time.
"I get it. They like to get guys debuts in kind of blowout situations," Somsen said. "But it ended up last night where I had to come into a closer game. It's kind of cool to come in a little pressure situation."
Mark Sheldon has covered the Reds for MLB.com since 2006, and previously covered the Twins from 2001-05. Read his blog, Mark My Word, follow him on Twitter @m_sheldon and Facebook and listen to his podcast. This story was not subject to the approval of Major League Baseball or its clubs.