Rodriguez makes fourth Triple-A rehab start
Bogaerts draws praise from Farrell, Ortiz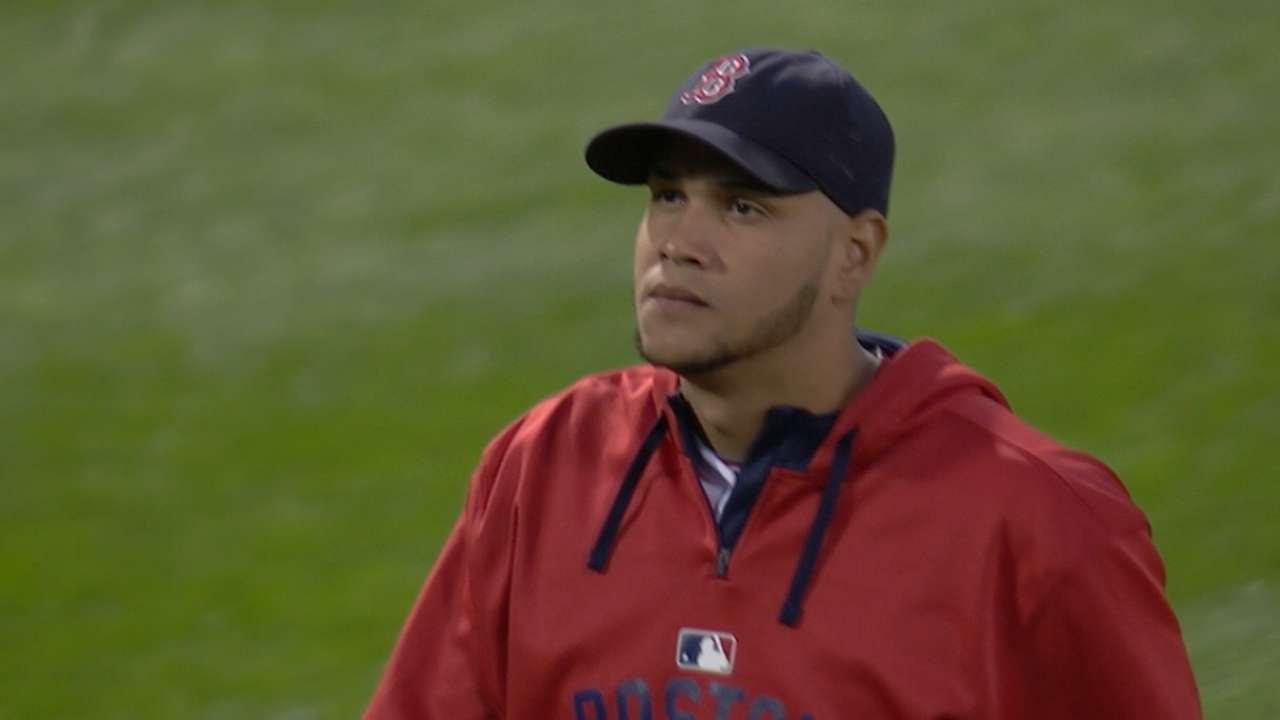 BOSTON -- Left-hander Eduardo Rodriguez made his fourth rehab start Saturday, going 5 2/3 innings for Triple-A Pawtucket. He took the loss, as the PawSox fell to the Gwinnett Braves, 3-2, in the first game of a seven-inning doubleheader. Rodriguez allowed three runs (two earned) on seven hits, including two home runs, with no walks and three strikeouts.
Rodriguez continues to make his way back from a right patella subluxation suffered early in Spring Training.
"Got to 100 pitches, he threw a high percentage of strikes. We'd still like to see an uptick of performance in general," said Red Sox manager John Farrell. "Health-wise, he felt good coming out of it, and while yesterday's [start was], I think, a slight improvement over his previous start -- and certainly over two starts ago -- he's going to make his next start at Pawtucket, and that'll be Thursday."
In four starts this season, all with Pawtucket, Rodriguez is 0-3 with a 4.29 ERA and a 1.33 WHIP in 21 innings. In 21 starts for the Red Sox last season, Rodriguez was 10-6 with a 3.85 ERA and a 1.29 WHIP.
Bogaerts draws praise from Farrell, Ortiz
Xander Bogaerts has been surging at the plate, entering Sunday batting .340 with a .389 on-base percentage and an .879 OPS. He had hit safely in 21 of his last 23 games and reached base at least twice in 18 of those games, leading the Majors in hits (41) and average (.414) in that span. The hot stretch has not gone unnoticed by Farrell.
"He's hit all kinds of pitching, all different styles, power stuff, first time he's faced a guy," Farrell said. "He hasn't come out of his approach. He's still getting plenty of hits to the opposite felid. He might be driving the ball a little bit more consistently to the pull side and that doesn't mean we're asking him to hit home runs, but he's hit a number of different types of pitchers. And I think that's a sign of a really good hitter."
"I'm super impressed by all of the young kids," David Ortiz added. "They have a great future. I watch them and they are like a group of veterans. We are talking about Mookie Betts, Jackie Bradley Jr. and Xander. The A's catcher [Stephen Vogt] told me the other day that Bogaerts might be the best hitter in the game. ... We are talking about guys in their 20s and not even in their mid-20s. The future is in good hands."
Maureen Mullen is a contributor to MLB.com based in Boston. This story was not subject to the approval of Major League Baseball or its clubs.