D-backs still learning art of timely hitting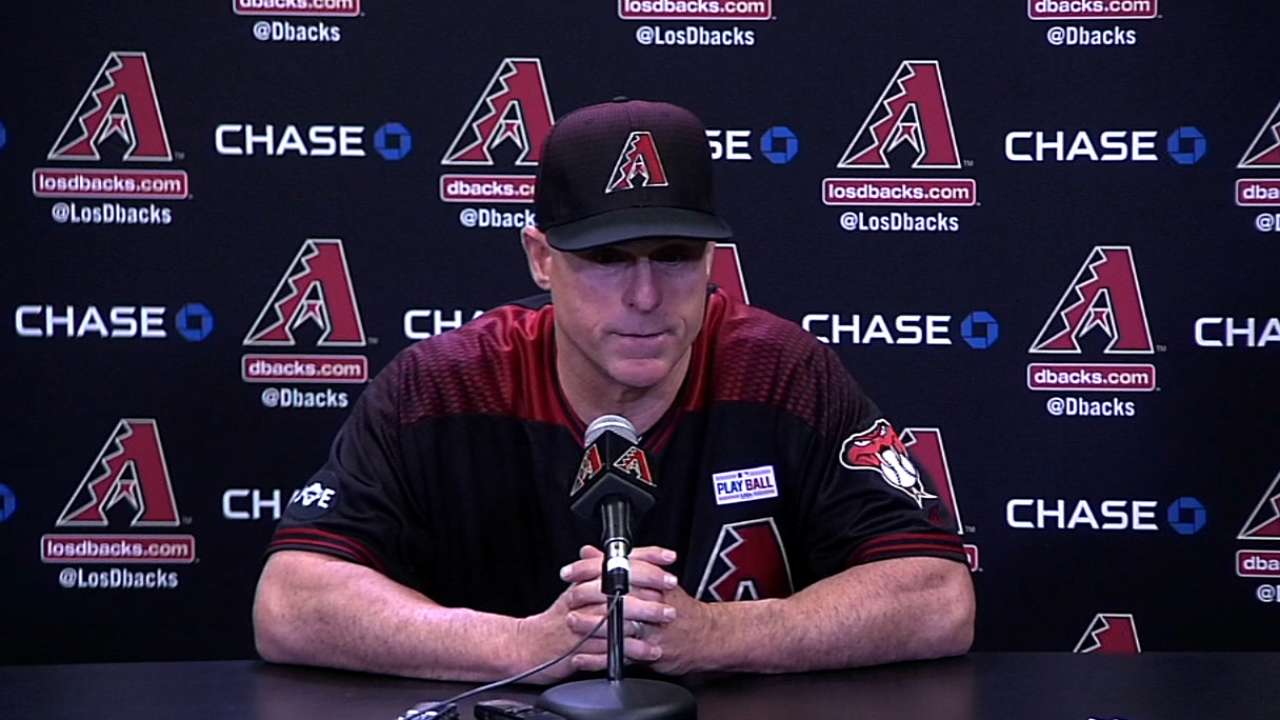 PHOENIX -- To D-backs manager Chip Hale, a 5-3 loss to the Giants on Saturday boiled down to clutch hitting.
The D-backs didn't do enough of it, as they were 1-for-10 with runners in scoring position, while the Giants -- specifically catcher Buster Posey -- did.
"We left guys out there," Hale said. "You just can't do that and be successful and win games. It's all part of the evolution of a young player becoming a veteran. You see guys in the league who do it and are successful.
"Posey did it tonight ... bases loaded, two outs, and he hits a double. That's one of our superstars in the game. That's where our guys are trying to get to. We're just not there yet. Sometimes it's tough to watch."
Especially lately, as in the three losses to the Giants in this series, the D-backs have scored two, one and three runs. In the last three games of the previous homestand, they were limited to five runs in three losses to the Rockies, including a 9-0 loss to Tyler Chatwood. Overall this season, the D-backs are 5-15 at Chase Field, where they have a minus-37 run differential.
Posey's blast that bounced over the right-center-field wall came off Daniel Hudson, who unraveled after the D-backs had tied the game at 3 in the previous half-inning and saw his ERA rise from 0.59 to 1.65. Before Posey connected, Hudson allowed a single, hit Denard Span (who reached base five times including a triple and three singles) and issued a walk.
But troubles began much earlier for the D-backs. A walk, an error and Chris Owings' RBI double left runners on second and third with no outs in the bottom of the second, but the ball never got past the pitcher again in the frame, as Giants starter Jake Peavy escaped further trouble.
"Second and third nobody out ... you have to get one there," Hale said.
The D-backs did score single runs in the seventh and eighth innings, but left a runner on in each of the last four innings against Peavy and four relievers.
"The guys are doing everything they can," Hale said. "It's hard to get on them because they're putting in the time. The preparation is excellent. [Hitting instructor] Dave [Magadan] is giving them good information. But sometimes you just press. Your mind might not be thinking the good stuff. It's, 'Boy, if I don't get him in ...' rather than 'I'm going to get him in.'"
Tony DeMarco is a contributor to MLB.com based in Phoenix. This story was not subject to the approval of Major League Baseball or its clubs.