Missed opportunities cost Brewers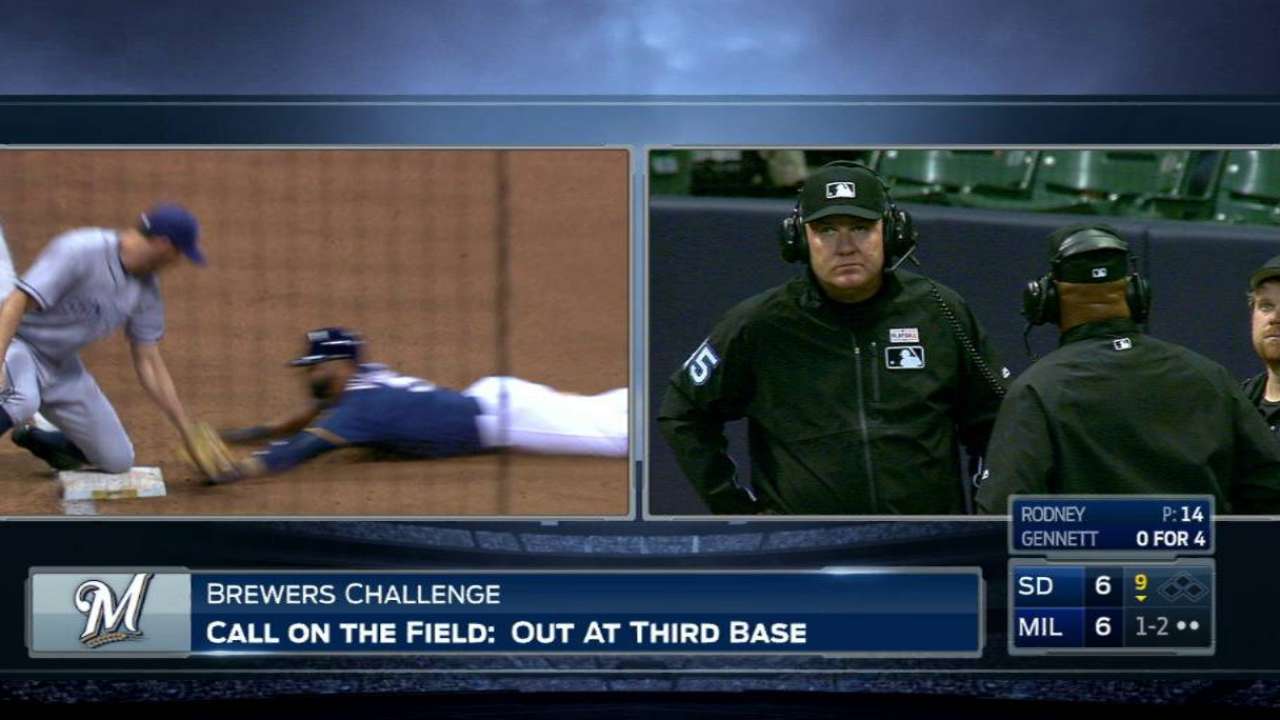 MILWAUKEE -- Inning after inning Saturday night, the Padres presented scoring opportunities on a platter. Inning after inning, the Brewers passed.
The result was a long, frustrating, 8-7 loss in 12 innings at Miller Park, where five hours and four minutes of baseball produced some statistical oddities the Brewers might not see again all season. Here is a sampling:
• With Ryan Braun off-limits because of a right wrist injury, the Brewers went 2-for-16 with runners in scoring position, twice took called third strikes to end an inning with the bases loaded and left 16 men on base, a season-high and the most since Milwaukee left 17 men on base in a 15-inning loss to the Twins in 2012.
• It marked only the fourth time in franchise history that the Brewers drew 12 or more walks in a game and lost. That had not happened since June 5, 1999, when the Brewers lost to the Rockies in Denver, 12-10.
• For the second time in franchise history, and the first time since the club's first season in Milwaukee in 1970, the Brewers benefitted from two catcher interference calls in the same game. In both instances, Hector Sanchez's mistake loaded the bases, but in only one of those instances did the Brewers cash in, scoring a pair of runs in the eighth inning for a 6-6 tie.
"I think we're all just tired and ready to move on to the next one, honestly," said Brewers center fielder Kirk Nieuwenhuis, who had three hits, three RBIs and came within mere feet of hitting a go-ahead home run in the crazy eighth. "Those are ones that are a lot better to win, for sure."
It could have been worse. Before Jonathan Lucroy homered with one out in the bottom of the 12th inning, the Brewers were two outs away from a sixth straight game without hitting a home run. That would have matched their longest drought since hitter-friendly Miller Park opened in 2001.
"It's a frustrating game," Brewers manager Craig Counsell said. "Obviously, when you have that many baserunners it's frustrating. We did such a great job coming back, and the bullpen did a great job holding the line there. It's frustrating for sure."
But Counsell added a caveat.
"We'll score runs getting that many base runners," he said. "Nights like that are going to be frustrating. If we keep getting guys on base, we're going to score runs."
In one critical instance, the Brewers ran themselves out of an inning. With one out in the bottom of the ninth, Scooter Gennett in a 1-2 count and Jonathan Villar at second base, Villar surprisingly broke for third. Gennett waved at a pitch out of the zone for Strike 3, and Villar was thrown out at third base, ending the inning. The call was confirmed after Counsell challenged.
"That was a mistake," Counsell said. "Earlier in the count, that's a play that makes sense, getting to third early. At that point [with two strikes], it wasn't a good decision."
Villar, however, said he did not regret the decision, saying he had a good read of pitcher Fernando Rodney's delivery. Villar contended after the game that he was safe.
Then he leaned back and let out a long sigh in a nearly empty clubhouse. On Sunday afternoon, the Brewers would be at it again.
Adam McCalvy is a reporter for MLB.com. Follow him on Twitter @AdamMcCalvy, like him on Facebook and listen to his podcast. This story was not subject to the approval of Major League Baseball or its clubs.