Missed chances add up in latest one-run loss
Reds averaging 3.2 runs per game over 1-4 stretch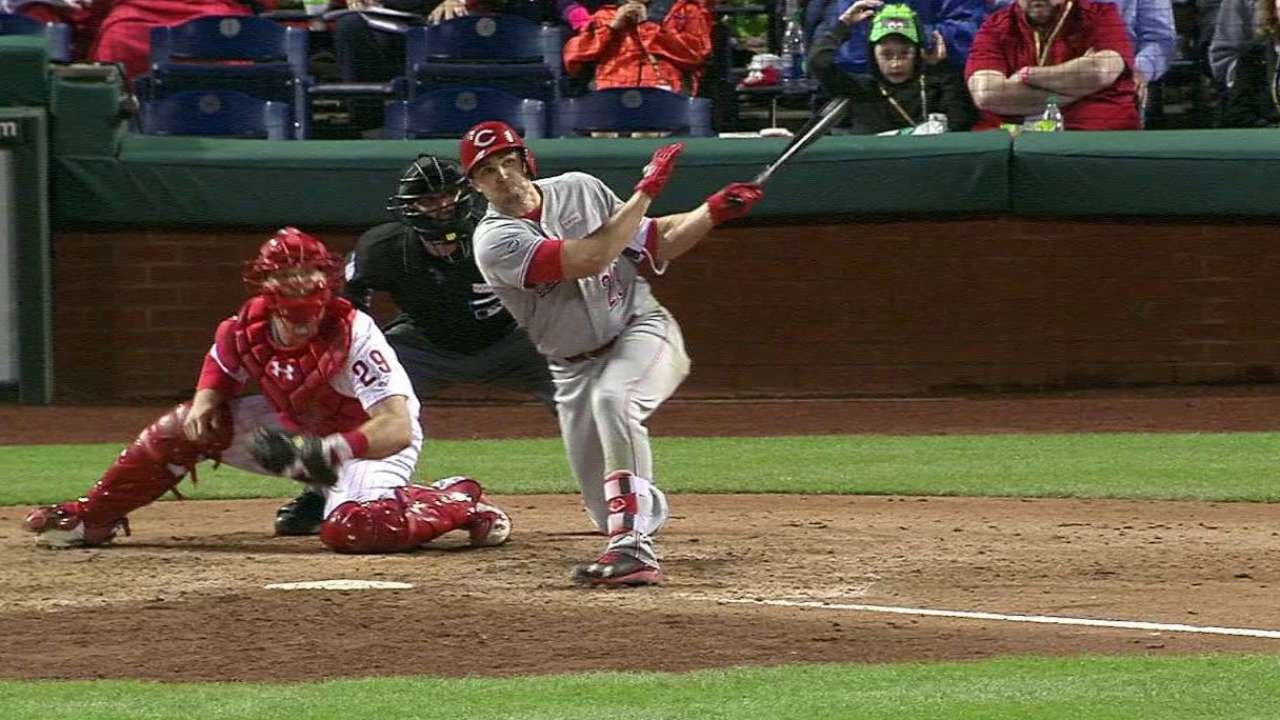 PHILADELPHIA -- In the seventh inning of Saturday's 4-3 Reds loss to the Phillies, Tucker Barnhart slammed his bat hard on the ground in frustration. Barnhart had just struck out on a 1-2 curveball from pitcher Aaron Nola with one out and runners on second and third that represented the tying and go-ahead runs.
Barnhart also grounded out to first base with runners on second and third with no outs in the ninth, leaving the runners in no position to advance.
"Two opportunities with a guy on third and less than two outs and you don't get him in, it stinks," Barnhart said. "But you've got to credit those guys over there. Nola pitched a great game and [David] Hernandez got me out."
Unfortunately for the Reds, Barnhart isn't alone with angst as he is not the only hitter lately that hasn't come up with the big hit when needed.
In the last five games -- all decided by one run -- Reds' hitters are batting .212 with 10 walks and 42 strikeouts. They are 1-4 in those games while averaging 3.2 runs.
"I'd like to see better at-bats with guys in scoring position," Reds manager Bryan Price said. "I'd like to see more guys on base. I'd like to see us walk more, not because we're just taking pitches, but [because] guys fight off tough pitches. Guys expand a lot. That's what you do when you get to two strikes, you expand a lot. It's not just good pitching. I do believe we can be a better offensive club than we've been to this point in time. With the players we have in place, I think we can score and should score more than we do."
In Friday's loss to the Phillies, the Reds were held hitless after the fourth inning while getting two runners on base.
The first inning on Saturday started in optimistic fashion with the bases loaded and no outs. But one run was all that crossed, on Brandon Phillips' infield foul pop to first baseman Ryan Howard where Zack Cozart did a nice job tagging up and scoring.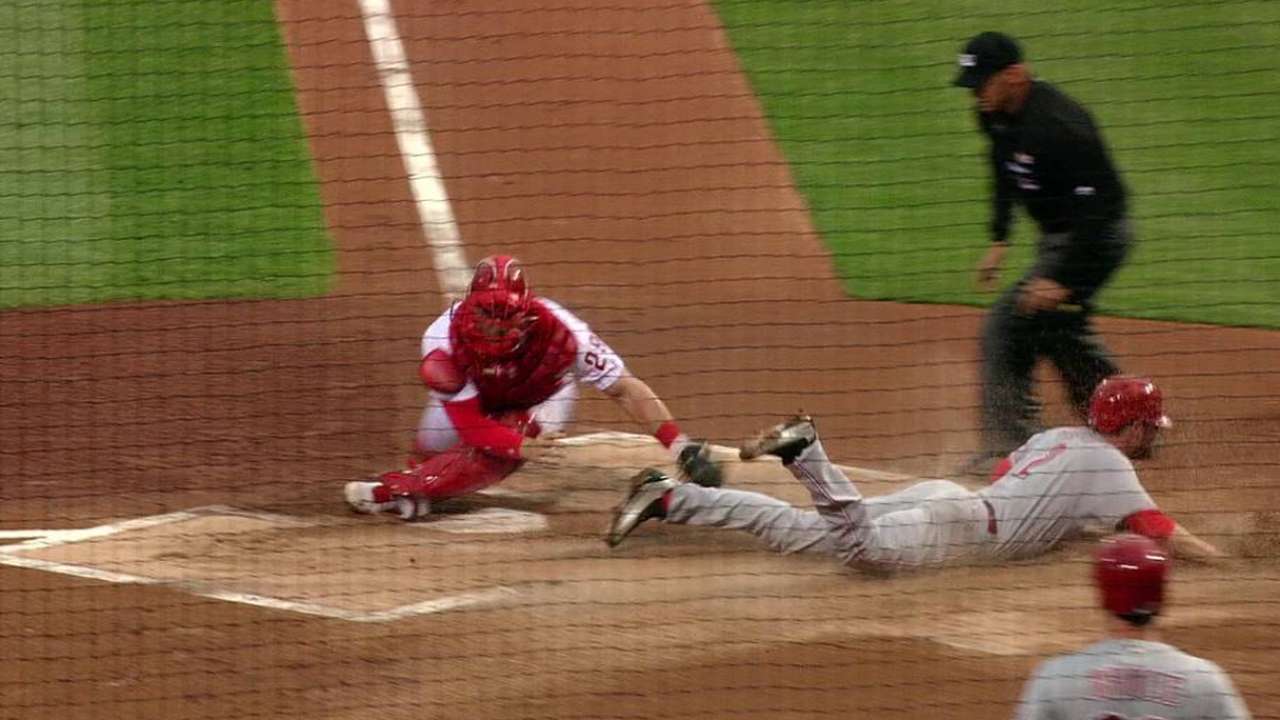 "I think we'll be OK. We're just struggling a little bit," third baseman Eugenio Suarez said. "We've got a big team. We've got a lot of chances to win games and hit more. We'll keep it going and work hard."
Suarez was on third base in the ninth after Barnhart's out and had a chance to tie the game. He tagged up on Jordan Pacheco's fly out to left field, but was nailed in a double play trying to score by a perfect throw. Suarez collided with catcher Cameron Rupp, who held onto the ball. A Reds challenge was unsuccessful as officials ruled that Rupp was not blocking the plate.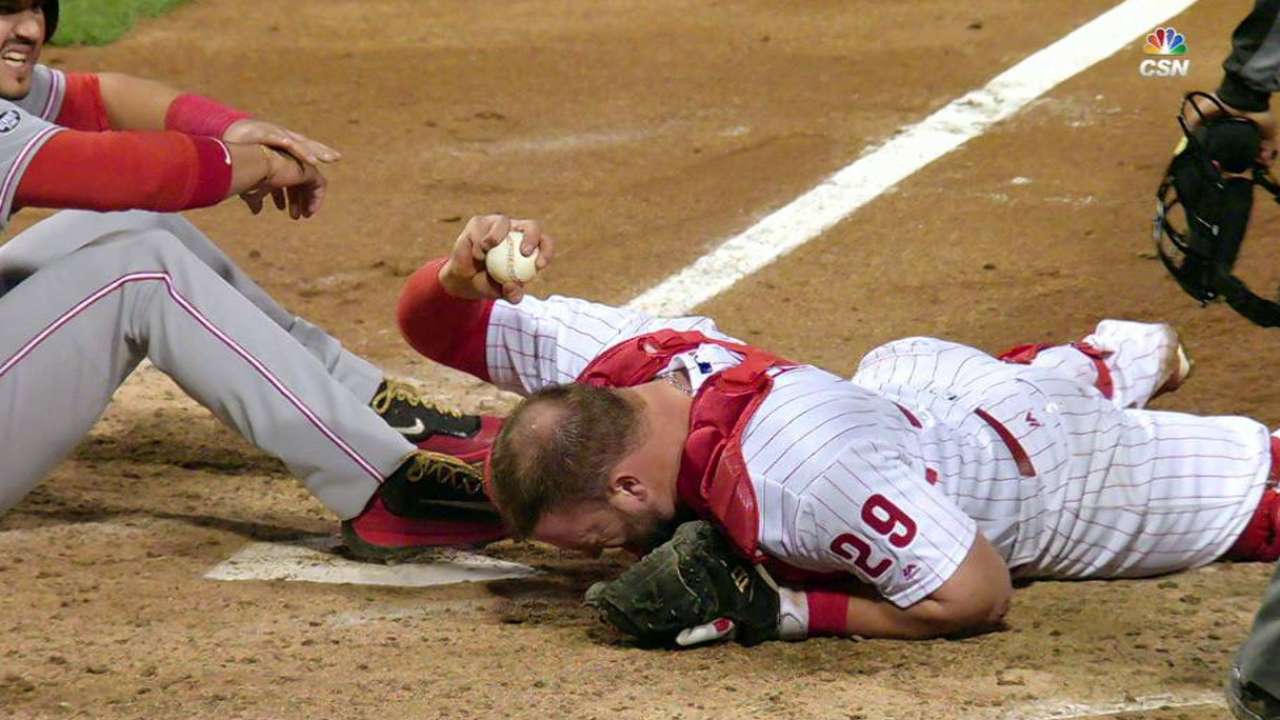 "That isn't really what cost us the ballgame tonight," said Price, whose club is 2-12 on the road this season. "We had opportunities to score more."
Mark Sheldon has covered the Reds for MLB.com since 2006, and previously covered the Twins from 2001-05. Read his blog, Mark My Word, follow him on Twitter @m_sheldon and Facebook and listen to his podcast. This story was not subject to the approval of Major League Baseball or its clubs.