A peculiar Padres debut for Sanchez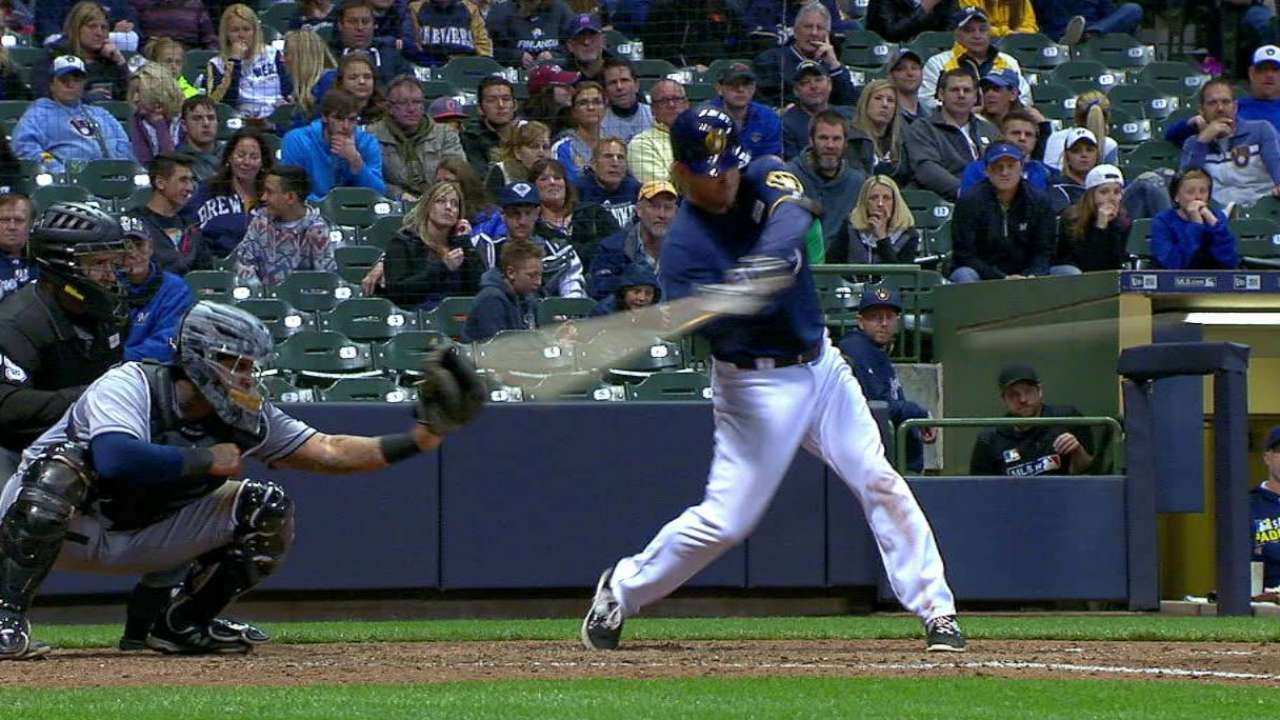 MILWAUKEE -- There were numerous reasons why the Padres and Brewers played deep into the night before San Diego eventually pulled out a 8-7 win in 12 innings, but a baseball rarity led to Milwaukee tying the game in the eighth inning.
What appeared to be an inning-ending groundball off the bat of Aaron Hill was negated by the second catcher's interference call of the game on Hector Sanchez.
One batter later, Alex Presley drove in a run on a ball hit between first baseman Wil Myers and second baseman Jose Pirela. Pirela corralled the ball and threw wildly to pitcher Brandon Maurer covering the bag, allowing Domingo Santana to scamper home to tie the game at 6-6.
"The second one is frustrating because we were in a situation to end the inning," Sanchez said. "I probably reached a little bit forward, but I guess that happens. That probably cost us a couple of runs, but that happened in the game."
Sanchez, who was claimed off waivers from the Chicago White Sox, was making his first start behind the plate for the Padres. He caught six pitchers for the first time in the nine innings he spent behind the plate.
His first catcher's interference of the game came in the second inning. It didn't cost the Padres, as Luis Perdomo struck Jonathan Lucroy out with the bases loaded.
"I don't think I've ever seen that, but I did notice he was sitting pretty close to the plate," Brewers center fielder Kirk Nieuwenhuis said. "Especially in my first at-bat. I didn't see any replays of the two plays, and I didn't really notice it as much as the game went on. But my first at-bat, I noticed it for sure."
Sanchez had a history of catcher's interference while serving as Buster Posey's backup in San Francisco, but never has he been called for it twice in one game.
"I like to think it is a [fluke]," Padres manager Andy Green said. "We don't have a ton of familiarity with Hector Sanchez. It wasn't something we talked about when we acquired him, and I have a lot of confidence that it's something that's not going to be an issue going forward."
It marked the first time the Padres have had a catcher commit catcher's interference multiple times in a single game. The Brewers had only reached on catcher's interference twice in one game once prior -- June 30, 1970.
"In those pitches, I probably thought the hitter was not going to swing," Sanchez said. "That's what happens. Especially late in the count, I never expect the hitter to swing a little bit late. That happened. I have to move forward and try to not have it happen in the next game."
Andrew Gruman is a contributor for MLB.com based in Milwaukee. This story was not subject to the approval of Major League Baseball or its clubs.