MLB.com Columnist
Anthony Castrovince
Sand-ing ovation for Play Ball Weekend!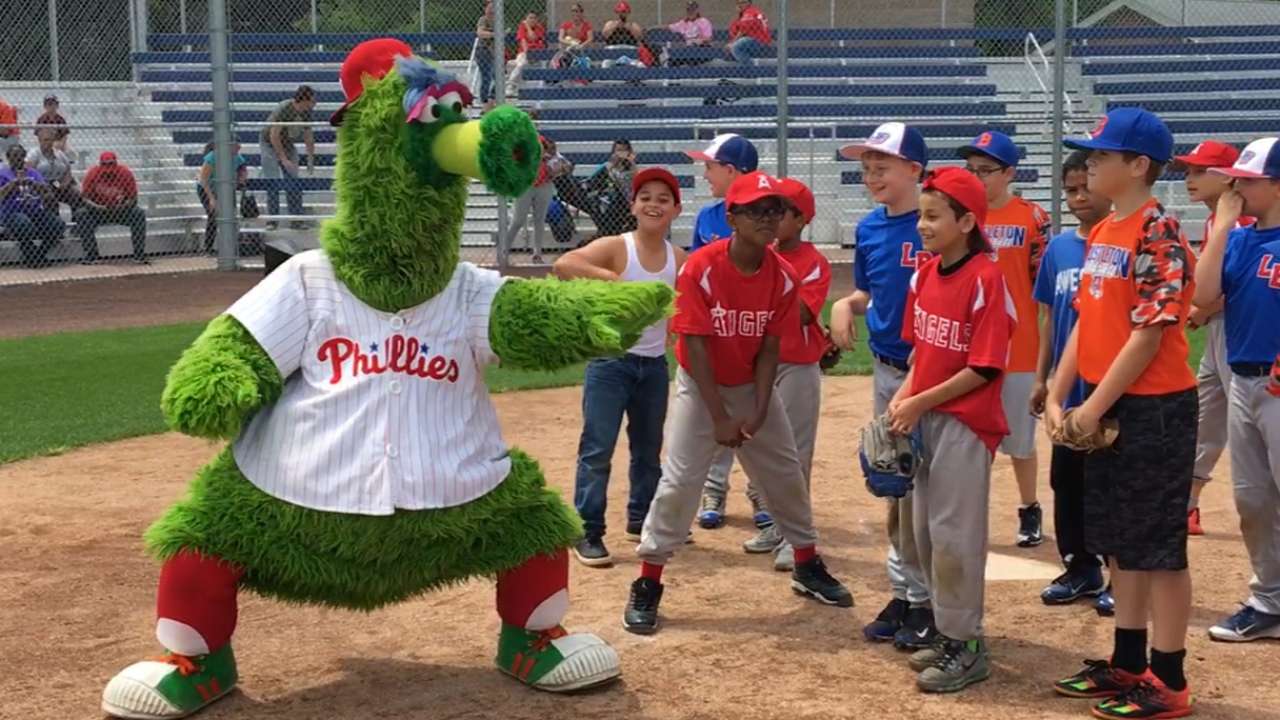 They were surrounded not by the stands but the sands, the familiar feel of batter's box dirt replaced by the granular expanse of the ocean shore.
When Yasiel Puig and Justin Turner took a detour from their route to Dodger Stadium on Saturday for some pick-up game participation, they not only surprised the kids from the Boys & Girls Club of Venice as part of Major League Baseball's Play Ball Weekend but also taught those kids a lesson about the game's picturesque portability.
• Complete Youth Baseball coverage
"I think the message here is to encourage kids to get outside and be active," Turner said. "Maybe in the future, they will organize some little games like this on their own so they can come out and get out of the house, get out from behind the computer screen and the iPad."
• Puig, Turner enjoy baseball on the beach
After this at bat at the beach @redturn2 is ready for the game tonight #PuigNoPitch pic.twitter.com/5IFRvIm771

- Yasiel Puig (@YasielPuig) May 14, 2016
Play Ball Weekend is an extension of the Play Ball initiative, which launched in 2015 as the sport's largest effort to encourage widespread participation in both formal and casual baseball and softball activities.
Be it on the beach, on a military base, on fields meant for big leaguers or for Little Leaguers, Play Ball Weekend spread the joy of the sport in all its forms, from the satisfying simplicity of friends playing catch to the pinch-me potential of meeting and interacting with a real Major Leaguer.
The goal here was a simple one, really: When you make a concerted and well-orchestrated effort to engage a young audience, to make memories and promote participation, you can create a lasting bond. And with each of the 15 home clubs embracing the initiative this weekend in their own unique way (the away clubs will hold their Play Ball events on alternate dates), diverse and delightful scenes were created, each demonstrating the spirit of the sport.
In Baltimore, for example, about 100 children of military service families were visited by Orioles relievers Darren O'Day and Zach Britton, who put the "fun" in fundamentals by following up some throwing lessons by handing out tickets to that night's game against the Tigers. The O's staged a simultaneous clinic elsewhere in the area, with Brad Brach and former players Ken Dixon and Larry Bigbie visiting children with mental and/or physical challenges.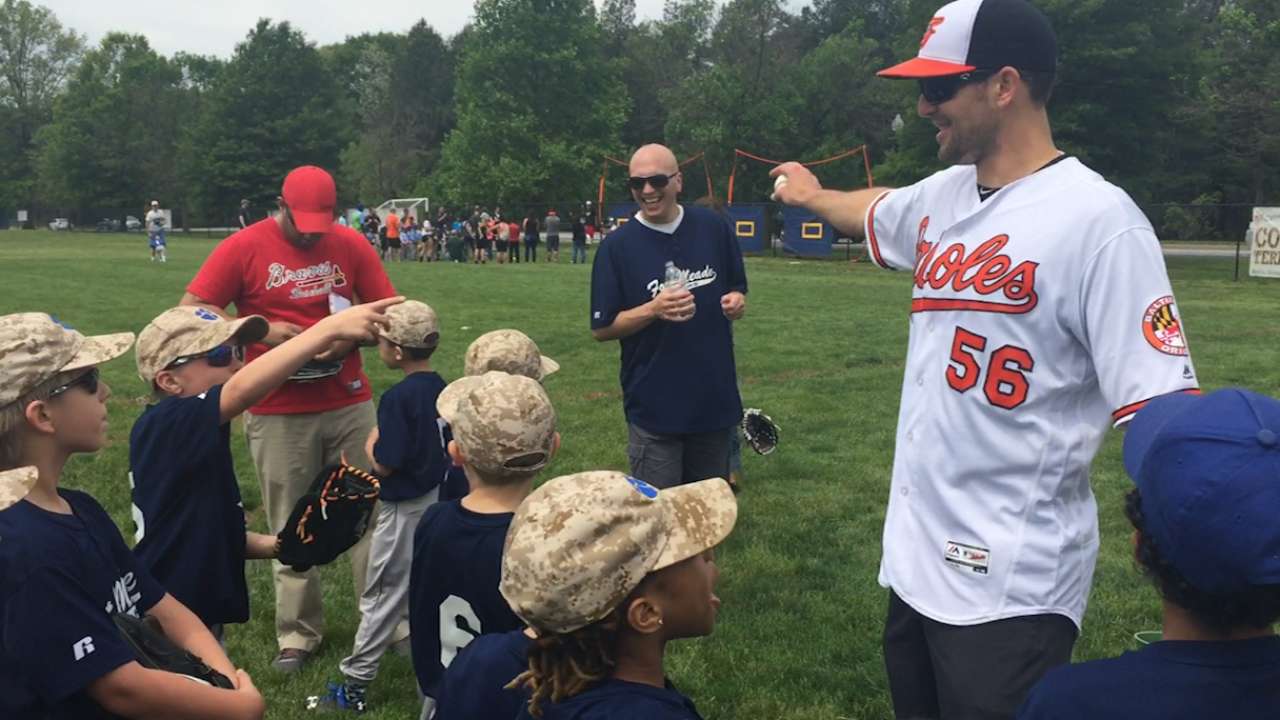 "We're just trying to spread the love of the game," Britton said.
• O's spread love of game through Play Ball clinics
They spread it in Philadelphia, where Phillies players Emmanuel Burriss and Colton Murray surprised the kids at Franklin Delano Roosevelt Park in the midst of their hitting, baserunning, infield and outfield drills (one of them was shell shocked when Burriss borrowed his glove to field some grounders). They spread it at the South Mountain Little League championship game in Phoenix, where D-backs pitchers Jake Barrett and Randall Delgado served as celebrity assistant coaches. They spread it in downtown Dallas, where Rangers teammates Sam Dyson and Ryan Rua played a pickup game with 150 newfound friends, ages 5 to 16.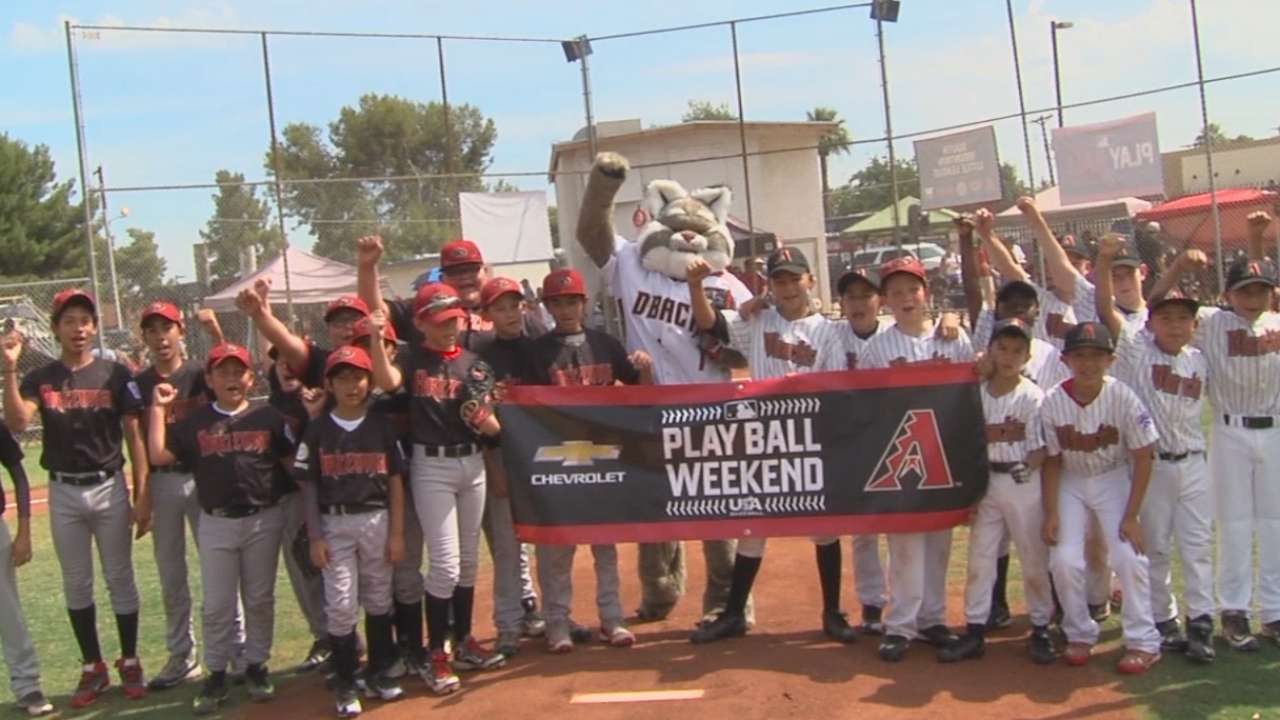 There were school visits, there were ticket donations, there were pregame photo-ops and autograph sessions, there were honorary bat kids and grounds crew members. More than 320,000 plastic bat and ball sets were handed out.
Across the country, kids were given the royal treatment.
That was, of course, literally true in Kansas City, where a few dozen young ballplayers got to attend a "news conference" in which they could ask questions of members of the Royals -- Christian Colon, Danny Duffy and third-base coach Mike Jirschele.
.@C24Colon, Danny Duffy and 3B coach Mike Jirschele joined today's kids-only press conference for #PlayBall weekend! pic.twitter.com/m8CqcagTsn

- #VoteRoyals (@Royals) May 14, 2016
"It was really cool," 11-year-old Grant Rutkowski said. "Especially the part where Christian Colon patted me on the back."
• Royals share field with kids in Play Ball event
The memories there actually flowed both ways, because Colon, who turned 27 Saturday, can one day look back fondly on the time a room full of kids serenaded him with "Happy Birthday."
Beyond the participation were the uniform patches and the Play Ball T-shirts players wore around the clubhouses and during batting practice. All of this was a symbolic recognition of the efforts teams make all year to support the growth of youth baseball and softball in their communities.
Rob Manfred has made youth baseball a priority of his Commissionership, and his passion for engaging the youth audience led to the 2015 creation of the Play Ball initiative, which itself begat this branded weekend.
"It's just getting kids out there and playing ball in its simplest form," said Tony Reagins, MLB's senior vice president of youth programs, "letting them know that you don't need 18 players, an umpire or a field to engage in the game."
We saw that this weekend, in fields of grass and sand alike.
Anthony Castrovince is a reporter for MLB.com. Read his columns and follow him on Twitter at @Castrovince. This story was not subject to the approval of Major League Baseball or its clubs.