Ozuna hitting to all fields during hot streak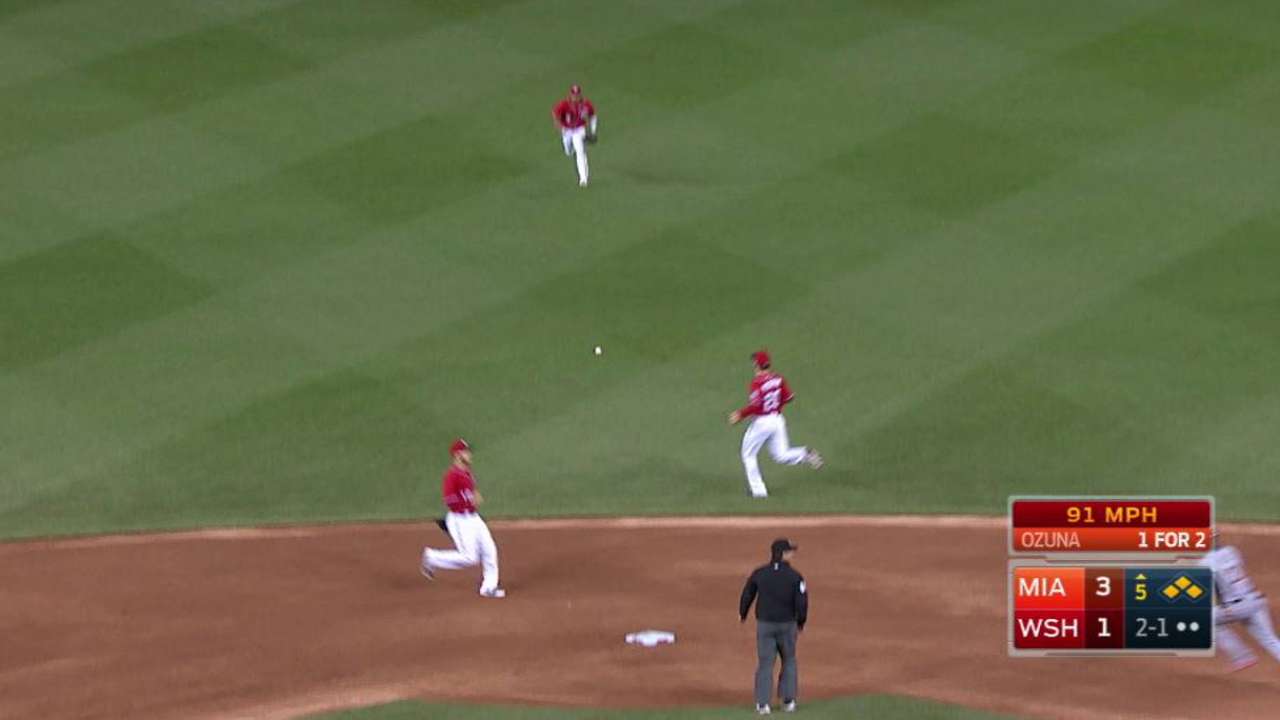 WASHINGTON -- Marcell Ozuna was at the center of everything for the Marlins during their 7-1 win over the Nationals on Saturday night. The center fielder tripled and scored in Miami's two-run second, then drove home two runs with a fifth-inning single that gave the Marlins a 5-1 lead. For good measure, he collected a third hit in the ninth.
Those hits, plus the two he recorded in Saturday's 6-4 matinee loss of a twin bill, extended Ozuna's National League-best hitting streak to 14 games and lifted his batting average to .313. After a tumultuous 2015 season that included a demotion to Triple-A New Orleans, the 25-year-old Ozuna's success is a welcome sight for manager Don Mattingly.
• Cast your Esurance All-Star ballot for Ozuna and other #ASGWorthy players
"It just tells you how young guys progress," Mattingly said. "They have a good year, and then sometimes they take a step backwards. They go back to work, and next thing you know, they're that guy again."
Mattingly was particularly glad to see the variety of Ozuna's hits on Saturday. Over the course of the doubleheader, the right-handed Ozuna notched one hit to left field, two to center and two to right, including the triple.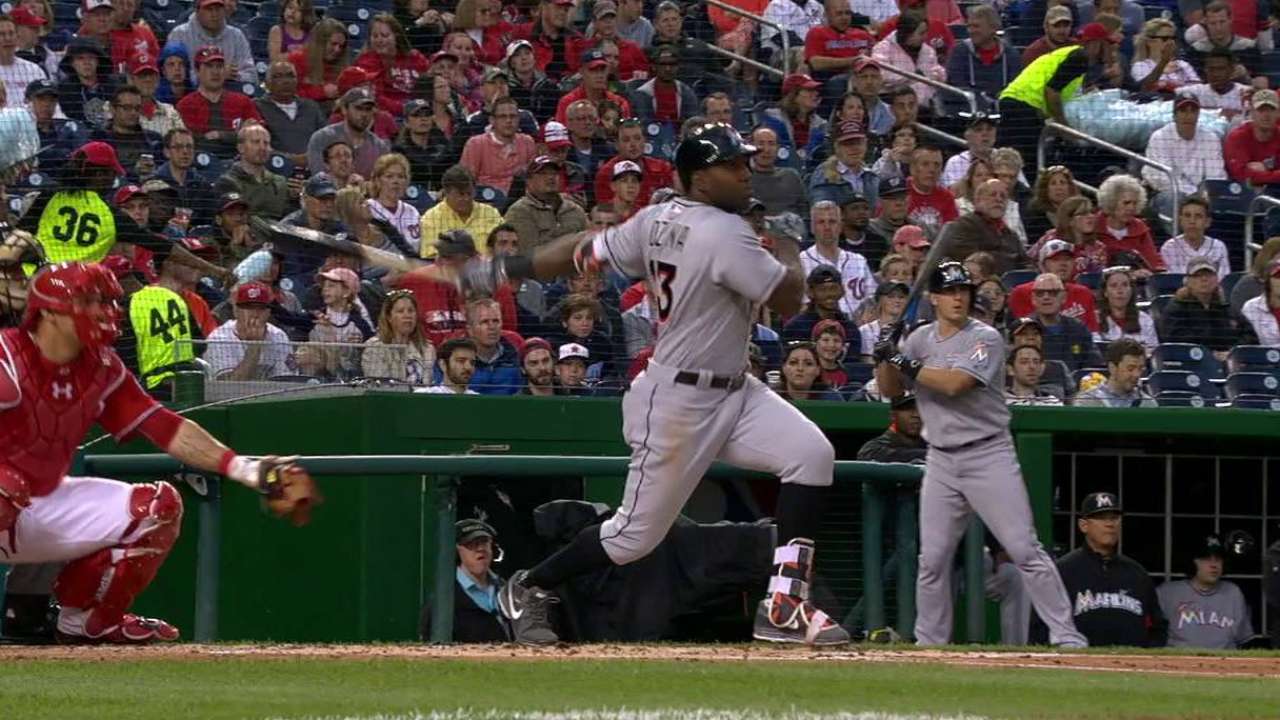 "That was one of the things we wanted to battle in Spring Training," Mattingly said. "He's got power to all fields, and he's got to use the whole thing, and he shows how much better a hitter he is when he's using the whole field."
Ozuna has enjoyed a sharp turnaround after a slow start to the season. He took two weeks to get his average above .200 and was still hitting .206 on April 23. Since April 24, when he went 2-for-3 in a Marlins win, he has been on fire, batting .408 with eight extra-base hits in 71 at-bats.
The trick? Not thinking.
"When you're thinking too much, that's what happens," Ozuna said of his early-season struggles. "When you're not thinking and just swinging, you're hitting great."
Ozuna said he has been working with hitting coach Barry Bonds on swinging early in counts. Bonds has also lent Ozuna some bats, and though Ozuna has already broken several, the lumber has proven good luck. Ozuna said he started using his coach's lumber on April 30, the day his hitting streak began.
Mattingly said he heard a lot about Ozuna's '15 troubles after taking the Marlins' managerial job, but he has been nothing but impressed with the young slugger, both in terms of on-field production and personality in the clubhouse.
"He loves to play, and he's always got a smile on his face," Mattingly said. "He's always ready."
Alex Putterman is a reporter for MLB.com based in Washington. This story was not subject to the approval of Major League Baseball or its clubs.