Rays find ways to score with Forsythe on DL
Offense provides template for winning with valuable 2B out with scapula fracture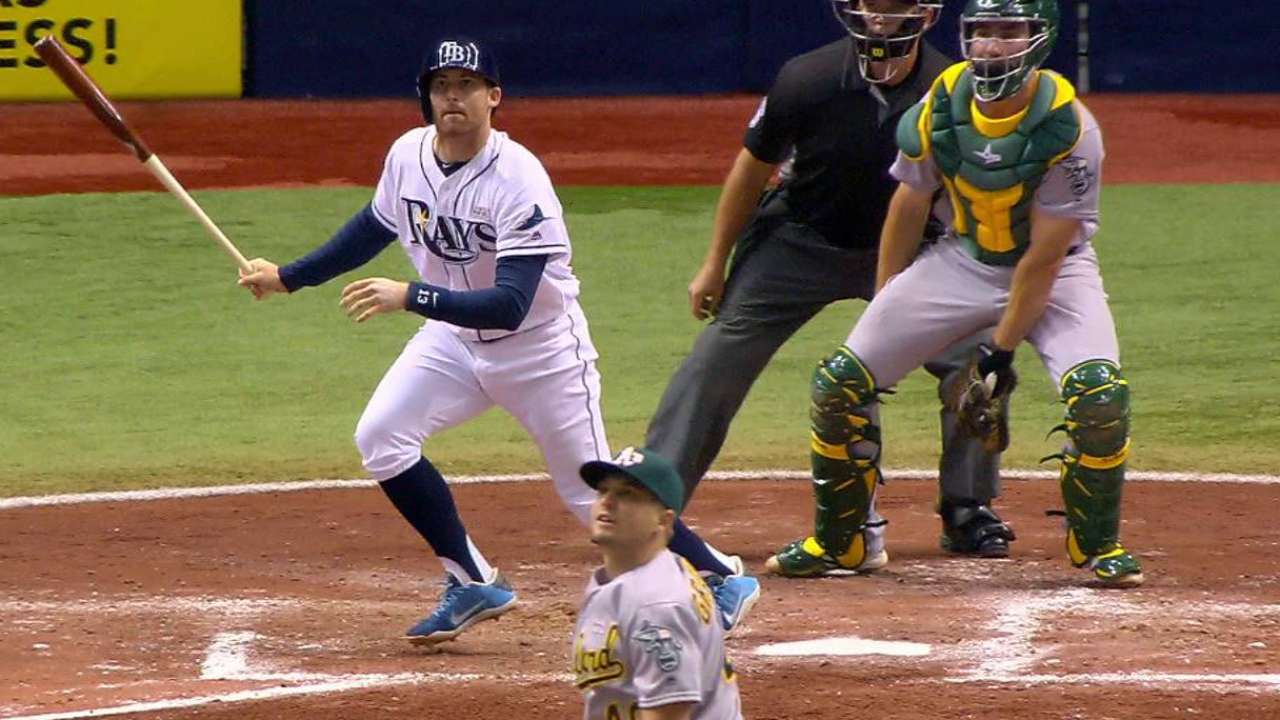 ST. PETERSBURG -- Brad Miller glanced over the right-center-field wall, relief and a roar building around him. His 416-foot two-run home run off A's right-hander Kendall Graveman in the third inning of the Rays' 6-0 victory Saturday was a vision of what Tampa Bay needs after steady-hitting second baseman Logan Forsythe was placed on the 15-day disabled list with a hairline fracture of his left shoulder blade.
With Forsythe likely to miss at least a month, the Rays will search for others to fill the void left by his absence. The task won't be simple for an offense that began Saturday with 116 runs, the second-lowest run total in the Majors.
Still, Tampa Bay showed an ability to find offensive sparks from other sources. For the Rays to survive without Forsythe, they must replicate Saturday's success at the plate time and time again.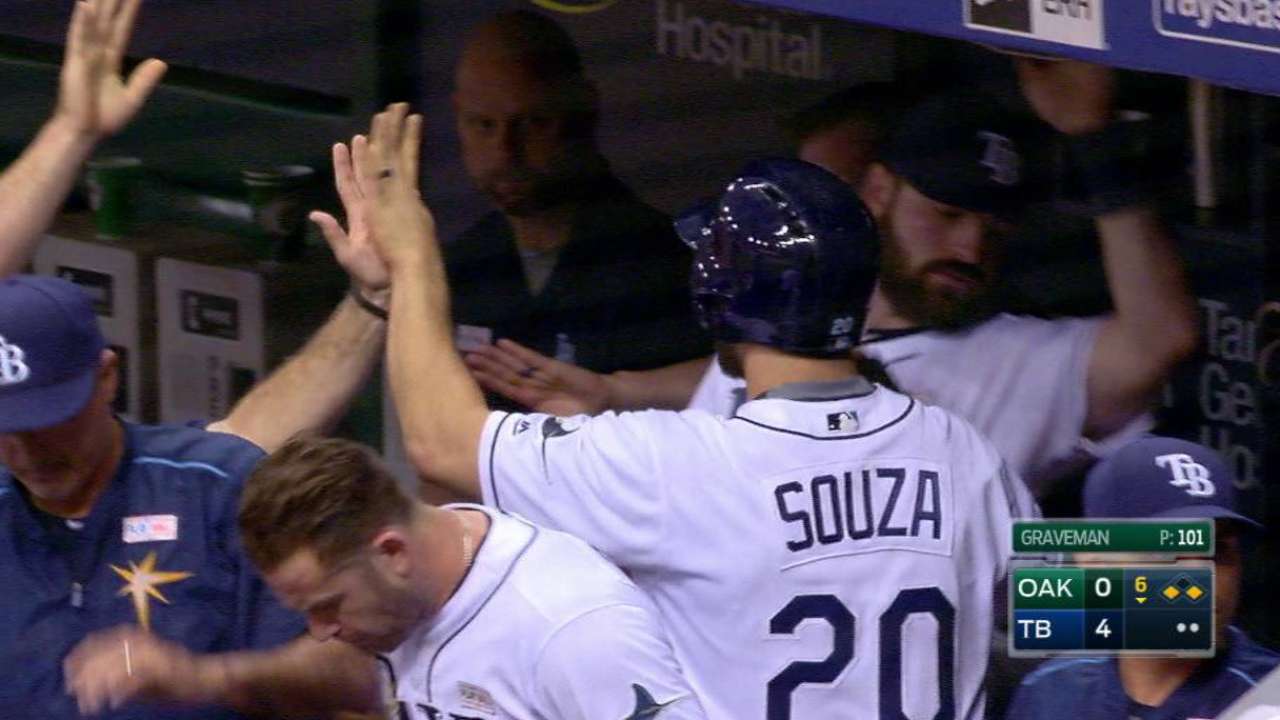 "We all know what Logan did for us the first five, six weeks," Rays manager Kevin Cash said. "We're probably not going to find one guy who's going to go in and fill that void. It's going to be a collective effort on a bunch of guys that we're kind of rotating through spots trying to get the most out of the roster."
There were many helping hands in this victory over a laboring Oakland squad. In addition to Miller's home run, Steve Pearce added a sacrifice fly to right field with one out in the sixth before Kevin Kiermaier cracked an RBI single to center in the next at-bat. Then Brandon Guyer knocked a two-run single into left field with two outs in the eighth.
Still, the Rays didn't escape the night without their familiar struggle with runners in scoring position. They loaded the bases against Graveman in the second inning with no outs, but Pearce lined out to third base, Kiermaier flied out to left field and Steven Souza Jr. was doubled off at second to come away empty-handed.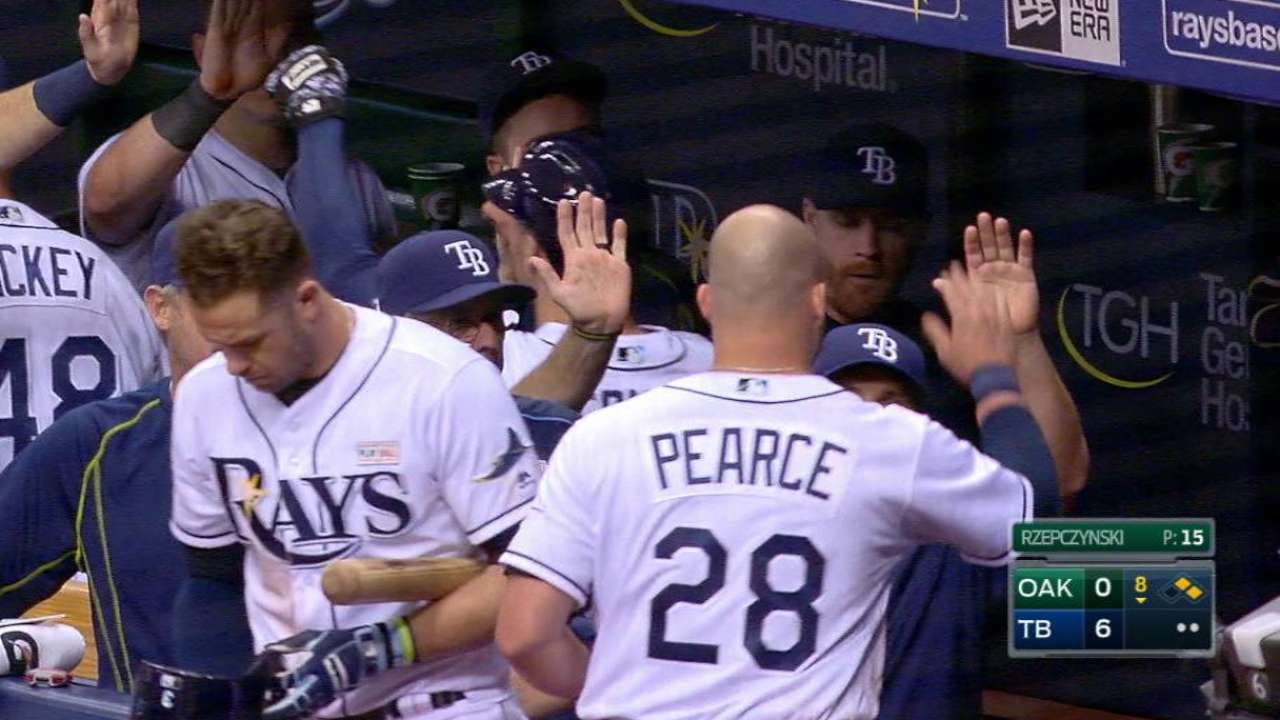 Clearly, the Rays' direction without Forsythe will be determined by whether they can avoid the offensive malaise that has too often infiltrated their season. They improved to 10-3 on Saturday when scoring four or more runs, snapping a season-high four-game losing streak in the process. They hit .375 (3-for-8) with runners in scoring position on Saturday, compared to .133 (4-for-30) with runners in scoring position throughout the losing streak.
"He's one of the best players nobody talks about, but we realize how important he is, because he's right here," Miller said of Forsythe. "Also, he plays the game the right way. He does everything right, actually, in the clubhouse and sets a good example for younger guys like myself. So we have to step up. We have no choice. It's a tough break, but we've got to battle just like he's going to battle and get back to us as soon as he can."
If the Rays find ways to produce without Forsythe, they will give themselves a fighting chance while he's gone.
Andrew Astleford is a contributor to MLB.com based in St. Petersburg. This story was not subject to the approval of Major League Baseball or its clubs.