O's hit 4 HRs, 2 by slammin' Schoop, win 7th straight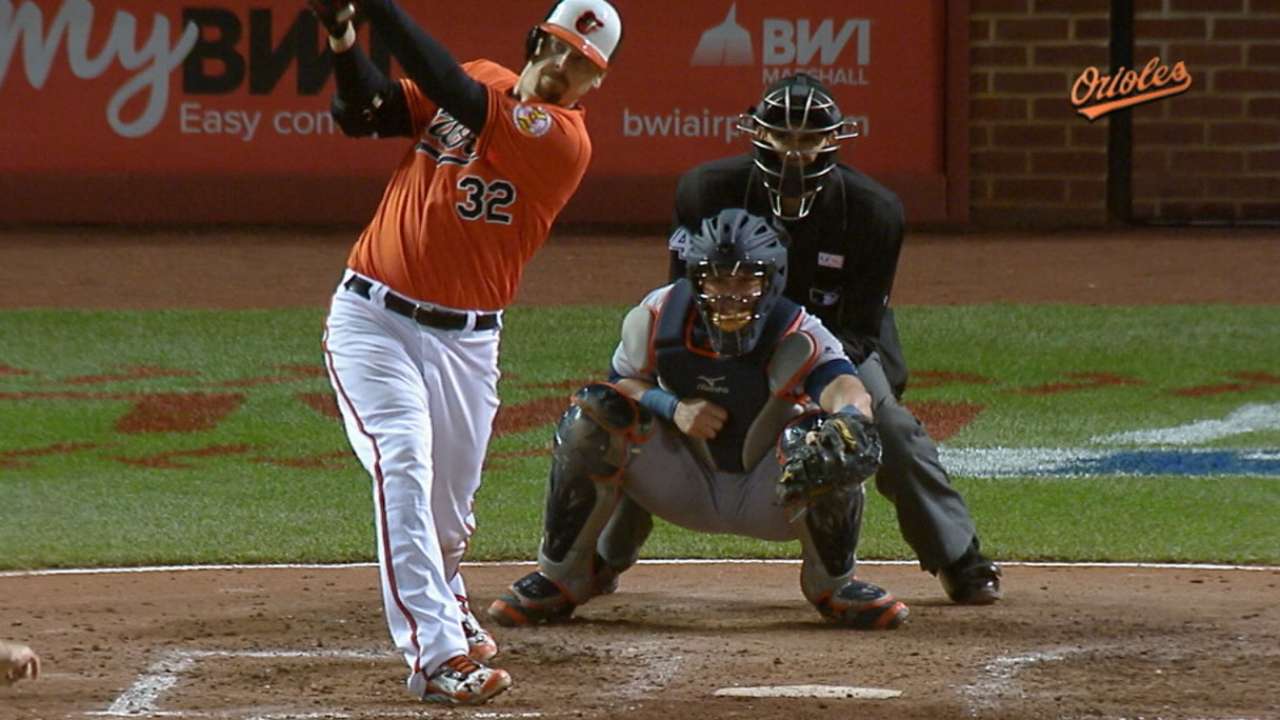 BALTIMORE -- Jonathan Schoop hit two home runs, including an eighth-inning grand slam, as the Orioles beat the Tigers, 9-3, on Saturday night for their seventh straight win. Matt Wieters and Adam Jones also homered for the O's, who lead the Majors with 54 home runs this season, including 18 in their last seven games.
Baltimore improved to 23-12 with its 12th win in 16 games. Detroit dropped to 15-21 and has now lost 11 of 12.
Mike Wright (2-3) earned his first win since April 12 and provided the Orioles with their sixth quality start over the course of their seven-game winning streak. The right-hander allowed two runs and three hits over seven innings and matched his career high with six strikeouts.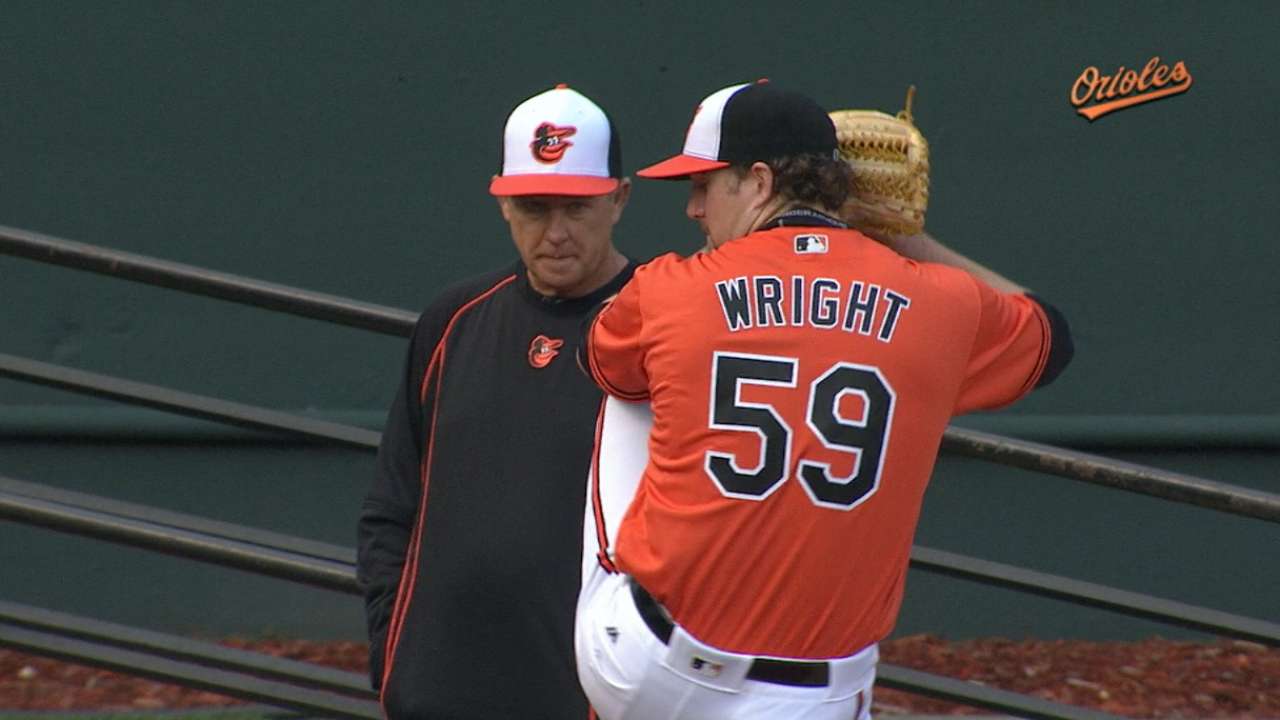 "I think that seventh inning makes me feel really good," said Wright, who threw a career-high 108 pitches. "If I had gone six and [allowed] two runs, that feels OK as long as we get the win, that's positive. But in that seventh, going out there and throwing that and getting over 100 pitches, it makes me feel really good, and hopefully I ride that the rest of the season.
The Tigers' struggling offense broke a 17-inning scoreless drought in the sixth when Miguel Cabrera connected on a two-run homer to give Detroit a 2-0 lead.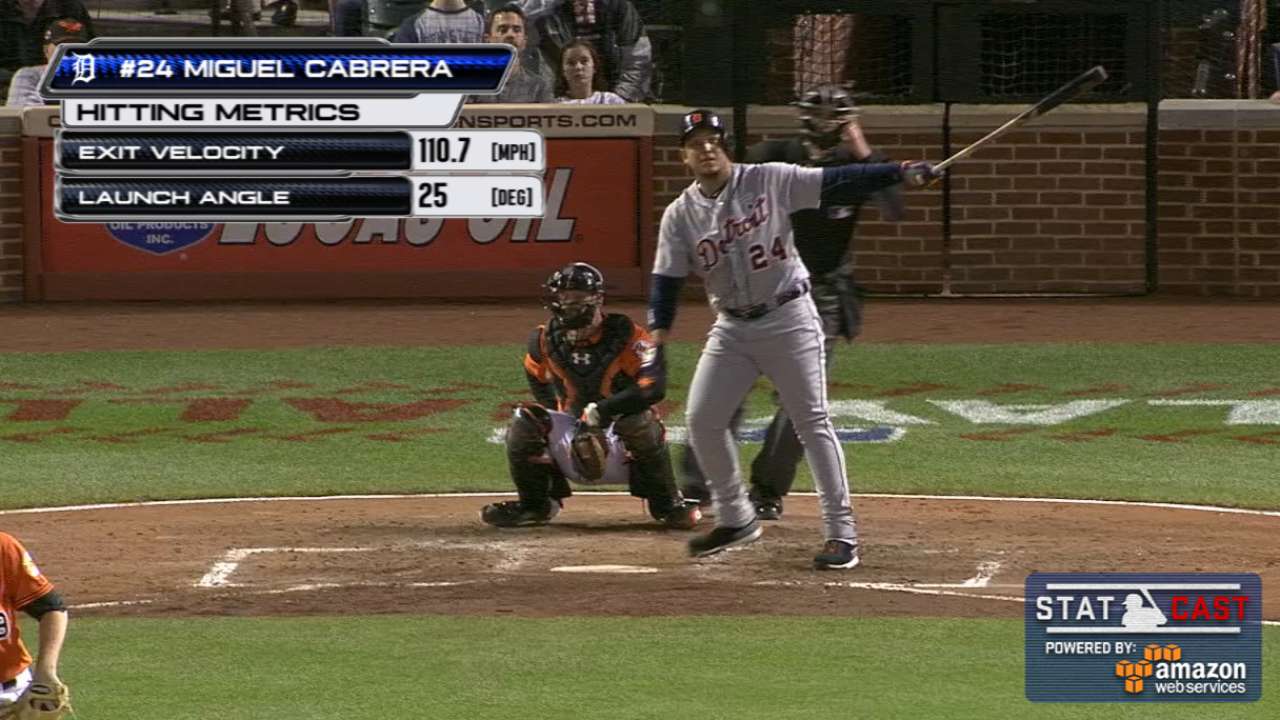 Miggy's 462-foot HR snaps scoreless streak
The Orioles responded with three runs in the bottom of the frame, highlighted by a go-ahead, two-run homer from Wieters off Tigers starter Anibal Sanchez (3-4). Sanchez has lost four of his last five decisions.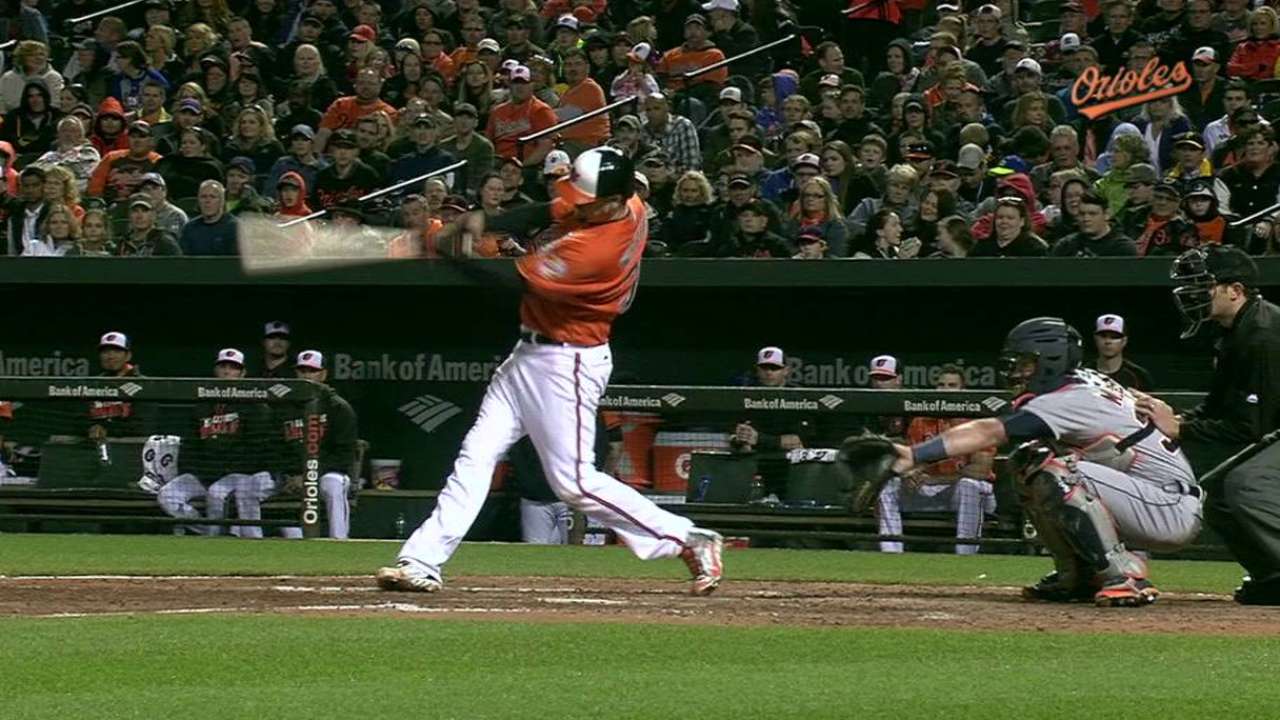 "Really, the story is any time we were able to do something, we gave up a run or gave up a lead the next half-inning," said Tigers manager Brad Ausmus. "You can't win that way. It takes the wind out of your sails."
Schoop and Jones led off the seventh and eighth innings, respectively, with solo blasts to left. Jones has hit four home runs in his last five games, after going deep just once in his first 26 games of the season.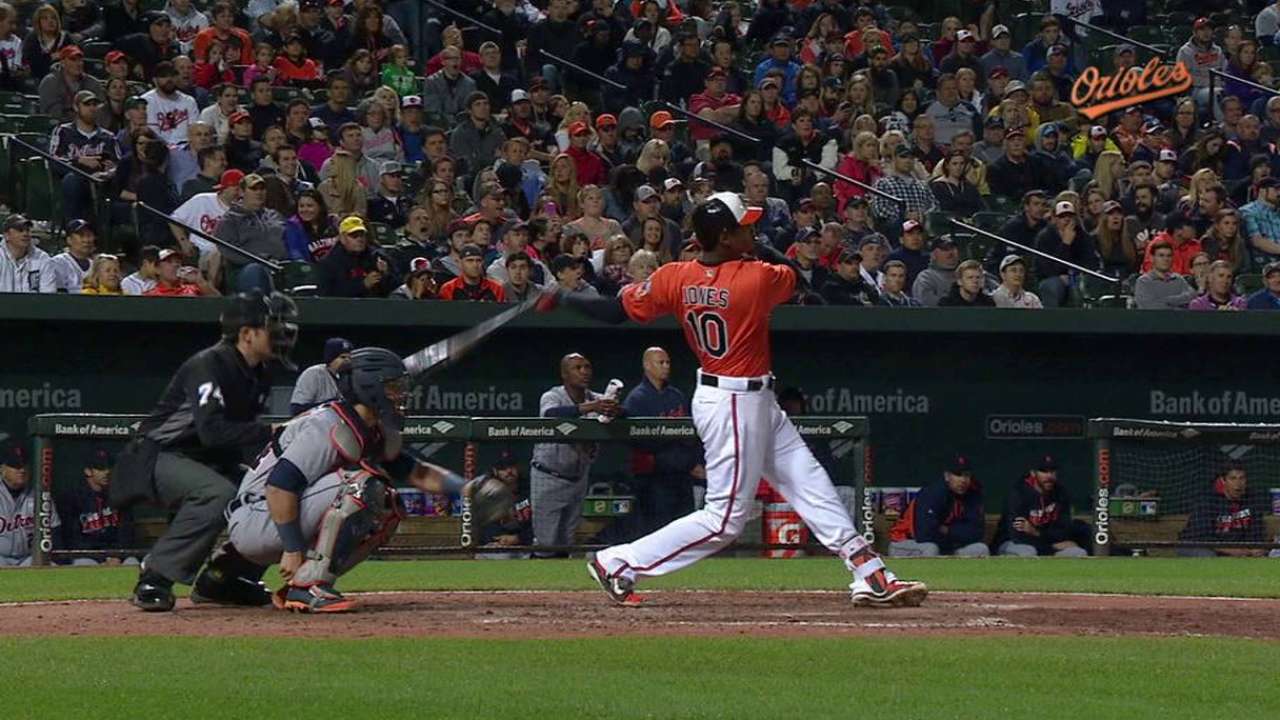 MOMENTS THAT MATTERED
Scoreless drought ends for Tigers: The Tigers appeared ready to break out when they loaded the bases in the third on a single by James McCann and a pair of one-out walks by Ian Kinsler and J.D. Martinez. However, Wright got out of the jam by getting Cabrera to hit into a 4-6-3 double play to keep the game scoreless.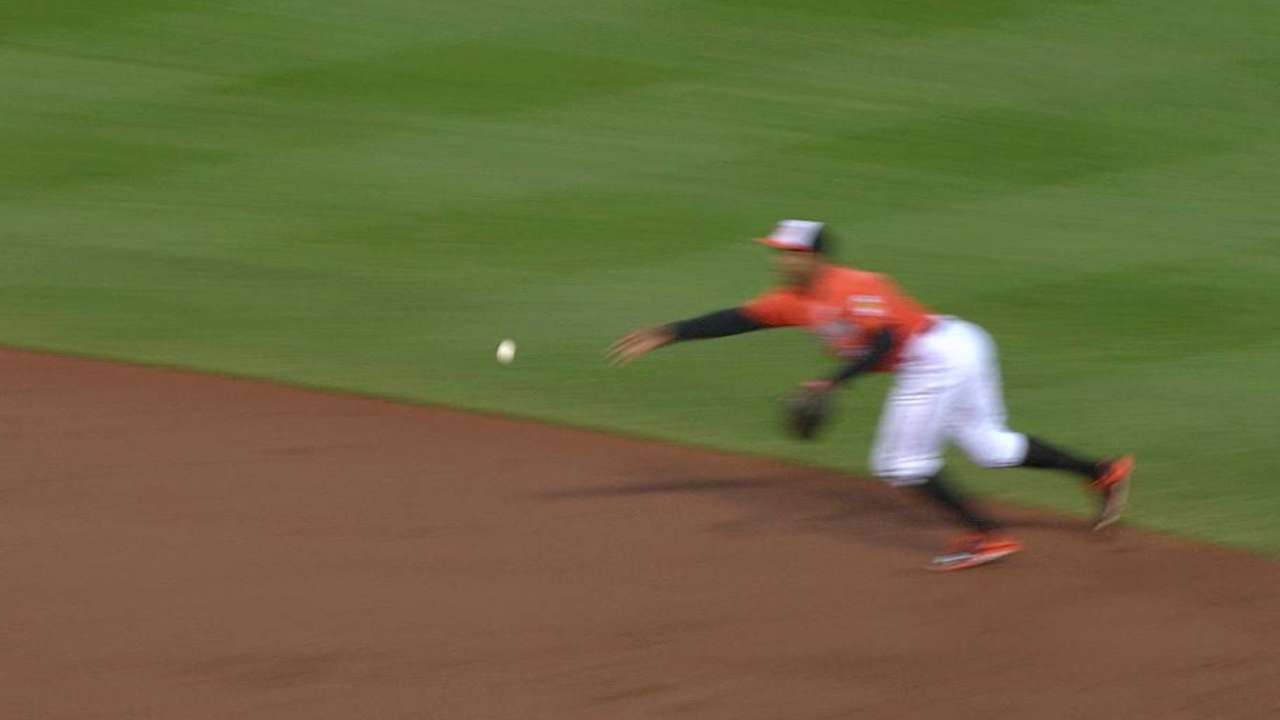 It was a sequence that underscored Detroit's recent struggles to score runs. Cabrera, however, redeemed himself by launching a two-run, 462-foot homer to center in the sixth. Victor Martinez added an RBI single in the eighth, but it was all the Tigers could muster.
"When you're struggling like this, it just takes one thing to click," Ausmus said. "You have to work your way through it. It's a combination of doing your work in the cage, batting practice and then having it translate in the game. You have to work through it." More >
Orioles respond in sixth: The Tigers' lead did not last long, as the Orioles rallied with three runs in the bottom of the sixth to take a 3-2 lead. Jones extended his hit streak to seven games with a one-out double down the right-field line (Jones is 13-for-30 in his last seven games with four homers and nine RBIs). Jones scored two batters later when Mark Trumbo doubled to left, beyond the reach of Tigers left fielder Steven Moya.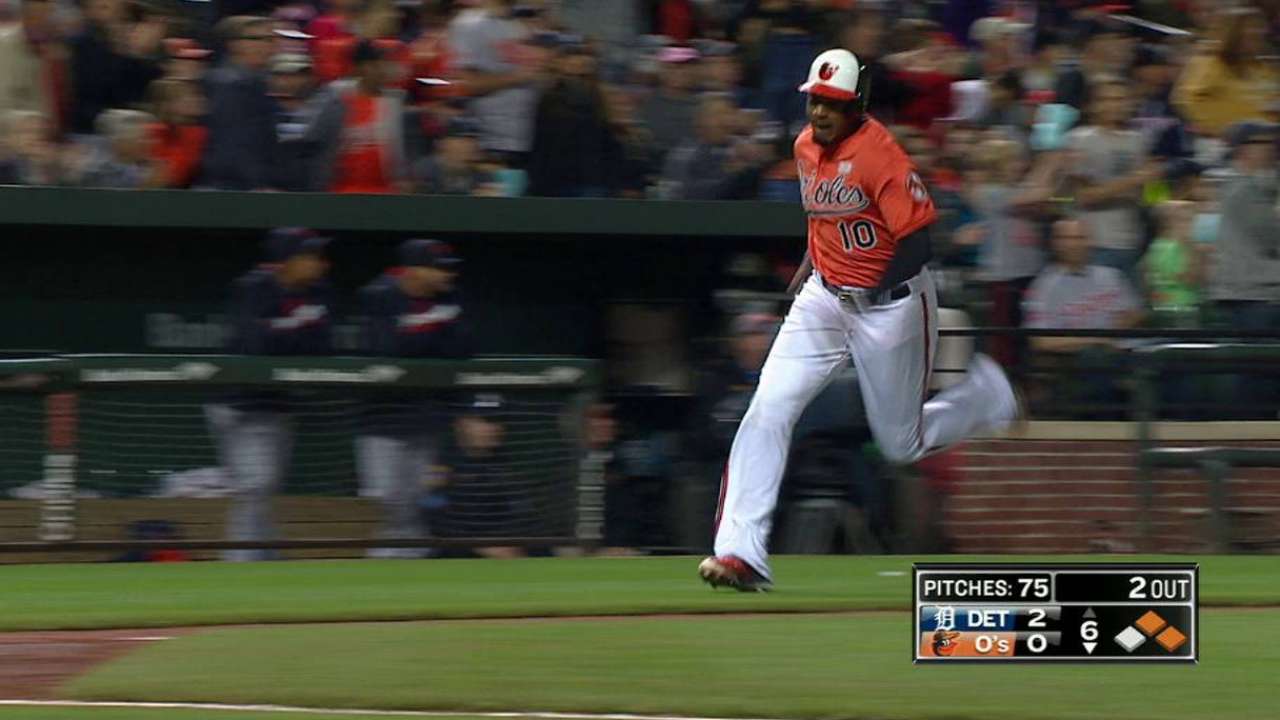 Wieters then hit a two-run homer to right, connecting on a 3-2 pitch for his second home run of the season.
"It's nice because Wright threw the ball so well," Wieters said of hitting the go-ahead homer. "It's nice to hit a homer any time, but especially the way Mike battled out there. I went out there in the sixth and told him, 'Just keep it at 2-0,' and he was able to do it, so for the bats to come alive and give him a win was big."
Later innings costly for Anibal: Sanchez had rolled through the first five innings before the Orioles finally caught up with him. He had allowed just two hits with three strikeouts prior to the three-run sixth. The homer to Schoop in the seventh ended Sanchez's night. The righty allowed four runs on six hits with four strikeouts and two walks over six innings.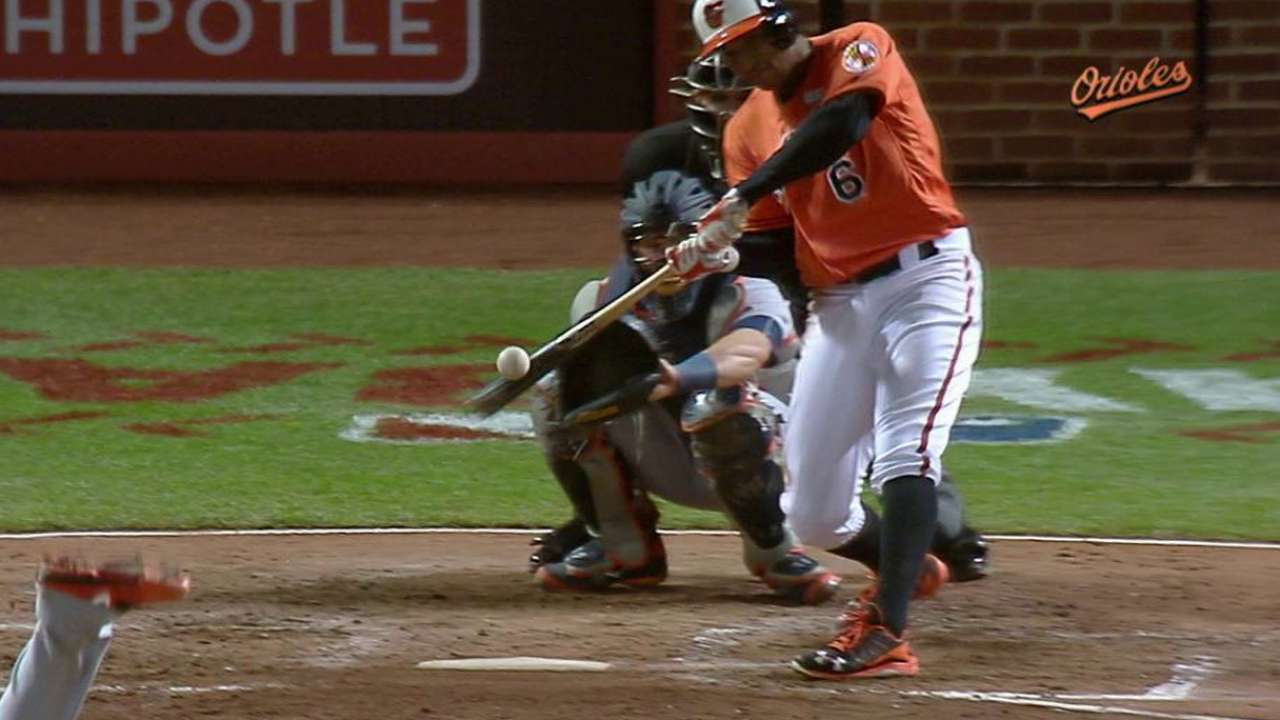 "He was good," Ausmus said. "It's almost like the sixth inning is a wall that he hits. His pitch count is down. He had 60 pitches. I don't think he was tired. Overall, I thought he was good."
Career night for Schoop: Schoop broke the game open in the eighth with a one-out grand slam off Detroit reliever Mark Lowe to give Baltimore a 9-3 lead. It was Schoop's second career grand slam and his first since April 11, 2015. Schoop finished with a career-high five RBIs and the second multi-homer game of his career (April 15, 2016, at Texas). More >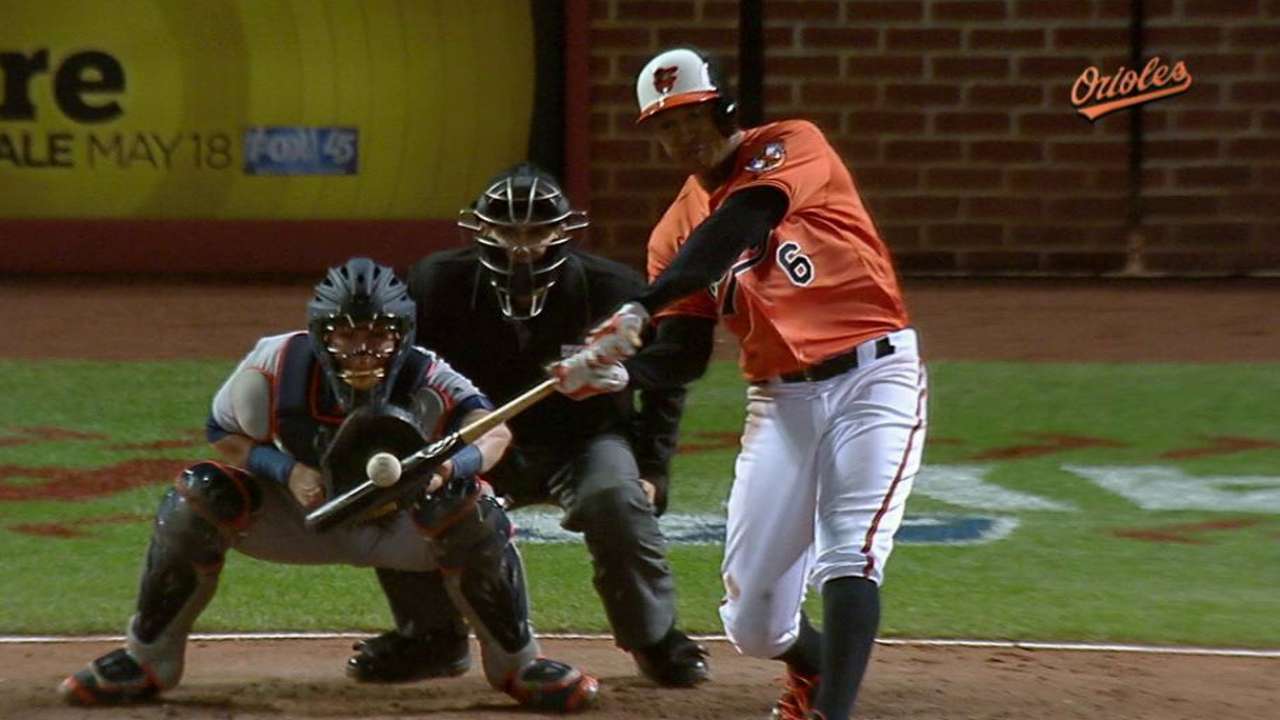 QUOTABLE
"The big thing is that we can sit back down and relax because our pitchers have done such a good job of keeping us there. We have more confidence that when we go out there, we're going to get another zero, and then with our bats, if we can just keep [the opposition] without scoring, then eventually we're going to find some barrels." -- Wieters, on the Orioles' knack for scoring runs in bunches late in games
"I think sometimes guys want to be the man that turns it around and gets the big hit. The guys want to win. They want to be part of the 180 that gets the team rolling." -- Ausmus, on his team possibly pressing at the plate in light of the recent struggles
"I have to sit back and reevaluate a lot of things to make the adjustments to start putting some good games together." -- Lowe, who was charged with two runs allowed and saw his ERA rise to 8.76
SOUND SMART WITH YOUR FRIENDS
The Orioles have won seven straight games for the second time this season. Prior to this year, they had not won seven straight in a single campaign since 2005.
ALVAREZ HANDLES HOT CORNER
Baltimore's Pedro Alvarez started at third base for the Orioles, marking his first start at the hot corner since August 2014 with the Pirates. The 29-year-old impressed with a diving stop to his right on a hard ground ball by Nick Castellanos in the second inning. Alvarez then threw Castellanos out at first.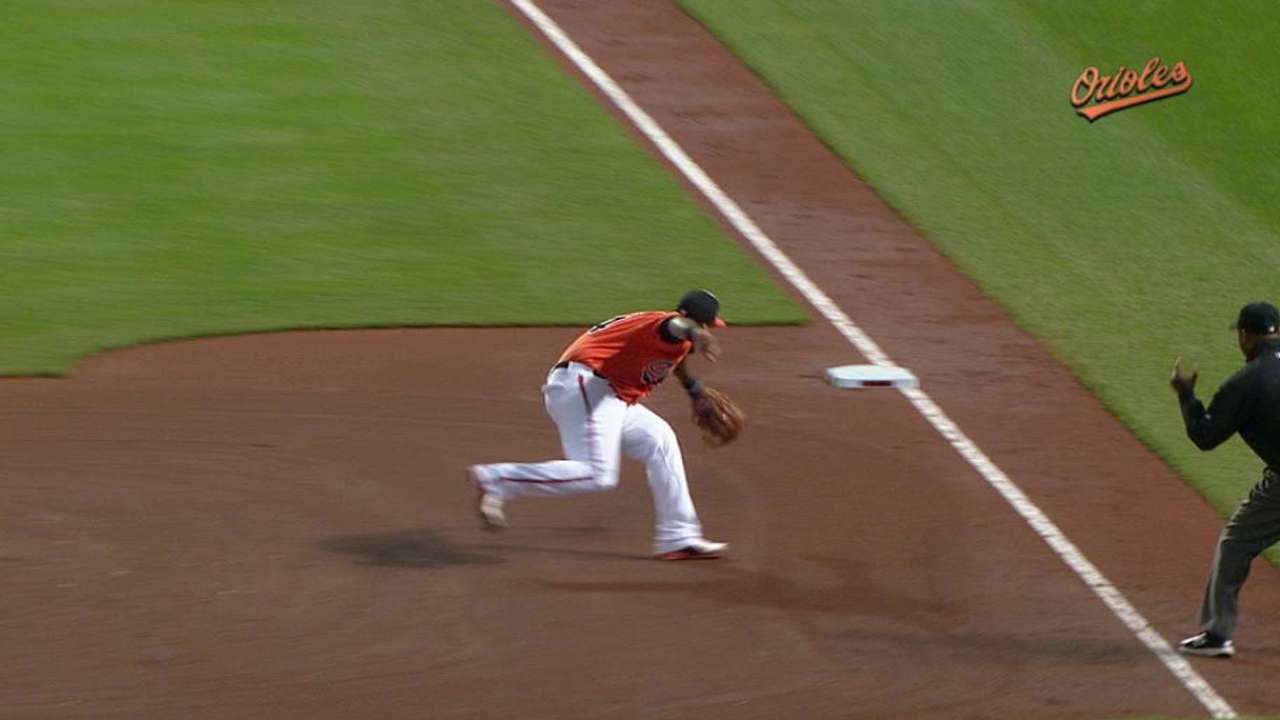 "There's nobody on the field tonight that's had more reps at third than him," Manager Buck Showalter said of Alvarez, who appeared in 552 games at third base for Pittsburgh from 2010-2014. "He made a couple of good plays and he showed the arm strength that he has. It's a good feeling going home tonight that we have another option there. We thought we did, and he didn't do anything tonight to make us think any differently."
WHAT'S NEXT
Tigers: Rookie Michael Fulmer will try to build on his last start on Tuesday, when he picked up his second career win against the Nationals, as he starts the series finale on Sunday at 12:35 p.m. ET. Fulmer (2-1, 6.00 ERA) allowed three runs on seven hits with six strikeouts over five innings. Despite some growing pains, he has showed promise since being called up from Triple-A Toledo on April 29.
Orioles: Kevin Gausman, who is still seeking his first win of the season despite three quality starts in four outings, gets the call for Sunday afternoon's finale. Gausman (0-1, 2.16 ERA) did not factor in the decision Tuesday in the Orioles' 5-3 win in Minnesota. He allowed three runs and five hits with a season-high nine strikeouts over six innings. Gausman threw a season-high 111 pitches vs. the Twins.
Watch every out-of-market regular-season game live on MLB.TV.
Ben Raby is a contributor to MLB.com and covered the Orioles on Saturday.

Todd Karpovich is a contributor to MLB.com and covered the Tigers on Saturday.

This story was not subject to the approval of Major League Baseball or its clubs.