D-backs bring taste of Chase Field to youth league
South Mountain's championship game gets treat as part of Play Ball Weekend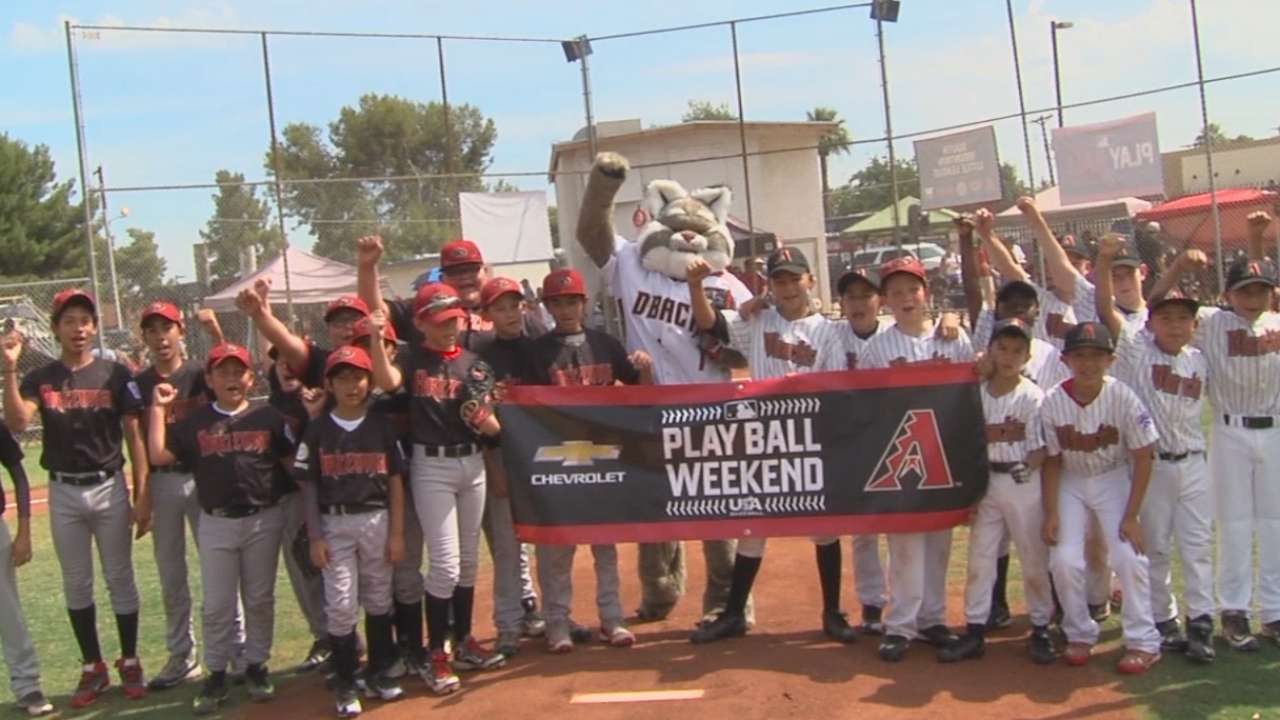 PHOENIX -- It's only a 4-mile drive down Seventh Street from Chase Field and the lofty heights of Major League Baseball to the Roosevelt School District's headquarters in an economically disadvantaged area, but the Arizona Diamondbacks want children to know that playing ball can be part of their road to success.
The D-backs gave children a strong dose of encouragement Saturday when they brought the trappings of the Chase Field experience, dubbed a "Chase Field Takeover," to the South Mountain Little League's championship game.
A good crowd that turned out for the last game of South Mountain's season was treated to performances by the "Rally Back" cheerleaders, public-address announcer Chuck Drago, mascot Baxter the Bobcat and longtime team organist Bobby Freeman.
Relief pitchers Jake Barrett and Randall Delgado added to the dazzle by posing for photos with children behind the backstop and serving as celebrity assistant coaches. The only things missing were the retractable roof and the pool behind the right-field fence, two unique features that would have been popular on another hot Phoenix day.
It's all part of Play Ball Weekend, an extension of the Play Ball initiative, which launched in 2015 as the sport's largest effort to encourage widespread participation in both formal and casual baseball and softball activities.
• Complete Youth Baseball coverage
The Rattlers topped the Firebirds, 7-4, but the only way to tell the two teams apart was that the Rattlers wore white pinstriped uniforms while the Firebirds wore the black uniforms the MLB D-backs typically wear for Saturday home games.
That's because the D-backs this year gave away replica baseball hats, T-shirts and jerseys to 40,000 children throughout Arizona who play in 75 different leagues, with 60 of them picked because they are in disadvantaged areas.
"They are all D-backs," said Tara Trzinski, who works in community outreach for the team. "It's growing new D-backs fans. That's what we want. It also supplies financial relief."
The uniform distribution dovetails with the "Diamonds Back" program, in which the team has built or refurbished 36 baseball and softball fields, mostly in disadvantaged areas, since 2000 at a cost of nearly $11 million.
"It's leveling the playing field and ensuring there are quality baseball and softball fields in every neighborhood," said Debbie Castaldo, the team's vice president of corporate and community impact.
The D-backs started the uniform program to free up youth leagues from a financial burden so they could devote their limited revenue to other costs, such as fields. In South Mountain's case, the D-backs also made contributions to sponsor players whose families could not afford the entry fee, with about 40 percent of the players participating on scholarships.
"This league, I have a very special relationship with," Castaldo said. "Not only is it close, but they have financial difficulties here."
She said she remembers meeting the league's president and asking him why his hands were bleeding. He told her it was from working on the field with some other men for days so it would be ready for the season.
The league president asked Castaldo if the team would pay for a fence around the baseball field, to keep out vandals and transients who were damaging it by lighting fires. Castaldo said the D-backs were happy to approve their request.
"They have so much pride in their league and so much pride in their field," she said. "We don't want money to be a barrier. If a kid has the skill and the talent, we want them to be able to play."
Leagues from throughout Arizona meet with each other to compare notes at Chase Field and to form partnerships with each other that otherwise would not have been possible. In one such partnership, a league in Anthem, a more affluent community north of Phoenix, bought a scoreboard for the South Phoenix league.
The D-backs not only facilitated the partnership, but paid to ship and install the new scoreboard.
Goldy's all in on #PlayBall Weekend. pic.twitter.com/qbwaWr1twH

— MLB (@MLB) May 14, 2016
All of these efforts culminated Saturday with Eddie Pedroza Jr., 8, serving as the "Play Ball" kid, yelling "play ball" into the microphone, and kids like Jamaal Kersey, 10, playing in a special game they are unlikely to forget.
"It's showing them there are people who care," said Brandy Pedroza, Eddie's mother. "I think it's awesome for the kids. They can do more than sit at home and play in the game. It makes the kids realize there are other opportunities."
She noted many children in South Phoenix grow up without proper role models and can easily get off track.
"These are kids. They need to have fun. They need to be loved; they need to have someone who believes in them," Pedroza said.
Her husband, Eddie Pedroza Sr., said the Chase Field Takeover event helps keep children interested in playing baseball, rather than getting sidetracked by distractions.
"School comes first, grades come first. Playing sports is a privilege, not a necessity. You have to get that education," he said.
Shelle Kersey, Jamaal's mother, said he has been playing baseball for three years, and she wants her son to continue.
"I think he is more interested in the game of baseball and has the motivation to improve," Kersey said. "It keeps him going" to attend special events like the Chase Field Takeover.
While Kersey said she would love to see her son get a college scholarship someday, "if not, it's a learning experience."
Barrett, a hard-throwing rookie right-hander, said he enjoyed encouraging the children, and the experience made him remember his own experiences in Little League in Mesa, a large suburb east of Phoenix.
"It's an uplifting experience to talk to the kids and tell them, 'Baseball's fun, just enjoy it,'" Barrett said.
He recalled how he and his brother, Dylan, started playing in the East Mesa Recreation Association Little League when they were kids. Jake Barrett said he had never pitched before, and he formed a pitching tandem with Dylan, a lefty.
"We ended up going undefeated and winning the league," Barrett said. "They told me to go out there and throw hard."
Jim Walsh is a contributor to MLB.com based in Phoenix. This story was not subject to the approval of Major League Baseball or its clubs.