Wright, working through slump, stays in 2-hole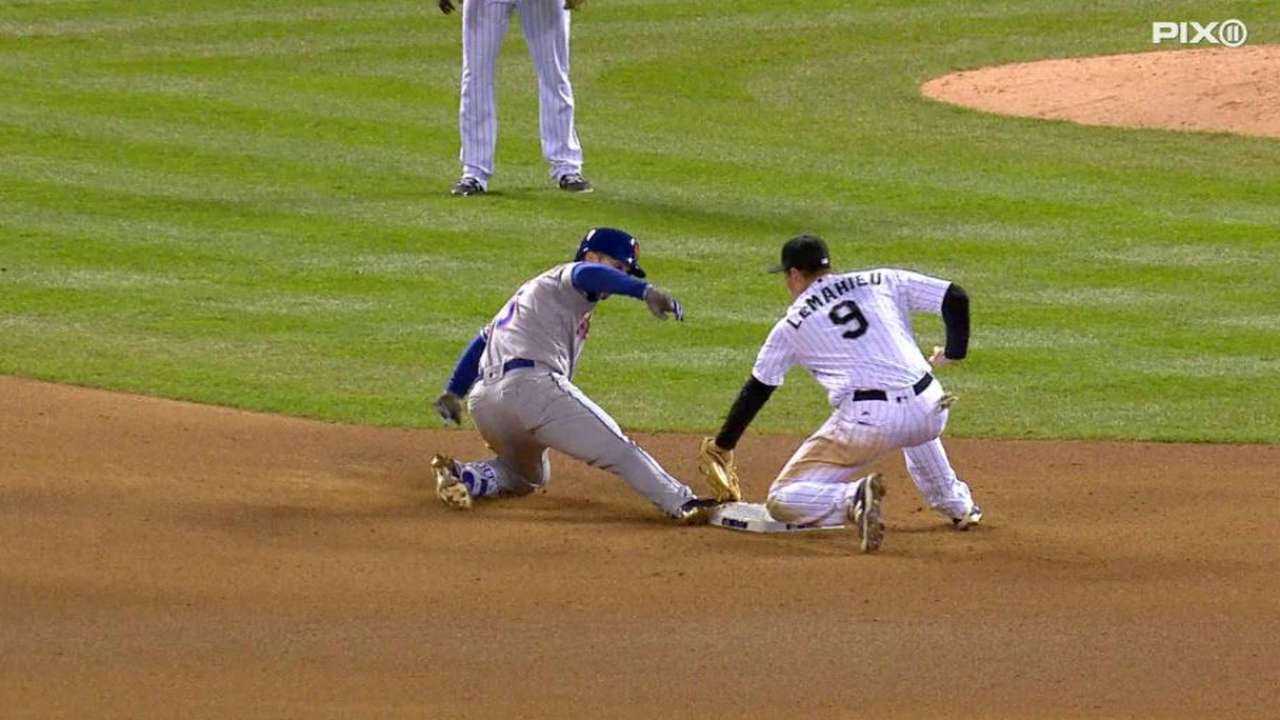 DENVER -- When David Wright sees his name in a Mets lineup, he's in heart of the order. It's been a place etched in stone for Wright after 12 years making it his home. He's been in the two-hole most of the season, with a handful of games hitting third.
But if his current slump -- and in particular his strikeout spike -- continue much longer, manager Terry Collins is prepared to take a chisel to the lineup card and make some renovations.
"At some point if he continues to struggle, we'll address that," Collins said before Saturday's 7-4 loss to the Rockies. "He leads the team in on-base. When you're talking about the two-hole, you're talking about a guy who's getting on base. The issue is the strikeouts more than anything. This guy is not that kind of guy. He doesn't usually strike out."
Wright made progress Saturday after entering the game with just two hits in 21 at-bats on the first nine days of the road trip. He matched that tally before the seventh-inning stretch, going 2-for-5 with a double on the night, though he struck out in his first and last at-bat.
"He looked better tonight," Collins said. "That's an upside for sure."
Wright was out early Saturday with hitting coach Kevin Long.
"When you get a little out of whack, it's nice to be able to slow it down a little bit and take a few extra swings one-on-one with Kevin," Wright said. "He's a terrific hitting coach, so when he says he has some suggestions, for me, I'm all ears."
A bad back has forced Wright to cut back on the extra work he likes to do, but it's not in his nature to take a purely cerebral approach to fixing what ails him.
"This guy's a pro, and he's not happy with the way things are going," Collins said. "He and Kevin looked at some tape yesterday and today, and they're trying to see if they can get him to do a couple different things at home plate."
Wright has swung better than his results would indicate, as he entered Saturday with a best-in-the-Majors 33.9 percent line drive percentage and a team-high .375 on-base percentage.
"The numbers look fairly similar to career-wise as far as line-drive percentages, as far as hard-hit rate, swinging at strikes, staying in the strike zone. All that stuff is there," Wright said. "One of the bigger reasons for my walks is I'm getting deeper in counts, because I'm fouling off pitches that I should be putting in play."
Jack Etkin is a contributor to MLB.com. This story was not subject to the approval of Major League Baseball or its clubs.