Black and blue: Kluber, Tribe lament misses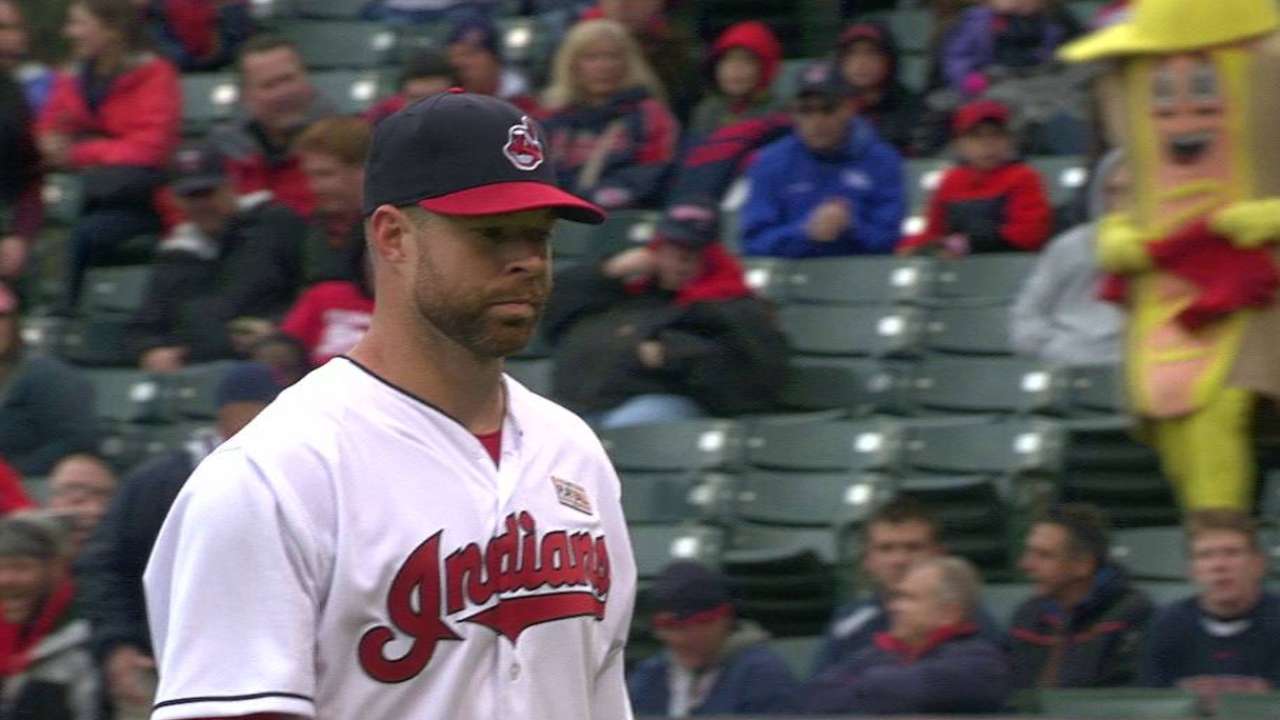 CLEVELAND -- The latest loss for the Indians left a mark. Standing at his locker in Cleveland's clubhouse on Saturday evening, Tribe catcher Yan Gomes allowed himself to at least smile about that, as he pointed to the small bruise on the left side of his neck.
"Right here," Gomes said with a roll of his eyes, following the Indians' 6-3 loss to the Twins. "That didn't feel very good."
No, this one did not have a good feel to it for the Tribe.
On one hand, Indians ace Corey Kluber took a step in the right direction, when comparing his outing against Minnesota to the previous time he took the hill. This time around, the right-hander allowed four runs and lasted into the seventh inning while fighting some tough Cleveland weather. One start prior, Kluber could not escape the third inning in a forgettable road performance on Monday against Houston.
The darkening mark on the side of Gomes' neck was the result of an errant Kluber fastball, which struck two for the price of one in the sixth inning. Following a brief stoppage in play -- called due to rain interfering with the vision of those around the plate -- Kluber's first pitch tailed inside, striking Brian Dozier's left thigh before it then flew up and hit Gomes between his protective gear.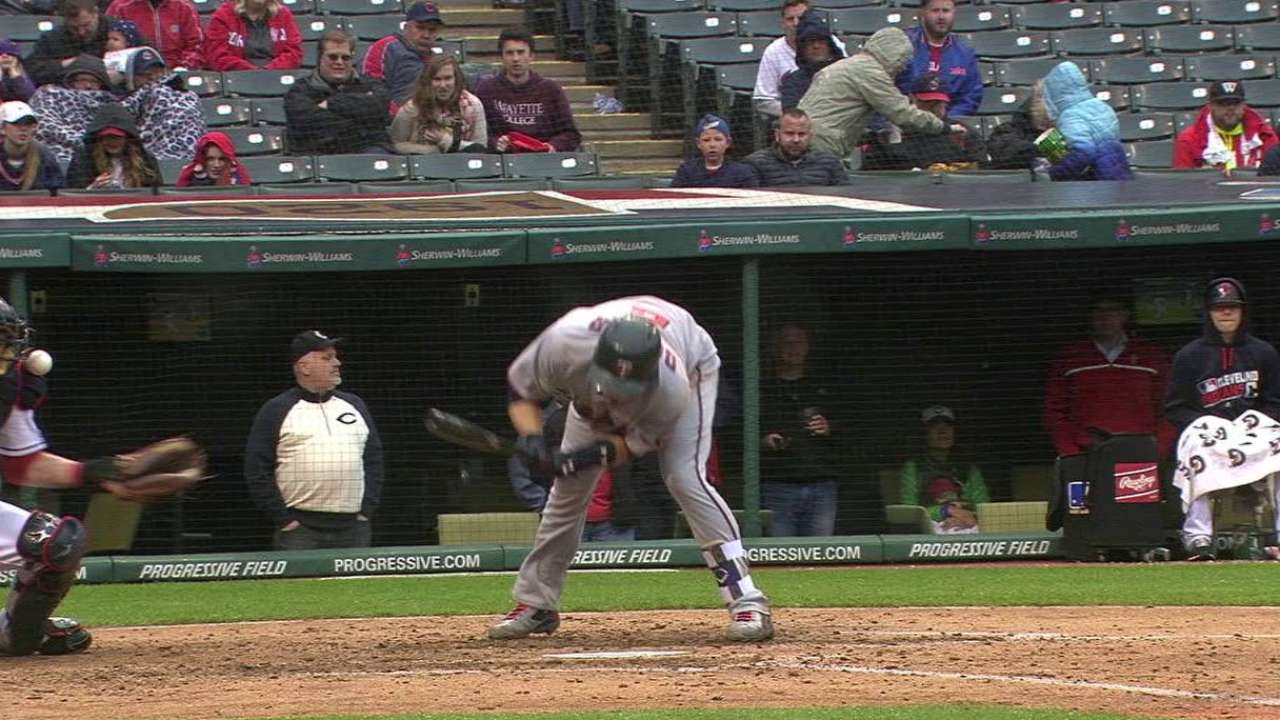 "I just made a bad pitch, and it got away from me a little bit," Kluber said.
That was an unfortunate theme for this Tribe defeat.
The biggest blow came in the fifth inning, when Kluber intended to send an 0-1 fastball inside against left-handed-hitting catcher Juan Centeno. With the Indians holding a 1-0 lead at the time, Centeno began his swing as the heater tailed back over the plate. He made strong contact, sending the offering sailing through the mist falling on Progressive Field and to the first row beyond the left-field wall for a two-run homer.
It was not only the first home run of Centeno's Major League career, but only the fifth he has hit since being taken in the 32nd round of the 2007 MLB Draft. Centeno had homered for Class A Brooklyn, Class A Advanced St. Lucia, Triple-A Las Vegas and Triple-A Rochester. Now the catcher has a big league blast under his belt, and it came off the American League's 2014 Cy Young Award winner.
"It was awesome," Centeno said. "A go-ahead homer. I was just looking for a good pitch to hit and got it. I was looking to do some damage, so it felt great."
Kluber said he simply missed his spot.
"I was trying to throw a fastball inside," said Kluber, who dropped to 2-5 with the loss. "It ran back and caught a little bit too much of the plate. I didn't think it was that bad of a pitch."
On other occasions, Kluber's effort might have been enough. This time -- considering Cleveland's offense could not get anything going against the Twins -- the starter's slip against Centeno, combined with Minnesota's add-on runs, proved too much to overcome. Kluber ended with seven strikeouts, three walks and seven hits allowed in the loss.
"When he pitches, we really like it," Indians manager Terry Francona said. "He will continue to work on what he needs to -- a little bit out of the stretch, things like that -- and be the guy we always need. Some days, if we could score some runs, that mistake doesn't matter."
Jordan Bastian has covered the Indians for MLB.com since 2011, and previously covered the Blue Jays from 2006-10. Read his blog, Major League Bastian, follow him on Twitter @MLBastian and listen to his podcast. This story was not subject to the approval of Major League Baseball or its clubs.