Rangers stress fun at Play Ball event
Barnette, Dyson, Rua help host 150 kids in downtown Dallas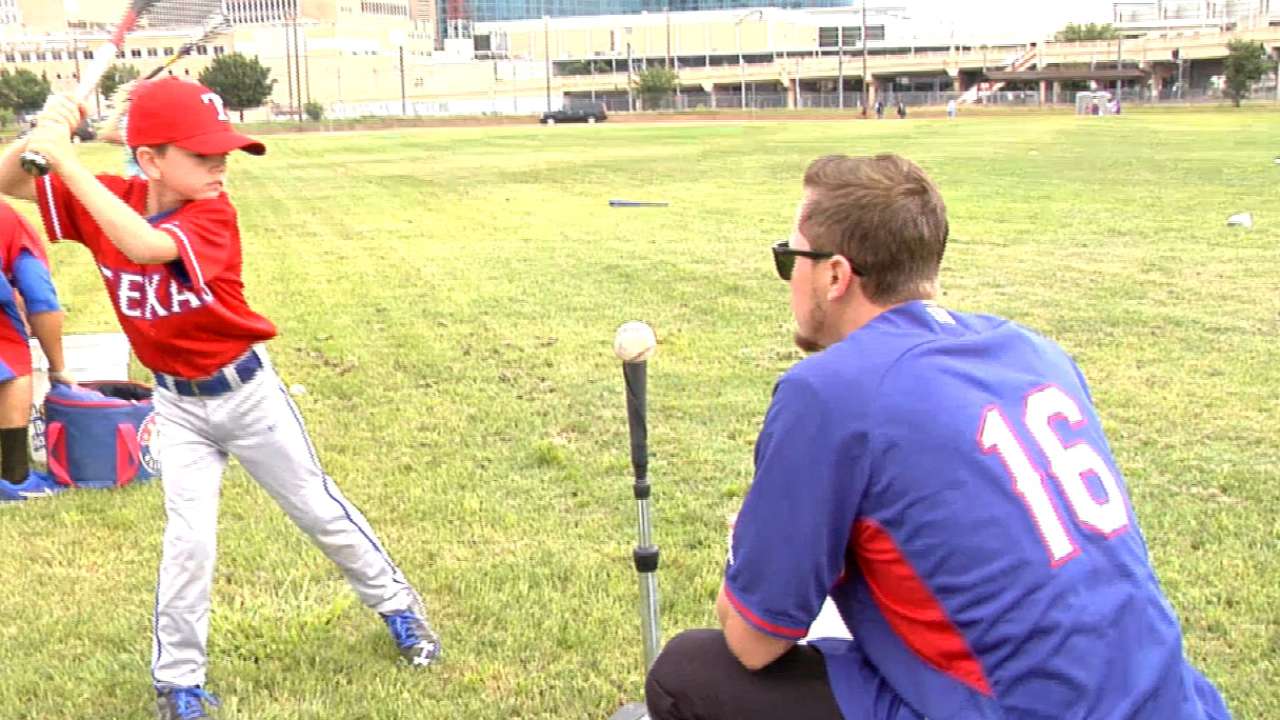 DALLAS -- When Rangers right-hander Tony Barnette was growing up in Federal Way, Wash., he would have loved to have had the kind of opportunity that children got Saturday as Major League Baseball kicked off its Play Ball Weekend.
"We weren't that close to the Kingdome," Barnette said. "I remember going to Tacoma to the Triple-A stadium. We didn't have the Play Ball or things like this. You see a lot pf people taking a lot of stuff seriously. A lot of people forget this game is a game. That's the most important message of this, is to get out and play. Get out and have fun with it."
That's exactly what Barnette and teammates Sam Dyson and Ryan Rua did in the shadows of Reunion Tower in downtown Dallas. They played baseball with 150 of their newfound friends, who ranged from ages 5 to 16. There were no scores kept at the inaugural Play Ball Weekend event. The weekend is an extension of the Play Ball initiative, with the focus on encouraging participation in both formal and casual baseball and softball activities.
Complete Youth Baseball coverage
Saturday's event included a game, hitting off tees, catching fly balls, working on throws and fielding grounders under the watchful eyes of the Rangers youth ballpark coaching staff, as well as Rua, Dyson and Barnette. The event was held at The Lawn on Reunion.
There was also music blaring and Rangers Captain bouncing between stations. The Rangers made sure to hit on fundamentals, but the most important thing was fun.
"Being in a big city and being so close to something like this, for us to be able to get out there with the kids and keep them active is fun for us," said Rua, who helped kids work on their swings while Dyson pitched plastic balls to batters. "It's fun for them, but it's fun for us, too. At this age, fundamentals are kind of out of it. It's about enjoying the time out here. It's baseball, so it brings a lot of people together no matter what."
Rua, Barnette & Dyson played some ⚾️ with 150 kids in Dallas today! #PlayBall pic.twitter.com/Cp7qHkydfY

— Texas Rangers (@Rangers) May 14, 2016
The event started a big Play Ball Weekend for the Rangers, who will hold another event at the Texas Rangers Youth Ballpark on Sunday.
Former big leaguer Homer Bush, who is the Rangers' director of youth baseball programs, likes the way program is going so far. Even though Saturday's event was going up against the heart of youth baseball season, the turnout was big, with many of the participants showing up in their team uniforms.
"As kids, we just went outside and played baseball," Bush said. "You didn't have to worry about wins and losses. It was just about coming together and playing with other kids. It's something that's going to be bigger and better every year."
Anthony Andro is a contributor to MLB.com based in Arlington. This story was not subject to the approval of Major League Baseball or its clubs.