Braun scratched, Carter also out vs. Padres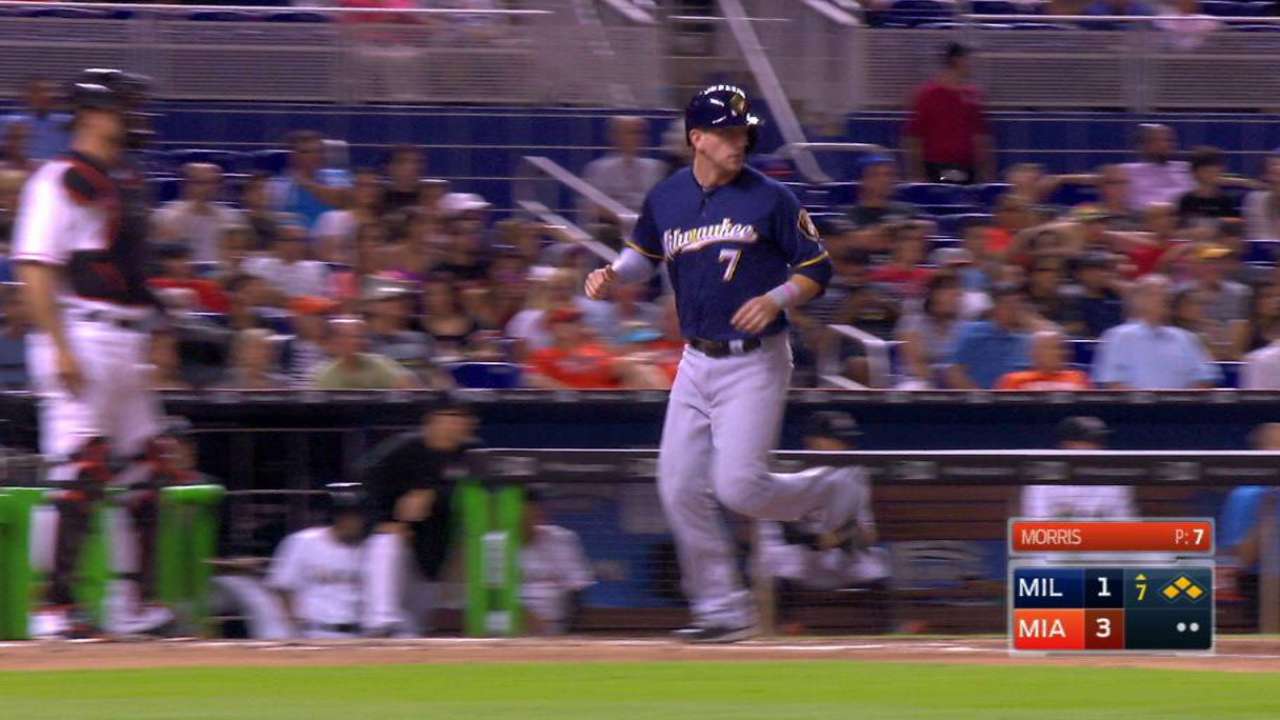 MILWAUKEE -- Left fielder Ryan Braun was a late scratch from Saturday's lineup with a sore right wrist, leaving the Brewers without their top two run producers at the start of Game 2 of a weekend series against the Padres at Miller Park.
First baseball Chris Carter, who entered the day hitless in his last 20 at-bats, was also absent from the lineup. Carter leads the Brewers with 10 home runs and is second on the team with 23 RBIs. Braun has seven home runs and a team-best 27 RBIs.
The Brewers announced the Braun scratch after manager Craig Counsell met with reporters before the game.
Braun has reached safely in 23 straight games, tying the third-longest streak of his career, but he went 0-for-3 with an intentional walk Friday to snap a 12-game hitting streak. Brushing aside Spring Training concerns about his surgically repaired lower back, Braun entered Saturday among the National League leaders in hits (third, with 47), batting average (fourth, .367) and OPS (sixth, 1.020).
Counsell did, however, discuss the absence of Carter, whose sacrifice fly provided the only run in Friday's 1-0 win over the Padres. During his hitless stretch, Carter has four walks and 11 strikeouts, and has grounded into two double plays.
"We're just going to give him a day," Counsell said. "He doesn't show [emotion] either way. He's very even-keeled, and his disposition rarely changes. It doesn't change after he hits a home run.
"It's just a mental day off, and a day you know you don't have to grind through four at-bats."
Carter entered the game as a pinch-hitter in the seventh inning and knocked in a run with a sacrifice fly. He went 0-for-2 as the Brewers fell in 12 innings to the Padres, 8-7.
Carter has started 35 of the Brewers' 37 games this season. Braun has started 33 times.
In other medical news:
• Starting pitcher Matt Garza and reliever Corey Knebel each said they have mound sessions scheduled for within the week. Garza, on the disabled list with a right lat strain, said he was tentatively scheduled to throw his first bullpen session on Thursday.
Barring a setback in his rehab protocol, Knebel (right oblique) could follow a day later.
"It's been slow, but I'm looking at it as a blessing in disguise," Garza said. "I'm doing things [to improve his strength and stability] I haven't been able to do for six or seven years."
• Counsell said left-hander Sean Nolin "has to make a decision" about his injured elbow, an indication that surgery is in play. Nolin has been unable to resume throwing since being shut down in mid-March, ending his bid for a spot in the Brewers' bullpen.
A Tommy John surgery would sideline Nolin for about a year.
Adam McCalvy is a reporter for MLB.com. Follow him on Twitter @AdamMcCalvy, like him on Facebook and listen to his podcast. This story was not subject to the approval of Major League Baseball or its clubs.