Royals share field with kids in Play Ball event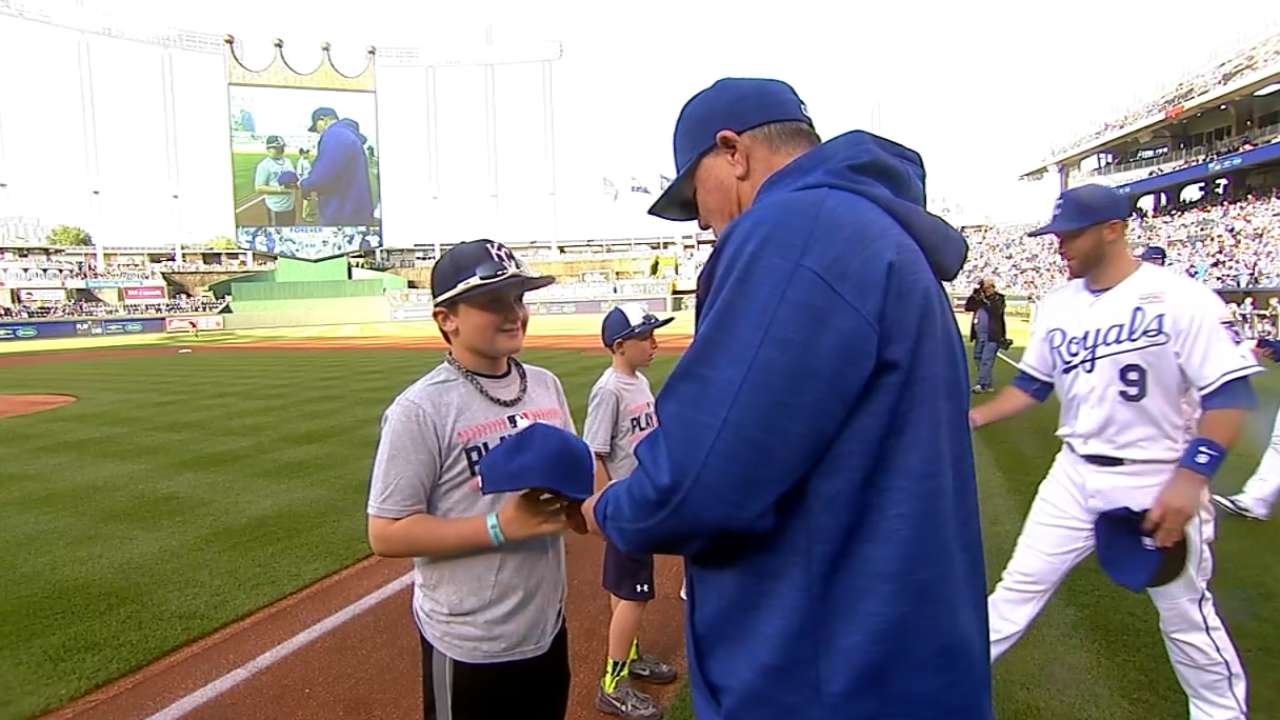 KANSAS CITY -- On Saturday, a group of around 35 young ballplayers -- along with some parents and coaches -- filled the media room at Kauffman Stadium. As they found their seats, they chatted with each other, continually looking back at the door in anticipation of the arrival of three members of the Royals: infielder Christian Colon, pitcher Danny Duffy and third-base coach Mike Jirschele.
As the trio entered the room, they were introduced by vice president of communications and broadcasting Mike Swanson. It mirrored the format of a typical news conference, with one main exception.
As Swanson called out Colon's name, the kids sang in unison to wish him Happy Birthday, executing a game plan laid out by Swanson earlier in the day.
• Complete Youth Baseball coverage
"They're real coachable," Swanson joked.
.@C24Colon, Danny Duffy and 3B coach Mike Jirschele joined today's kids-only press conference for #PlayBall weekend! pic.twitter.com/m8CqcagTsn

— #VoteRoyals (@Royals) May 14, 2016
The news conference that followed as part of the inaugural Play Ball Weekend had its share of lighthearted moments. The trio answered questions about team superstitions and what they loved about baseball. But there was also some serious conversation centered around the importance of teamwork, battling through adversity and putting your best foot forward.
"You have to learn to control what you can control," Jirschele said. "You can't control whether your coach puts you in the lineup, but you can control your effort you put forth on the field and how hard you work at what you want to achieve."
Colon spoke about being benched early in his baseball career, while Duffy talked about being just 5-foot-2 as a freshman in high school and about some of the injuries he faced.
That made an impression on the young audience, including one player in particular who got to go up on stage to ask a question.
"It's just about never giving up," Grant Rutkowski, 11, said. "It was really cool, especially the part where Christian Colon patted me on the back."
Players and #PlayBall kids take the field! pic.twitter.com/dQAdaHVtlp

— #VoteRoyals (@Royals) May 14, 2016
For Saturday's game against the Braves, the Royals sported Play Ball patches on their jerseys, in addition to wearing Play Ball T-shirts during batting practice. As they took the field, the Royals were joined by a small group of young fans from the session. The kids brought out baseballs with them on the field for autographs, while one managed to snag a selfie with shortstop Alcides Escobar.
As they exited the field, the young players brandished grins from ear to ear. Several mentioned how unforgettable the experience had already been just talking to players, even before they were able to walk out in front of the crowd.
"Really, this is a once in a lifetime opportunity," said Neil Rutkowski, who is the director of 3&2 baseball, one of the groups at the event. "My hope would be for some of the words that the players and coaches said today resonated with them, like the importance of staying in school, being a good teammate, playing baseball and working hard."
Scott Chasen is a reporter for MLB.com based in Kansas City. This story was not subject to the approval of Major League Baseball or its clubs.