Cleveland-area kids congregate for Play Ball event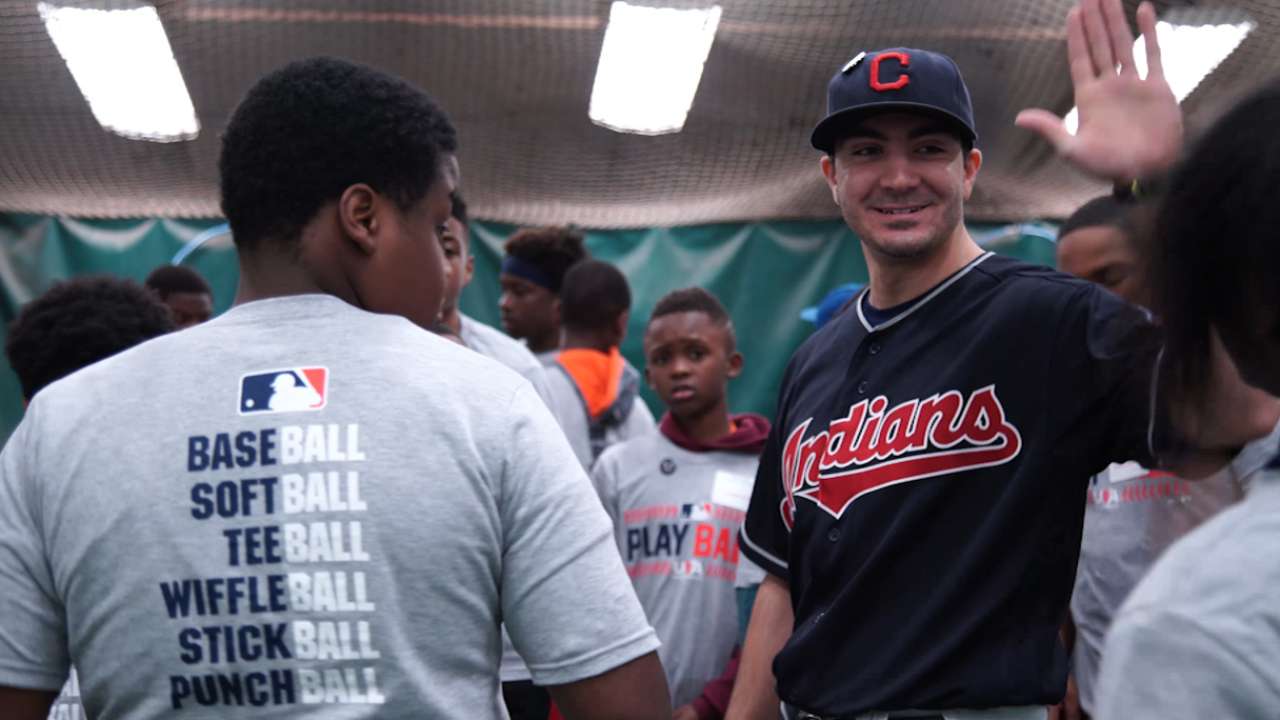 CLEVELAND -- On Saturday morning, rain began to fall heavily on Progressive Field. The tarp draped over the infield. About 50 participants from the area, ages 9-14, were supposed to take the field to participate in the 2016 Play Ball Clinic to learn proper baseball fundamentals.
Rather than let Mother Nature dampen their spirits, the Indians chose to make the most of their bad fortunes. Matt Kata, Cleveland's manager of youth baseball development and initiatives elected to move the party inside, holding the clinic in the Indians' indoor facilities.
"For me, you can play ball anywhere," Kata said. "I grew up in Northeast Ohio here. Not many months you can play outside. You have to get creative. We'd love to be outside, but the reality is we are having fun. Learning about the game ... that's really the goal. Teach the game and hope they love baseball a little bit more."
• Complete Youth Baseball coverage
Kata, who has been with the Indians for three years, was in charge of the entire event. The Cleveland native oversees all youth baseball camps and clinics aimed to engage kids in Northeast Ohio.
For two hours on Saturday morning -- before an afternoon tilt with the Twins -- the Indians hosted 50 kids from organizations such as the Cleveland Baseball Federation, Boys and Girls Club of Cleveland and Buzz Baseball.
The event began at 9 a.m. ET with agilities. Kata, a big league veteran, then broke them into three different groups to begin working on "vitamins," otherwise known as fundamentals like hitting, throwing and fielding.
In each group, instructors coached a specific baseball fundamental by referring to pictures of Indians players. In the throwing cage, for example, snapshots of Corey Kluber and Carlos Carrasco were used to detail how to throw a baseball.
For hitting, images of Francisco Lindor and Carlos Santana were used. Lindor and Jason Kipnis were the picture models in the fielding cage.
Thanks again to Yan and Michael for stopping by this morning's #PlayBall Clinic!

GALLERY: https://t.co/B74yURxcMw pic.twitter.com/3xZtrRhz7r

— #VoteTribe (@Indians) May 14, 2016
Small games were also incorporated into the instruction. In the hitting cages, Kata had the group throw a frisbee at a ring hung up on the wall. He explained that hitting was a lot like skipping a rock, and the simulated motion helped the kids understand proper bat-swinging form.
"A lot of it is understanding that this game is pretty hard," Kata said. "There are complex mechanics. I think it helps to go outside [of] baseball. As a coach, it's an art to try and explain it and create an understanding."
For some, the explanation helped because it was their first introduction to baseball.
"It's a great experience for them," said Hector Vazquez, games instructor for the Boys and Girls Club. "Some of them come from different backgrounds and don't really know what baseball is. "They got a good experience and actually want to play baseball going forward."
For most, this was a chance to finally get to learn from real professionals -- a monumental feat for many kids, as it's hard to get much time learning the game.
"This is amazing," said Mike Stennett, who manages two RBI Baseball teams. "In the inner city, we don't have enough time to put this together. It's just amazing how these guys take the time to do this with these kids. It's going to impact them. They are never going to forget this."
After about an hour of fundamentals, the kids concluded the event with games. They were joined by Tribe players like catcher Yan Gomes and left fielder Michael Brantley. The two players stuck around to sign autographs and take pictures with the kids.
"In my two years with the camp, we have had guys really passionate about helping out with the camp," Kata said. "We've got a great clubhouse with guys who are really passionate about giving back to the kids."
Shane Jackson is a contributor to MLB.com based in Cleveland. This story was not subject to the approval of Major League Baseball or its clubs.