Ventura says dominant Sale pitching 'smarter'
Left-hander no longer trying to strike everybody out, according to White Sox manager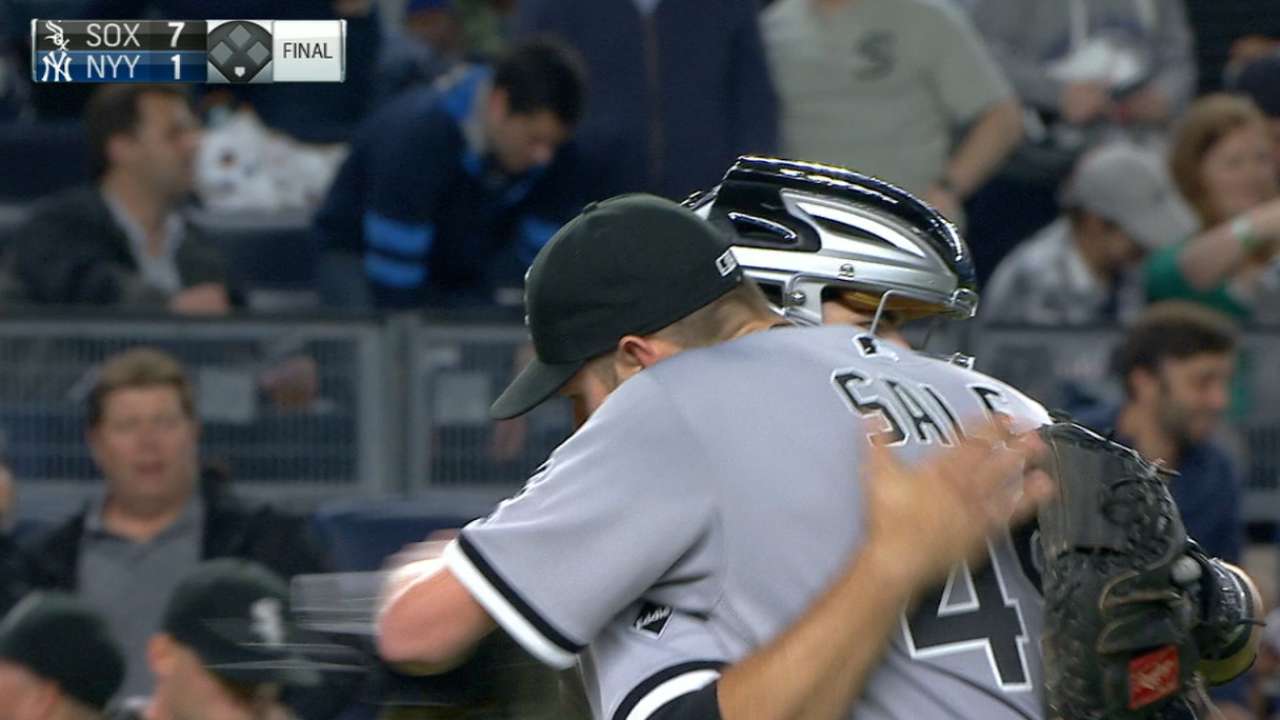 NEW YORK -- Chris Sale became the fourth White Sox starter in franchise history to win each of his first eight starts in a season, joining Eddie Cicotte (12, 1919), John Whitehead (eight, 1935) and Jon Garland (eight, 2005) with Friday's complete-game effort in a 7-1 win against the Yankees.
Sale also joined Ed Lopat (1951), Sal Maglie (1952), Fernando Valenzuela (1981) and Pedro Martinez (1997) as the only pitchers since 1951 to win their first eight starts with a sub-2.00 ERA, according to the Elias Sports Bureau. The scary factor for the opposition, as if facing the four-time All-Star wasn't challenging enough, is that Sale's dominance should hold strong behind his new economical mound style.
"It's just different because his confidence level, I guess it's more of a relaxed confidence," said White Sox manager Robin Ventura of Sale on Sunday. "He's a competitor. He's out there with that same fire, but he's also smarter about how he goes about it. I don't think he's trying to strike everybody out from the first pitch of the game until the last pitch.
"He's a little more confident in pitching to contact. Somebody wants to pop up the first pitch? He's giving them a chance to be able to do that. I don't think anybody really wants to get to two strikes with him because he can strike you out.
"To see him go deeper into games via 70 pitches in the seventh inning is impressive from where he first started, to where he was in the fifth inning up over 90 to 100 pitches," Ventura said. "Now it's a different animal out there. It's a scarier one for most people because he's going to be around later."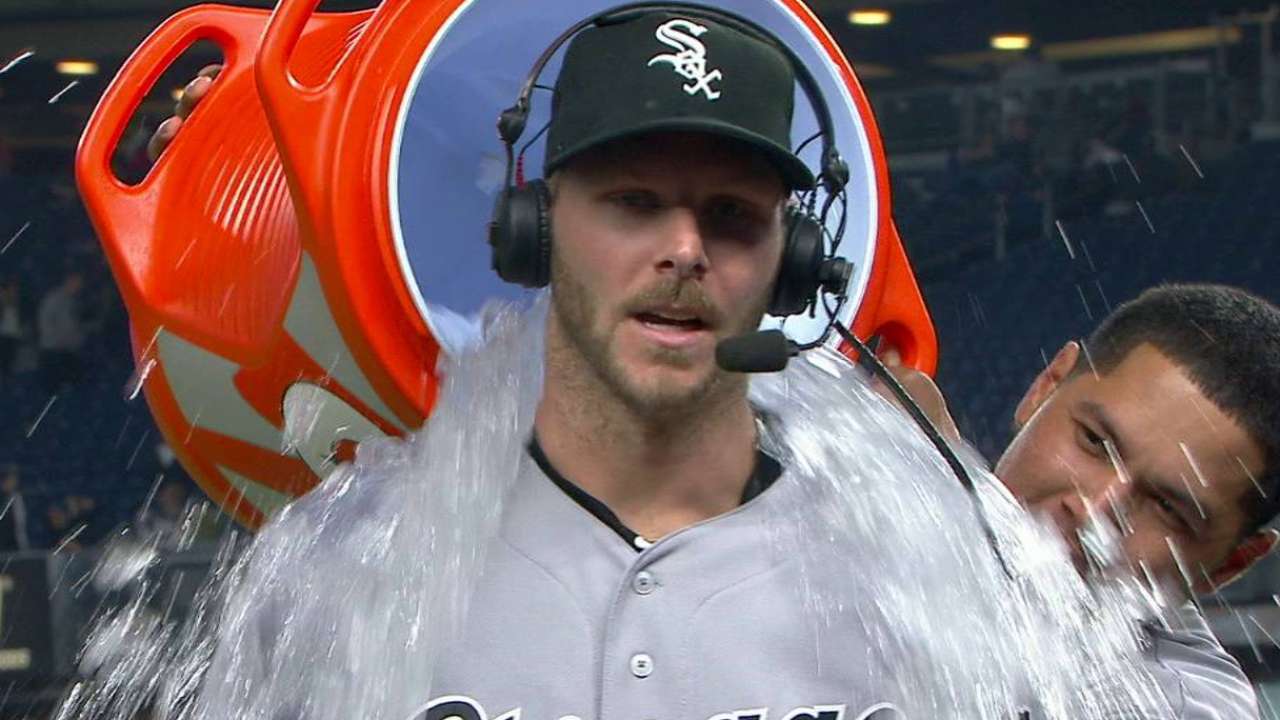 In a recent talk with MLB.com, Sale explained that he's not going full bore with every pitch. It leaves him feeling better from start to start as well.
Of course that extra stuff is there for Sale when he needs it, whether it's a strikeout during a key situation or working from inning to inning in a scoreless game, as he did during a shutout in a 1-0 win against the Rays on April 15.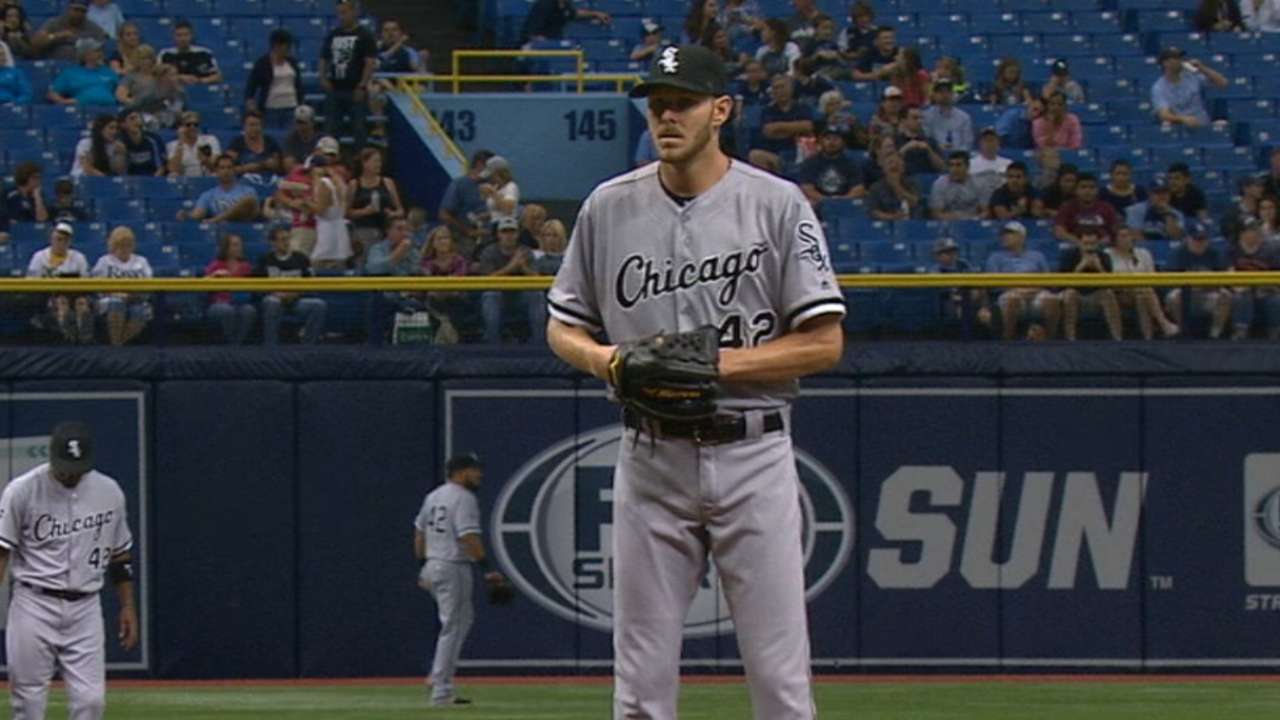 "A tighter game, I would say he can do that where he would be pitching a little bit more like he did in years before," Ventura said. "But other than that, he's still going out there with the same stuff, just doing it differently."
A vastly improved White Sox defense behind Sale and a more productive offense has made this style alteration easier for the left-hander. Having Sale on the mound, in turn, always makes life easier for the White Sox.
"He got to a point last year early on that he's with the first pitch, he's trying to make sure he throws a pitch that they can't make contact with. It's almost the swing-and-miss pitch," Ventura said. "There's a lot of exertion that goes with that.
"Right now, he's able to pitch to contact and conserve that. He can reach back and get it any time, but he's not doing it all the time because we are scoring some runs for him and playing defense behind him. It gives him more confidence to last longer in the games."
Scott Merkin has covered the White Sox for MLB.com since 2003. Read his blog, Merk's Works, follow him on Twitter @scottmerkin, on Facebook and listen to his podcast. This story was not subject to the approval of Major League Baseball or its clubs.