Lester: 'Tough one,' but positives to be found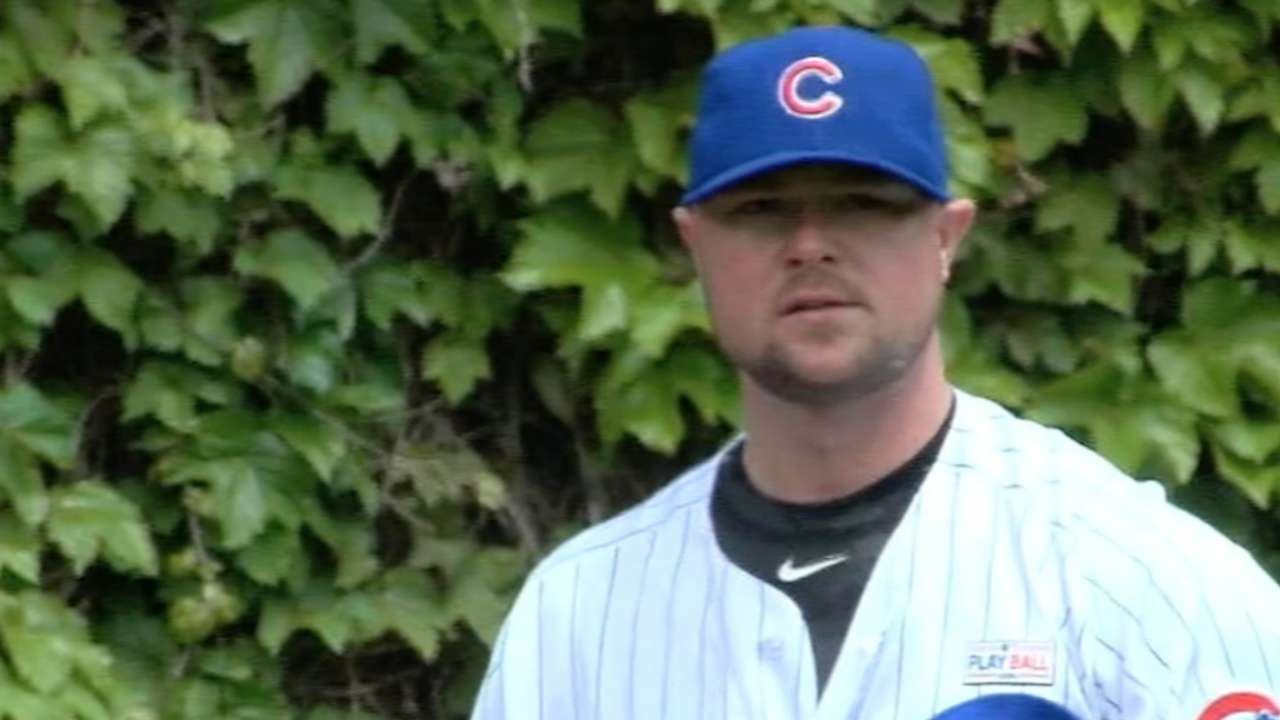 CHICAGO -- Thursday marks the eight-year anniversary of Jon Lester's no-hitter, and the left-hander took a run at celebrating another one.
On Sunday, Lester took the loss despite holding the Pirates hitless through 6 1/3 innings in Pittsburgh's 2-1 win over Chicago. The Cubs lost for the first time in six games against the Pirates, but are still 15-3 against National League Central teams.
On May 19, 2008, Lester threw a no-no for the Red Sox against the Royals, and if he had done so Sunday, he would've been the sixth pitcher with a no-hitter in both leagues. Starling Marte ended the no-hit bid when he singled to right on Lester's 101st pitch.
Lester said it was hard not to notice what his pitch count was and what the situation was.
"You've got two giant scoreboards out there that display everything," Lester said. "You've got giant numbers out there telling you what your pitch count is at, and you've got a giant scoreboard telling you that you haven't given up any hits. It really doesn't matter now."
During Jake Arrieta's no-hitter last month in Cincinnati, manager Joe Maddon talked about how they had discussed protocol during such events and that a pitcher had more leeway in terms of pitch counts. Still, Lester's high this season was 106 pitches. He finished at 109.
"It was a little dicey," Maddon said. "If he's got it going on, go for it."
After Marte's single, Lester struck out Francisco Cervelli, and Maddon said that indicated to him that the lefty still had plenty in the tank. But Jung Ho Kang then doubled to right and Lester was pulled.
"He's a good fastball hitter, and I tried to go in, and didn't locate," Lester said of the at-bat versus Kang. "I made a lot of really good pitches today, and as the game went on, I found my curveball a little bit, finally. It [stinks] to go through that whole scenario there and leave one middle and the guy doesn't miss it and hits a double. That's a tough one.
"You've got to look at the other hundred pitches I threw," he said. "They were pretty good, and you have to take the positive from it. I feel like I found my curveball today. That definitely helped me."
Lester's ERA did go down to 1.88, and he's one of three Cubs starters with a sub 2.00 ERA, joining Arrieta (1.29) and Jason Hammel (1.77).
He definitely didn't let his teammates down, finishing with nine strikeouts. This was his 22nd career start in which he's given up two or fewer hits.
"Jonny was awesome," Jason Heyward said. "He's been a bulldog for us."
Carrie Muskat has covered the Cubs since 1987, and for MLB.com since 2001. She writes a blog, Muskat Ramblings. You can follow her on Twitter @CarrieMuskat and listen to her podcast. This story was not subject to the approval of Major League Baseball or its clubs.