Searage ejection part of trying day at Wrigley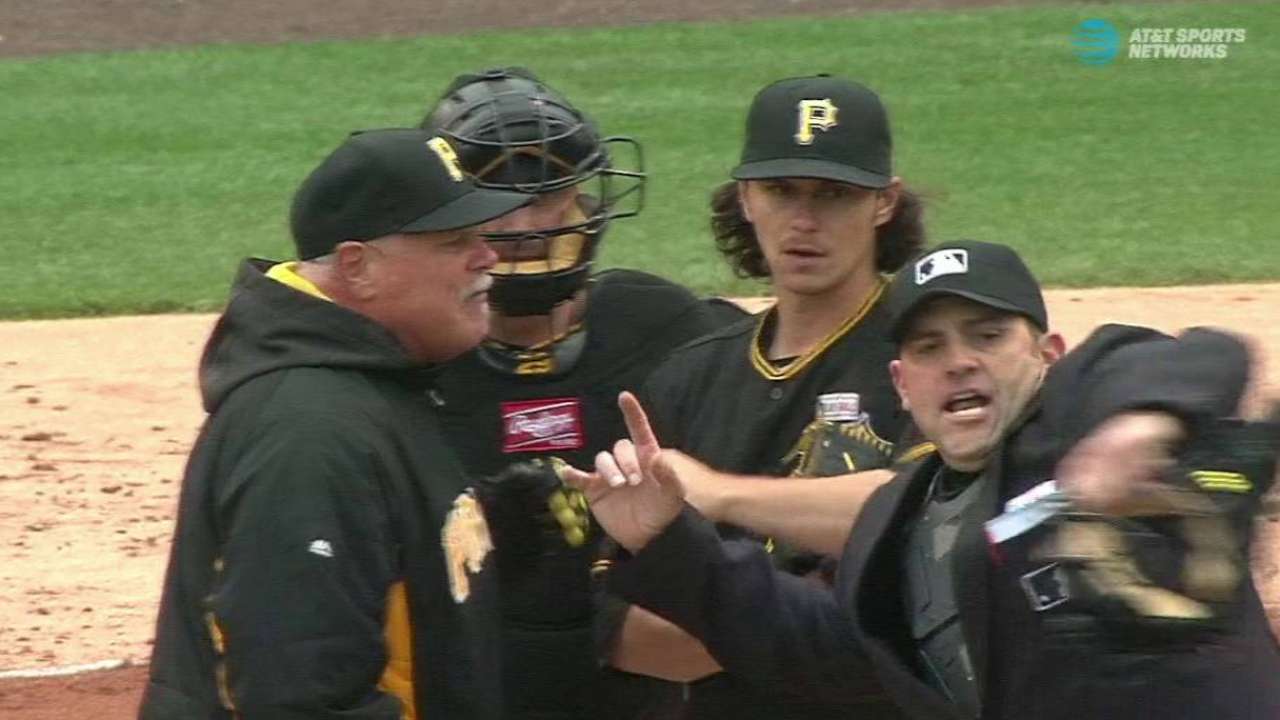 CHICAGO -- In the fourth inning of the Pirates' 8-2 loss to the Cubs on Saturday, Pirates pitching coach Ray Searage went to the mound for a visit gone wrong.
Jason Heyward had led off the half-inning with a single, then real trouble began. Pirates starter Jeff Locke let Kris Bryant battle back from an 0-2 count, walking him on a close ball-four call. Locke didn't like the call initially, but said after he looked at the pitch on video later, he agreed it was off the plate.
Anthony Rizzo followed the walk with an against-the-wind blast into the right-field seats to put the Cubs ahead.
Locke responded by walking Ben Zobrist on seven pitches, again with close calls. Searage came out to talk, and as home-plate umpire Brian Knight walked to the mound to break up the meeting after its designated time, the two exchanged words.
Like that, Searage was ejected.
"Obviously I can't share those words, but that's why we love Ray so much," Locke said. "He's got our back, just like we have his."
Catcher Francisco Cervelli added: "It's part of the game. The adrenaline is going to take you to another level. … Everybody is going to make mistakes, so somebody is going to get angry once in a while. I think it's normal."
But Searage's ejection over balls and strikes was only the beginning of the Pirates' frustrations.
The Pirates scored two runs off Cubs ace Jake Arrieta in the top of the fourth, but a Josh Harrison ball that bounced off Arrieta's foot turned into an inning-ending 1-4-6-3 double play. Once the Cubs took the lead in that bottom half, there was no looking back.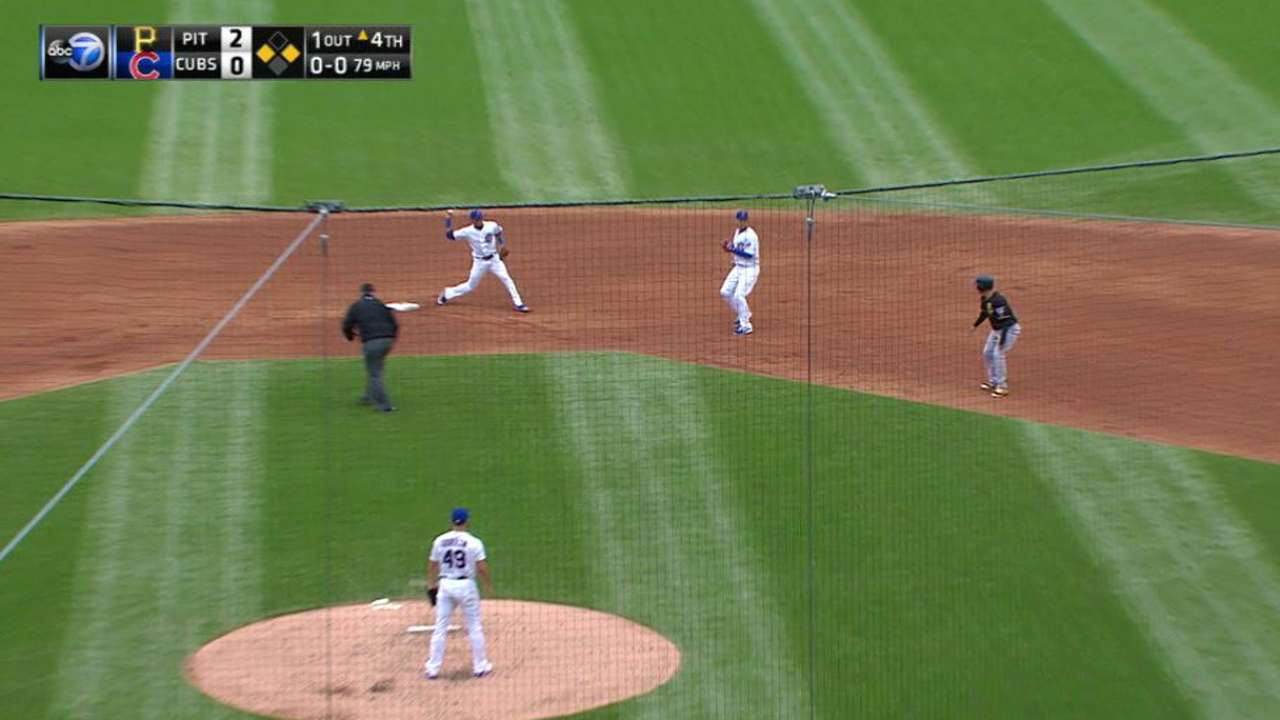 Arrieta went on to blaze through four more innings. Locke was charged with six runs in all and took the loss. Pittsburgh fell to 0-5 this season against the Cubs, via a combined score of 37-11.
"It really felt like a tale of two games, to be honest," Locke said. "When the action happened for them, it happened quick."
All Pirates manager Clint Hurdle could do was sum it up simply.
"There was tipping points throughout the game," Hurdle said. "The fourth inning was one. … They got on top, and they were able to add on."
And all Locke could do was tip his hat to the Cubs, who are now nine games ahead of the Pirates in the National League Central.
"There's no surprise at their level of success this season," Locke said. "If they're not doing this well, then a lot of people would say they're failing. … I think they're having the start that they dreamed of having. … It's going to take a team, anybody, to kind of get in the way and put a foot down."
Cody Stavenhagen is a reporter for MLB.com based in Chicago. This story was not subject to the approval of Major League Baseball or its clubs.