Halos find many heroes in dramatic comeback
Contributors in Seattle include a pair of Triple-A callups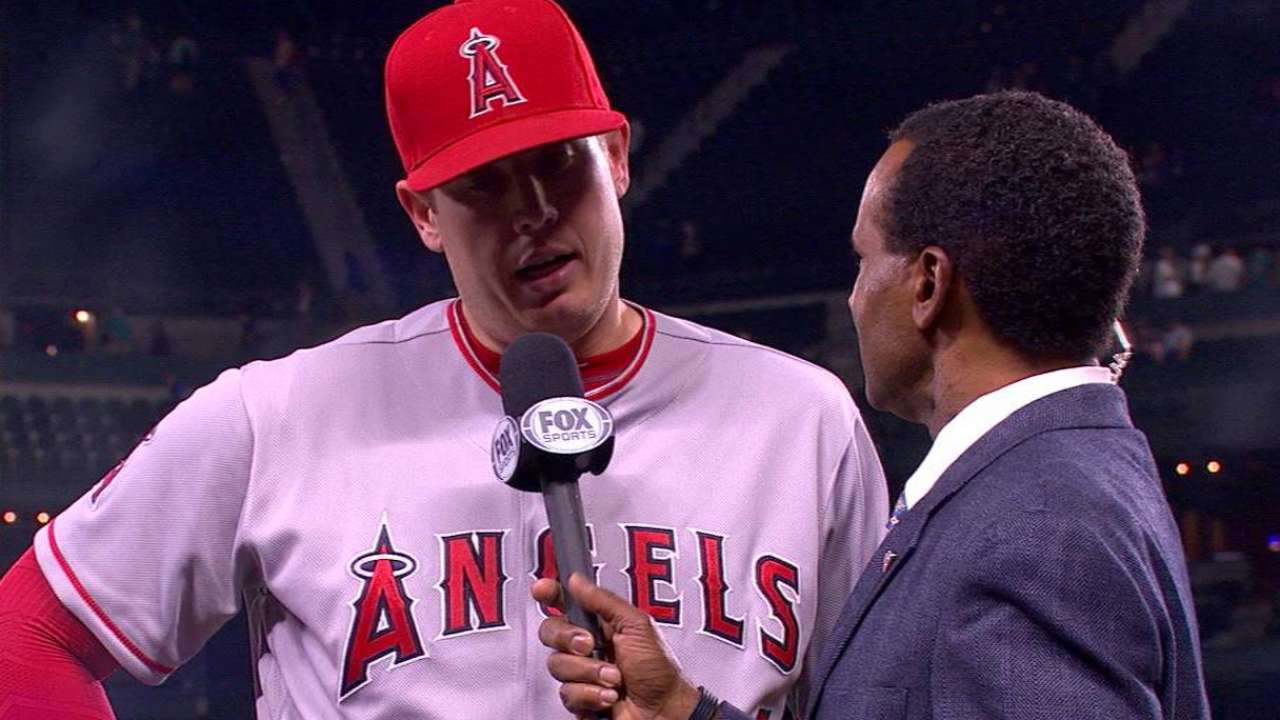 SEATTLE -- It was 10 a.m. in Salt Lake City when the call came in. Jefry Marte and Gregorio Petit were needed in Seattle, because two key infielders, Cliff Pennington and Yunel Escobar, were nursing injuries and the Angels couldn't afford to take any chances. They hopped on a 3:30 p.m. flight, arrived to Safeco Field about two hours before the first pitch and helped capture a dramatic, much-needed, come-from-behind 7-6 victory on Friday night.
With one out in the bottom of the ninth -- and the Angels coming off the first winless homestand of at least six games in franchise history -- C.J. Cron dumped a two-run single against lights-out Mariners closer Steve Cishek, his 20th hit in his last 45 at-bats.
• Cast your Esurance All-Star ballot for Cron and other #ASGWorthy players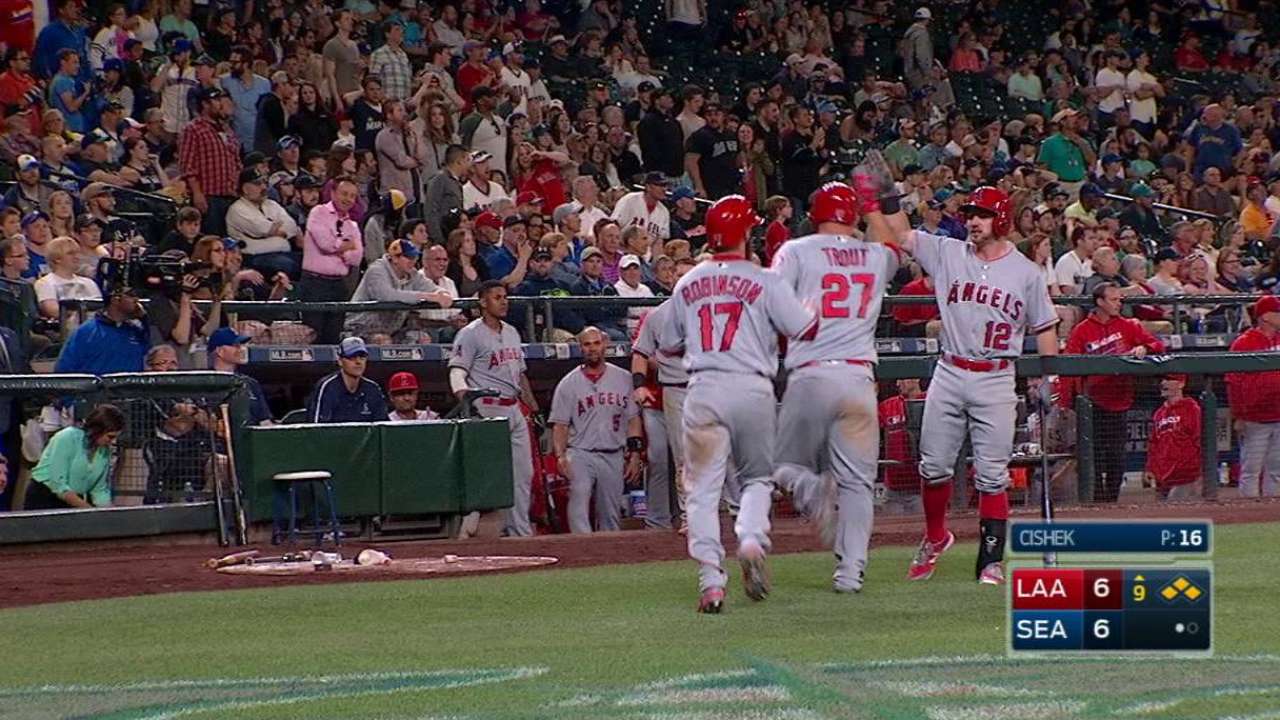 It was the Angels' first win in nine days, and it took everything they had.
It took Nick Tropeano battling through a soaring pitch count to hold the Mariners to two runs in the first five innings. It took Joe Smith somehow getting out of a second-and-third, one-out jam in the bottom of the eighth. It took Petit and Marte fighting off jet lag to come up with big hits. It took Fernando Salas locking down his first save since 2011.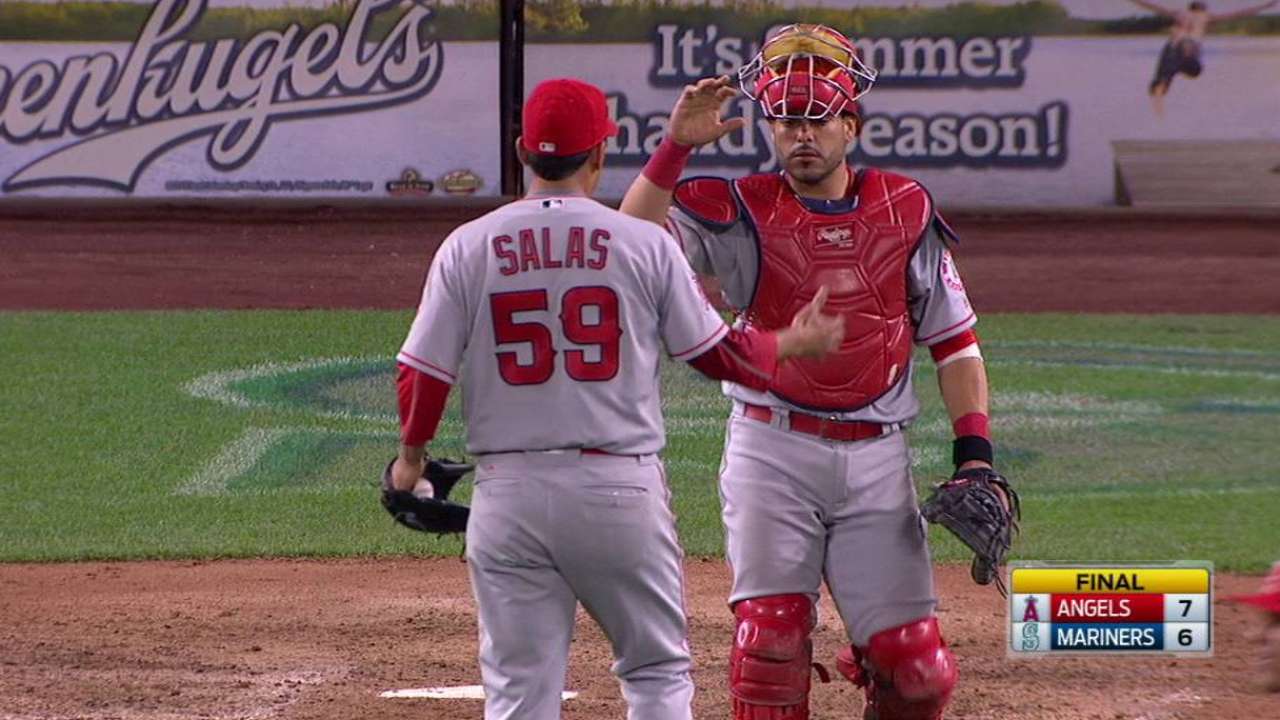 "Nobody's getting down on themselves, man," Angels right fielder Kole Calhoun said. "Nobody's giving up. We're staying together as a team. I think better days are ahead."
The Angels' bullpen was needed for 54 1/3 innings over the previous 13 games, a stretch when starting pitchers were unable to complete six innings 12 times. Angels manager Mike Scioscia wanted to avoid using Salas for a third straight day, so he used his fill-in closer, Smith, despite trailing on the road.
With one out and Norichika Aoki on first in the eighth, Smith watched Robinson Cano line one of his pitches off the center-field wall. Aoki could've easily scored, but he missed second base, forcing him to briefly retreat and prompting him to advance no further than third base. The Mariners' left fielder said he was paying attention to the flight of the ball and didn't bother to glance at where he was running.
"I just missed the bag," Aoki said.
Smith came back to strike out Nelson Cruz, who blasted his 31st career home run against the Angels three innings earlier, then intentionally walked Kyle Seager and got Franklin Gutierrez to roll into a fielder's choice. Petit, who extended a two-run seventh inning with a pinch-hit single, finished the inning with a nifty sliding play. Marte, who became the first Angels player since 1987 to record two doubles in his debut, looked on.
He was asked about the difficulties of producing immediately after hopping off a flight and laughed.
"Baseball's like that," Marte said. "You just have to be ready for when your moment comes."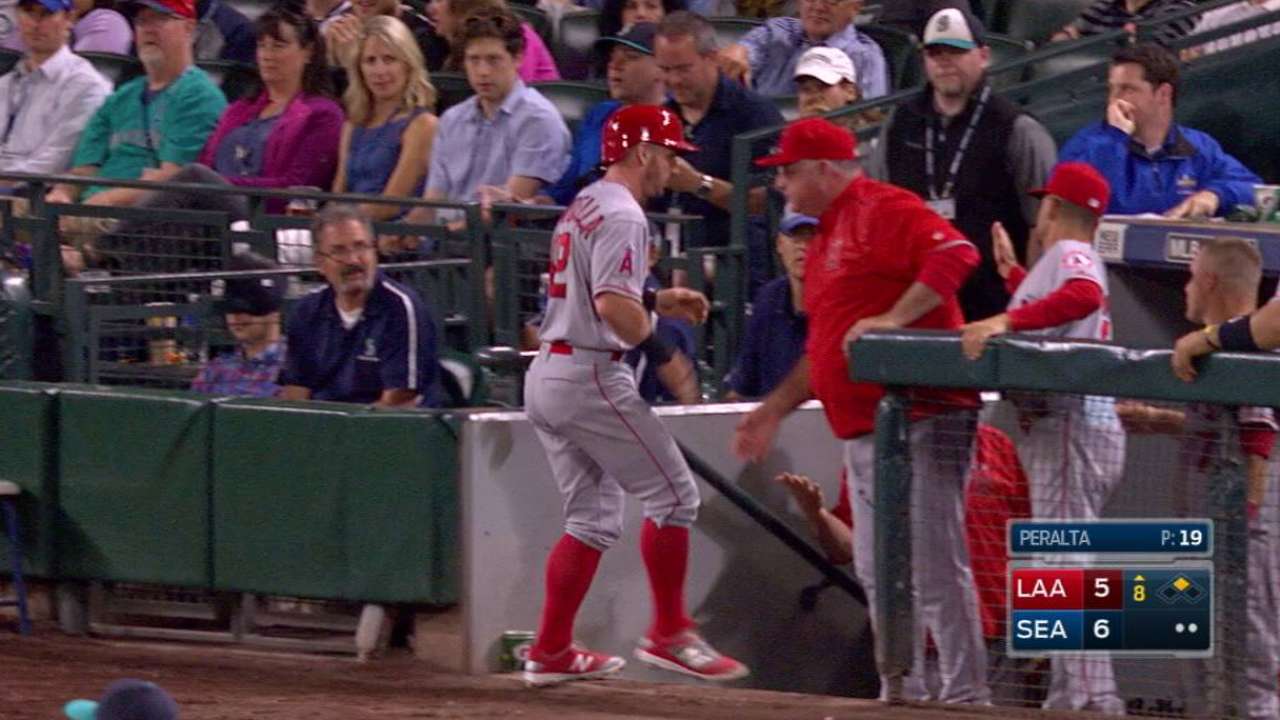 The Angels had their moment on Thursday night, putting the winning run on first base with only one out in the bottom of the ninth, but fell just short of completing a five-run comeback against the visiting Cardinals. Twenty-four hours later, they faced Cishek, with his 0.98 ERA and American League-leading 11 saves.
Calhoun led off with a single and Mike Trout avoided a double play. Albert Pujols lined a single to right, prompting Shane Robinson to replace him as a pinch-runner. Daniel Nava worked a walk, and up came Cron, swinging at a first-pitch fastball and placing it perfectly between three Mariners players in shallow left-center field, scoring the eventual winning run.
The Angels needed it.
"I don't know what was going on, but nothing was going right," Cron said. "It was a nice little comeback for us. We're going to take it."
Alden Gonzalez has covered the Angels for MLB.com since 2012. Follow him on Twitter @Alden_Gonzalez and Facebook , and listen to his podcast This story was not subject to the approval of Major League Baseball or its clubs.