Perez unshaken after tough-luck loss
Rangers left-hander drops duel with support lacking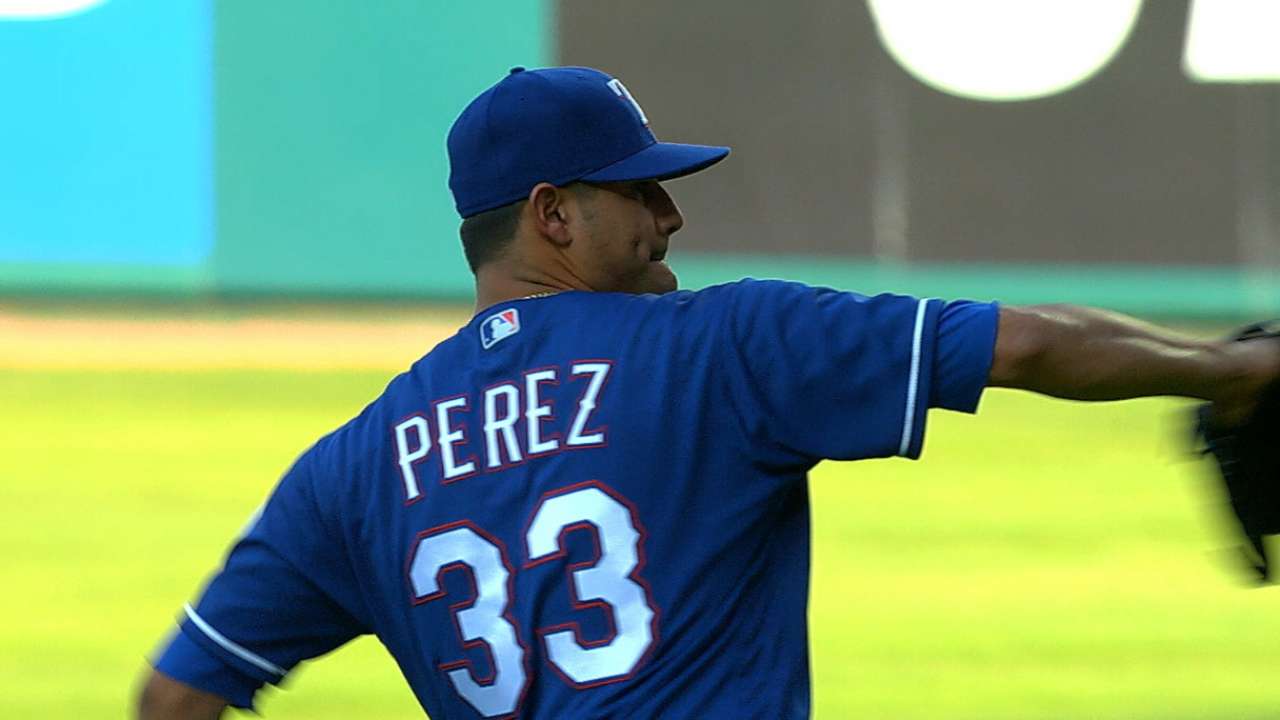 ARLINGTON -- Rangers pitcher Martin Perez wasn't about to blame anybody. He refused to complain about the lack of run support or a defensive lapse at a critical moment.
He remains upbeat despite what happened in a 5-0 loss to the Blue Jays on Friday night. Perez allowed two runs, one earned, in 6 1/3 innings, but he has just one win in eight outings despite six quality starts. The left-hander is 1-3 with a 3.23 ERA this season.
"I felt good," Perez said. "It was a good game. Everything was working the way I wanted."
He was referring to his pitches, not his offense. The Rangers' offense couldn't do anything for eight innings against knuckleballer R.A. Dickey and were shut out for the second time this season.
The Rangers are averaging just 2.28 runs of support per nine innings when Perez is on the mound. That's the second lowest in the American League.
"I trust my teammates," Perez said. "I need to do what I need to do. I know my job is to throw up zeros and keep it close. I feel good about what is going to happen if I continue to do my job."
Perez matched Dickey for five scoreless innings before the Blue Jays picked up an unearned run in the sixth. Jose Bautista singled with one out, and Edwin Encarnacion followed with a double-play grounder to shortstop Elvis Andrus.
But Andrus fumbled it for an error, and the inning continued as Perez walked Justin Smoak to load the bases. Troy Tulowitzki followed with a slow chopper to first baseman Mitch Moreland, who was playing back, and the Rangers could only get a force at second base as Bautista scored the first run of the game.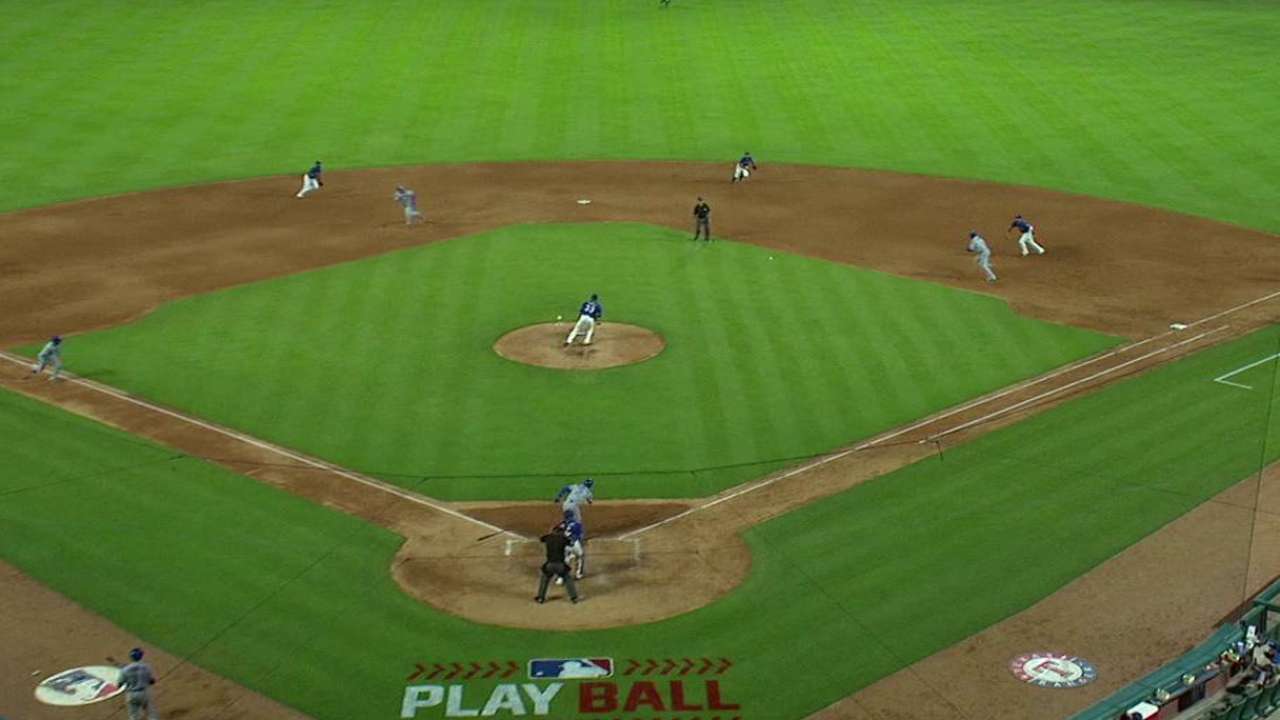 "That's part of the game," Perez said. "In that situation, I can't lose concentration, just throw the pitches. Sometimes you have to get four outs. Elvis is a good defender, he knows what he has to do. It's part of the game."
One run was all the Blue Jays would need. The Rangers managed just three hits and a walk. Their last baserunner came on a fourth-inning single by Adrian Beltre, as Dickey and left-hander Chad Girodo combined to retire 17 straight hitters.
The Rangers only had one at-bat with runners in scoring position. Ryan Rua came to the plate with two on and two out in the second and just missed a three-run home run. He launched a 1-2 pitch deep down the left-field line, but the ball hooked foul past the pole.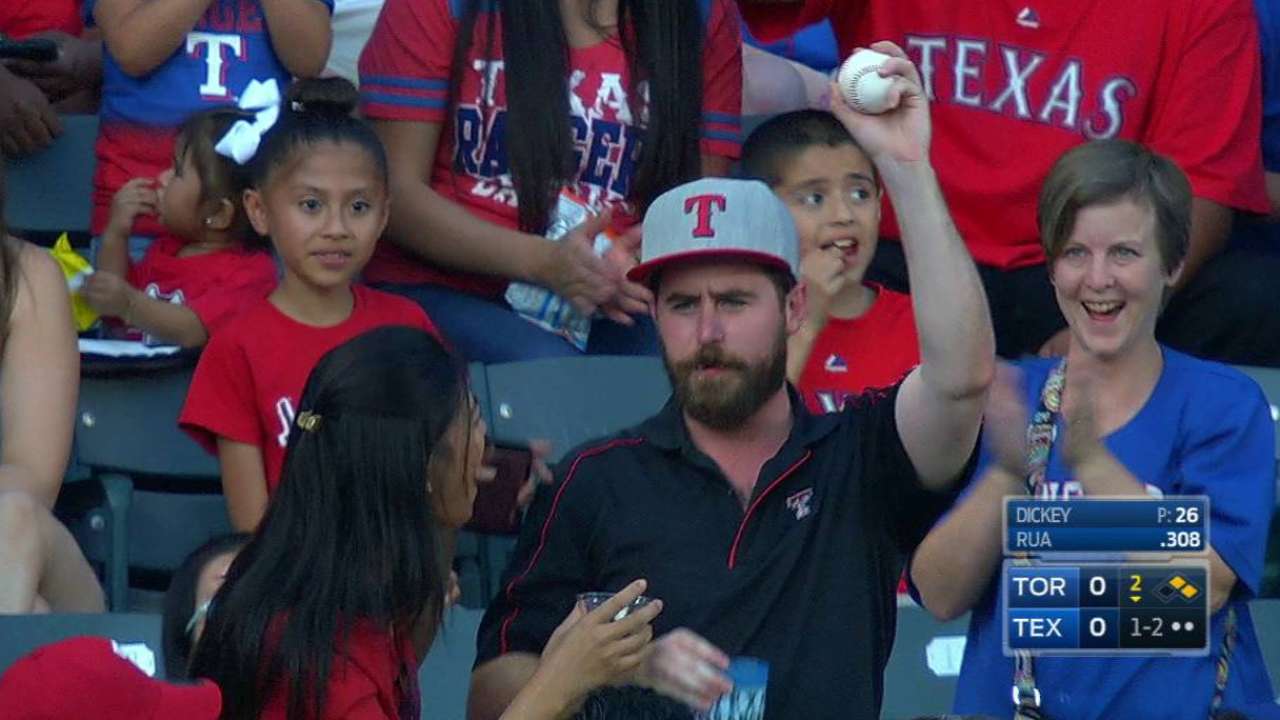 "I could tell it was going foul," Rua said. "That's why I didn't run out of the box."
Rua flied out to end the inning. The Rangers never threatened again, as there were no dramatic late-inning comebacks against Dickey.
"It's just different because it's tough to time it up," catcher Bobby Wilson said. "With guys that throw normal, you can at least get some timing and rhythm with it. He's got so many variations with his windup and his stretch and obviously with the ball dancing around like that and then pumping a couple fastballs just to keep you honest makes it tough."
T.R. Sullivan has covered the Rangers since 1989, and for MLB.com since 2006. Follow him on Twitter @Sullivan_Ranger and listen to his podcast. This story was not subject to the approval of Major League Baseball or its clubs.